Photo: Joseph and Jim Walker Joint Managing Directors (Joseph Walker is seated)

Walkers have been baking shortbread in the Scottish Highlands since 1898 and all this time, the company stayed in the family. Walkers Shortbread is one of the most beloved brands in UK and number one in Scotland. The whole story began when the twenty-one-year-old Joseph Walker opened the doors of his own bakery with a loan of £50 and the ambition to bake "The World's Finest Shortbread". His mission was successful to say the least, and we're bringing you the interview with Jim Walker, man who keeps the business in the family still.
Walkers was started in 1898. How does it feel to be a part of such a legacy?
It is a great honour to be part of such a legacy and it is also a big responsibility. Owners need to be aware that they are simply custodians and the ambition is to hand the business over to the next generation in good shape. It is also a big social responsibility as there are 1.700 jobs depending on the company.
You're also a big part of the local communities. How important is to Walkers Shortbread to remain local when it comes to production?
Walkers have a huge interdependency with the local community. Being situated in Aberlour, Speyside in one of the most beautiful parts of Scotland is part of our DNA. We don't think we could have made the same progress anywhere else.
How many product kilos/tons/units have you manufactured in the last year? What's your bestseller and in your opinion why? And are there any new ideas you want to accomplish with Walkers or do you think traditional is better, and why?
Approximately 30,000 tonnes. Pure butter shortbread because its simple, wholesome and made wit only four ingredients. We believe that tradition and heritage is great, but he product needs to be kept relevant to today's market and innovation is essential to survive in today's competitive food market.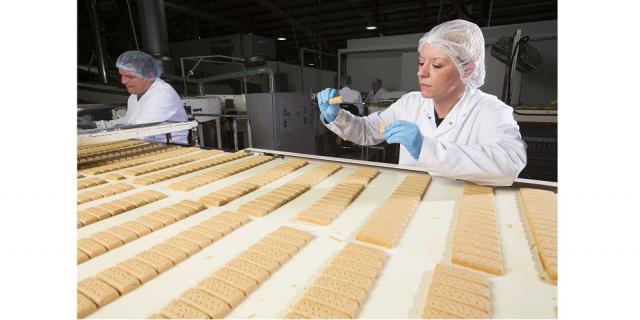 What made you go 'green' and enviroment friendly?
We always have been green, but we have never made a noise about it because it comes naturally to us. Being brought up in an area as beautiful as Speyside, it is only natural to want to protect nature and the environment.
Do you think company staying in the family gives you an advantage in the market? You have six factories altogether at this moment. Do you plan to expand in the near future?
Yes, but the product quality and efficient manufacturing are the key factors. We have no immediate plans to expand our production base at the moment.
How much do you rely on online activities and communication with customers?
Our online presence is growing and has become increasingly important over the last few years. Social media engagement has definitely brought us closer to our fans and we love seeing what they are up to and where and how they are enjoying our products.
How do you think advacement of the digital will affect your business, do you plan any changes?
Growth of digital seems the way forward for us as we stock our full range online, we are product of our e-commerce platform.
Has Brexit affected your business and if yes, how?
It is too soon (for us or anyone else) to know the effect of Brexit.
What are your goals for 2017?
To try to maintain steady and consistent growth in an every changing market that has faced turmoil in the last few years.
And do you have a favourite Walkers product?
Pure butter shortbread fingers.
Thank you for your time!