They are often made with almonds, and in The Complete Collection of Biscuit Types they have interesting stories from history. It is perfect to match them with wine: dip them twice!
We love cookies, all shapes, colors, flavors, spices, and origins, don't we? There are really a number of choices on the market today, and it's hard to decide on just one, and it's worth a try!
Today it is Italy - Italy has many specialties that make us always happy to visit it, gastronomy and Italian specialties are just one of them. Italians are well known for their refined taste and taste for good food, so it is not surprising that many people around the world enjoy their recipes.
Italy signifies fantasy and creativity in fashion, design, art, films, food… Almost everything coming from Italy is romantic and special: scents, language, food, culture… Food in Italy is not only food, but a special style and lifestyle. It is based on different types of pasta and the inevitable olive oil.
Of course, we must not forget about pizza - the Italian culinary feast - that is eaten all over the world. Locally produced wine is served with food from this area, and the coffee drinking culture is strong. The biscuits that we are talking about today are ideal for coffee, and there is a special rule that we will talk about later. Biscuits are also a very special dessert in Italy, they are unique - you won't find them everywhere. This article is dedicated to one, one of the most famous - it is about cantuccini biscuits.
Many special biscuits belong to Italian cuisine, but the focus of this article is on one – cantuccini biscuits, which you will have the opportunity to learn about in this article - from the origins, history, makers, and origins to interesting facts.
Cantuccini biscuits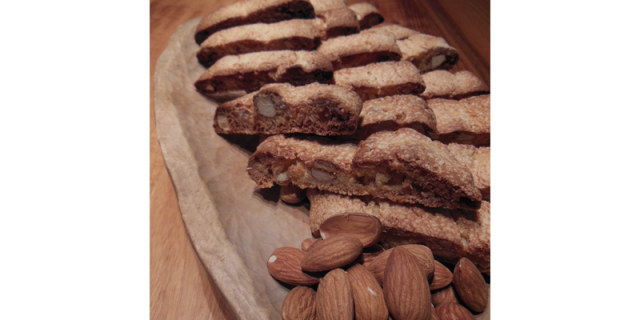 Sweet, hard aromatic biscuits are the perfect afternoon snack. Especially when we spend time after work at home after a busy day of busywork. Also, delicious snacks as we lie back on the couch are welcome even on these cold days when we just can't get out in the cold.
We bet there is no better way to brighten the mood and brighten the day than enjoying a warm cup of your favorite beverage and cantuccini biscuits that will smell the whole street.
With them you don't need room scents, they smell on their own! What makes them a perfect snack is the fact that they are easy to prepare and you will make quite a lot of the finest biscuits in one bake. Is there a better combination than the smell of orange, vanilla, butter, and almonds? Not really! Cantuccini will soon become a fan favorite and the only biscuit you will bake all year long.
Canttucini vs Biscotti
There is no difference between biscotti and cantucci, since all biscuits are called biscotti in Italian, and the word biscotti means "twice-cooked".
Etymology
Biscotti (/bɪˈskɒti/: Italian pronunciation: [biˈskɔtti]; English: twice-cooked), known also as cantucci ([kanˈtuttʃi]), are Italian almond biscuits that originated in the city of Prato. They are twice-baked, oblong-shaped, dry, crunchy, and may be dipped in a drink, traditionally Vin Santo.
The word biscotti, in this sense, shares its origin with the British English word "biscuit". Biscotti just signifies "biscuits/cookies" in Italian (gracious, and for the record "biscotti" is plural…You can have ONE biscotto or many, numerous biscotti!).
Biscotti in Italy can have any shape or structure; be delicate or chewy; square or round. Moreover, the word ''biscotti'' originates from the medieval Latin word biscoctus, meaning "twice-cooked". It characterized oven-baked goods that were baked twice, so they became very dry and could be stored for long periods. Cantuccio is an old Italian word that actually signifies "little spot" or "nook", "corner" yet that, in past, was additionally used to show a little bit of bread with a great deal outside layer (normally the first and last cuts of the portion, the "corners").
History
In the old days, at the time of long journeys and warfare, people used to bake biscuits twice because they needed food that could be easily stored for longer periods.
Biscotti were a staple of the eating routine of the Roman Legions. After the fall of the Roman Empire in 455 C.E, the nation was more than once sacked by the Visigoths, the Vandals, and others. The individuals gave a valiant effort to get by; there was no culinary improvement. Be that as it may, with the Renaissance, food additionally blossomed. Biscotti reappeared in Tuscany, credited to a Tuscan bread cook who served them with the nearby sweet wine.
This pastry has genuinely ongoing starting points dating from the mid-XIX century. The prestigious essayist Herman Hesse was one of the extraordinary epicureans of Cantuccini. In a letter from his book "From Italy," he recounts minimal dry biscuits which were great to such an extent that they were even able to bring terrible his good humor!
The first documented cantuccini recipe is dated around the eighteenth century and comes in form of a manuscript, currently kept in Prato, in which the biscuits are named Biscotti of Genoa.
In Florence, they are called cantuccini di prato, after the famous bakery. It is also believed that Christopher Columbus used to carry them with him on his travels. Now, it's time you discovered cantuccini, a very special kind of biscotti. They are twice-baked, dry and crunchy. For the Italians, dipping them in a drink, usually a dessert wine Vin Santo, is a must.
Despite its success in the combination with Cantucci, Vin Santo is frequently forgotten by today's market trends.
How to make cantuccini?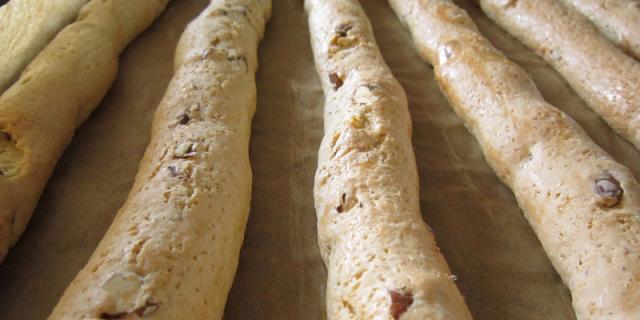 The original cantuccini mixture is composed exclusively of flour, sugar, eggs, and almonds, without any form of yeast or fat. The dough is then cooked twice, with the second baking defining how hard the biscotti are.
Modern recipes often call for baking powder and spices. Against the rules, biscotti may also be dipped in chocolate. But don't expect Italians to approve of that.
So, let's say you want to make cantuccini. You'll need 300 g flour, 250 g sugar, 3 eggs and 120 g raw almonds that are not skinned. Mix the flour with sugar and a pinch of salt, and add lightly beaten eggs. Knead quickly and add the almonds. Form the dough in two cylinders, each about 3cm in diameter. Bake at 170 C for about 20 minutes.
While they are still hot, cut diagonal slices about 1cm thick. Return to the oven for 5 to 10 minutes until they are completely dry. Once cooled, they can be stored in a box or jar for weeks.
You can replace the almonds with chocolate chips, hazelnuts, pistachios or dried fruits. The possibilities are endless.
Also, look after the number of ingredients – for example: the egg-only versions are crunchier and drier., The higher the proportion of dry ingredients to fat, the crisper the result.
It's a good idea to flavor the dough itself – hard and bland is not an attractive combination in a biscuit. The aromatic citrus zests or maybe anisette, lemon and amaretto could make a perfect dough taste.
Most European countries have adopted their version of biscotti. The British have rusks, the French have biscotti and croquets de carcassonne. Germans have zwieback, Greeks have biskota and paxemadia. Jewish people have mandelbrot and Russians have sukhariki.
The Old French word bescoit went into the English language as "biscuit", in spite of the fact that in English as in Italian "biscuit" doesn't allude explicitly to a twice-prepared bread.
In Spain, the Catalan carquinyoli (Catalan: [kəɾkiˈɲɔli], plural carquinyolis)[4] is made with entire or cut almonds and is likewise connected with a few Catalan-talking regions. In Batea, La Fatarella, and Prat de Comte, every single inland district of Catalonia, and in the Terra Alta, they are additionally called carquinyols.
Biscotti are customary additionally in some inland towns in Valencia, where they are called rosegons or rosegós. In Menorca, carquinyols are square molded and do exclude entire almonds. One Catalan nourishment author expresses that carquinyoli is gotten from the French croquignole. Croquignole, another name for these biscotti, is a French expression of the Germanic root.
In North America, where "biscuit" has taken on different implications, any twice-prepared scones are probably going to be known as biscotti source - The Nible.
What about the dipping part of the story?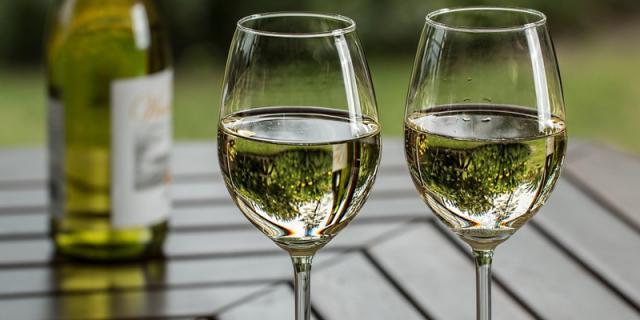 Biscuits and coffee, it's almost a daily combination of many of us, simply a combination we're used to, and it comes as no surprise to us.
But what about a combination of biscuits and wine? It's certainly not something commonplace and every day, and you might like it more than coffee combinations, hmm ...;)
When it comes to dipping cantuccini in something, the Italians have very strict rules. The Italian rule says to dip biscotti in Vin Santo, not coffee. This way, hard biscotti become moist after a few seconds. Buon appetito
Vin Santo [vin ˈsanto] ("holy wine") is a style of Italian dessert wine. Traditional in Tuscany, these wines are often made from white grape varieties such as Trebbiano and Malvasia, though Sangiovese may be used to produce a rosé style known as "Occhio di Pernice" or eye of the partridge.!
Discussing Vin Santo (truly, Holy Wine), this sweet ambrosia has a similarly long story behind its sweet notes.
As indicated by an old legend, during the year when the Black Death attacked Italy (in 1348) a Dominican monk circulated a refreshment to the casualties of the horrendous plague, a wine, disclosing to them it was a wonderful beverage, a sacred liquid.
This wine is incredible likewise with Italian cheddar and salty recipes, which is shockingly another component that brings Vin Santo and Cantucci together.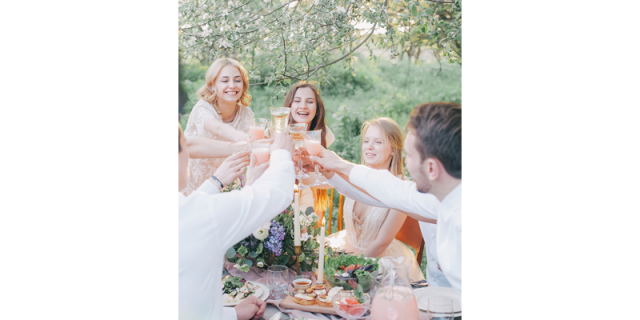 The celebrated Tuscan treats, truth be told, used to be cut from bread and toasted, and they were essentially salty. Almonds turned out to be a piece of the formula later
You can even find this combination in restaurants served as a dessert called "cantuccini and vin santo".
How to consume:
Slow down, touch the wine quickly with the Cantucci, wait enough time to let the cookie absorb the liquid and then enjoy the triumph of taste. This is how a masterpiece should be enjoyed: slowly and carefully.
Cantucci and breakfast?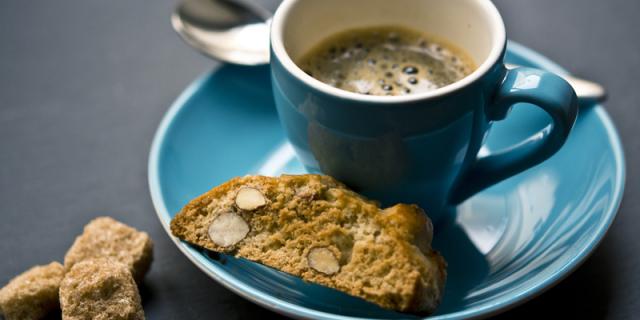 Technically biscotti (cantucci) refer to all crunchy biscuits and cookies. Therefore, biscotti (cantuccini) are eaten and dunked in cappuccino for breakfast. But this is the biscotti della salute, a less dense, less sweet biscuit that is only a breakfast food and would never be eaten with coffee after lunch or dinner.
Cantuccini nutrition
| | |
| --- | --- |
| CALORIES | 60 |
| Total fat 2.4 g | 4% from daily value |
| Saturated Fat 0.6g | 3% |
| Trans fat 0g | - |
| Cholesterol 12 mg | 4% |
| Sodium 14 mg | 1% |
| Total Carbohydrates 8g | 3% |
| Dietary Fiber 0.4g | 2% |
| Sugars 3.6g | |
| Protein 1.6g | |
| Iron | 1.6 % |
| Vitamin A | 0.8% |
Where they are made?
Cantuccini biscuits are made all over Toscana. The IGP status consoles clients that the item originates from this area, that EU rules are watched and that the makers are constrained by an outer body.
The Protected Geographical Indication keeps up the quality and notoriety of these treats.
The most famous producers:
Nonna Annunziata
Toscani IGP
Supremo Italiano
Toscani igp
It is the most famous brand talking about Cantuccini.
A passion lasting nearly 200 years
As they said on their website: Sapori's pgi (protected geographical indication) Tuscan cantuccino, the unmistakable diagonally sliced biscuit of historic Tuscan tradition: a shower of almonds meets fresh Tuscan milk and honey, fresh barn eggs and sugar to create a sensual delight with a unique crunchiness (Unique because at Sapori we bake cantuccini twice!).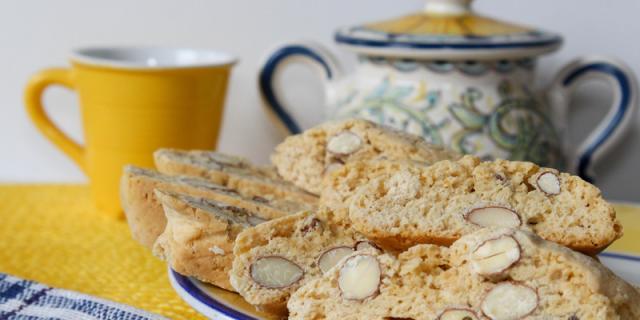 Be sure to subscribe to our newsletter by registering so that you do not miss any of our articles and insights.
Do you know anything more about Cantuccini biscuits? Share with us: contact@biscutipeople.com
More Biscuit Types