CEPI: The Right Partner
An automatized management of dosing processes not only ensures efficiency but achieves a final product of high quality and unique flavor. Controlling parameters such as temperature, pH, atmosphere is necessary to preserve the properties of the ingredients, and an automatized recipe allows repeatability, and high volumes of uniquely tasting food.
Automatizing the dosing system improves working conditions and eliminates human error, ensures precision and constancy in the process, optimizes space in the production area and the warehouse and reduces consumptions and pollutions. It enhances traceability of materials and processes, communication with other software and ERP. An automated dosing system is more hygienic, with total separation between production and warehouse.
Pairing up with a partner that can provide flexibility as well as continuity, customization and all-around expertise, production lines will become more linear and rational while achieving natural, healthy and aromatic products that are pursued by modern markets.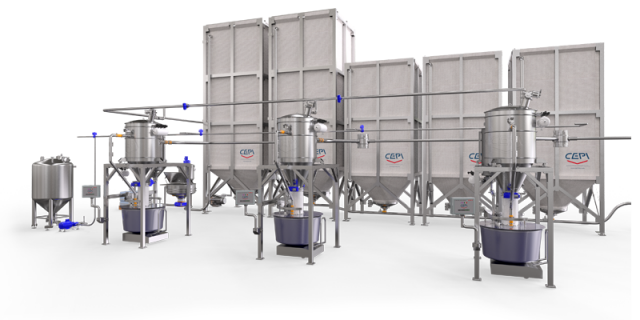 The design of the dosing system needs to fit the needs of each individual process. It must be based on information that goes much further than the purely technical, involving all departments from warehouse to marketing. It should include technologies that can improve the management of the raw materials and avoid intrusive processing, and be controlled through personalized operator panels, software for full traceability and warehouse management.
With 35 years of experience in the handling of raw materials for the food industry, CEPI can fully meet each of these needs. Not only does CEPI prioritize flexibility and customization, but all of their technologies are developed factoring the preservation of flavour and ingredient properties.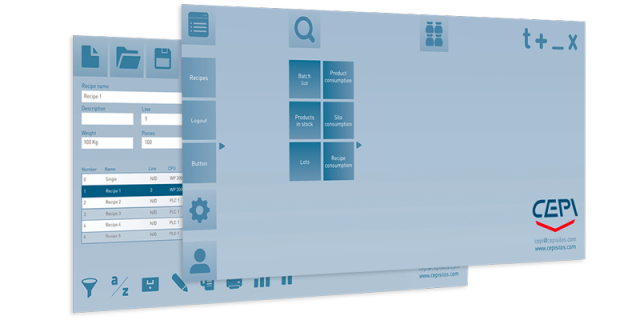 A family-run company with an international outlook, CEPI designs and manufactures turn-key systems for the storage, conveying and metering of raw materials, as well as fully integrated automation and technologies to complete all production processes. They were established in 1985 and are based in the Emilia Romagna region in Italy.
CEPI builds around 300 customized installations every year, focusing on the specificities of each installation and adapting or developing technologies accordingly. This approach results in constant research and innovation leading to unparalleled technological range. Similarly, every project is built around the development of close relationship with the customer through an ongoing conversation that involves all aspects of the project from analysis, to engineering and control, manufacture, installation and service.
Our dosing systems are developed through a process that we have refined through decades of working alongside the most diverse food manufacturers. It is supported by our vaste food technology expertise and the breadth of our technologies. CEPI's mission is twofold: to build turn-key installations that cover the entire production from storing to dosing, and to develop customized solutions to match the most disparate needs. Not only do our dosing systems improve the efficiency of the process and the quality of the final product, they are easy to adapt or expand with new ingredients and recipes due to the flexibility of the process.
The process
Bulk-handling is not just about silos. Designing a dosing system is a complex process that requires a close analysis of the manufacturer's processes. With repeatability, traceability and precision in mind, detailed information is needed about raw materials and consumptions, building evaluation, humidity and temperature effect and cross contamination, as well as other concerns such as sustainability. The customer's experience during this process is rarely discussed but for a project to be successful, the ability to fully involve them before and during planning is fundamental.
What is the role of the customer? What is the best way for them to gather the information needed to develop the best automation system? Firstly, we must remember that the bulk-handling system isn't marginal. While roughly the planning involves three main stages (ingredient analysis, the study of where to install the equipment and connection with production), there is a crucial preliminary phase that fully illustrates how automated dosing must be connected with all company's activities: not only production and technical, but warehouse, purchasing and marketing.
Why the marketing team? Because a projection of future productions should always be kept in mind to design a system that can be easily adapted or expanded in the future. This information is easily available within the company but the customer is not often encouraged to use it in the context of their bulk-handling system. CEPI does it.
This vision extends to all the planning. The three stages mentioned above are not happening in a linear way one after the other but are interdependent. Because of rich food technology expertise, CEPI will ask all relevant technical questions regarding the materials, recipes, and batches. But the customer needs to be fully accompanied and supported through their analysis of the ingredients by someone who not only knows their properties but understands how to manage all kinds of related concerns, for example in relation to the way they are received (bulk, bags, barrel, IBCs and so on.) It will help not only to match them with the most suitable dosing process, but to identify critical ingredients, technological advantages and saving opportunities. The building evaluation and connection with production need the same kind of overall view of the entire production, even small processes. When planning a new line, not only all the elements (bulk-handling system, mixer, packaging) must be taken in consideration and planned in parallel, but all future opportunities should be kept in mind.
CEPI is known for this kind of elastic thinking, and it is also one of the reasons it innovates so much: the will to fully understanding the process and to then support it with a system that matches it translates to a pretty much constant evolution of the technology and expansion of the range.
Integrated automation
CEPI provides a turn-key system that includes the automation. Hardware and software design is done completely in-house, offering production management through touch panels and software for full traceability and warehouse management.
CEPI's touch panels can be fully customized and are developed across both Siemens and Allen Bradley platforms. They handle recipe creation and management, ingredient and hopper parametrization, synoptic overview with real time status and maintenance of utilities with manual command, loading of silos and other stations, and any other functions like washing and climatization. Other options include CEPI's native PLC and weighing processor with LCD display, for standard operations and one-line production processes.
CEPI's native software Tracking System provides complete traceability including digitalization of all ingredient movements, lot control with barcode system and warehouse management, greatly enhancing food safety and the optimal management of related alarms. Receiving and visualizing data from the touch panels managing the production, Tracking System creates a history of storing and recipe production operations, providing production analysis with statistics of ingredient consumption, batch report with deviation analysis, stock visualization and dynamic graphics illustrating product, recipe or lot trends.
Each automation system is the result of a decades-long history of parallel development alongside the mechanical side. With a team of 24 programmers working on automation and software design, CEPI provides technical and human continuity through the development of a project that can become very specific and complex.

CEPI's automation system is interconnected and can exchange information with any third party in the line. Our solutions provide full horizontal and vertical integration, managing dialogue and data among our devices and those of other partners, after the dosing and before the raw ingredients management. All our data can be easily integrated with global ERP to achive organization-wide traceability. It can generate important information for not only for the production departments and management, but for departments such as Quality Control (lot usage information for each raw material) and Purchases (schedule of raw material purchase, spare part purchase).
Contact Cepi SPA today and get your hands on some top-of-the-line systems!
Cepi SPA: Quality Turn-key Systems for Storage and Conveying!