In today's article, we'll be talking about the biscuits themselves, primarily their history. Besides that, we'll also be talking about Greek cuisine, to give you a little-bit of background information and context to today's article. At the end of the article, we'll give you a sample recipe which you can try out yourself. Trust us, your friends and family will be more than surprised. In order to make your life a little bit easier, and since we're feeling festive ourselves, we have decided to write an article on the traditional Greek melomakarona biscuits. Tradition is important, and believe us when we say that these biscuits have a long-standing tradition… Not only that, but they also look and taste great, and they're not that hard to bake, if you possess a little culinary know-how.
Greek Melomakarona: The Greek cuisine
When talking about Greek cooking and cuisine, one can think of plentiful and fresh ingredients. The base of the traditional Greek kitchen consists of bread, cheese, olive oil or olives and fresh wine. It can be considered as healthy, due to the popularity of seafood. One interesting fact: vegetarianism is mostly based on ingredients from Greek kitchen!
Moreover, fish presents an important part of the Greek diet. But of course, meat like beef, pork and poultry is also commonly used. Greeks really love food and they try to make their meals as simple as they can - but of course, that does not affect the quality of their meals. It's fascinating how Greek culture differs from western culture. While westerners like to eat their meals as fast as they can, Greek people enjoy food for hours on end! During this time, Greeks prefer to have company and chit-chat for hours (while eating, of course).
If you are interested in Greek kitchen and what it has to offer, you came to the right place! Just sit down, grab your coffee (or wine, as Greeks prefer wine after their meals) and read-on about our take on the traditional meals of the Greek cuisine, including the Greek Melomakarona!
First of all, you ought to know about Greek prominent proverb saying "When in Greece, eat like a Greek." You might be asking yourself: "How do the Greeks differ from the rest of the world?" Well, as already mentioned, they like simple things in life. Usually, their dishes are seasoned with herbs and olive oil instead of exotic spices.
First and foremost, however, we're going to talk about Amygdalota biscuits. Amygdalota is a name for gluten-free types of biscuits consisting of almonds. These types of biscuits go perfectly with coffee and they are a must on every family gathering. These biscuit types are widespread and popular because almonds are one of the most beloved ingredients in Greece.
Next on our list is baklava. This sweet treat is popular all around the world, not only in Greece. It is primarily made out of nuts, sugar and butter. This dessert is ideal for every person who is fond of crunchy and sweet food, as it is very crispy and sugared.
If you prefer salty food over sweet, we got you covered! Courgette Balls or, brace yourself, kolokithokeftedes (very hard to pronounce, right?) are veggie balls with a salty touch. Except vegetables, it consists of feta cheese and fresh mints. The best thing to mention is that Courgette Balls are crispy and creamy at the same time.
Choriatiki or Greek Salad is vegans. On the other hand, though, you can combine it with meat. This meal consists of tomatoes, cucumbers, feta cheese and olives. The most important thing to mention is that you have the freedom to choose the dressing you want to try. Restaurants often serve dressings as vinegar, pepper and olive oil.
Furthermore, gyros are well-known all around the world. It is especially common amongst young people. The meat in gyros is put in a vertical position which makes it special. It presents an economical type of food. You can put a lot of vegetables in your gyro, such as lettuce, tomatoes, pickles... even potato chips!
Moussaka stands for "juicy traditional dish". On the whole, it is usually served in important events. It is not a complicated dish to prepare, as all you need is beef, eggplants, béchamel sauce to make it creamy, and good will, of course!
Another comfort food is Yiaourti Me Meli. Yiaourti Me Meli is yoghurt and honey. It can be served as a dessert or for breakfast. It is very healthy and low in calories, consisting of honey, walnuts and yoghurt.
This is it for our take on Greek cuisine. Of course, this short section represents only the tip of the iceberg when it comes to Greek cuisine. Right now, however, we would like to focus on Greek melomakarona, primarily their history and the sample recipe. Read-on to find out the tradition behind these great-looking biscuits!
Sources: Traditional Greek Foods you Must Eat in Greece, Travel Ideas – Eating Greek and Greek Food History.
Greek melomakarona history: A quick overview
Did you know that the English word "macaroni" actually comes from the medieval Greek word "macaronea"? That's right, your beloved macaroni and cheese have their meaning rooted in medieval Greece. Of course, macaroni and macaronea have nothing in common, except the fact that they're both pasta meals.
The macaronea were actually funeral dinners which honoured the dead. Since we're in the festive season, and funerals are not very… well, festive, we'll skip this part of the history behind the Greek melomakarona types of biscuits. What interests us the most is how they came to be.
Although the modern melomakarona biscuits are festive treats, it seems that their history is rooted in conflict and mourning. Although we said we would skip this part of their history, it is important to note that their origin dates back to fifth century B.C. a whole five centuries before Christ, whose birth we celebrate on Christmas day!
The exact historical event that is mentioned is the Epitaph speech by Pericles in which he mourns the first victims of the Peloponnesian War. There, the mourners shared the makaronea between themselves as sort of a comfort food.
How is it then, that a food that is rooted in conflict and death, came to be a traditional Christmas biscuit? Well, actually, the melomakarona evolved from makaria. You see, the makaria was, during later periods of Greek history (primarily during the Byzantine Empire), soaked into honey. That's how the meal gained the "meli" suffix, which means honey. This is why melomakarona can literally be translated as honey biscuits. In time, the melomakarona biscuit types became the most popular biscuit eaten during the twelve days of Christmas.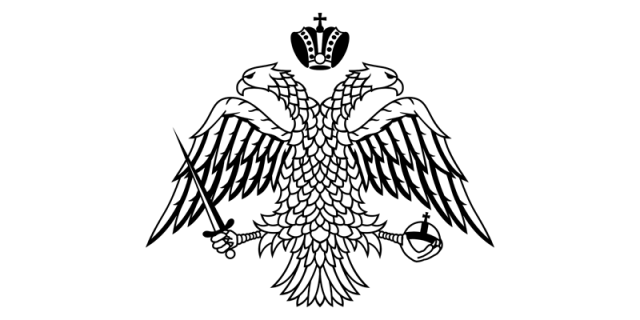 Byzantine Coat of Arms
Is it interesting to see how something that came to exist during the Byzantine Empire is still very popular today. We're sure you'd like to try one of these biscuits yourself. That is why we're bringing you a sample recipe by Katerina Xirou, courtesy of Taste Driver. It's not hard to make Greek melomakarona, you just need to have some basic ingredients, tools and culinary skills. Let's begin, shall we?
Source: Taster Driver – Tasting Greece.
Greek melomakarona: A sample recipe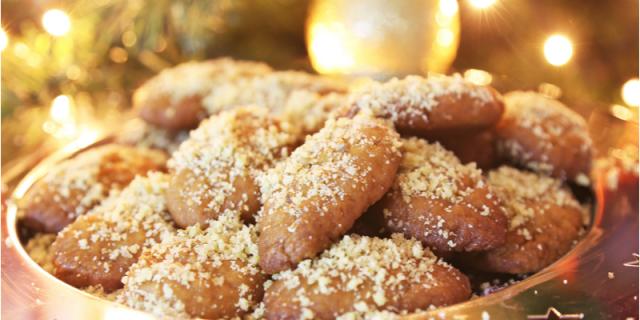 Photo: By stella/shutterstock.com
Thanks to Katerina Xirou, we're able to bring you a sample recipe of the traditional Greek melomakarona types of biscuits. Without further-ado, these are the ingredients you'll need to bake your very own Greek melomakarona:
One litre of olive oil
One tablespoon of clove
One tablespoon of Soda
Two glasses of orange juice
Lemon zest from two lemons
Two vanillin
Two kilograms of soft flour (needs to be well sifted)
One cup of powdered sugar
One tablespoon of cinnamon
One wine glass cognac
Orange zest from two oranges
Two hundred grams of fresh, crumbly walnuts
As for the finishing, you'll need the following ingredients:
Two hundred grams of fresh, finely chopped nuts
And finally, for the syrup you'll need:
One kilogram of sugar
One thousand and five hundred grams of honey
Three glasses of water
Two cinnamon sticks
Five to six cloves
One slice of lemon peel
Now that you've gathered all of the necessary ingredients for preparing the Greek melomakarona biscuits, it's time to get to cooking! There are seventeen steps in total when it comes to melomakarona baking, so let's start with the first one:
Take a large bowl, add in the following ingredients and let them rest for ten minutes:

Olive oil
Cognac
Sugar
Orange
Lemon zest
Cinnamon
Cloves

Whisk the ingredients until the sugar melts completely. This is done to make the melomakarona as crispier as possible.
Take the glass with the orange juice and add in the soda. Stir it with a fork, and add the mixture to the bowl with the ingredients and whish again.
Prepare the dough, and remember to keep it fluffy, supple and oily. Don't knead it for too long so that the melomakarona doesn't become too dry.
Now cover the bowl and let the dough rest for half an hour.
After the half-hour mark, kneed the dough again, this time adding in nuts.
Cut the dough into small pieces. You can shape it in any way you want.
Place them into rows on a plate. Don't add oil as the dough is oily.
Get a fork and poke some holes in the biscuits. We do this to make it easier for the syrup to pass through more easily.
Pre-heat the oven at one-hundred and sixty degrees Celsius and bake the biscuits for about twenty-five minutes (until get golden or crispy brown).
Remove the biscuits from the oven and allow them to cool-down.
Time to make the syrup!
Add all of the ingredients for the syrup to a saucepan and let them heat until they reach a hundred degrees Celsius. Keep boiling them for three more minutes.
Use a ladle to remove the foam, after that, lower the heat.
Dip the melomakarona biscuits in the hot syrup for fifteen seconds.
In the end, sprinkle some nuts on top.
And there you have it! Your very own Greek melomakarona biscuits! We hope you enjoyed today's article, especially the history behind these types of biscuits. We hope that you'll also give the sample recipe a try and that you'll share these biscuits with your friends and family. Merry Christmas and happy holidays!
Source: Taste Drive – Tasting Greece.
---
Leading image source: mpessaris/shutterstock.com