Food Safety Standards. Food hazards can occur at any point from farm-to-fork so food safety standards (like ISO, SQF, BRC) are needed to ensure the safety of the global food supply chain.
Do we even know what are we eating? You surely sometimes heard about someone who got food poisoning or other disease but he was always eating so healthy! Or it seemed like it was healthy… To prevent this, many world organizations whose main role is food safety were created worldwide.
So, maintaining food security has become a necessity when it comes to food trade and customer demand. The food put on the market has to be of good quality and safe for consumption. Food safety and quality are a matter of international significance and the responsibility of food producers and governments.
Food products require special conditions during distribution. Many factors have to be considered: air quality, temperature, humidity, etc. Many of today's food products repeatedly cross national boundaries, International Standards are needed to ensure the safety of the global food supply chain. There are standards and certification systems that every food producer and food professional must know and follow in their business. Every certification system has its rules, and the aim of this paper is to represent standards and show which rules they lead to. Food businesses are legally responsible for the safety of the food they produce, transport, store and in the end – sell to customers.
They are required to adopt a preventative approach by identifying and controlling hazards before they compromise the safety of food. To comply with these requirements, many food businesses follow relevant industry standards about which you can read in the pages that follow. According to experts, the main difficulty in implementing these standards is the insufficient technical knowledge of the team. Thus, the purpose of this document is to briefly introduce you to the major food industry certified standards so that everyone can know them. During the process of distributing food products go through all stages of the supply chain. This involves all processes which describe how food travels from a farm to the consumers' tables.
Farm-to-table
Farm-to-table is a phrase that means that the food on the table came directly from a specific farm, without going through a store, market or even distributor along the way. More commonly, the use of farm-to-table emphasizes a direct relationship between a farm and a restaurant. Rather than buying through a distributor or a food service, some restaurants establish relationships with farms and buy directly from them, having in mind that food is guaranteed healthy, and that means a lot to customers. We can say that it's even a good mouth-to-mouth marketing because saying: ''Hey XY restaurant has food directly from farmers, you can eat there, it is healthy'' - means a lot to most people.

Farmers benefit by being able to bring in more of the profit their goods can earn at the market, and many enjoy knowing how their food will be treated in restaurants. That's how farmers and restaurants often even start collaboration. It is celebrated as 'knowing where your food comes from', considering that farmers' food is organic, pure, healthy and without any hazards. Not only for restaurants, but this phrase also refers to buying products for your own home directly from farmers (mostly on a farmer market). If you hear even a phrase farm-to-fork or even farm-to-school, that means the same thing, so you can use this phase however you like it!
Although, in its purest, most honest form, farm-to-table means the table is actually at the farm and chefs prepare and serve the food at the farm (even in the field). What happens as one-off events, a tour of the farm is offered, with the farmer describing the methods used to raise the meat, poultry, fruits, and vegetables.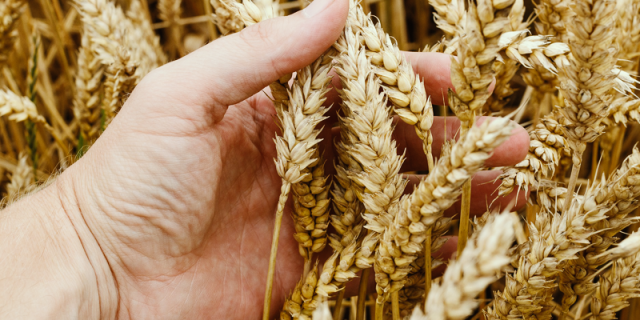 Figure 1: Field of wheat
Food Safety
Food safety is a scientific discipline describing the handle, preparation, and storage of food so it prevents illness, bacteria, pesticides, etc. Food safety considerations include the origins of food including the practices relating to food labeling, food hygiene, food additives, and pesticide residues, as well as policies on biotechnology. Unsafe food contains harmful bacteria, viruses, parasites, and chemical substances which can cause more than 200 diseases – ranging from diarrhea to cancers so that's why food safety is the main concern of many organizations. Organizations are doing so much to provide safe food on our plates and the most outstanding ones globally are WHO and FAO.
WHO
The World Health Organization (WHO) is a specialized agency of the United Nations that is concerned with international public health. It was established on 7 April 1948 and is headquartered in Geneva. The WHO is a member of the United Nations Development Group. Its predecessor, the Health Organization, was an agency of the League of Nations. The constitution of the World Health Organization had been signed by 61 countries. The WHO's Constitution states that its objective "is the attainment by all people of the highest possible level of health".
The WHO fulfills this objective through its functions as defined in its Constitution, for example:
To act as the directing and coordinating authority on international health work
To maintain effective collaboration with the United Nations, specialized agencies, governmental health administrations, professional groups, and such other common organizations
To assist Governments in strengthening health services
To furnish appropriate technical assistance and, in emergencies, necessary aid upon the request or acceptance of Governments
FAO
The Food and Agriculture Organization of the United Nations is a specialized agency of the United Nations. Organizations' main role is to defeat hunger. FAO acts as a neutral forum where all nations meet as equals to negotiate arguments and debate policy. FAO is also a source of knowledge and information, and helps developing countries in transition, modernize and improve agriculture, forestry and fisheries practices, ensuring good nutrition and food security for all.
FAO'S priority work areas
Help eliminate hunger, food insecurity and malnutrition
Make agriculture, forestry, and fisheries more productive and sustainable – promote evidence-based policies and practices to support highly productive agricultural sectors while ensuring that the natural resource base does not suffer in the process.
Reduce rural poverty – help the rural poor gain access to the resources and services they need
Enable efficient agricultural and food systems
Increase the resilience of livelihoods to threats and crises – help countries to prepare for natural and human-caused disasters by reducing their risk and enhancing the resilience of their food and agricultural systems.
Supply chain
Unsafe food can lead to foodborne illness. Food safety is intrinsically linked to physical, chemical or microbiological hazards that can occur at any point in the food chain from farm to consumer. Food businesses have an important role to play in the control of these hazards. A supply chain is the network of all the individuals, organizations, resources, activities and technology involved in the creation and sale of a product, from the delivery of source materials from the supplier to the manufacturer, through to its eventual delivery to the end-user. The main purpose of managing the supply chain as an integration function is to develop a competitive business model by connecting key business functions and processes inside and among economic subjects. There is even a supply chain management that companies must plan in their business. The main purpose of managing the supply chain as an integration function is to develop a competitive business model by connecting key business functions and processes inside and among economic subjects.

Supply chain management mainly focuses on planning and developing a set of metrics. Supply chain management is a process used by companies to ensure that their supply chain is efficient and cost-effective. After planning, the next step involves developing or sourcing. In this stage, management concentrate on building a strong relationship with suppliers of the raw materials required for production. This involves not only identifying dependable suppliers but also determining different planning methods for shipping, delivery, and payment of the product. Companies need to select suppliers to deliver the items and services they require to develop their product. So in this stage, the supply chain managers need to construct a set of pricing, delivery and payment processes with suppliers and also create the metrics for controlling and improving the relationships.

Now that you know how all of it started, and which organizations could take the most credit, we will now explain the operational-level programs that underlie most of the certification standards. BRC, SQF, FSSC 22000, IFS and GLOBAL GAP are standards recognized by the Global Food Safety Initiative (GFSI), which is a non-profit organization created to promote food safety globally.
They are:
HACCP
Hazard Analysis and Critical Control Points (HACCP) is mainly a standard in the Food Industry. It is a preventative, risk-based system used by food businesses to ensure the safety of food. It was originally established in the 1960s for the production of safe foods for the United States space program. HACCP enables food businesses to identify critical control points before they compromise the safety of food.
Hazards can be:
Physical (glass)
Chemical (pesticides)
Microbiological (food poisoning bacteria)
By law, all food businesses in Europe must implement and maintain procedures based on HACCP principles. Before implementing HACCP, good hygiene practices (GHP) must be in place. Examples include firstly, of course, personnel hygiene and training, cleaning and sanitation, maintenance and services, pest control, plant and equipment, premises and structure, storage, distribution and transport, and waste management. U.S. food processing firms have been subject to manufacturing/processing rules or standards for decades, but the standards continue to evolve. The development and application of Hazard Analysis and Critical Control Point (HACCP) principles to seafood, juice, meat and poultry processing has been a significant event since the 1990s. There is also the term 'HACCP Certification', very important for businesses. It is a system that recognizes that a food business has developed, documented and implemented systems and procedures following HACCP. HACCP is a tool to help identify and control food safety hazards that may occur within the food business.

HACCP certification is granted by an external certification authority that has the necessary knowledge and skills to assess the HACCP system or HACCP plan. The food business should always ensure that the external or third-party HACCP certification body has the necessary qualifications to provide this service. In some countries, it is also mandatory or a legal requirement that the food business has a certified HACCP system in place. Proactive food businesses will gain HACCP certification to ensure that all possible food safety risks are covered – which makes good and logical business sense. The Food Drug and Cosmetic Act (FDCA) directs the FDA to establish definitions and standards for food. FDA has 300 identity standards in 20 categories of food. FDA standards of identity specify minimum and maximum requirements, optional and prohibited ingredients.
Example:
12 CFR 139.110 – Macaroni products
Macaroni products are the class of food which is prepared by drying formed units of dough made from semolina, durum flour, farina, flour, or any combination of two or more of these, with water and with or without one or more of the optional ingredients
Egg white, frozen egg white, dried egg white, or any two or all of these, in such quantity that the solids thereof are not less than 0.5 percent and not more than 2.0 percent of the weight of the finished food
Disodium phosphate, in a quantity not less than 0.5 percent and not more than 1.0 percent of the weight of the finished food
Onions, celery, garlic, bay leaf, or any two or more of these, in a quantity which seasons the food
Salt, in a quantity which seasons the food
Gum gluten, in such quantity that the protein content of the finished food is not more than 13 percent by weight. The finished macaroni product contains not less than 87 percent of total solids.
GMP (Good Manufacturing Practice)
Good Manufacturing Practice (GMP) is a system for ensuring that products are consistently produced and controlled according to quality standards. It is designed to minimize the risks, not only in manufacturing food, but also in cosmetics, and pharmaceutical goods. GMP guidelines help ensure that it cuts off risks and mistakes involved in any pharmaceutical production that cannot be eliminated through testing the final product. In addition, following GMP prevents risks of misbranding, contamination, or adulteration of manufactured goods. GMP's practices are promoted by regulatory authorities (including the WHO and US FDA).

Why is GMP important?
Poor-quality medicines are not only a health hazard but a waste of money for both governments and individual consumers. It is necessary because GMP prevents risks during the manufacturing process and without GMP it is impossible, after the manufacturing process it is too late to test the product because nothing else could guarantee that every unit of a medicine is of the same quality as the units of medicine tested in the laboratory. Manufacturers shouldn't even think about how much implementing GMP costs because making poor quality products does not save money. In the long run, it is more expensive finding mistakes after they have been made than preventing them in the first place. Poor quality medicine may contain toxic substances that have been unintentionally added. Also, a medicine that contains little or none of the claimed ingredient will not have the intended therapeutic effect. GMPs are enforced in the United States by the U.S. Food and Drug Administration (FDA). The regulations use the phrase "current good manufacturing practices" (CGMP) to describe these guidelines.
GMP'S Guideline
Many countries have legislated that manufacturers follow GMP procedures and create their own GMP guidelines that correspond with their legislation, here are some of them:
Maintain controlled environmental conditions
Any changes in the process must be evaluated immediately
Records must be made during manufacture (make sure that all the steps were taken)
Records of manufacture that enable the complete history
A system must be in place for recalling any batch from sale or supply
Qualify and validate processes
Equipment
The program aims to standardize inspection and establish criteria for verification of the following programs established by the former MAPA (Ministry of Agriculture, Livestock and Supply), today MADR (Ministry of Food and Rural Development).
Also Standard Operating Hygiene Procedures – PPHO, HACCP, and the GMP. It is established by circular, having no form of law. Currently, some inspectors require PAC and GMP, while others only charge PAC.
Knowing the fundamentals that give 'life' to some of the rules, we present you the most common:
ISO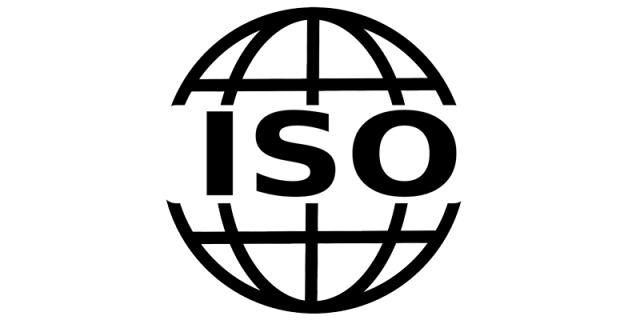 Figure 2: ISO International Organization for Standardization
The International Organization for Standardization is an independent, non-governmental organization, the members of which are the standards organizations of the 163 member countries. It is an institute that develops standards, tests, and certifications to improve trade in goods and services. In all, 163 countries actively participate in ISO-promoted projects or follow ISO regulations. Brazil, through ABNT (Brazilian Association of Technical Standards), is among the most active members of the group. ISO creates documents that provide requirements, specifications, guidelines, and characteristics that can be used consistently to ensure that materials, products, processes, and services are fit for their purpose. By now, ISO published 22746 International Standards from manufactured products and technology to food safety, agriculture, and healthcare.
ISO began in 1928 as the International Federation of the National Standardizing Associations (ISA). It was suspended in 1942 during World War II, but after the war, ISA was approached by the recently formed United Nations Standards Coordinating Committee (UNSCC) with a proposal to form a new global standards body. In October 1946, ISA and UNSCC delegates from 25 countries met in London and agreed to join forces to create the new International Organization for Standardization; the new organization officially began operations in February 1947.
ISO 2200
ISO 22000 is a Food Safety Management System that can be applied to any organization in the food chain, farm to fork. Becoming certified to ISO 22000 allows a company to show their customers that they have a food safety management system in place. It is a general derivative of ISO 9000. These are specific requirements for the food safety management system where the organization needs to demonstrate its ability to control hazards to ensure food is safe at the time of consumption (full focus on HACCP).
Additional Guideline Standards (not certifiable) are ISO 22002 – ISO 22004 Application Guide, Audit Rules for ISO 2200 – ISO 22003.
BRC (British Retail Consortium)
The BRC standards for the food industry were created to ensure the compliance of manufacturers, suppliers and the ability of retailers to guarantee the quality and safety of the food products they sell. British retailers have partnered with the organization called the British Retail Consortium (BRC). BRC - The British Retail Consortium has so far developed five standards for the food industry. The British Retail Consortium is an organization representing all UK major retailers. They are developing BRC standards to help retailers fully meet their legal consumer protection obligations by providing a common basis for vetting all companies that supply retailers with products. BRC standards have become appreciated in other organizations within the food sector, and are considered as a benchmark for best practice in the food industry.
Standards are also used outside the UK, so they are slowly becoming global not only for retail suppliers but also for the framework by which many companies base their assessment of their suppliers and the production of their brands.
Foundation for Food Safety Certification (FSSC) 22000
It encompasses the entire supply chain and its primary objective is the production and placing of food products that are safe for consumers. It is a combination of ISO 22000 + technical specifications that detail which and how prerequisite programs should be implemented.
What is the difference between ISO 22000 and FSSC 2200?
ISO 22000 is not recognized by GFSI
ISO 22000 is broad in scope
FSSC has a more limited scope. Current scopes included are farming, perishable animal products, food processing, feed production, food ingredients, and food packaging material manufacturing.
Most companies will benefit by choosing FSSC 22000 and achieving a GFSI recognized certification. This is because many companies require that their suppliers be certified to a GFSI recognized standard. ISO 22000 is not recognized by GFSI. The Global Food Safety Initiative (GFSI) brings together key actors of the food industry to collaboratively drive continuous improvement in food safety management systems around the world. This gives you the freedom to select which food safety standard to implement in your company as long as you select the one that is recognized by GFSI.
SQF (Safe Food Quality)
It covers the entire supply chain and aims to meet the needs of buyers and suppliers with a quality system, food safety, document and record control. It has 3 levels of certification wherein 3, the branding is authorized in the product ''SGF Shield''.
IFS (International Featured Standards)
It covers food from almost every supply chain except primary agricultural production. It aims to provide product and process quality assurance and food safety for food distributors and unlike other standards, IFS is very flexible.
Global GAP (Good Agricultural Practice)
The EUREGAP standard was first published in 1997. It has been published by the Euro-Retailer Produce Working Group (EUREP group), made up of European food retailers, farmers and members of various interest groups. The standard is defined at the request of customers to create a generally accepted standard of good agricultural practice (DPP/GAP) documented in such a way that it is suitable for carrying out the certification process according to internationally accepted procedures. The norm applies to all farm activities. Compliance also means that products are created or grown sustainably. The norm applies to all farm activities. Compliance also means that products are created or grown sustainably. Moreover, it helps customers to gain trust in products.
ISO 9001
Standard that certifies and defines a quality management system, which can be used by any organization, regardless of its size, sector, product/service offered. It aims to increase customers' satisfaction through process improvements and conformity assessment.
There are several benefits to implementing efficient business processes in your business. The main ones are:
Increased profit potential and market share
Better utilization of their time through improved resource management
Time and money saved on recurring problems, with many problems being resolved first time around
An improved relationship with customers and suppliers
Quicker identification and resolution of issues, in many cases without their customers even knowing there was an issue
Increased job security for staff through enhanced business performance
Who is ISO 9001 for?
ISO 9001 is a certification that can be achieved by any business, of any size, in any sector.
Traditionally ISO 9001 has been seen as a quality management standard for the manufacturing sector. It is an ideal standard for those in the manufacturing sector ensuring quality throughout the manufacturing process of a product.
However, ISO Quality Services Limited has helped implement ISO 9001 into many other sectors including:
The business services sector, including accountants, solicitors and business consultancies;
Waste and cleaning companies
IT and creative businesses
Charities and care homes
Construction companies
Automotive and transport companies; and
The hospitality and retail sector
ISO 17025
Its main purpose is the standardization of laboratory tests, but only for testing and calibration laboratories. Also, it prevents divergence of opinion about results and reducing documents for explanatory purposes.
ISO 14001
Its main purpose is to specify the requirements for the implementation of an environmental management system enabling all organizations, regardless of their size, sector, product/service offered, to develop sustainable practices in their business.
ISO 28000
ISO 28000 regulates a supply chain security management system to optimize the performance of companies of any type and size, operating or relying on any aspect of the supply chain. It aims to enable the identification of preventive measures that are effective in drastically reducing risks in operations.

ISO 45001
Establishes an occupational health and safety management system, focused on improving the performance of any company in terms of occupational health and safety.
It aims to provide a framework for managing the identified risks and opportunities within the company so that injuries and occupational health problems can be prevented, also safe and healthy work environments can be provided.

ISO 22005
It presents the principles and specifies the basic requirements for the planning and implementation of a food and feed traceability system. It can be applied by organizations that operate at any stage of the food and feed production chain. It aims to ensure the typicality, authenticity, and traceability of food throughout the supply chain.
Halal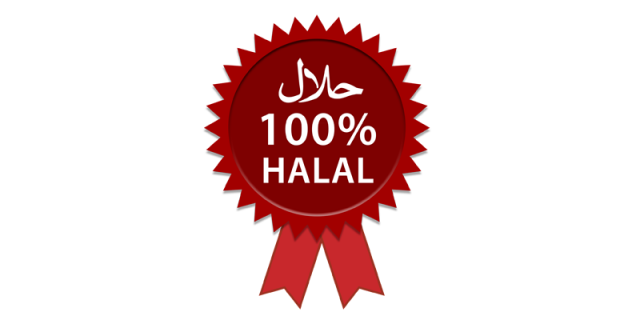 Figure 3: 100% Halal
Religious norms designed to assure Muslims that food is free from the elements forbidden by God in the Holy Quran. The certificate must be given by a duly registered and recognized Islamic institution. The Halal product formulation must not contain or be contaminated with any oft he Haram ingredients such as meat, fat, leather, bones and any derivatives of swine, alcohol, insects, and blood of any animal. It does not mean, however, that they cannot be present in the plants or the same manufacturing flaw, but rather cross-contamination prevention measures are adopted. The placement of a Halal seal is authorized on the product.

Kosher

Kosher is a certificate used to certify that products manufactured by a particular company comply with the specific rules governing the Orthodox Jewish diet. The certificate must be given by a duly registered and recognized Jewish entity. The details of kashrut (the set of food and drink laws) are very extensive. Placement of symbols is allowed on products where the ''K'' symbol indicates that the manufacturer presents the products as a kosher to the kosher consumer. The Kosher symbol together with the term Parve (Hebrew word meaning neither meat nor milk) ensures that the products do not contain meat, poultry or dairy products, therefore, it is also suitable for vegetarian consumption.

Food Safety Plan - Cookies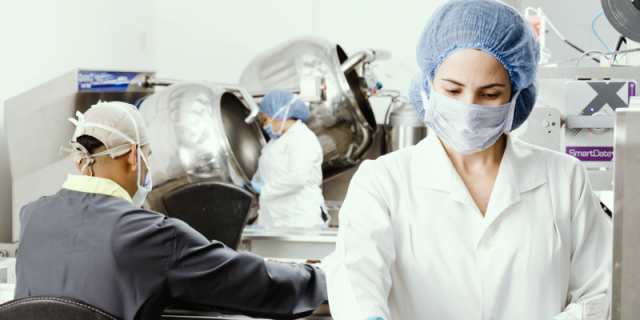 Figure 4: People inside the factory wearing masks and coats
The highest risk is in eggs and that's the main point of analyzing when it comes to the safety of cookies. Experts always minutely check on eggs first.
When making a food safety plan for cookies, according to the Ministry of Health, here are some of the regulatory requirements you have to lead:
Detail description of the product
Allergens
Food processing steps
Storing, packaging
Shelf-live
Ingredients
General consumers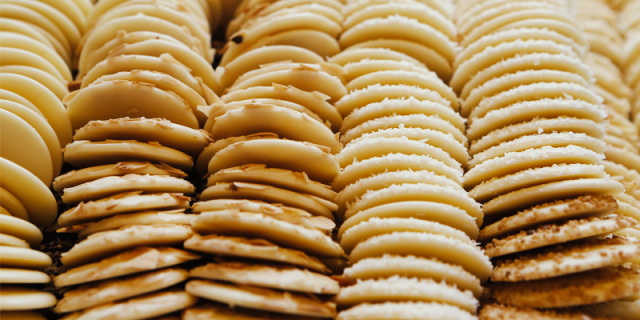 Figure 5: Safety plan for cookies
Also:
Identifying Hazards
Identifying Critical Control Points
Establishing Critical Limits
Establishing Monitoring Procedures
Establishing Corrective Actions
Establishing Verification Procedures
Keeping Records