Danish Butter Cookies comprise five cookies, including deposited and rotary moulded cookies. They are made on dedicated lines with suitable forming, baking and packaging equipment
Danish Butter Cookies recipe
Product specifications and formulations
Swirl cookie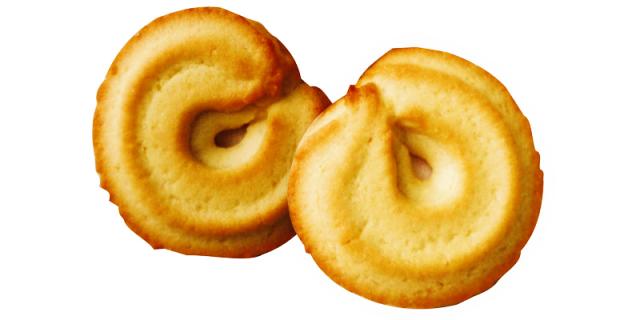 Figure 1: Swirl cookie
| | |
| --- | --- |
| Dimensions: | 50 x 45 mm |
| Thickness: | 10.25 mm |
| Weight: | 10 g |
Recipe 1: Swirl cookie
| | |
| --- | --- |
| Flour | 100 |
| Corn starch | 7.352 |
| Shortening | 58.82 |
| Butter | 7.352 |
| Sugar | 41.174 |
| Invert syrup | 4.411 |
| Milk powder | 5.147 |
| Egg white | 1.47 |
| Salt | 0.735 |
| Sodium bicarbonate | 0.184 |
| Vanilla flavour | 0.184 |
| Butter flavour | 0.184 |
| Water | 14.7 |
| | 241.713 |
Pretzel

Figure 2: Pretzel
| | |
| --- | --- |
| Dimensions: | 50 x 40 mm |
| Thickness: | 9.75 mm |
| Weight: | 7.5 g |
Recipe 2: Pretzel
| | |
| --- | --- |
| Flour | 100 |
| Butter fat | 41.667 |
| Icing sugar | 20.833 |
| Granulated sugar | 14.167 |
| Soya flour | 4.167 |
| Sodium bicarbonate | 0.083 |
| Salt | 0.667 |
| Water at 20°C | 14.167 |
| | 195.751 |
| Egg wash | 10.833 |
| Sugar topping | 17.5 |
Vanilla cookie

Figure 3: Vanilla cookie
| | |
| --- | --- |
| Dimensions: | 50 x 40 mm |
| Thickness: | 10.25 mm |
| Weight: | 10 g |
Recipe 3: Vanilla cookies
| | |
| --- | --- |
| Flour, weak | 100 |
| Butter fat | 47.619 |
| Icing sugar | 23.809 |
| Granulated sugar | 14.286 |
| Soya flour | 1.428 |
| Salt | 0.762 |
| Vanilla flavour | 0.219 |
| Water at 20°C | 17.143 |
| | 205.266 |
Coconut and currant cookies

Figure 4: Coconut and currant cookies
| | |
| --- | --- |
| Dimensions: | 47 mm diam. |
| Thickness: | 9.25 mm |
| Weight: | 8 g |
Recipe 4: Coconut and currant cookies
| | |
| --- | --- |
| Flour | 100 |
| Butter fat | 43.478 |
| Icing sugar | 30.435 |
| Granulated sugar | 21.739 |
| Soya meal | 1.3 |
| Desiccated coconut | 10.435 |
| Currants | 4 |
| Sodium bicarbonate | 0.348 |
| Salt | 0.696 |
| Water at 20°C | 19.13 |
| | 231.561 |
Chocolate chip cookies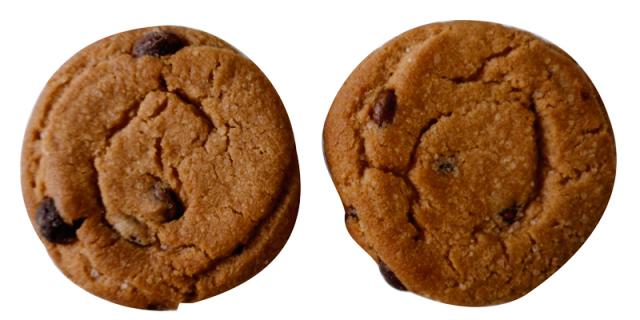 Figure 5: Chocolate chip cookies
| | |
| --- | --- |
| Dimensions: | 50 mm diam. |
| Thickness: | 9.25 mm |
| Weight: | 10 g |
Recipe 5: Chocolate chip cookies
| | |
| --- | --- |
| Flour | 100 |
| Shortening | 29.607 |
| Sugar | 37.16 |
| High fructose corn syrup | 26.435 |
| Corn syrup | 7.563 |
| Molasses | 0.755 |
| Eggs, powdered | 2.719 |
| Vanilla, powdered | 0.273 |
| Butter flavour | 0.325 |
| Sodium bicarbonate | 1.597 |
| Salt | 1.373 |
| Baking powder | 1.092 |
| Ice | 6.949 |
| Choc chips | 22.659 |
| | 238.507 |
Production
The cookies are made on a single production line with typically a 1.0 m x 30 m oven with a steel band. A major supplier is Haas-Meincke, part of the Haas Group, which is now a member of the Bühler Group.
The doughs are mixed on a planetary mixer with cream up a process for 5 minutes followed by the addition of flour and eggs in two stages. The doughs are cold (16°C).
Forming
The forming equipment has a rotary moulder, wire-cut and swirl depositor arranged in the line to deposit the cookies in a pre-arranged pattern for baking. The equipment is arranged as follows:
1. The rotary moulder produces the rectangular vanilla cookie and pretzel
2. Wash-over unit with brush applying egg wash to dough pieces only
3. Sugar topper applying sugar to the top of the dough pieces only, by a 100 mm diameter roll with holes approx. 8 mm diam. Pneumatic system can be employed to recover excess sugar
4. Swirl depositor
5. Wire-cut depositor for coconut and currant cookies and chocolate chip.
The forming machines are arranged to produce 20 rows on the oven band to give 4 sets of 5 products.
Baking
Baking time: 7.5 mins.
Temperatures: 250°C – 190°C
Steel baking band
Cooling
Refrigerated cooling to 5°C before packing
Packaging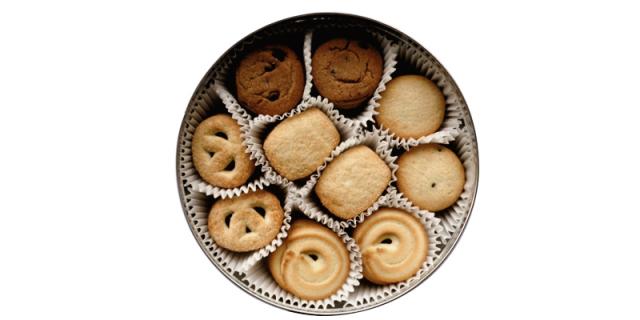 Discussion
Be sure to subscribe to our newsletter by registering so that you do not miss any of our articles and insights.
---
Recipes and process data from Glyn Barry Sykes