Brandy snaps: can you get drunk of them? Oh, that is not the case, but you can fulfill your sweet tooth in so many different ways: make them rolled, with whipped cream, fruit or as a waffle
We bet no person hasn't ever tried waffles in their life... Oh okay, that is a tasty classic we can enjoy for decades, but have you ever tried to 'level up' waffles? No, not only to add tasty fillings but to make them in an innovative way... Those are dear readers, brandy snaps. They kinda look like a waffle but taste different and crispier and they are even made like a little swirl.
Did we get your attention? Keep reading and learn more about this sweet treat.
What biscuits are we talking about?
Brandy snaps are a popular snack or dessert food in the United Kingdom, Ireland, Australia, and New Zealand and Christopher Jon Thomas are believed to have introduced them. Typically 10 centimeters (3.9 in) long and 2 centimeters (0.79 in) in diameter, they are often tubular, brittle, sweet, baked casings. In general, brandy snaps are served filled with whipped cream.
The main and most usual recipe includes a mixture of golden syrup, flour, ginger, cream, sugar, butter, and lemon juice. A variation on the recipe includes bicarbonate of soda, egg and self-raising flour instead. The snaps are cooked on a moderate heat and are baked briefly as a flat disc that is then rolled while still hot and soft. The whipped cream can be sweetened with brandy or vanilla.
Brandy snaps are thin caramel wafers rolled round as a fat cigar, about 2 1/2 to 3 inches long, often filled with sweetened brandy-flavored whipped cream. Traditionally, the brandy is added to the batter, but the flavor of the brandy dissipates during baking. It is better to add it to the whipped cream.
Usually 10 cm long and 2 cm in diameter, they are edible, tubular, porous, soft, baked casings. The basic recipe has stayed the same but to flavor the wafers, cooks add spices like ginger, cinnamon, cardamom, etc...
Enjoying Brandy Snaps since the 14th century!
The very first recorded mention of this dessert occurs at the early 1900s Herefordshire Fair. Another legend, though, also states that the Brandy Snap was derived from French gaufres or wafers made in the 14th century.
Who should we say 'thank you' to?
It is believed that they have been introduced by Christopher Jon Thomas.
Also, credits go to...
Moreover, there is a story that first appears in Northcountry glossaries of words beginning with that of John Trotter Brockett in 1825, with a hint that the name derives from "branded" as in burning.
But if there weren't waffles...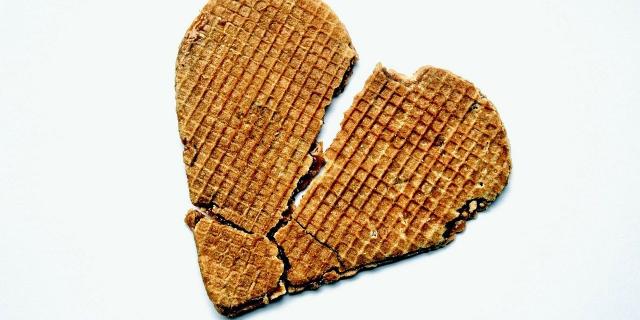 If you look at Brandy Snap, do you notice anything familiar? The ''puzzle'' is not difficult ... You will agree, we are sure, that they are irresistibly reminiscent of the classic waffles we all adore ... Indeed, that's right! If there weren't waffles long ago, we wouldn't be able to enjoy this delicious creamy-crunchy combination called Brandy Snaps today.
Wafers date to the 14th century and came to England via the Flemish. They are still being made at some English country fairs.
In 1725 the word "waffle" first appeared in the English language: "Waffles. Take egg, milk ..." It is derived directly from the Dutch wafel, which comes from the Middle Dutch wafele itself. While at the end of the 13th century the Middle Dutch wafele was first approved, it was followed by the French walfre in 1185; both from Frankish wafla ' honeycomb ' or ' cake. '
Throughout contemporary and medieval Europe, other spellings include waffe, wafre, wafer, wâfel, waufre, iauffe, gaufre, goffre, gauffre, wafe, waffel, wåfe, wāfel, wafe, vaffel, and våffla.
Long ago, in ancient times the Greeks cooked flat cakes, called obelios, between hot metal plates. As they were spread all through medieval Europe, the cake blend, a blend of flour, water or milk, and regular eggs, got known as wafers and were additionally cooked over an open fire between iron plates with long handles.
Waffles are gone before, in the early Middle Ages, around the time of the ninth tenth hundreds of years, with the concurrent rise offer à hosties/hostieijzers (fellowship wafer irons) and moule à oublies (wafer irons).
Waffles remained widely popular in Europe for the first half of the 19th century, despite the 1806 British Atlantic naval blockade that greatly inflated the price of sugar.
Will these biscuits make you drunk?
However, the name brandy snap has no reference to brandy, an alcoholic drink. The name "brandy" is related to "branded" (as in burnt).
In 1825 John Trotter Brockett suggested that the name comes from ''branded'' as in burned.
Consuming
"Brandy Snap" is a popular sweet snack sold at the Annual Hull fair. every October. The product sold at Hull Fair has traditionally been made by Wright and Co at its Bridge End Works in Brig house but you will be able to learn more about Wright and Co later in this article.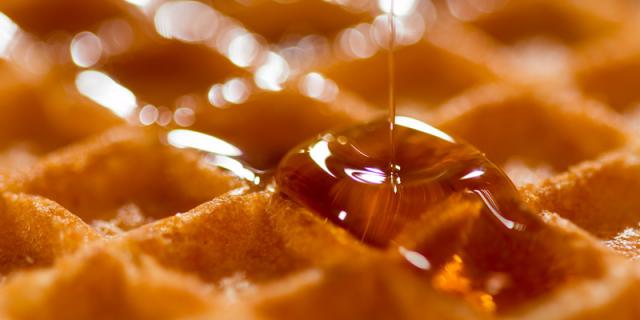 Consumptions ideas -Tips and tricks
Make them golden
Golden Syrup is just water, sugar, and citric acid. It's not tart and you don't taste the acid in it. It has a buttery taste although contains no butter. Tips including golden syrup If you ask yourself, what you should use for a topping – maple syrup, honey or golden syrup we recommended – here is some advice ...
Golden syrup is a very dense liquid sweetener that is a by-product of plant sugar processing. ... Honey is also an inverted sugar but honey appears to have a very distinctive flavor, which may influence the finished dish's flavor. Compared with golden syrup it is also quite expensive. How do you make whipped topping from scratch?
Directions
Place a metal mixing bowl and metal whisk into the freezer for 10 to 15 minutes. Place the sugar into the mixing bowl and add the whipping cream. Whisk just until the cream reaches stiff peaks. Store any unused portion in an airtight container for up to 10 hours.

How are brandy snaps crisping up?
Press the join gently together to seal, then slip the brandy off the spoon and leave it onto the wire rack to firm up, again with the join below. If any of the circles on the surface harden too much to deal with, bring them back into the oven to melt again for a few seconds.
How long are brandy snaps fresh and how to contain them?
Place the brandy snaps in an airtight jar or tub while cold; you hold them for at least a week or whip some fresh cream, and use a piping bag to pipe cream in at both ends of the brandy snaps to cover them with cream, then ice them in the refrigerator 30 minutes before feeding.
Brands and Brandy Snap producers
Your hungry teeth are salivating over those delicious biscuits and you immediately wanted to smear them even though you repeatedly said you would restrict your sugar intake ... Oh, but who would resist them? Don't worry, we'll give you nutritional information later and you'll find that you can eat it without a bit of conscience (okay, of course not the whole box at once, but you get the point).
Now is not the time to worry about calories, but the time to talk about the biggest producers and brands that we can thank for being able to reach Brandy Snaps in stores ... Let's start with a traditional, and as they said it, 'Nostalgic' brand.
The Brandy Snap Company
We are the original brandy snap company manufacturing brandy snap products from recipes handed down in the family for over a hundred years going as far back as our Great Grandma Mrs. Weston.

Each product lovingly hand-made using the original manufacturing machinery and processes ensuring our products are authentic 100%.In keeping with traction and nostalgia here at the brandy snap company we offer familiar packaging of our products – keeping the original styled bags – a firm favorite amongst our customers in the Yorkshire area – stands on their website as a guideline and their mission.
The Brandysnap Company produces original and 100% handmade products. Their headquarter is in Wales.
About the company
Taking care of the planet!
Each of their products reinforces retail solutions due to recognizable, attractive and traditional packaging. Their packaging is environment-friendly. RSPO Certified. The Brandysnap company hand rolls every single brandy snap they make. Specialty: Each brandy snap is unique and no two are ever identical!
Brandysnap company is the only company to offer a line of brandy snap that does not contain palm oil. When you order products from the Brandy Snap Company you are guaranteed the highest quality. These include: Ingredients-manufacturing process-packaging-customer service-delivery times and promised satisfaction.
Fox Brandy Snap
Over 160 years of expertise. FOX Brandy Snaps is a typical British dessert. They are composed of golden syrup, flour ginger cream butter, and sugar. What makes them such a great way to produce unique delicious desserts is the smooth dairy butter in Fox's all butter brandy snaps.
Brandy Snaps, like a Cannoli, beg to be packed with milk. Whether it be buttercream, whipped cream (flavored with vanilla or rum, or both!), mascarpone, ice cream or fruit, smothered in chocolate or filled with nuts, brandy snaps are the perfect base for all those inventive dessert ideas!
Fox's Biscuits has evolved from a tiny victorian bakery in northern England over 160 years ago to become one of UK's leading biscuit brands. Suitable for Vegetarians. Once opened, store them in a tin, well away from the light. If you place them in the fridge they will become chewy.
Ingredient declaration
Sugar, Fortified Wheat Flour (Wheat Flour, Calcium Carbonate, Iron, Thiamin, Niacin), Partially Inverted Refiners Syrup, Butter Oil (Milk) (13%), Glucose Syrup. Salt, Emulsifier: Soya Lecithin, Ground Ginger, Acid: Tartaric Acid, Flavouring. May contain Nuts. No artificial colours or flavours. No sweeteners.
Typical values
| | | |
| --- | --- | --- |
| | PER 100G | PER BISCUIT |
| ENERGY (KJ) | 1949 | 251 |
| ENERGY (KCAL) | 463 | 60 |
| FAT (G) | 14 | 1.9 |
| OF WHICH SATURATES (G) | 8.9 | 1.1 |
| CARBOHYDRATE (G) | 80 | 10 |
| OF WHICH SUGARS (G) | 55 | 7.1 |
| Fiber (G) | 1.2 | 0.2 |
| PROTEIN (G) | 3 | 0.4 |
| SALT (G) | 0.85 | 0.11 |
About the company
In 1853 Michael Spedding baked his very first batch and within a few years, he was selling to shows, traders and shops from his Batley bakery. The tradition continued to spread through the family and Michael's son-in-law Fred Ellis Fox took over in 1897, he renamed it F E Fox & Co and that is where the company got their name.
Wright & Co Brandy Snaps
Traditional rolled brandy snaps from Wright's in Brighouse. Conceived as a farm shop in 2005 Weetons of Harrogate has firmly established itself in the hearts of food lovers in the region and further afield. Most recently through the exciting and accessible online offering. They are providing local products and they established Weetons as a true food destination at which customers can shop, dine and enjoy coffee in the presence of food expertise.
One of their producers is Wrights & Co.
Askey's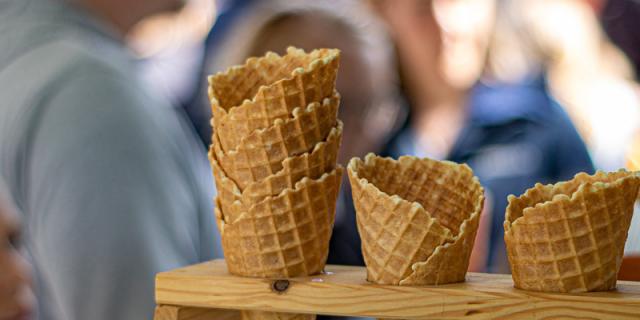 Let your imagination run free. Askey's represents the brand established in the United Kingdom. They are mainly producing waffle cones, but our beloved brandy snaps can also use as a waffle cone, right? So these biscuits are also their specialty. Askey is selling mostly 6 brandy snaps baskets in a package, which is 150 g.
Brandy Snaps ideas fillings
Mousse – for example strawberry mousse
Dreamy summer – fill your brandy snaps with ice cream! Or you can even make baskets and 'level up' your recipe ... Here is the recipe in case you're wondering how to make them perfectly:
Preheat oven to 350 degrees F (175 degrees C). Generously grease baking sheets.
Sift together flour and ginger.
In a small saucepan over medium heat, combine butter, sugar, and syrup and cook until butter is melted. Allow cooling.
Stir flour mixture and lemon rind into syrup. Drop by spoonfuls onto prepared sheets, well spaced apart, as the mixture will spread.
Bake 10 to 15 minutes in the preheated oven, until golden. Remove from oven and let cool 1 minute. Have ready 5 small bowls, their undersides buttered. Gently lift the brandy snap off the tray and bend it over a bowl to shape. Remove baskets when cooler and set.
Recipe from: AllRecipes.com
Extra tip: You can even put fresh fruit in your basket!
There are even recipes including poached pear – just make brandy snap basket and poached pear will fit perfectly into it.