The biscuits are made from cocoa, crumbled cornflakes, butter, and sugar to create a dough that is, after some time, formed into a ball. This makes Afghans soft and rich in their texture.
We have decided to write about the simple yet tasty Afghan biscuits! Now, we understand that the name of the biscuits is a sort of a misnomer. If we had not told you that the biscuits hail from New Zealand, you would have probably thought they came from Afghanistan, right?
Well, to be frank, that was our first thought too, and we were surprised to see that the Afghan types of biscuits were created in the island country of New Zealand! We are probably neither the first nor the last people to come to such a conclusion. It is a fun fact why they are called Afghan biscuits, but more on that later!
For starters, we are going to take a quick look at the biscuits themselves, how they are shaped, how they look, their main ingredients and what makes them so special and beloved by the people of New Zealand. After that, we are going to take a quick peek at the biscuits' history while topping the article off with a sample recipe! You can use it to bake your very own batch of these delightful types of biscuits!
What we can say from our preliminary research is that these biscuits look very promising! They also appear to be very healthy, which is certainly a big plus for this time of the year! We believe we are safe to assume that many of us are still "detoxicating" from the huge feasts our families prepared for the holidays! So, if you are looking to lose some pounds gained over the holidays, but can't seem to part with sweets, look no further than Afghan biscuits!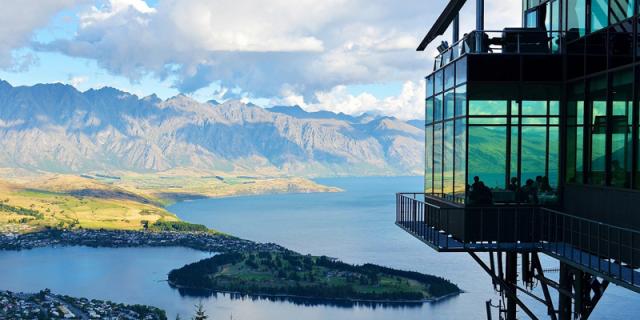 Landscape of New Zealand
Afghan biscuits: New Zealand types of biscuits
Afghan biscuits are crispy oval-shaped types of biscuits from New Zealand. They represent a significant part of their cuisine and culture altogether. It could be said that New Zealanders really know how to enjoy sweet things, as they invented Afghans; perfect types of biscuits for both adults and children who have a sweet tooth. Of course, New Zealand offers many luscious and appetizing desserts, but it can be said that Afghans are without a doubt the most representative one. So beloved amongst the people of New Zealand, they can be found in traditional lunchboxes. These biscuit types, despite the fact that they are very tasty and famous all around the world, are very straightforward to make!
It is incredibly easy to prepare them, yet easier to eat and enjoy! The biscuits are made from cocoa, crumbled cornflakes, butter, and sugar to create a dough that is, after some time, formed into a ball. This makes Afghans soft and rich in their texture. Furthermore, it is fascinating and necessary to mention how these types of biscuits do not contain eggs in their recipe. The reason why they contain no eggs is to make them unlikely to spoil during shipping.
Good news is that they do not contain much sugar and are considered to be healthy, compared to some other types of biscuits with high percentages of sugar. Next, butter is the main ingredient of Afghan biscuits. Why is this so? A high percentage of butter is considered to be the crucial part of Afghan biscuits because they need to be light and soft, and because they need to melt in one's mouth. Sounds very tasty, doesn't it? Even more so, these delightful biscuits go splendidly with a cup of hot tea or a hot chocolate. We recommend hot chocolate, but that is our preference!
Once baked, these types of biscuits are decorated with icing made from chocolate (usually black chocolate) and walnuts that is divided into two equal parts. Et voila! It is very simple to make them, as you will see for yourself soon enough! We are going to provide you with a sample recipe later on in the article, if you want to try and bake them with your family, friends, or with your significant other.
If you are interested in why these types of biscuits are labelled "Afghans", then you have come across one of the most debated biscuit names in modern history. There is no conclusive evidence as to why the Afghans are named so. Some people tend to believe that the term "Afghan" is based on the country of Afghanistan, because of the biscuits' shape (it bears a resemblance to craggy, rocky mountains and ridges of Afghanistan). On the other hand, there are theories that these types of biscuits are named after their dark colour and chocolate icing.
People tend to associate the Afghan types of biscuits with Anzac biscuits. This is because of the slew of similarities between the two in shape, colour and ingredients. Hell, even their names sound similar! As a matter of fact, Anzac biscuits contain rolled oats, and some people still hold the belief that the first Afghan biscuits also contained oats. However, oats were eventually removed from the basic recipe to make them more independent and different from the very similar Anzac biscuits.
That would be it for our overview of the Afghan types of biscuits! Now it is time to delve into their history, to see how they came to be, and after that, a short sample recipe you can use to try and create a batch of the little delights!

Source: By AGCreations/shutterstock.com
Afghan biscuits history
When it comes to the history of the Afghan biscuits, nobody is really sure when, how or why they came to be, despite the fact that they are so loved by New Zealanders! But thanks to Asian Sentinel, who have done their research on the Afghan types of biscuits, we can bring you their history in full.
We were not kidding when we said that Afghan biscuits are an important part of New Zealand's cuisine and culture (disregarding the fact that not much is known about their backstory). For starters, they appear very prominently in New Zealand's so-called "constitutional cookbook" called The Sure to Rise Cookbook – Edmonds Cookery Book, which was first published over a hundred years ago, back in 1908.
It is only logical to conclude that the cookbook bears a large significance due to the adjective "constitutional". We are willing to bet that that part has nothing to do with the country's constitution (because if it did, then that would be a very interesting constitution indeed), but rather that the book represents an authority, an outlier amongst the many other myriad publications of its respective niche.
One of the most popular theories about the biscuits' origins is that they were first used as rations for the New Zealand soldiers serving in the Second Afghan War, back in the second half of the nineteenth century. These types of biscuits were most likely baked by the wives of the men serving on the frontlines and shipped with government-issued rations that the soldiers received.
Now, it is important to note that there is no concrete evidence for this. However, it is a plausible theory, considering the name of the biscuits. It is not far-fetched to think that the women who baked these biscuits named them after the country their husbands were serving in. Another interesting fact to corroborate this theory is that the Afghan biscuits are a possible precursor to the widely-popular Anzac types of biscuits, which, as we have already mentioned, carry a slew of similarities with the titular biscuits.
From shape to ingredients, the biscuits have a lot of similarities. Even the circumstances in which they originated are similar, if this theory ever proves to be correct. The Anzac biscuits were also baked by the wives of New Zealand soldiers serving on the front lines, but this time in a different period of time and in a different theatre of war – The Great War, better known as World War I.
There are many different theories on how these biscuits came to be, all of which are listed on Asia Sentinel. We cannot say that any one of these theories is one hundred percent correct, but what we do know is that the Afghan types of biscuits are still extremely popular. And you will soon get a chance to why for yourself.
Source: Asia Sentinel "Afghan Biscuits, Isle of Capri Tomatoes and Broken Heart Gin"

Source: By LegART/Shutterstock.com
Afghan biscuits recipe
As we have previously mentioned, the Afghan types of biscuits are very simple biscuits, yet incredibly tasty! Their recipes consist of a small number of everyday ingredients such as cocoa powder, butter, flour and cornflakes! Once baked, they are topped with chocolate icing and a nut! It is as easy as that!
Since they are so simple in nature, we have decided to provide you with a sample recipe, courtesy of Clever Muffin! First of all, we will start with the ingredients list, which goes as follows:
Two hundred grams of butter
One half of cup sugar
One teaspoon of vanilla essence
Two tablespoons of cocoa powder
One and a half cups of plain flour
One cup of lightly crushed cornflakes
Half a cup of desiccated coconuts
As for the icing, the ingredients are as follows:
One cup of icing sugar
Two tablespoons of cocoa powder
Three tablespoons of water
Right, now that we have got the ingredients out of the way, or… hmm, maybe that is not the best way to put it? Since you are going to need those ingredients after all! Anyways… organise them neatly and prepare to use them! The baking process is quite simple, and anyone with a basic understanding of baking will be able to bake these.
First things first, preheat the oven to one hundred and eighty degrees Celsius, also line the try with greaseproof paper
After that, cream the butter and sugar together using an electric beater, after that, add in the vanilla essence
After you have creamed the butter and sugar and added the vanilla essence, add in flour, cocoa powder and coconuts until they combine
Add in the cornflakes and mix the ingredients together until they combine nicely
Take the dough, roll the dough into balls, then take these balls and place on the trays you have prepared earlier
Bake the dough balls in the preheated oven for fifteen to twenty minutes
Preparing the icing is also simple – just take the necessary ingredients and mix them until there are no more lumps
After the biscuits cool-off, top them with icing and flaked almonds or walnuts
Source: Clever Muffin "Afghan biscuits"
---
Leading image: By Tatiana Vorona/Shutterstock.com