Well, it's really about how you define "to clean", about the starting status of your belt and about what you need or expect to accomplish
First of all; when the baking band is brand new it has a blackish/bluish shiny surface or oxide layer, easy to clean and with excellent non-sticking properties.
This "surface coating" is achieved during one of the last production steps at the steel mill during a special tempering operation. So just to clarify; the steel band is hot rolled and after that cold rolled to its final thickness, surface roughness and basic width.
After the tempering operation (heating and cooling) one can measure the oxide surface layer to a few microns thickness. The darker the thicker. The surface is now fairly protected but it takes some oil coating to make it corrosion resistance, at least as resistance as a carbon steel surface ever can be. One other basic fact is that the black even coloured belt surface is beneficial for a lot of high-quality products being baked. It used to be said that the steel belt is a major ingredient within the baking process.
Above is valuable to keep in mind when you need to deal with a baking band that isn't clean enough for delivering the product quality you need and that your customers expect.
Now I will jump directly to a difficult cleaning case; If you have shiny areas like stripes all over the length on baking surface (or on bottom side of band) you most probably have a wearing problem somewhere in your conveyor system and you have already lost the oxide layer. With the oxide gone, salt and other substances will get easy access to the steel and the rough conditions here will make it easy for product residues to burn stuck into the belt. The wear will most probably also fairly soon cause an unflattness over its width. Unfortunately, a belt that reached this status will never deliver as good as a new one again.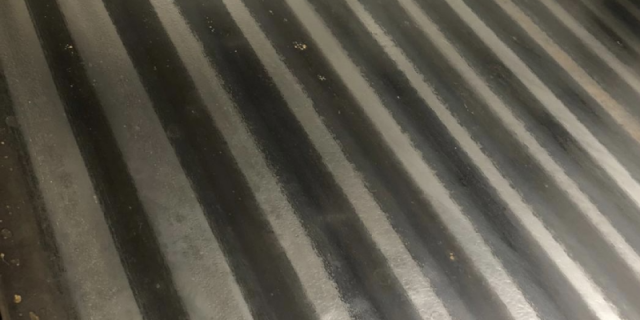 Image 1: Bake oven belt - Loss of oxide
This will take us to cleaning methods;
Find out the status of your belt. Try cleaning a part of the belt with non-abrasives in order to find out what is going on. Rags, oil and a warm oven can do wonders. Remember to coat with food grade oil after or between operations.
What you will discover within short when cleaning your carbon steel belt is that if you have a belt where the burned-on residues are difficult or impossible to get rid of without removing steel material from the surface it really doesn't matter what kind of cleaning method you are using; Grinding, brushing, dry ice blasting, mechanical scraping, baking soda blasting, acid cleansers or laser cleaning are often recommended on "dirty" belts. But as said, if your protective oxide is not there anymore the belt is beyond save. Time to buy a new one and save frustration.
Some bakeries try to add more fats to belt surfaces and bake this in, trying to accomplish a "dirt cover oxide" instead of what once was the original steel oxide. Well, if cleanliness, release properties, acryl amine hazards, cracks, etc is not important this can be a solution for a while. But to be honest, who would like to eat these products produced on "dirt layers"?
So, keep your carbon steel bake oven belt clean! Nice, black and shiny it should be. Bees wax and food grade oils will be your best friends. Frequent inspection of all support components that's touching the belt is a money saver too.
I strongly believe that preventive actions are so much better and easier to perform than spending big dollars on fixing unnecessary damage produced just because of lack of daily inspections, cleaning and good housekeeping in general.
So, involve and take care of your maintenance department and they will take care of your bake oven belt. Simple as that.
---
Leading image: Bake oven belt worn stripes