Savoury biscuits are a growing category globally largely due to consumers interest in new tastes and textures and the desire for healthy options for snacking.
Campden BRI has been involved in all of these areas in helping companies develop new products and processes that meet these needs with dough forming equipment and pilot plant ovens that can mimic large production plant and processes. In recent years savoury cracker innovation has focussed on products with interesting shapes and textures, ethnic flavours and natural ingredients. Today's consumers are being made aware of obesity and health issues and there is growing interest in products with high fibre, low sugar fat for biscuits, and more recently reduced sodium and gluten free. In the UK there is still an interest and desire to have snack products which are baked, not fried, so crackers fit ideally.
Savoury biscuits have evolved from simple crackers which were derived initially from bread type products into the vast range of products which are now available. Understanding the processes and ingredients for biscuits used in making different cracker products can help product developers choose the right product to fit their brief. Some of the main cracker varieties are shown with the levels of fat and sugar as follows: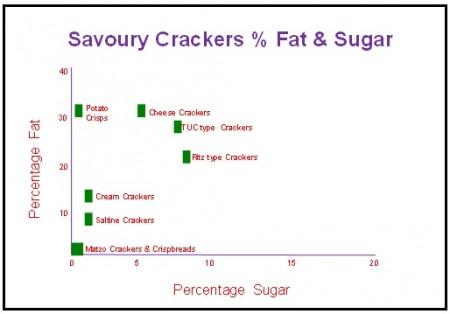 Matzo Crackers fit the healthy category perfectly as they don't contain any added fat or sugar and are made from only flour and water; their light and airy texture is due to the high baking temperature used. Matzo crackers were originally developed for the Jewish celebration of the Passover to be consumed as unleavened bread. The Passover versions are baked under religious supervision but non Passover versions are produced throughout the year and are fat-free or sugar-free alternatives for cream crackers. However, the process and equipment used is specialized and unique to the production of Matzo's limiting their availability.
Crispbreads contain low or no fat and no sugar, so fit into the healthy platform well. Traditionally Crispbread is made by baking an aerated foam of rye and water. However, twin screw extruders can be used to produce Crispbread more efficiently and with similar textures. Crackers are cut to size after baking or extrusion, and due to their highly aerated textures they are low in calories and may be high in fibre. The extrusion process doesn't lend itself to adding inclusions and the finished volume can be affected by the addition of strong flavours or powders.
Water Biscuits contain a small quantity of fat (5%) with little or no sugar so are also a good fit to position in the healthier category. The texture is somewhere in-between Matzo crackers and cream crackers. Like Matzos they aren't fermented. They are ideal for consumption with toppings, being quite bland in taste, but mildly flavoured variants have been introduced such as black pepper, paprika or seeded versions such as sesame.
Saltine or Soda Crackers are very popular in the USA, Latin America and parts of Asia. Recipes contain low levels of sugar and fat, classifying them as healthier than traditional biscuits or snacks and in some markets they are consumed with a meal as an alternative to bread. Product variants have been introduced such as olive with pieces of olive added to the dough. In some markets crackers are sprayed with oil immediately after baking to make the texture less dry and introduce interesting flavours through the spray oil. Unfortunately Saltines are often sprinkled with salt prior to baking, and because the dough contains sodium bicarbonate the crackers are high in sodium and do not fit into the healthy heart category. Investigations are ongoing to reduce or replace the sodium bicarbonate which is added to neutralise the dough pH after fermentation. Saltine crackers are produced using a long fermentation process (up to 24 hours) which is carried out in two stages (sponge and dough). This has the effect of developing a sour dough type flavour and modifying the flour protein to make it extensible. A combination of Baker's yeast and wild yeasts are often used for the first fermentation, and over 18 – 20 hours the pH drops to below pH4. In the final stage a solution of sodium bicarbonate and more flour is mixed into the dough to bring the pH up into the neutral range. As the total fermentation time is 24 hours, factories producing Saltine crackers have large rooms to keep more than 50 dough bowls containing fermenting dough. The dough is usually pre-sheeted then sheeted and cut without the need to laminate before baking.
Cream Crackers contain approximately 10% fat with little or no added sugar. Due to their bland taste, cream crackers are best consumed with toppings. Variants have been developed such as wholemeal, rye, sugar-coated and in Asia crackers topped with dried meat floss are popular. The crackers are produced by fermentation with Baker's yeast to develop the flavour and help make the gluten more extensible. Historically a sponge and dough was used with fermentation times of up to 18 hours. With the availability of materials to relax the dough (enzymes) single stage processes are now more common with fermentation times reduced to about 3 hours. During processing of the dough a mixture of fat and flour (known as layering dust) is sprinkled between layers of dough to help produce a more flaky texture , this process is known as lamination .
Chemically Aerated Crackers are a category of crackers that has probably seen the biggest growth of new products in the cracker sector. The doughs don't contain yeast but due to the high levels of fat and sugar, the dough can be made extensible by the use of extended mixing times and the addition of sodium metabisulphite or proteolytic enzymes (or both). The flavour and textures range from fairly bland tasting to crackers with light and airy textures incorporating higher levels of fat and sugars. Unlike fermented or laminated crackers where baking temperatures are high and steam plays a major role in cracker expansion, in this category baking temperatures are lower and steam expansion is supplemented by chemical raising agents such as sodium bicarbonate, ammonium bicarbonate and phosphate based acidulants. Doughs may also contain cheese or spices to further differentiate the flavour and the wheat flour could be partially replaced by rice flour or potato powder to change the texture. Most chemically raised crackers are consumed as snacks and are sprayed with hot oil after baking to tenderise the texture and improve the mouth feel. They may also be sprinkled with powdered flavours. Due to these additions the fat content can be as high as 30% which is similar to fried snacks and obviously not a healthy option.
Campden BRI has expertise in all types of savoury biscuit manufacture and has facilities to make each cracker type.
Be sure to subscribe to our newsletter by registering so that you do not miss any of our articles and insights.
Know more about this topic or have a question? Contact us: contact@biscuitpeople.com
---
Leading image: By MariaKovaleva/Shutterstock.com