Cornish fairings are the traditional spicy ginger biscuits of Cornwall, in the United Kingdom. Originally, Fairings are gingerbread or ginger biscuits given to children. Men also give these are treats for their sweethearts.

The original Fairings were known as edible souvenirs sold at English fairs. Fairing variations vary per region; for instance, varieties in the Northern counties were decorated Easter Paste eggs. In the Victorian times, the most popular Cornish version was the spiced ginger biscuit. Other popular edibles in Cornish fairs were the macaroons and the caraway comfits.
Cornish fairings became a popular kind of Fairing because it can be stored for a long time. They are also great to be eaten on their own, or they can be dunked into tea or sprinkled over ice cream.
Etymology
Cornish fairings are named thus because of its origin – Cornwall – and Fairing is a term used for all edible treats that sold at different fairs around the UK. Since these biscuits originated in Cornwall and were quite popular as fairings, the name Cornish fairing was just quite appetising.
Country of Origin and Usage
The country of origin of Cornish fairings is of course, the United Kingdom. In Cornwall, the fairings are made with ginger and this variety became very popular especially when a Cornish producer, Furniss Foods started selling them through mail order starting 1886. These biscuits were used by British young men of middle and lower class as gifts for their ladies.
Aside from gifts for the children and the young ladies, Cornish fairings are also the favorite of many English folks to be enjoyed with their afternoon tea. The spiciness of the biscuits cut through the sweetness of the tea. For the best tea and Cornish fairings experience, a rich whip of cream should be added to the tea.
Most Popular Producers of Cornish fairings
Cornish fairings were popularized by Furniss of Cornwall. This biscuit manufacturer also produces other sweet treats like short breads. It was in 1886 when John Cooper Furniss started to bake ginger bread biscuits in his bakery to be sold in his tea room, which is located in Truro in Cornwall. The popularity of Furniss cornishfairings started when Furniss made them available through mail order.
According to the Furniss history, the original cornishfairings were created using the recipe inspired from the fairings displayed at fairs held in Corpus Christi and Whitsuntide. The company expanded and was later on named as Furniss Foods and it became a popular Cornish biscuit manufacturing brand, which produced many varieties of fairings including the Apple & Cinnamon and the Orange & Lemon.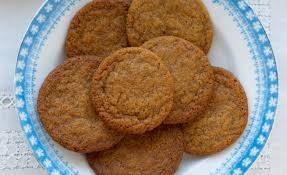 The company was eventually purchased by Proper Cornish, a Cornish pastry manufacturer. This new company focused mainly in the production of the cornish fairings. Another popular Cornish fairing producer is the St Kew, which specializes in using the traditional biscuit recipe. This brand is not available in supermarkets. The products manufactured by this company are only available for orders and deliveries. The best way to enjoy this brand is by ordering them online.
Asian Food & Health Care also offers sweet and spicy Cornish fairings. These biscuits are brittle and roughly circular, and of course very similar to a regular gingerbread. They are made by mixing together the dry ingredients and the butter. The syrup and sugar are then added until the dough is biscuit like.
Ingredients/ Preparation
Cornishfairings are spicy, sweet ginger biscuits that are made with regular biscuit ingredients like; flour, butter and caster sugar. Additional ingredients may include; mixed spice, cinnamon, golden syrup and ginger. The appearance of a cornishfairing is brittle and circular, which looks a lot like the regular gingerbread. The batter is created by mixing all the dry ingredients with the butter. When the mixture looks like bread crumbs, sugar and syrup are added, and then formed before baking at high temperature. Once almost done, the biscuits stay a bit longer at the bottom or the cooler part of the oven.
Cornis fairings should be fairly hard and quite brittle, with a perfect reddish-golden appearance. This appearance is caused by the caramelized syrup and sugar during the baking process. The center should remain paler in comparison to the outer parts that should have the pleasingly rustic fissures, which is by their quick rise while inside the oven. If you are interested in making your own Cornish fairings, all you have to do is to search for recipes online. Sixteen pieces will just take ten minutes of preparation and another ten minutes for the baking or cooking time.
Interesting Facts about Cornish fairings
Cornish fairings go down well with a cup of hot tea. During the hot summer months, some people love to eat these biscuits broken up and then sprinkled over ice cream (Cornish Clotted Cream). Cornish fairings are better when there are more ginger added, just like as the old recipes require. Some bakers and housewives use chopped crystallized ginger for a more gingery taste.
Cornish fairings are also sometimes dipped in melted dark chocolate (Madagascar chocolate is preferred), and then cooled to set in the refrigerator for ten minutes before serving. Cornish fairings are quite similar to Gingermut, but some bakers replace the ginger with mixed spice and cinnamon. This practice usually produces biscuits that are like the Speckaloo or other continental cinnamon biscuits.
If you are ever in the Cornwall area, tasting Cornish fairings should be on your agenda. Leaving the area without having a bite of this delicious and spicy biscuit is like not setting foot at the place at all.