In its 2017 Megatrends flagship analysis that highlighted the key demand drivers across FMCG categories in the next decades, Euromonitor International emphasized premiumization as one of the eight main forces affecting consumer behavior.
Whilst in the past years it is probably the most visible trend in the food sector, sweet biscuits have premiumised at slower rates than other indulgence categories, such as chocolate confectionery or ice cream. Part of the reason is the fact that consumption growth is coming mainly from emerging economies such as India and Pakistan, which together brought close to 40% of the total volume growth in the past five years, and where more basic products tend to dominate. But that's not all. Mainstream manufacturers have initially focused on bigger markets, such as chocolate, which ripped the first wave of resurgence in spending power. However, with a crowding scene, sweet biscuits are becoming more attractive and premiumization is picking up speed.
Ancient grains: the safe bet when it comes to sophistication
Globally, a growing number of people are concerned about their dietary health. Take protein: about a quarter of consumers are interested in increasing their protein intake, a significant issue in countries such as Indonesia where the share boarders 50%. Protein is just one of the consumer interests: products with added vitamins and fiber are on the purchasing list of 40% of global consumers, particularly in populous countries such as China, Russia and Turkey.
Ancient grains are a safe bet when it comes to these health concerns. First, they score well in nutritional value. Chia seeds have for example close to 35 gr/100gr and an impressive share of calcium, Niacin and Vitamin A. Second, their novel and often exotic credentials make them more credible than established grains such as wheat, which also, unrefined, score well on nutritional content. Their health credentials also enjoy strong endorsements: in 1993, NASA labeled quinoa as the best positioned in the plant and animal kingdom to provide life-sustaining nutrients, whilst two decades later the UN announced the International Year of Quinoa.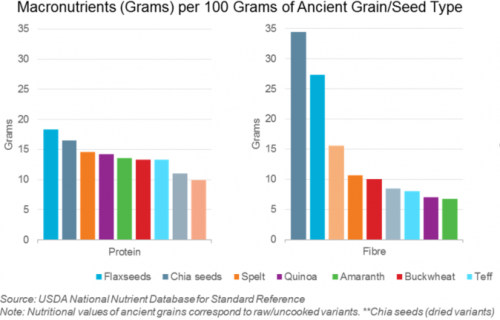 And manufacturers are not shying away from capitalizing on this. According to Euromonitor Global expert survey, fiber and protein are the most often advertised nutritional benefits of ancient grains, followed by vitamins and minerals and Omega.


Look at me
This brings us to the second argument why ancient grains are a safe bet: statute. In our yearly survey, 45% of respondents agreed or strongly agreed that for them it's important to know that other people think that they are doing well. This is up from 36% in 2011.
The fact that one can afford ancient grains projects that they understand their superior nutritional value adds to their desired public image. In the age of social media, showing that one lives responsively and stands out gained weight. Mundane actions, such as snacking at work, are not just a way of satisfying hunger, but also a way of voicing awareness and consciousness: I'm not caving to cravings. I'm taking care of my stomach and heart.
Market opportunities
Not all ancient grains are ancient everywhere. Amarant and quinoa are basically staple products in some Latin American countries, whilst buckwheat is extremely popular in Ukraine and other CIS countries. But moving beyond places where ancient grains are established, North America was the quickest to join the ancient grain frenzy, with mainstream manufacturers such as Mondelez (Vea brand) and Kellogg's launching special lines of bars, biscuits, crackers and breakfast cereals in the past three years. And the rest of the world is following.
This year, Unilever reinvented the Brazilian Maizane line, a traditional biscuit with several uses, to contain five ancient grains: quinoa, corn, chia, amaranth, and flaxseeds. By this move, Unilever addressed the consumers' concern about high levels of carbohydrates, fats, and refined corn flour and starch present in traditional Maizane. Across the ocean, in markets such as UK, Germany and France quinoa or chia seeds have moved into mainstream, while other countries such as Italy and Spain are still catching up and offer some of the most promising growth opportunities.
For some of the most developed markets, such as UK, the Nederlands or Spain, health options of sweet biscuits are expected to be the only value growth drivers in the category for the next five years. In these markets, a smart deployment of ancient grains as providers of health benefits may prove not just a good decision, but a necessity.
Last, ancient grains could be a good tactic to capitalize on the gluten free wave. With 20% of global consumers declaring that they look for products that do not contain gluten, up from 15% just two years ago, pursuing a gluten free strategy may prove a wise move. Moreover, global value sales of gluten free sweet biscuits grew with CAGR 12% between 2013 and 2018, a huge performance as compared to sweet biscuits in general, which basically stagnated in value sales (USD, y-o-y exchange rates). For the forecast period, global sales of gluten free sweet biscuits are expected to advance 5 times faster than sweet biscuits in general, providing realms of opportunities for manufacturers.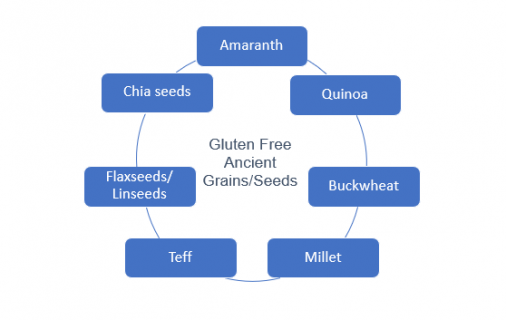 Health concerns, market saturation and a shift in lifestyle, all offer a 'perfect weather' for premiumization in sweet biscuits. Ancient grains, which check all these drivers, are uniquely positioned to provide a safe strategy for product sophistication and value creation in the category. With both niche and mainstream players actively engaged in this, product innovations are expected to boom across sweet biscuits categories. Just take a look at your colleague's desk.
Discover more Insights in the Biscuit Magazine