What are macarons?
French macarons, to not confuse with "macaroons", are fine, flavored meringue cookies. The cookies are sandwiched together with a very specific and fragile aerated filling which can be ganache, buttercream or jam.
A macaron is a fragile and sticky product with specific tolerance levels. It's important to understand and to manage the constraints and conditions for its production (temperature, humidity, etc). It can be difficult to industrialize the process, especially in terms of dosing, sandwiching and flow management.
Here appears the best suited process for macarons' production! This is the true technology that will allow you to keep your hand-made recipe of macarons and still expand your production easily.
The technology to produce macarons
This technology will increase your macarons' production because dosing, capping and flow management will be automated which will make it faster to produce macarons. Dosing systems have made manufacturing biscuits, macarons and pastries so much easier. Capping is then the operation of forming macarons, one shell on top of the other, with the delicious filling between the shells.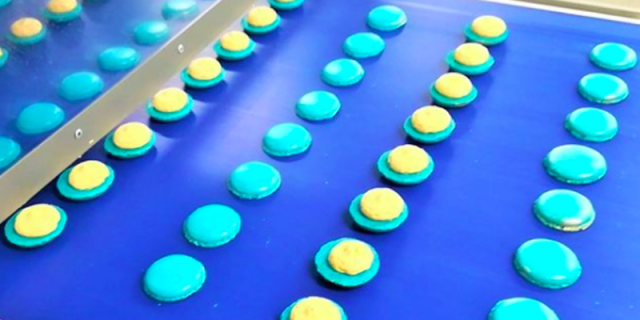 There are two types of solutions : semi-industrial or industrial.
The semi-industrial technology is a small version suited to semi-industrial producers for macarons cooked on baking trays in rotary ovens. With this solution, your operators will feed manually the machine from the baking trays. The following operations are done automatically :
Product alignment,
Preparation of rows & lanes,
Rows tilting,
Dosing of fillings,
Capping of the shell.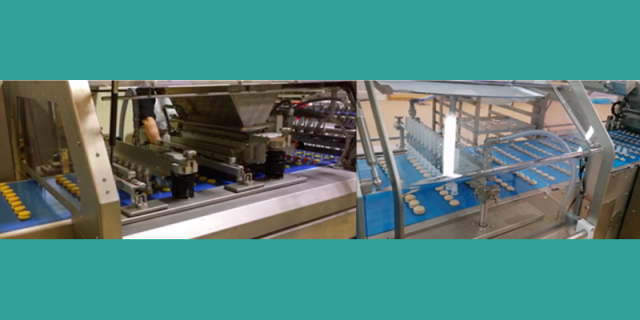 The industrial solution is a bigger technology, which is directly connected to your in-line continuous oven and installed after the cooling conveyor area. The following operations are completed automatically:
Distribution and alignment from the oven,
Rows & lanes preparation,
Rows tilting,
Dosing of fillings,
Capping of the shell.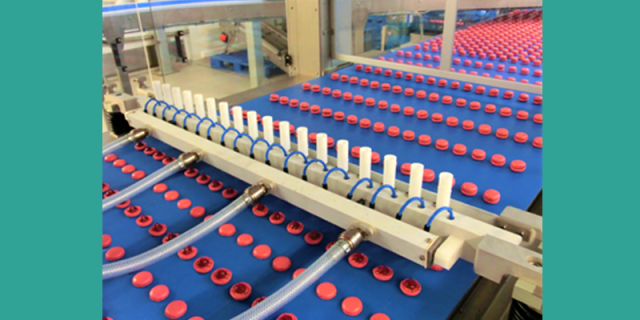 Depending on your supplier, these technologies can be featured:
No product / no dosing technology,
Hygienic design, solid construction, stainless steel frame without any mechanical parts, allowing full cleanliness,
The movement of the dosing and capping heads is regulated with brushless motors that allow optimum versatility for movement adapted to each recipe,
Supplier's automation & control,
Touchscreen operated computer,
Storage of recipes,
Changing configurations (for controllers, line managers, or maintenance technicians),
Number of rows optimized for the number of baking paper,
Bakery paper automatically distributed,
One or more dosing hoppers (for double fragrances or quick change),
Space between dosing and capping to insert application (coconut, hazelnut, sugar, etc),
Automatic blistering,
And much more!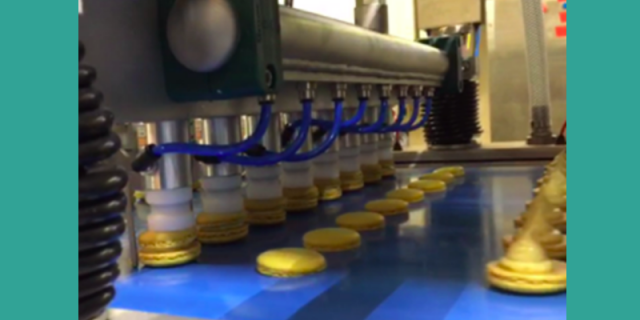 It's important to pay attention to all of the production issues, especially for macarons (fragile product, quick size changes, modification of parameters during production, etc). Maintenance and cleaning are key features for your production. This technology allows these features and is made for macarons to ensure the best adaptability to your products.
Ready for a macarons' innovation in your business?
What do you think of this technology? Do you already have a solution for your macarons production? If you need support in this, for you there is your solution designer - Procys. Check our suppliers on our Biscuit People's site!
You can contact us on our online contacting page.