Aasted is a Danish family-owned company which also happens to be one of the worldwide market leading manufacturers in the chocolate, bakery, and confectionery industry.
It was founded in 1917 under the name Mikroverk, and this year marks Aasted's centennial. Aasted headquarters is in Farum near Copenhagen, Denmark while its former CEO and now Co-Chairman of the Board, Allan Aasted, is the third generation running the company and developing it further.
In more recent history, January 2010 to be more exact, the company merged with A. E. Nielsen to provide a more complete range of products. Originating in chocolate moulds, Aasted has expanded its production to include three focus areas: chocolate, baking, and confections. Globally, this Danish company ranks within the top three manufacturers in the chocolate industry.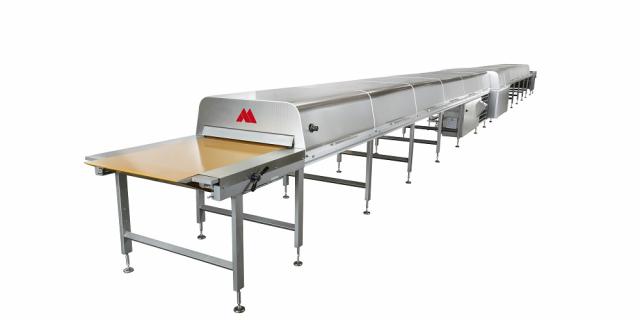 To Aasted, their Service Department is an integral unit to the company, which operates worldwide with its own staff of dedicated engineers, technicians, and logistics experts. The numbers following Aasted's thriving are quite impressive, not just its 100 years of existence.
Aasted has customers on all continents and in more than 100 countries all over the world and has 200 patents worldwide. When it comes to supplying technological solutions for widely produced goods, they have become present in developing markets such as China, India, Brazil, and Turkey, which represented 50% of their 2012 revenue.
Their products are many and these are quick notes on what they offer in these three industries:
Chocolate machines (Aasted SuperNova™ and SuperNova Energy tempering machines, depositors, enrobers, Nielsen Cooling Tunnels, and auxiliary equipment)
Chocolate production lines (Aasted Jensen™ moulding lines and belt lines)
Chocolate processes (final chocolate products, enrobing line process, Eriksen line process, steel and plast belt line process, solution process)
FrozenCone® technology (original, patented method used to cold-press chocolate)
Final chocolate products (coffee beans, lentils for sugar coating, chocolate lentils, enrobed centres, chocolate bars, biscuits and cookies, tablets, chocolate chips)
Bakery machines (Alice™ extruder/depositors, Conny™ Ovens, stencil depositors)
Bakery line and processes (final bakery products, bakery line, multi line 1 process, multi line 2 process, solution process)
Final bakery products (chocolate chip cookies, cookies with lentils, double chocolate cookies, swiss roll, cupcakes, chocolate-filled madeleines, oatmeal cookies, sugar cookies, coconut cookies, jam filled cookies, butter cookies, crispbread, shortbread with nuts, vanilla rings)
Confectionery machines (extruder/depositors, enrobers, and Nielsen Cooling Tunnels)
Confectionery lines (The Aasted bar line)
Confectionery processes (confectionery line process, multi line 1 process, multi line 2 process)
Final confectionery products (enrobed chocolate, enrobed pralines, fruit and nut bar, filled chocolate bar, chocolate bar)
With Tempering machines being their historical signature product – it has led to many revolutionary developments over their 100 years of operation. One of the later innovations being Aasted's FrozenCone Technology is particularly interesting to chocolate lovers. This technology creates the perfect shells with our special seal technique and is ideal for high precision moulded chocolate products. Furthermore, air dynamic cones, specially developed for this purpose, ensures that all shells in the production are perfect. The independently suspended plungers compensate for any inaccuracy in the moulds and in the deposited mass volume.
Making and baking those delicious sweets we all love involve several processes, different machines, and delicious ingredients. Aasted is the company that provides a lot of these segments with variety of products in their range. Through their 100 years, they have grown to a leading company and continually strive to improve their offer. Here's to at least another Aasted century!