What is the first thing that intuitively comes to mind when we mention the word "favourite food"? Is it different from a favourite biscuit, maybe the one we have already mentioned in our biscuit blog? Think about your favourite biscuit or scroll and remember... Do you have a certain food or biscuit that is your favourite for many years, or does it change depending on the period or trends that change from month to month, and especially through the years?
Most people stick to their all-time favourites who are unwavering, while others are keen on trying something new, like the most unusual cookies in the world. The market is growing faster than ever and to be successful and innovative, it is necessary to keep up with the modern-day trends by addressing the consumers' needs.
If you are a manufacturer, don't forget the well-known saying that you can always be guided by "the customer is the king", and conduct research and the market changes depending on the needs of the target group.
We are here for you to lead you through trends in the biscuit industry for 2021 so don't worry about ''staying on track'', we will guide you through every piece of advice to help you make a perfect, innovative, healthy, and ''instagrammable'' biscuit!
How COVID-19 impacted consumer trends in the biscuit industry?
Moreover, when we talk about changes in the market - one thing is for sure, the global pandemic and COVID-19 have greatly changed the market in all aspects of business and service activities, including the food and biscuit industry. Home is our safety! Because we have been spending a lot more time in our homes in the past year, the market has seen an increase in homemade products because people, eager for hobbies whilst being resticted in their homes, have been exploring new recipes and ideas especially for cookies and desserts.
Also, given the whole situation and the fact that people have spent much more time at home, limiting their usual physical activities and numerous group training and sports, combined with the increase in interest around general health during times of need, people have increasingly been paying more attention and longing for healthy foods during the pandemic.
What exactly changed in the biscuit industry during the COVID-19?
As we have mentioned, spending more time at home changed almost every aspect of our life and eating habits are no exception. Innovative solutions in the biscuit category were presented by Synergy Flavours, a leading manufacturer, and supplier of flavourings, extracts, and essences for the food & drink market.
The industry changes – here are the results. So, people were used to preparing snacks mostly to bring them to work to eat in a rush or during a quick break just to stay energized through a busy day. The lifestyle shift caused by the pandemic has seen consumers turning to bitesize treats to treat themselves, which you can read a whole paragraph later in this article.
Healthy and mood-boosting – it is a necessity in hard times!
Consumers are more conscious of their health and are turning to products with functional claims, natural sugars, and mood-boosting ingredients. As consumers think more about their food and drink choices, people are searching for nutrient-rich ingredients to hoist temperament, support energy, and diminish pressure.
ADM OutsideVoiceSM research uncovered that 35% of shoppers are worried about emotional well-being.
For instance, the craving to assuage pressure may push individuals to enjoy soothing flavours and food sources, particularly nostalgic flavours like sweet vanilla and chocolate.
More usual than buying independent items, customers are searching for nutraceuticals that likewise give actual medical benefits– including enhanced immunity, heat capacity, or digestion, investigates all throughout the world.
Brands are progressively distinguishing themselves through marketing initiatives such as advertising products with medical advantages for "body and psyche" with ingredients that consolidate comprehensive wellbeing as well as temperament upgrading properties
Bringing back good old memories!
Nostalgia continues to dominate sweet bakery as consumers are turning to foods from their childhood for comfort in uncertain times. Also, people have more time to explore and bring back some memories that they forgot about because of a fast-moving lifestyle with limited break time.
Staying at home with our loved ones, keeping up with hard times also opened up a question of past times where we enjoyed some desserts we forgot about, and people had more time to prepare them and revisit forgotten recipes, spanning family generations.
Are you one of those people? What old recipes did you remember during the pandemic? Good old Pettit Beurre maybe or those who never go out of fashion, Chocolate chip cookies?
Furthermore, chocolate never goes out of "fashion" - right? Mentioning chocolate, we continue with the best-selling and most sought-after flavours of the past year. Chocolate, of course, is always a favourite. Chocolate is key to indulgent categories and it dominates launches in the bakery category.
Top 10 flavours in bakery product launch 2019-2020 in Europe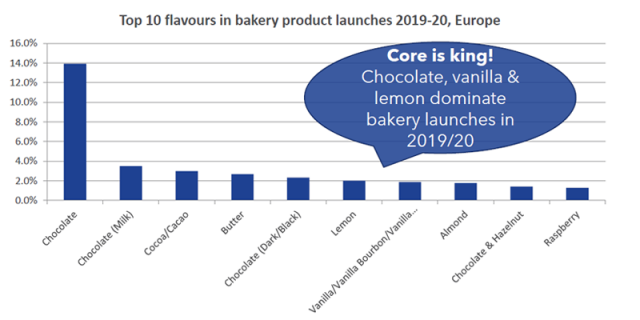 Source: Mintel GNPD 2020
The fastest-growing flavours:
Coffee
Mint
Blackberry
Custard Cream (Biscuit)
Irish Cream
Chocolate (Truffle/Tartufo)
Briefly described and presented trends, as time goes by, are becoming more and more effective and now that we have introduced you to the roots of this topic, we will describe each trend Set to blossom in 2021.
Consumers trend: Bitesize indulgence – comfort matters!
Since consumers are spending more and more time at home, they are increasingly looking for ways to treat themselves. Exciting flavour innovation and indulgent experiences can drive impulse purchases in this space. Moreover, research has shown (Mintel Sweet Biscuits & Snack bars, UK) that in the UK 39% of consumers have eaten comfort food to tackle stress in the last 12 months, mostly at-home snacking occasions, and 74% of biscuit eaters in the UK usually include biscuits and treats as a part of ''me'' time.
What's driving the trend about bitesize indulgence?
• Consumers crave more memorable experiences through food that brings a variety of textures, flavours, colours, and smells.
• The growing influence of social media leading to desserts becoming more photogenic with an increasing focus on visuals as well as flavour
• Consumers looking for exciting new flavours and formats as an escape from the norm and
everyday life.
Fun fact: 48% of UK chocolate buyers agree that chocolate with less sugar does not taste as good as standard chocolate.
Indulgence, sweetness, and familiarity are key to creating the ultimate pick-me-up. Many consumers, especially in the current climate are unwilling to switch away from their favorites so building on the core to drive interest could be the way forward.
Chocolate, but not only classic chocolate? Level it up!
Many product innovations include chocolate as the number one ingredient for improving, (not that this beloved flavour needs any improvements but because the manufacturers want to ''level it up''). It is mostly to feed consumers' appetite for twists on their core favourites.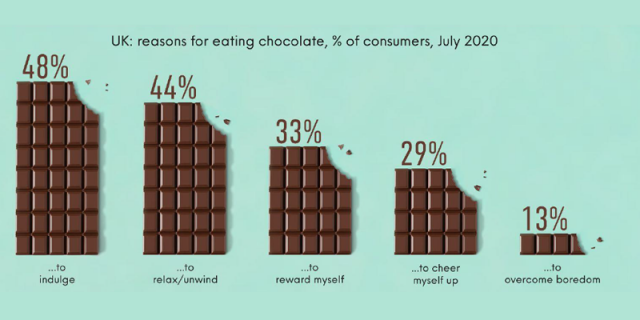 UK: Reasons for eating chocolate, % of consumers, July 2020, Source: Mintel 2020
A new favorite: Salted Caramel
Are you usually keen on trying unusual food combinations? What do you think about, for example, a biscuit with bacon flavour? If sweet and savoury combinations seem tasty to you, we are sure you loved salted caramel which is the fastest-growing flavour in indulgent categories with growth in product launches of 35% in the last two years in indulgent categories
.
How to ''level up'' your products?
Admit it, an almost indispensable part of everyday life for almost every one of us is navigating through social networks, and therefore we see a lot of different, innovative products from all over the world and we want to taste them (not to mention homemade "photogenic" cookies). They attract the attention of everyone who looks at them.
Make your biscuits photogenic!
Photogenic food has been a part of the trend and everyday life for a long time, because we are all aware of how often food is photographed when it arrives at our restaurant and then eaten, no matter how hungry we are. If you are a blogger, you can spend up to 30 minutes, as some of the bloggers have confirmed, photographing your meal before you try it ... Doesn't it bother you that it may have cooled down by then? The visual identity of the product is more important than ever, and the packaging itself in the production process comes last but most certainly not least as it plays a big role in the consumer's decision when buying.
Less is more... Or not?
The bitesize indulgence trend also applies to product ingredients in general, and even to their size and composition. Let's consider for exmple the famous Oreo which is no longer a classic but a biscuit with a rich cream filling overload – the cream is more than ever! Interesting, isn't it? Many biscuits also come in the form of bite size small pieces, but enough to taste the taste and break the monotony of the day with one sweet bite.
Also, making crunchy and smooth biscuits at the same time, combining flavours for example fruit and chocolate or white chocolate ... Including vanilla with unusual tastes and in biscuits in general. Needless to say, if you are looking for the ideal vanilla for your products, Synergy's versatile vanilla is the perfect solutions provider for you. With more than 100 years of vanilla expertise, Synergy Flavours provides a valiant effort to join 21st-century innovation with conventional creativity to furnish you with the best in vanilla extracts and natural flavourings of Madagascan origin.
Vanilla is considered to be one of the core flavors in bakery, dairy desserts, and ice creams. The comfort of nostalgia in the biscuit industry: Remember your childhood memories with tastes
Familiarity is what keeps us going and helps us during times of uncertainty. Safety, comfort in remembering the beautiful days we hope for in the future, and hold onto memories are what can keep us positive while we are surrounded by uncertain times.
There are sure scents, flavours, and in particular sweet treats that take us back to cherished recollections of extravagance, chaos, and generally speaking joy.
Returning to family top choices, for example, Haribo cola containers, love hearts, or retro biscuit packaging. Customary candy store items from natural brands bring a feeling of quiet and go about as a pressure discharge (TheFoodPeople).
Sharing is caring – gifts are more important than ever!
Consumers looking for mail-order gifts or new ideas for edible gifts as a result of the pandemic.
For example .... Tomato and vodka marshmallows – how does that sound to you? 73% of UK adults agree they enjoy products that remind them of their childhood.
Which one is your favorite childhood memory? Grandmas' recipe or some of the biscuit brands bought in a store?
What's driving the trend in 2021?
• Recipe revivals on social media
• The influence of GBBO – 80s week!
• Our favorite TV shows and films making a comeback
• Unremembered nostalgia – millennials driving interest in 80s era from watching shows like Stranger Things
• Brexit – the great British pud returns in 2021 as we rediscover the Classics
According to Google searches for the 1980s and 1990s since 2014:
Flavours:
Classic puddings – including jam & clotted cream, trifle, sticky toffee, banoffee, carrot cake, cherry Bakewell

Retro Sweets – sour cherry, licorice, lemon sherbet

Ice cream – rum & raisins, creamy vanilla, Neapolitan, raspberry ripple

Healthy options: Which ingredients to include in your diet and even treats?
Sugar is top of mind for customers worldwide as we see many zeroing in on eating fewer carbs that are 'sans sugar'. Adopting 'flexitarian' counts calories is currently reaching out past simply reducing meat consumption as customers center on low maintenance plant-based eating regimens for wellbeing purposes.
In mainland Europe two-fifths of customers with youngsters consider low/no/diminished sugar substance to be a significant buy thought in snack bars.
Stay healthy and fit without sacrificing your favourite snacks – here is how manufacturers are addressing these needs of consumers:
Rebalancing recipes – reducing sugar and fat but maintaining the sweetness through the inclusion of unrefined ingredients in the recipe

Healthier image – the power of veg, grains, fruits & seeds, plant-based, for example changing the way customers are using flour, the core ingredient for many biscuits. Refined white flour is used less and less and even last year became the flours' time to shine! Have you tried baking with, for example, cauliflower flour?

Adding functionality – protein, fibre & gut health, mood-boosting. The inclusion of protien and protien fortification is not only aimed at the performance athletes of today but also for those consumers who are concious of eating healthier products. Do you know how to include proteins in baking biscuits?
Vegan choices: How is the vegan trend increasing even in the biscuit industry?
The emerging trend of veganism goes inseparably with the expanding number of products offered for individuals with food hypersensitivities or other dietary restirctions. This ascent in particular dietary patterns – regardless of whether because of sensitivities or diet patterns – has made a lot of noise and gained attention within the food industry.
Interest in veganism expanded during the 2010s, particularly in the latter part of the last decade. More veggie-lover stores opened, and vegetarian alternatives turned out to be progressively accessible in general stores and cafés.
Interest in veganism has hit an unprecedented high in 2020, as per a report assembled by food-driven news source Chef's Pencil. ... Veganism is more grounded than any time in recent memory, as you can see by the number of nations whose food customarily is incredibly meat-and dairy-based seeing a major ascent in veganism.
It also impacted the biscuit industry since many manufacturers are making vegan versions of many delicious sweets so now you can find many different biscuits and treats that are vegan-friendly or even made in a special vegan version.
Here are products you can eat guilt-free if you are a vegan: Oreo has been a staple item in the biscuit industry for endless years, and it's quite possibly the most renowned and beneficial treats throughout the world. Albeit the first formula utilized animal fats, they've transformed it after some time to be both vegan-friendly and kosher.
Other great biscuits that belong on this list are the Rich tea biscuits, Fox's party rings, Nairn's dark chocolate chip, Bourbon, Hobnobs choc chip, Pink wafers, Lotus biscoff, Gingernuts, and Hobnob originals
Plant-based consumption is quickly becoming a mainstream trend as consumers outside of the more youthful millennial and Gen Z generational groups start to sit up and focus.
While veggie lovers just represent about 3% of the population, rising revenue in plant-based industries suggests that it's the flexitarians and part-time veggie lovers who are driving the development in this space.
Synergy Flavours addressing trends and developing high-quality flavours for vegan products
Synergy combines 55 years of Irish dairy heritage from parent company Carbery with flavour expertise to recreate a complete dairy taste experience, without the dairy. Synergy's range of vegan-suitable dairy flavours can deliver the indulgence of butters, creams, milk and cheese whilst also masking undesirable notes associated with many plant-based products on the market today.
Synergy vegan flavour range includes:
• Taste modulation solutions
• Cream & milk flavours
• Butter flavours
•Cheese flavours
In addition to the increased demand for vegan products, consumers continue to look for superfoods, full grains and reduced sugar products more and more. Don't forget that customers want to know what they are consuming and they want ingredients in their products to be as natural as possible.
Satisfying customers' needs: Plant-based, reducing sugar and keeping it natural!
Generally we are seeing a continued rise in gluten-free claims across all food products globally.
In the example of breakfast cereals, we are seeing a drop in traditional grains such as corn rice and wheat with growth in low-and-no-gluten grains such as oats & quinoa.
In biscuits we are seeing use of; coconut, chickpea and buckwheat flours also.
In general: Trends you couldn't go wrong with – Rainbow, #instafood, and coffee culture
Is there anything more beautiful than a morning with a cup of coffee? Can you start the day without your favorite drink? Europeans are known for the culture of drinking coffee, depending on the country, some do this ritual for hours while others drink coffee "on the go", but the pandemic has slowed us all down and we all had more time to return to our favourite drinking rituals - a drink at home after a busy day. Combining biscuits and coffee has been indispensable for many years, dunking culture especially and it is a trend that has already taken root in the culture and is not disappearing, only increasing.
Extra tip: Don't hesitate to include coffee flavour into your biscuits, that is a great way to level it up!
Don't forget: Get in touch with your customers
Modern consumers are wanting to make connections with their food
• This could be through transparency of the ingredients lists or knowing where the ingredients come from
• It could be foods that involve some form of participation for a fully immersive experience!
For example – guess the flavour, ''break to eat'' or including customers into the manufacturing process as KitKat Chocolatory will soon be bringing their very own chocolatey to the UK which allows consumers to create their 8-finger bar.
''Instagrammable, nostalgic, vegan or healthy?
Which one is your choice? Also, you can include all of our tips into your manufacturing process, make your biscuits tasty, photogenic but still healthy since health is the most important thing in the world! Stay safe during these hard times and cheer yourself up with your favorite nostalgic TV show and biscuits and if you need any more advice you can contact Synergy Flavours directly.
Also, we would like to hear your opinion on these trends ... How important do you think it is to make innovations in taste or packaging? Also, which nostalgic product is your favourite? Share it with us at contact@biscuitpeople.com, we'd love to hear from you! Stay safe and eat your cookie!