Sandvik is a major manufacturer of steel belts and processing systems for the food industry, including bake oven belts, cooling lines, conveyors and chocolate forming systems.
Among the systems and products being highlighted at Interpack are the company's solid and perforated steel belts; moulding machines for the production of industrial chocolate chunks, chips and bars; steel belt conveying equipment; and steel belts for high precision printing.
Steel belts for food processing
Sandvik supplies belts in carbon or stainless steel to suit the needs of a whole variety of food processing applications. They can be manufactured to virtually any length or width, and supplied in solid form, or perforated to provide a longer-lasting, lighter alternative to wire mesh belts.
One of the key advantages of processing on a steel belt is the assurance of maximum hygiene; the strength, flatness and durability of a solid steel belt enables easy and effective cleaning and sanitising. This makes them particularly well suited to applications such as meat processing.
Sandvik steel belts are also extremely versatile, maintaining their strength and flexibility at operating temperatures from minus 80°C to +750°C, making them as well suited to freezing, drying and baking as they are to straightforward conveying.
Sandvik bake oven belts
Bake ovens belts represent Sandvik's largest food-related market, and can be produced in widths from 800 – 3500 mm.
The thermal properties of a steel belt make it ideal for an application where temperatures can reach as high as 400ºC. The belt remains stable, provides excellent thermal conductivity for good baking performance and consistent product quality, and delivers clean product release, ensuring that high product quality standards are maintained.
Exceptional durability – a working life of 20+ years is not unusual – means lifetime costs are low, and return on investment is further enhanced with low operational costs. As steel belts are lighter than other conveying materials, less energy is needed to heat the belt and 'drive' it through the oven. As belt heating will typically account for 25% of an oven's energy use, this can result in significant savings.
High capacity chocolate forming
As well as supplying steel belts and conveyors to OEMs, Sandvik also produces it own process systems in selected areas and is a leading supplier of forming/solidification equipment. These include the Rotoform, a system that combines a drop depositor and stainless steel cooling belt to solidify food products into pastilles.
The Sandvik SGL Technology MCC 1500 is a multi-layer chocolate chips/drops moulding line offering up to three times the capacity of comparable systems of the same length. This is achieved by 'stacking' three depositors one above the other, with each feeding a separate cooling / solidification line within one overall unit.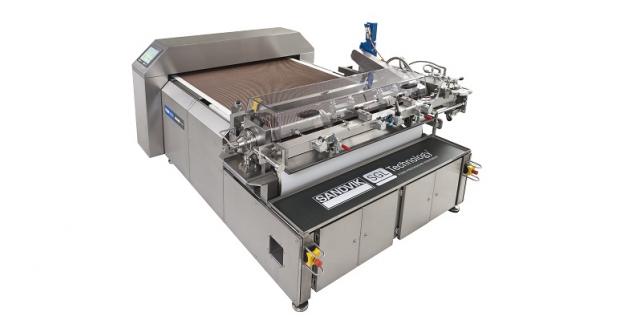 Combining three production lines in one delivers a forming capacity of between 4-6 tonnes per hour – depending on chip size. It also allows the production of different recipes or product shapes sizes at the same time.
Conveyors and components
The company also supplies steel belts for OEM conveyors, standalone conveyor units, and components such as drums, compact belt tracking controls, graphite skid bars and cleaners/scrapers.
High precision printing
Other applications for the Sandvik belts include high precision printing, where the stability of a steel belt conveyor enables high-speed printing while ensuring maximum quality. Sandvik can supply solid or perforated steel belts, depending on the particular needs of the process.

Sandvik Process Systems / Sandvik SGL Technology
Interpack Hall 3, Stand F44