GEA Imaforni works with the US market leader to make the world's most technically exacting cookies
The manufacture of cookies for ice cream is probably the most exacting process in the world of biscuit making. Not only should the cookies be made to a precise recipe, be perfectly baked and delicious, they must also be made to the finest of tolerances so they can be reliably fed as part of an automated process in the ice cream factory.
Joy Cone in the USA is the world's largest ice cream cone producer and the market leader in the production of cookies for use as ice cream sandwich wafers and as an ingredient in many popular ice cream mixes. So, when Joy Cone built its first cookie line in Iowa in 2012 it chose GEA Imaforni, the recognized technology leader for automated biscuit lines, as it's equipment partner. When last year the company installed an even bigger cookie line in Pennsylvania, GEA Imaforni was again the obvious supplier of choice.
Why Joy Cone chose GEA Imaforni
Larry Tomasiello is the technical services manager at Joy Cone and was involved right from the start. He explained that until 2012 the company in Iowa had only made wafer products, but when it decided to diversify into Oreo-style and chocolate chip cookies, he had to do some research to find his ideal supplier.
"We shopped the world and looked at several different companies for cookie lines," he said. "We had the opportunity to visit some plants that were running GEA Imaforni lines and I liked their equipment because it was up to date and provided everything we needed as regards to safety, sanitation and production capabilities."
Simplicity, flexibility and faultless automation
After an information-gathering trip to Europe, Larry and his team settled on GEA Imaforni as the chosen supplier.
"I felt that the Imaforni equipment had the best option for us as far as equipment design and ease of use. When I visited plants, they looked pretty much as if they were in autopilot. They just ran. I was very impressed with that. I also interviewed some operators and supervisors at the plants and they were very happy with the equipment so that was a major part of my decision-making process."
Joy Cone makes around 150 different products, all to unique recipes, that it supplies to ice cream companies through the USA. After proving the safety and reliability of the GEA Imaforni line, it was the flexibility and ease of use that came into sharp focus for him. "I liked the way the equipment was designed overall," he said. "It was very precise and fully automated. I didn't want the employees to be pushing tubs of dough around like I'd seen in some plants."
Larry said that it was easy to access the equipment and make changes to belts and rollers. This meant that the line was easy to clean and product changeovers could be completed in just a few minutes. Even when the machine had been running with allergens, and needed thorough cleaning at product changeover, the time required was just a few hours. "We didn't want it to take a whole weekend to do," he said.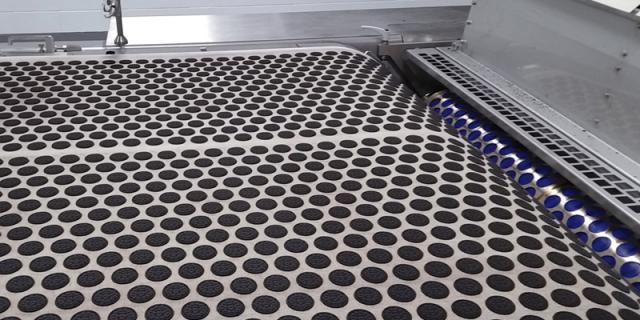 The rotary molder is at the heart of the GEA Imaforni process, photo: Joy Cone/GEA
The need for precision
The original Iowa line is 1.2m wide x 60m long. Paolo Betto, Area Sales Manager for GEA Imaforni, said that making cookies for ice cream is by far the most difficult challenge in the biscuit manufacturing world. "These cookies are made to be part of the ice cream manufacturers automated process," he explained. "The dimensions, shape and weight must be perfect every time and the tolerances are very exacting."
Paolo explained the GEA Imaforni achieved this remarkable precision through a combination of meticulous attention to engineering detail and very tight controls on the machine. "We have a large rotary molder diameter and very fine tolerances between the roller and the knife to make sure every cookie is the same size. We then control the oven very carefully to make sure the bake on each biscuit is perfect and consistent." The result is identical biscuits every time made to tolerances sufficiently fine to be fed as part of a further automated process. Joy Cone was so delighted with the line in Iowa that when it needed another, bigger line at its plant in Pennsylvania, GEA Imaforni was again the obvious choice. "This line was even longer and 1.5m wide," said Paolo. "When you increase the size of the line the precision required increases exponentially to achieve the required tolerances."
Although this was an even greater challenge, Larry Tomasiello was delighted with the outcome. "The products are well within the required tolerances," he explained. "Overall I am happy with the performance of the GEA Imaforni line. It basically runs on autopilot. That's what has impressed me the most."
The relationship
The relationship between Larry, Paolo and the GEA Imaforni/Joy Cone team goes back almost 10 years now. Larry said that the relationship is a very strong one, not just with the sales team but with the technicians and support team as well. "But we haven't needed much support," he said. "We maintain the equipment ourselves and just have an oven safety inspection once a year. The GEA Imaforni technician knows everybody and provides additional training when it's needed. I have no complaints."
Paolo said that he had been a delight to work with this US market leader and be an integral part of the company's success. In the early days GEA Imaforni provided Joy Cone with access to its research facilities in Italy to help with product and process development. "I know this was very useful to help Joy Cone refine the process," he said. "It has also been an excellent opportunity for us to demonstrate the technical capabilities and simplicity of our equipment in such an exacting application."
---
Leading image: Cookies exiting the GEA Imaforni oven, photo: Joy Cone/GEA