WHAT IS WCM??
World Class Manufacturing (WCM) is a structured and integrated production system that involves all manufacturing processes in the site and entire organization from the leadership to the people on the shop floor. WCM is usually represented as a temple with 10 technical and 10 managerial pillars that have to be managed properly in order to elevate the site to a world class standard.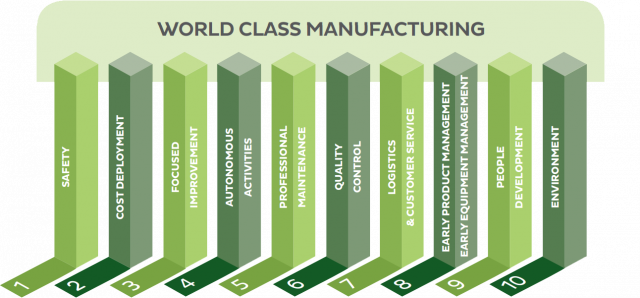 One great tool that is used in WCM is calculation of OEE. we can apply OEE in biscuit plant and machines. It reduces the losses and improves the plant/machines. One good tool form which you can analyze the plant/lines/packaging machines is OEE Overall Equipment Effectiveness.
WHAT IS Overall Equipment Effectiveness (OEE)??
Overall Equipment Effectiveness (OEE) measures the operational performance of the production line taking into account Manufacturing Performance losses and Process Driven Losses.
The standard method of calculating OEE considers the actual Good Volume at the end of Line, as it was confirmed at the end of the Production Order, along with the required Loading Time:
Overall Equipment Effectiveness (OEE) =Value Operating Time/Loading Time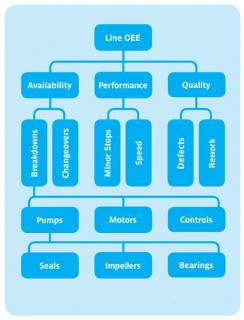 WHAT ARE Manufacturing Performance losses:
This is when a Line unexpectedly stops while it is intended to be in production under a launched Production Order. These losses are mostly the responsibility of manufacturing, but there can be exceptions.
WHAT ARE Process Driven losses:
These occur when a Line is intentionally stopped to complete certain activities on a machine or Line. While these activities are being carried out, the Line is not able to produce. These losses have a shared responsibility (e.g. manufacturing, planning and engineering are all functions which may share the responsibility).="margin:>
Previous OEE Calculations:
Previously we were calculating OEE with Availability*Performance*Quality. Currently there are added some more losses which cater OEE calculations.
Current OEE Loss Structure:
Currently there are 21 losses as follows each loss is important.
1. EQUIPMENT BREAKDOWN
2. PROCESS FAILURE TIME
3. SHORTAGE OF OPERATORS
4. MATERIAL AVAILABILITY AT LINE-SIDE LOSS
5. CUTTING BLADE CHANGE
6. MINOR STOPPAGE
7. SPEED LOSS
8. QUALITY DEFECT TIME LOSS
9. MEASUREMENT & ADJUSTMENT
10. CLEANING & SANITATION
11. CHANGEOVER/ PRODUCT CHANGE
12. PREPARATORY AND CLOSE OUT TIME
13. MAINTENANCE TIME
14. MEAL & TEA BREAK
15. BANK HOLIDAYS
16. SHIFT PATTERN
17. NO PLAN / NO PRODUCTION ORDER
18. PLANNED STOPPAGE TIME
19. SHORTAGE OF UTILITY (FORCE MAJEURE)
20. EQUIPMENT PROCESS TRIAL & SCHEDULED MODIFICATION TIME
21. EXTERNAL / LEGAL HOLIDAYS
All above losses hit any manufacturing plant including biscuits plants and packaging machines. OEE can be applied in any manufacturing plant including biscuit plants. Its true implementations in biscuit plant yields great results. For its applications and further study you can share your inputs/questions with me.
Be sure to subscribe to our newsletter by registering so that you do not miss any of our articles and insights.