Throughout my career I have seen different companies that are largely unaware of the processes involved during cooking. They usually work through trial and error until they find the best condition, ignoring the variables involved, without considering the costs that this causes. Normally, it is necessary to adapt the cooking conditions, due to variations in the Raw Materials and / or availability and operating conditions of the oven itself and even variations in the process in the previous stages (Kneading, Fermenting, Molding).

Undoubtedly, the cooking process is a specialty where phenomena of Energy Transfer and Mass Transfer intervene, which are affected according to the type of oven, atmospheric conditions, type and state of the equipment and of course, the type of product to be developed.

Here are some phenomena that occur during cooking.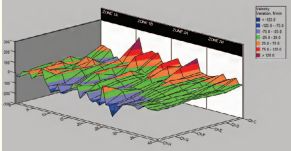 Heat distribution throughout the furnace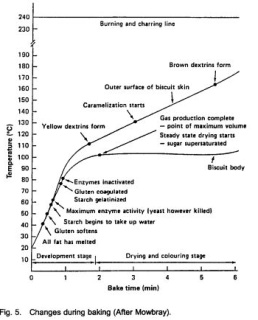 To simplify, we can say that the oven could be divided into 3 zones, which are given the following transformations, primarily.
1. Product development. This is where the dimensions of the product are defined.
The conditions of the oven, mainly must be of higher relative humidity (there may even be condensation on the surface of the cookie), which favors its development. And heat is usually supplied, preferably from the lower heat.
2. Drying or moisture reduction of the product. This is where the highest temperatures are achieved and it is where the dehydration of the product occurs in a faster way.
3. Color. Mainly the color is finished developing at this stage. It is given by caramelization of sugars and is also a consequence of the Maillard reaction.
Consequently, knowing these 3 main transformations, the operator can intervene the equipment according to what he needs to perform or adjust in the product.
Consequently, I confirm that this stage of the process where so many reactions and transformations intervene, the cooking process is indeed a Science that we must know to a large extent.
I leave you an affectionate greeting.
AS Consultant