To biscuits manufacturers, cutting rollers have always been associated to the production of those we call "hard" or "laminated" biscuits, which differ from the "soft" ones by the dough and the production system.
We already met and explained the difference between these two types of products that, to some extent, might be regarded as antipodean: soft biscuits are known for their fine and buttery taste, whereas hard ones are simpler both in texture and taste, nevertheless they're crunchier and perfect to be enriched with hazelnuts cream, jam or honey for an indulging breakfast time.
During our five-decades long experience, in some occasions we had to satisfy our customers' needs to launch on the market biscuits looking like the soft dough ones, but manufactured using the rotary cutting system.
The necessity of producing appealing and delicious-looking biscuits, while still using simple basic ingredients and recipes, which are not as rich as the shortbread one, is one of the main reasons that lead biscuits manufacturers to try to turn a hard biscuit into a soft one, at least from the aesthetical point of view.
In addition to this, in some biscuits factories there may be only cutting lines available for the production – this meant that some customers of ours needed to widen and diversify their products range but without bearing the expenses of a new line for rotary moulded biscuits.
That is why, sometimes, we literally have to turn rotary cutting moulds inside out.
With standard cutting dies, the outer cutting edge cuts the outline of the shape and, in parallel, the printing pattern creates the decorations which are engraved into the shape, meaning that the lines which are composing the pattern are going down into the dough sheet – this is opposite to the soft biscuits, where the lines of the design are usually in relief on the finished product.
On the reversed cutters the outer cutting edge for the silhouette of the shape remains, whereas the elements of the pattern are in relief on the final product, like soft biscuits, thanks to the fact that the depth of the cutting profile and the pattern line are designed to press the dough and fill the pattern up.
It is important to mention that in this case the depth of the dough sheet is binding and needs to be decided since the very beginning of the project
It might seem complicated to understand so here come a couple of examples to make it easier…
The two pictures in the post intro are an effective example of how the same shape can be produced using the "standard" cutting system (left picture) and the "reversed" one (on the right)
The 3D renderings here below can further explain how biscuits produced with the reversed cutters look like, compared to those made using the traditional cutting system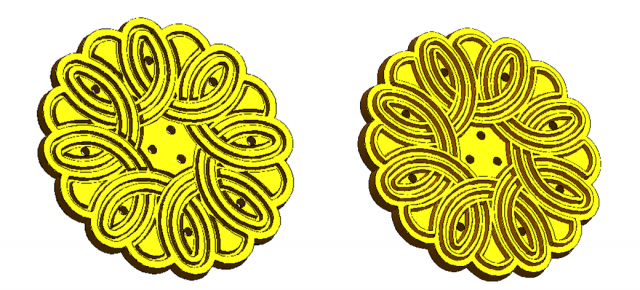 Thanks to our highly qualified and experienced technical team, we are always ready to assist our customers and offer effective solutions, also to the rarest production necessities