CEPI provides fully integrated and in-house designed automation of our bulk-handling systems. Production is managed through multiple operator panel solutions while native software Tracking System provides process control, warehouse management and full traceability with production statistics and data management, as well as total information exchange through SQL database. Each type of ingredient is closely monitored throughout the storage and dosing process, producing a great amount of information on the flow of materials which can be easily shared with ERP or MES.
Tracking the flow of materials
Ingredients are monitored starting from the loading moment:
through our native software TRACKING SYSTEM when they enter the warehouse, when a first digitalization with codebar happens attaching a virtual label to the lot with product loading time, name, quantity, expiration, packing slip, supplier, and anything else the manufacturer deems necessary. This ingredient is now available for dosing in production, and the information will be carried through the dosing process, while also being made available for any other traceability software operating in the factory, such as any software monitoring overall material consumptions (not just in production, but also materials such as paper) to achieve complete overview oft he company's consumptions
a second digitalization with codebar happens when the lot is loaded into dosing. All the information attached tot he lot's virtual label is carried through the production, now including new info such as loaded weight, loaded units (bags, bowls and such) and loading time. We also perform a congruence check to verify that each ingredient is transferred into the appropriate silo
TRACKING SYSTEM receives a history of production operations from our own touch panels, which manage such operations on the lines, making information available for all dosing and unloading operations of each ingredient lot, including all stations and conveying systems it moves through
All this information is stored on SQL server and can be exchanged, for example with the ERP or MES system of the producer
In short, we virtually label each lot from the moment it enters the warehouse, and transfer this label through all steps of the production process, adding additional information when necessary and adding the information provided from our production management system. We can perform additional checks, such as checks on dosing on manual scale of special ingredients, where we verify that the dosed lot is the same as the lot loaded for such specific dosing.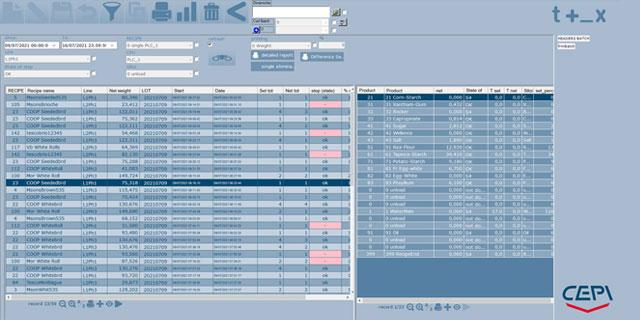 Batch list on Tracking System
Fully customized dosing systems
Designing a dosing system is a complex process that requires a close analysis of the manufacturer's processes and detailed information that goes beyond the purely technical. Our process involves all departments from werehouse, to production, technical, purchasing and marketing, to include projection of future productions and create a system that will easily accomodate expansions.
This detailed study is what we build on when creating a customized system that will ensure not only repeatability and accuracy of recipe resulting into an unique and high quality product, but also traceability of materials and processes, higher efficiency and production volumes, reduced consumptions and pollutions, improved working conditions and less human error as well as enhanced communication with other software and ERP. Our systems make productions more hygienic, with total separation between production and warehouse and optimize space in both areas.
Starting with the raw materials involved in the production, we first analyize each ingredient's technological properties and their montly and yearly consumptions, to establish their criticalities, advantages and if they allow optimization and cost saving. The marketing department's involvement come into play here by letting us include future ingredients.
We use this information to make decisions regarding the dosing method, such as that best matches the ingredient, the quantities that should be dosed in each batch and the overall production volume. Critical ingredients are given special attention, such as liquids whose viscosity determines the pump used during conveyance and if the product needs heating before pumping, or products that may cause breakage or contaminations, therefore needing separate dosing.
Are the ingredients received inn bags, bulk, barrel, ibc? This information is strategic when establishing how and where the ingredient will be dosed, and how to optimally coordinate operations between warehouse and production. Are the ingredients received inn bags, bulk, barrel, ibc? This information is strategic when establishing how and where the ingredient will be dosed, and how to optimally coordinate operations between warehouse and production. The building and environment evaluations let us establish suitable storing areas for each ingredient, especially those with special storing temperature and humidity requirement (for which we will provide a study and reccomendations to the producer.)
All stages (material, building and environment evaluation) need the same kind of overall view of the production, including all small processes. When planning a new line, not only all the elements (bulk-handling system, mixer, packaging) must be taken in consideration and planned in parallel, but all future opportunities should be kept in mind.
The mechanical layout of the bulk-handling installation is designed in parallel to the automation oft he recipe. CEPI provides a turn-key system that includes the automation, with hardware and software design is done completely in-house and production management through multiple touch panels solutions. Options span from customized 4-15'' operator panel on Siemers or Allen Bradley platform for non-typical processes, CEPI native PLC Leonardo for typical processes and weighing processor WP140 with LCD display for simple one line productions.
The recipe of each manufacturer is always customized, as we work on a base sofware that allows the highest flexibility. Recipes can be extremely complex, on multiple lines and with multiple phases on each line (such as mixing, rest, leavening, integrations with new ingredients on a different dosing location). Obviously our system allow coordination with any third system or robot in the line, as well as full communication exchange for the purposes of production statistic and ingredient traceability.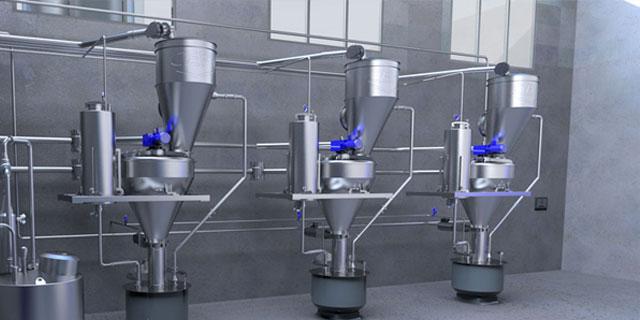 Dosing system for powders and liquids on three lines with vertical blenders and touch panel
Challenges in designing a custom-made storing and dosing system
The biggest challenge is effectively involving all departments as a way to get a complete vision oft he customer's process, right now and in the future. Many departments tend to be considered irrelevant to the planning of the dosing system, but CEPI's experience in managing this process makes it very easy for us to guide the manufacturer through a much wider analysis and in selecting all critical information.
Our systems are based in long term thinking in order to create the most flexibile solution for each food manufacturer and not preclude any new path they may take in the future.
What we recommend and what we always prioritize is not changing the working habits of each customers, but rather optimize and automatize what they are already doing.
Some ingredients are also more challenging than others. All milk derivatives, whey and milk powder require complex mechanical engineering and whose automation must manage temperature related processes such as drying and cooling. For eggs and other liquid products, a washing system must be provided, and fermentation processes need a very complex software design as they include multiple delicate steps: loading, fermentation, cooling, refreshing, washing. Salt and sugar may cause lumps, which must be either be prevented with appropriate storing and dosing technologies, or dealt with with lump breaking systems. Viscous ingredients such as hazelnut paste require specific transport and dosing methods.
Processes such as cooling are also recommended for flour, as it requires a correct and linear management of temperature to avoid seasonal variations that impact leavening times and create unevenness in the finished product. Flour will also benefit from fluidisation and flour oxygenation to allow for a faster but natural maturation, improving the flour's rheological properties without using additives.
All these processes are introduced in our systems through the exhaustive analysis we make. Our food technologists will identify the critical ingredients and the appropriate technologies will be included in the bulk-handling installation, such as cooling systems and fluidizing bed for flour, CIP or PIG washing systems, drying technologies or lump-breakers for salt and sugar. The automation system will then manage accurately all related parameters, such as temperature, atmosphere and pH.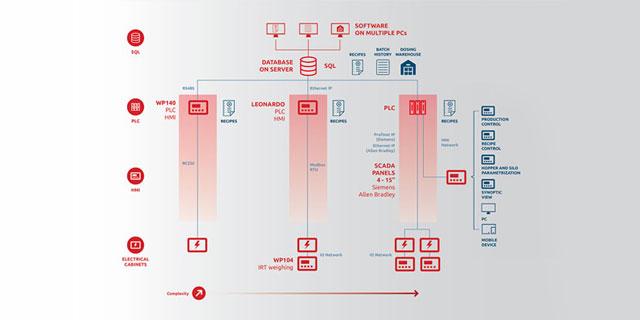 Architecture of an automation system
Weighing and dosing methods and their benefits
Hoppers can be addition or subtraction weighed. Addition is preferred when multiple ingredients are dosed in the same hopper, while subtraction weighing is more accurate for quantities that are either very big or very small, such as cocoa on mixer, or raisins, or salt.
The choice is entirely dependent on the needs of the manufacturer: we provide them with the most appropriate method depending on how many batches they want to produce and the volume of each,
CEPI's systems provide continuous or batch dosing, positive dosing, dosing by loss of weight, by volume or by weight with modular dosing hoppers for powders and tanks for liquids controlled by electronic metering scale for the weighing. Weighing is gravimetric or volumetric on load cells and liter counters.
All our dosing systems are built on a recipe matrix with automation modules which includes commands regarding weight, temperature, number of batches and production cycles for each step. Steps include both dosing and unloading of ingredients. This kind of automation provides a recipe that is adaptable to each production and can be written in the way that is most suitable to its technological and logistic requirements.
The set-up recommendations we share with our customers depend on the selected dosing method, the recipe itself, the type of ingredient (powder or liquid), the relevance of the ingredient (quantity and frequency of dosing).
Continuous dosing is selected when the downstream technological process requires it as the material flow itself is continuous and stations are not emptied and the filled discreetly. This goes for pasta lines, for micro ingredients such as additions to flour that are dosed through screws or rotary valves, for crystal sugar mills, or situations with a mill downstream of the flour or a minor addition must be made during pneumatic conveyance.
Batch dosing is the most common and applies to the majority of hoppers: addition or subtraction weighed hoppers, flow meters and micro ingredients hoppers. Of course large and small quantities require different mechanical solutions, and we provide stations for micro, medium and macro storage and dosage depending on the quantity and frequency of dosing.
Depending on the type of production, a single or multiple hoppers will be selected. For bakery lines we often recommend a single hopper for sugar and flour, while biscuits and similar products require the separation of ingredients such as powders, water, liquids like oil or yeast, and various micro inclusions on separate hoppers and flow meters, as the ingredients have different requirements, mixing times and separation allows hoppers to work in parallel and optimize production times.
Processes that require successive unloading and mixing of separate ingredients will also require multiple hoppers, as well as rework systems where a hopper is necessary to dose the recovered powdered or liquid product.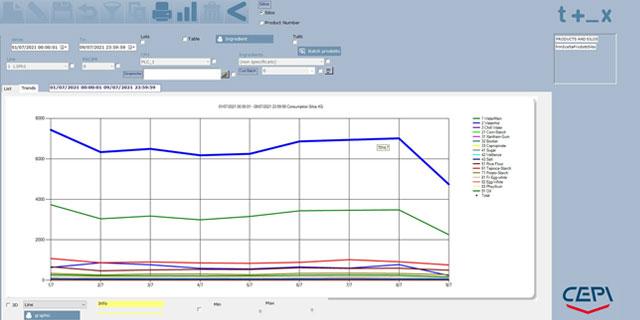 Material consumption trend on Tracking System
Recipe management and complete accuracy
Accuracy is first and foremost achieved through the complete automatization of the dosing system, which governs all operations from loading of storing stations to conveyance and dosing, including all processes such as fermentation and control on parameters such as temperature, pH, atmosphere, which is crucial in preserving the properties of ingredients such as flour or fats.
The recipe is managed exactly in the way indicated by the customer: we only provide accurate automation and the most suitable dosing technology, as well as our expertise in how to optimize the management of various ingredients. We do not overturn their product or their process.
The operator panels we provide handle recipe creation and management, ingredient and hopper parametrization, synoptic overview with real time status and maintenance of utilities with manual command. As well as this, they control all loading operations and any other function like washing and climatization. Such all-encompassing level of automation ensures the recipe is stable and repeatable.
In our systems, dosing accuracy is further ensured for each ingredient through the parametrization of its dosing tolerance and the generation of related alarms. Checks are also performed on speed and queue, which automatically correct any error and autotunes residuals. Our process control system produces full production statistics allowing for immediate correction and adjustments whenever required.
Our operator panels control all dosing processes, including the dosing of micro ingredients such as flavors and aromas, which requires top accuracy and which we manage through a broad-spectrum station capable of handling a wide range of challenging materials, such as powder milk, powder cocoa and salt. For recipes that require ingredient mixing before dosing, our 3 in 1 station delivers a homogeneous mix of powders even for quantities lower than 1% in the span of 3-5 minutes. Pneumatic conveyance with the correct parameterization and sizing of the dosing devices (such as screws, valves and pumps) also plays a crucial role.
The recipe is written on a table which allows to select fully parametrized ingredients for each chronological step, and to establish the quantity that will be dosed, the temperature of the dosing and the duration. The number of cycles and batches can also be included, as well as unloading steps for each ingredient. A congruence check is performed on each step: that the product is within the established range, that each product comes with an unloading step and so on.
All recipes are saved locally on the operator panels, on the connected PCs and on our process control software, as well as backed up on SQL server alongside with the production history. If changes are made to any recipe, they will be transferred automatically to the copy residing on any other connected device (such as PC and software), and all changes will also be recorded.
All information is fully exchangeable with any other party operating in the line and any other traceability software the customer employs, as mentioned before. This makes our systems very robust and autonomous from any local PC network: production will not stop regardless of an cyber security issue.
Dosing errors are avoided with the correct parametrization of silos, hoppers and ingredients, through the monitoring of alarms and by correcting the queue. In case of error, it is always possible to either interrupt the dosing and finishing by hand, or interrupting and changing the recipe on the flight (which will only affect the current production and leave the original recipe intact).
We manage and generate alarms for all common dosing errors such as hoppers not being empty at the start of the dosing, dosing not meeting out the established tolerance range, missing product or excess product. All errors and related alarms are recorded.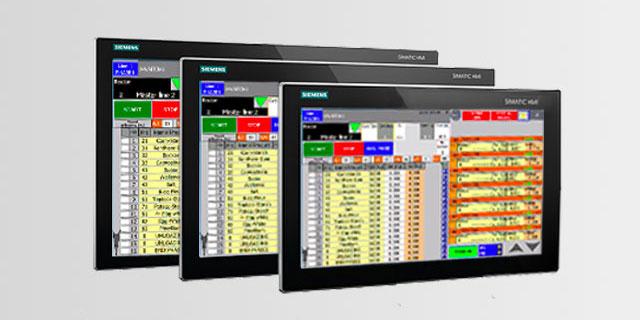 Customized touch panels for production management
Food hygiene
The complete traceability of all ingredients is fundamental to achieve hygienic productions. Tracking System provides complete traceability of all powdered and liquid ingredients, with digitalization of all movements, lot control with barcode system and warehouse management, which greatly enhances food safety and the optimal management of related alarms. Receiving and visualizing data from the operator panels managing the production, Tracking System creates a history of storing and recipe production operations, providing production analysis with statistics of ingredient consumption, batch report with deviation analysis, stock visualization and dynamic graphics illustrating product, recipe or lot trends.
As well as this, automated systems allow remote control of all operations, ensuring that loading and production operations are completely hygienic and shielding against contamination. Both digitalization and automation also protect operators' safety by making distancing easier.
Products with label claims (such as clean-label products, free-from, added protein or fiber, and so on) will also benefit from the full traceability of ingredient movements delivered by our process control system as it ensures the accuracy of label claims, as well as compliance with hygiene and food safety regulations. Double checks through barcode on loading and dosing can also be performed for critical ingredients, and all such ingredients will be stored and dosed separatedly from others when required.
On the mechanical side, the dosing of micro inclusions common in functional food manufacture (such as proteins, vitamins, minerals, fibers, proteins, collagenes, omega 3 and 6, fatty acids and biologically active substances such as antioxidants and probiotics) can all optimally handled by our Trimix station. Trimix ensures accuracy and comes with technologies that prevents both pre-vents powder leakage and leftovers.
Get a quote
Powders, granular products, liquids, fats. Macro, micro, medium volumes. Fermentation, flour cooling, fluidization, sugar milling, invert sugar, salt solution, blending, cold dosing, scrap rework. Our motto is: if your process needs it, we can do it. If we can't do it yet, we will develop it, just for you.
Get a in touch to develop a fully customized and automated installation for your recipe: