Manual, semi automatic or fully automatic products feeding system. Vertical or lateral injection using one or more injection points.
Filling with cream, jam, chocolate, caramel, or fruit puree for donuts, croissants, cakes, brioches, madeleines, muffins or éclairs.
Procys has a full range of filling machines and will discuss with you the most appropriate one to your needs.
After the outlet of oven or fryer, we offer products distribution & alignment, and we manage the synchronization of rows with the injection head. Hygienic design, CIP (cleaning in place), quick product or filling change-overs. Function no product / no injection.
Inline version : machine designed with the same width as the fryer or oven. The machine is directly connected to the oven or to the fryer and is usually installed after the cooling area. The following operations are done automatically according to needs and applications:
Distribution, product alignment,
Synchronisation with injection unit,
Lateral or vertical injection.
The products are injected on the belt or directly into pans as in the following example: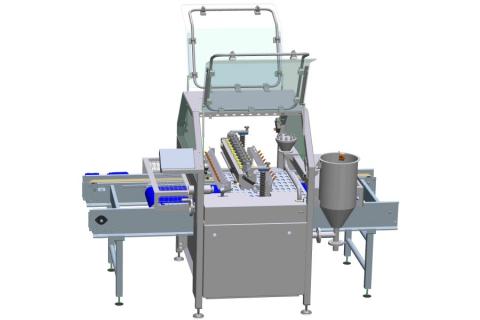 Lateral version: machine with transversal feeding conveyor.
The products are transferred into the injection machine via a bucket conveyor. Depending on the applications, rates and requirements of the customer, the conveyor can be fed:
Manually via an operator
Automatically via robot or pick & place which transfer product rows in the cavities.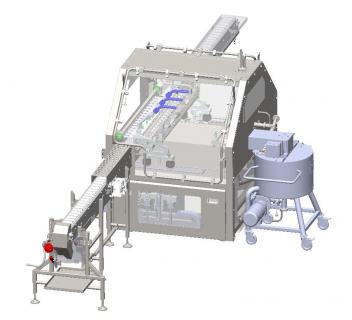 Procys defines with you the machine the most suitable for your production:
Vertical or lateral injection
Stopping bar to hold needles during injection and the removal,
Option: no product/no injection,
Cream feeding in simple or double jacketed.
Some technical characteristics:
Robust construction, stainless steel frame, without mechanical parts under the process zone,
Injection head motions are controlled by brushless motors allowing a movement adapted to each recipe with maximum flexibility,
Automatism & control provided by Procys,
Machine controlled from a touch screen, recipes storage (motions and injection time),
Modification of settings during production with different access levels for operators, line manager or maintenance technicians.
Lateral feeding injector video