Jacobsens Bakery Ltd. (former Intergoods Bakery Ltd.) was established in 1962 by Mr. Sigurd Jacobsen - originally as an import/export company. In 1967 they started exporting and marketing Danish Butter Cookies.
In 1984. a manufacturing facility was established. A state-of-the-art, fully automated baking and packing line was installed. In January 2001., the company changed its name from Intergoods Bakery Ltd. to Jacobsens Bakery Ltd as part of a new product and branding strategy. Today Jacobsens Bakery Ltd. is the preferred supplier of Danish quality cookies packed in an extensive range of added value tins by major retailers all over the world.
Their most famous product are of course, Danish Butter Cookies. They are sold in the instantly recognisable blue metal tins. The variety includes the Royal Ballet, sold in 150 g, 454 g and 908 g tins; Beautiful Denmark, sold in 150 g, 340 g, 454 g, 680 g and 908 g tins; Currier & Ives sold in 340 g tins; Jacobsens sold in 150 g, 454 g and 500 g tins, including the Butter & Choc Chip Cookies sold in 500 g tins; Old Denmark sold in 454 g and 908 g tins and the Wonderful Copenhagen sold in 150 g, 340 g, 454 g and 908 g tins.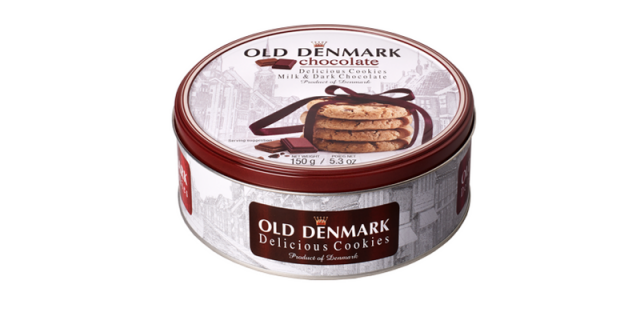 Butter cookies are unleavened cookies consisting of butter, flour, and sugar. They are often categorized as a "crisp cookie" due to their texture, caused in part because of the quantity of butter and sugar. Butter cookies at their most basic have no flavoring, but they are often flavored with vanilla, chocolate, and coconut, and/or topped with sugar crystals. They also come in a variety of shapes such as circles, squares, ovals, rings, and pretzel-like forms, and with a variety of appearances, including marbled, checkered or plain.
Fun facts about Jacobsens Bakery products
If the yearly production at Jacobsens Bakery Ltd. of 1 lb. tins were stacked on top of each other, this would equal the height of 9,971 Eiffel towers (2,991 km).
If the yearly production of cookies were placed in line next to each other they would reach 3.2 times around the equator (133,269 km).
The yearly flour consumption of Jacobsens Bakery would equal the total weight of 61 Statues of Liberty.
If the yearly consumption of sealing tape/scotch tape was stretched into one long line it would reach from Copenhagen to Sydney and half way back (26,280 km).
Photo source: Amazon