Christmas has always been an exciting period of the year….adults and children enjoy the evocative atmosphere, the preparations, getting together for adorning the house or spending hours in the kitchen for cooking delicacies.
For us working in the field of the biscuits moulds production, the "thrilling" comes many months earlier, when our customers contact us sharing their ideas for the Christmas biscuits and we start focusing on the projects to turn them into reality.
Reindeers, ringing bells, Christmas trees and gift boxes with ribbons are of course the most beloved and popular shapes and they seem to pop out everywhere in the company, from the screens of our technicians' computers, to the CNC tool machines of our workshop.
Christmas shapes are one of the focal points of the year and we at Padovani are all fond of the biscuits created for this festivity, longing for seeing the final result and also for a tasty bite!
To make this period even more thrilling (for both consumers and us!) here come the biscuits…. to build!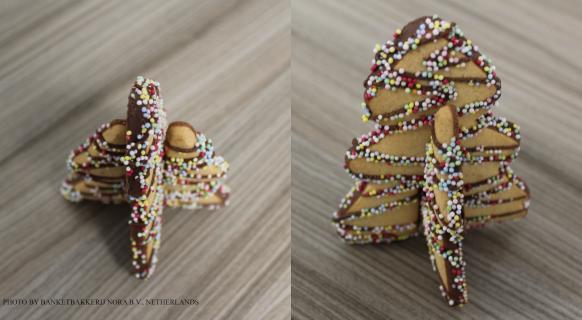 The traditional gingerbread house is very much appreciated and famous but also the Christmas tree to build is intriguing for all ages!
For us, the designing is not only funny but also challenging– all of the parts need to perfectly match and the calculations referred to the expansion and the shrinking of the dough have to be made in the most accurate way. Utmost attention is paid to the type of dough customer will be using (gingerbread, regular soft dough, almond dough etc..) and also to the firmness of the biscuits in order to make sure they will not break during the handling or the assembly.
A careful study of the possible critical points is also carried out (as for example sharp corners or narrowing areas) so that the shape can be at the same time captivating and riskless in terms of breakages.
The creation of such particular shapes requires the know-how and the skills that only a company like ours can offer, thanks to the incomparable experience that we have acquired in more than 50 years, working in close contact with the biggest biscuits production companies, always offering proactive partnerships and effective solutions!