Baking cookies for specific holidays awakens a special feeling in us that is reflected in spending time with our loved ones, a bunch of laughter, fun, and creating memories. Our magazine has brought together almost all the most important holidays in which we describe the types of cookies that are most often eaten during this time of year. Halloween trends for this year are spooky good: including biscuit brands that offer BOO Oreos, Reese's Pumpkin special stories and more – sit back, tie your belts and we'll take off - into the magical world of pumpkin spice, ghost, and whiches patterns on our treats!
Last year we introduced you to the most common types of cookies that are made and eaten in various parts of the country, and this year we are going a step further and preparing for Halloween by introducing you to the most popular trends for 2021!
The love story between biscuits and Halloween
There are many ways to celebrate Halloween, and in every part of the world, they are different given that everyone follows a different tradition from the very beginnings of Halloween to the present day, which is long and rich. The Halloween tradition dates back to the time of the antiquated Celtic celebration of Samhain when people would light huge fires and wear ensembles to avoid bad ghosts. In the eighth century, Pope Gregory III assigned November 1 as an opportunity to respect all holy people. Before long, All Saints Day fused a portion of the practices of Samhain.
The evening before was known as All Hallows Eve, and later Halloween. Over the long haul, Halloween developed into a day of exercises like going house to house asking for candy, cutting jack-o-lights, merry get-togethers, wearing outfits, and eating treats.
However, including all of the stories, there is almost no Halloween celebration without biscuits! What is Halloween without biscuits? Hm, if you have a particular answer (if there is any), write us in the comments below ...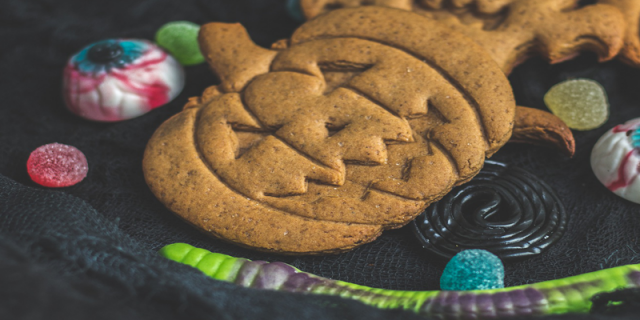 A survey: It's not only for youngsters
According to the article on the NRF.com website: While Halloween is as yet overwhelmed by the trick-or-treat swarm, those without youngsters are wanting to accept the occasion this year too: 55% of families without kids intend to celebrate, up from 49% in 2020. Also, spending on classes, for example, grown-up outfits have returned to pre-pandemic levels.
2020: 78% of households with children
2021: 82% of households with children
2020: 49% of households without children
2021: 55% of households without children
2021 trends in baking for Halloween
2021 trends in the biscuit industry really changed the perception in baking. Given that the pandemic has greatly changed our entire way of life, the changes have also been reflected in the ways Halloween is celebrated, and here is what these changes have led to and what trends they have set. Social networks have greatly influenced the setting of trends in the biscuit industry and thus the choice of cookies that we will bake for any event, including Halloween.
Focus on photogenicity
Since we spend more time at home and even working from home, we are more on social networks, so we look at photos of various works and homemade recipes that we will try ourselves. Also, when we try some recipe, who wouldn't resist taking a photo of their sweet cookies and posting them on social media. Trends are growing, and people are paying more and more attention to how their treat looks. Here are ideas for photogenic (but of course, delicious) Halloween cookies!
Study how buyers are intending to praise this October on our Halloween base camp. From ensembles to candy to sending an older style card via the post office, buyers are accepting this creepy occasion this year – also according to NRF.com. Sweet treats have an uncanny capacity to support your disposition and carry a grin to your face. How are individuals finding "Treats Moments" during the pandemic?
It's valid — customers are searching briefly for satisfaction in this unsure and surprising time of the pandemic. Also, chocolate and candy assume an extraordinary part in working with that. The dessert shop class has been tough in this COVID-19 climate, as shoppers are truly accepting the fun and novel nature of sweet items.
In the same way as other occasions this year, buyers are adjusting to observe Halloween in new ways. Like last year, the original focus is on a celebration at home that includes costume and biscuit baking process, and trying out different recipes. A large percentage of people in a few surveys also stated that they plan to go to a celebration with friends therefore, part of the trends are changing, but the core remains the same - let's bake and celebrate!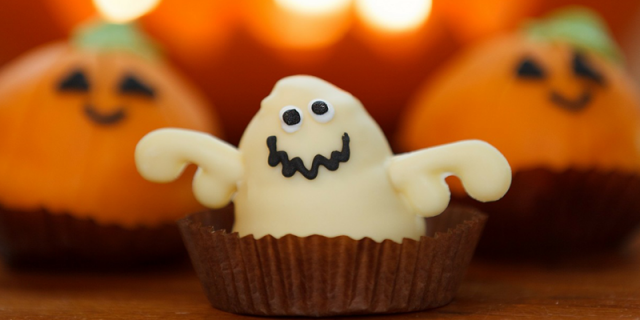 Brands making trends: Spooky good!
Crosstown Dough Bites
In Crosstown this Halloween, it treats all around. In a limited-edition dough bite, the Doughnut specialist uses its black cocoa sourdough filled with a jam from raspberry, topped with a dark berry glaze, and decorated with bat or pumpkin.
A box of 15 dough bites including the Raspberry Four Ways, Blood Orange & Chocolate and Chamomile, Pear & Lemon Olive Oil (ve).
* Perfectly designed for Halloween
Lola's Cupcakes brand made a full Halloween kit!
Get ready to sink your fangs into our spooktacular Halloween treats, with our terrifying range of freshly made cakes and cupcakes, including our brand new Halloween Cupcake Decorating Kit. Whether you're after the perfect centerpiece for your haunted party, or creepy cupcakes to enjoy creating at home, we have everything you need to make your day delicious and extra spooky!
Cupcakes are hand-baked with loving fear! Cupcakes are slimetastic! We pair chocolate or vanilla with a vibrant buttercream in ghoulish green, burning orange and black pitch with delicious sprinkles to finish our creations.
Hershey's Vampire Kisses
Sink your teeth into these Vampire Kisses, which feature the classic Hershey's milk chocolate outside with a strawberry creme filling. The cookies 'n' creme candy bar also gets a Halloween makeover with a cute fang design that you'll love biting into.
Kit Kat Witch Brew
Halloween Witch's Brew Marshmallow Flavored White Creme Snack Size Candy Bars, these limited-edition breaks come in an enchanting green color.
TikTok trend bizarrely changing Oreo
There are many ways to enjoy Oreo: The world's most famous cookie brand. One such way is to twist the cookies open before eating or dunking them into milk. Concerning statistics, around fifty percent of consumers eat their Oreo cookies this way. In the same sense, women are more likely to twist their cookies, contrary to men who mostly just pull the cookies apart.
TikTok is storming a strange new trend in food – Oreo biscuits are turning into sushi
It may sound a bit out of reach, but it's pretty clean, made from only two ingredients.
The trend is to separate the Oreo biscuit from the cream, to crush it into a fine crumb, to add a sprinkling of milk into a kind of biscuit and cream paste, and layering and roll together to form a coiling chocolate creme 'sushi' roll.
Oreo Halloween Limited Editions
Oreo Halloween Orange Colored Creme Chocolate Sandwich Cookies: 2020
5 unique cookie designs, same delicious spooky orange cookie cream filling sandwiched between two chocolate cookies

This pack is perfect for sharing with Halloween trick or treaters, cookies for party mix, trick or treat bags, or at the office.

Every Halloween OREO is stamped with 1 of 5 spooky designs and filled with orange-colored creme, making for a delightfully festive afternoon pick-me-up, shareable snack, or sweet treat.
Oreo BOO 2021
This package contains 1 pack of Halloween trick or treats OREO cookie packs

5 unique cookie designs, same delicious spooky orange cookie cream filling sandwiched between two chocolate cookies

Enjoy the sandwich cookie you love, in a Halloween-inspired package! With the same great chocolate cookie and OREO creme taste, this sweet treat is a delight

This pack is perfect for sharing with Halloween trick or treaters, cookies for party mix, trick or treat bags, or at the office

Each serving is only 140 calories per spooky cookie serving
- As it is described on Oreo's official website.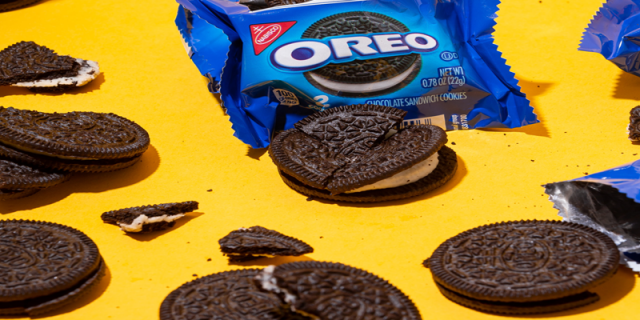 Brand Unlimited Trend: What Game of Thrones and Oreo Could Have in Common? We are not here to talk about a famous TV series, only about Oreos! Brands are making trends connected to everyone's beloved treats so on the Oreo website is published an amazing recipe that includes mentioned limited edition cookies. If you feel like being creative - give it a try!
Oreo Pumpkin Spice Cookie Balls
Ingredients
1 pkg. (8 oz.) brick cream cheese softened

36 OREO Cookies finely crushed

1 tsp. pumpkin pie spice

3 pkg. (4 oz. each) white baking chocolate. melted

1-1/4 cups orange color sugar

12 pretzel sticks each broken into 4 pieces

2 oz. green candy coating wafers

1/2 tsp. vegetable oil
How to make?
Mix cream cheese, cookie crumbs, and pumpkin pie spice until blended; roll into 48 (1-inch) balls.

Cover baking sheet with parchment. Dip cookie balls, 1 at a time, in melted chocolate, then roll in colored sugar until evenly coated. Place on prepared baking sheet. Insert 1 pretzel piece into top of each for the pumpkin's stem.

Microwave candy wafers and oil in a microwaveable bowl on HIGH 45 sec. to 1 min. or until wafers are completely melted and mixture is well blended, stirring every 30 sec. Spoon into a disposable piping bag fitted with decorating tip. Cut a small piece off the tip of the bag; use to add vines to pumpkins as shown in the photo.

Refrigerate for 1 hour or until firm.
Reese's:

Unusual and innovative story
The Reese's image took pumpkin picking to a higher level by making a pumpkin fix loaded up with Reese's Pumpkins.
The Reese's image pursued its cordial pumpkin confrontation at Krochmal Farms outside of Salem, Massachusetts, one of the country's cherished Halloween urban areas.
With the assistance of the Krochmal Farm's guests, the brand set off to dole out the retribution. The outcomes? Reese's Peanut Butter Pumpkins ruled.
The brand needs to continue to test its case that Reese's Pumpkins are the authority pumpkins of Halloween, so it's offering another significant conversation starter — where would it be advisable for it to go straight away? Fans can share areas on Instagram by labeling @Reeses and utilizing #ReesesPumpkinPatch.
Which one is your fav – classic Reeses filling or Halloween version? Write us in the comments of this article, we would like to hear your opinion.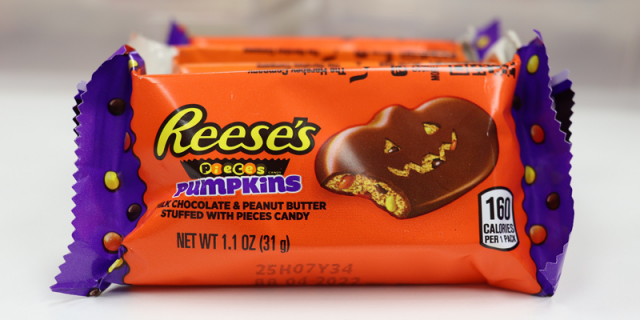 Did you know? Fun facts about Halloween
Much of the credit for expanding Halloween celebrations go to director John Carpenter, who created a horror film of the same name – Halloween
One-quarter of all the candy sold annually in the U.S. is purchased for Halloween.
''Trick or treat'' first story: The ancient Celts celebrated November 7 as the beginning of the new year, and the celebration was dedicated to the sun god but also the lord of death (Samhain). They believed that during the full moon, and most often the night before the day of the dead, the dead leave their graves, and briefly come to Earth again and visit their homes, so the living, frightened by the possibility of meeting the dead, covered themselves with terrifying masks and made great noise – so this explains today's tradition of ''trick or treat''
Trivia about celebrating Halloween: Finding your true love
Specifically, many had to do with assisting young ladies with distinguishing their future spouses and consoling them that they would sometime in the not-so-distant future—with karma, by next Halloween—be engaged.
In Scotland, soothsayers suggested that a qualified young lady name a hazelnut for every one of her admirers and afterward throw the nuts into the chimney. The nut that consumed to remains as opposed to popping or detonating, the story went, addressed the young lady's future spouse. (In certain variants of this legend, the inverse was valid: The nut that consumed with smoldering heat represented an adoration that would not endure.)
Another story had it that if a young lady ate a sweet blend made out of pecans, hazelnuts, and nutmeg before bed on Halloween night she would dream about her future spouse.
As many as different stories unite the celebration of Halloween - one thing is for sure, each includes treats in some form, and most often these are our beloved different biscuit types.
Shot bullet tips for all treats and tricks Halloween: Top 3
Creativity and colors –

Your number one best friend: Icing! Icing can make miracles when we talk about making Halloween biscuits – including the mentioned food trend for 2021: Photogenic biscuits, just get creative and decorate little ghosts, whiches or anything that comes to your mind with icing

Turn classics into Halloween versions –

as big mentioned biscuit brands do it – turn classics such as shortbread or chocolate chip cookies into Halloween versions just by decorating them differently: make a little pumpkin out of them or even spiders could work well
Spice up your life and your biscuits –

fall is the perfect time for spices and of course pumpkin one stands on the pedestal but you can also choose cinnamon for perfect fall/Halloween taste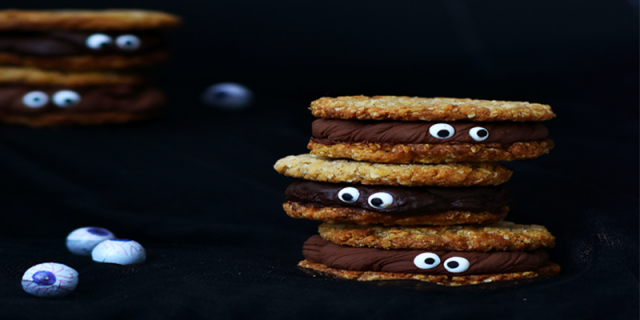 Sweet for the end
Get inspired on social networks, connect the incompatible, spice up your treats, play, involve your little ones in making and creating ideas, you still get there - Halloween is knocking on our door and we can't wait! Of all the ideas listed, we would love to hear your suggestions and what you liked most so email us at contact@biscuitpeople.com. Trick or treat our beloved readers, have fun and stay safe! :)