Procys is specialized in manufacturing production lines for processing & handling.
Procys company represents the French manufacturer of production lines for the biscuits, bakery & pastry industries. Procys is specialized in processing & handling solutions between ovens and packaging machines for the biscuit baking process.
Of course - cookies! The most important topic that unites the reason why we are here, like every post in our magazine, we primarily rely on biscuits production so we want to help you if you are a manufacturer, baker or simply need an equipment solution to take your business to a new level.
There is no successful business without the right team of experts who will guide you through the entire process and also offer you high-quality equipment. Dear readers, meet Procys - your solution designer!
French biscuit manufacturer of production lines: Procys
Does your company manufacture cookies, biscuits, pastry or confectionnery? Procys will help you to grow your industrialization projects. Procys's team has a wealth of experience and an outstanding understanding of the limitations you have to contend with when manufacturing your goods. Handling systems: from the oven exit to the cooling conveyors, buffer systems, transition, row distribution, phasing & indexing, Procys will handle your output flow. For all or parts of your production line, Procys can provide guidance and support. Equipment processing: sell your goods with added value. Procys' experts have skills in dough storage, in-line sandwiching machines, and dosing.
Procys develops, designs, and manufactures custom-made automated industrial equipment for the food industry.
Today's consumers are on the lookout for real, "homemade" products with fresh ingredients for biscuits whose taste and appearance make us forget the industrial origins.
Procys specializes in the fields of biscuits, cookies, pastry, chocolate, confectionery, etc and intervenes from the production output (oven, fryer, molder) until entry into the packaging machines.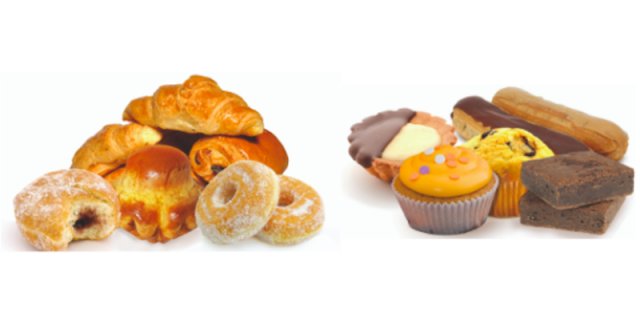 What could Procys lead you to?
From the start of your project, Procys is here for you to build together, from already proven principles and modules, and at the same time is listening to your every request and adapts a reliable, simple, and effective solution that will meet your needs. Procys has structured itself to meet demanding specifications requiring new and innovative solutions. Procys will handle projects between oven and packaging machines and can assist you mainly in these three areas:
Flow management and handling: conveying, distributing, indexing and loading, etc.
Process: dosing, injection, in-line sandwiching machine, and printing system with edible ink.
Customization: printing system with edible ink.
The main information about Procys
Procys headquarters: 4 Rue des Frères Lumière, 44680 Saint-Hilaire-de-Chaléons, France
Industries: Machinery
Company size: 11-50 employees
Headquarters: Saint Hilaire de Chaléons
Type: Sole Proprietorship
Founded: 2011
Procys is a young and dynamic company with business experiences in the biscuit industry, for the last 25 years, acquired in France, but also overseas. Procys is also part of the Prolaser group, a solid financial structure.

For many years, Procys's team has designed, built, and installed production lines for the food industry in the whole world. With this solid experience, we guarantee you that Procys is the right company for the success of your future development projects.

The company offers an R&D service and original solutions to solve production problems that do not yet have a standard answer. The R&D department will find the best suited solution in order to meet your needs.
What does it consider?
Control of processes, control of costs, mechanical principles, respect for hygiene, and concern for ergonomics, Procys integrates all the constraints from the outset to build high-performance and technical equipment.
Procys specialty: SIT business
The specialty of Procys, which is your main leader and ally in building a good business, equipment, and every necessary solution, is reflected in the three most important characteristics that unite everything that you as a client will need.
What is success without innovation? Procys knows this and that is why they bring together a team of innovative experts who are there for your every problem.
Specialists: Experienced, highly educated, and innovative team is at Procys for your service! Passionate engineers and technicians with more than 20 years of experience in the food industry bring you their expertise and help you achieve your projects.
Innovative: Innovation helps advance technology. We are all aware of the fact that technology's evolution is advancing these days, and if an individual wants to be successful, he simply has to keep up with technology and keep up with innovations in the market. This is so in almost every industry, including the food industry.
Procys knows this and that is why the team of experts of this company works hard every day to provide its customers and clients with the most innovative solutions. Procys company is constantly looking for new concepts to offer solutions following your ideas, allowing you to develop new products.
Tailored: There is no problem that Procys won't find a solution for! They study your specifications and their design office team adapts the standard Procys' systems to meet your specific needs. You benefit from a tailor-made solution with proven modules.
Who is for colorful French macarons?
Macaron, not to be confused with American macaroon, is a sweet meringue-based confection made with egg white, icing sugar, granulated sugar, almond powder or ground almond, and food coloring.
The result is not just that color flavors our expectations: It changes how we taste the food. But we have to admit, their colors are so adorable.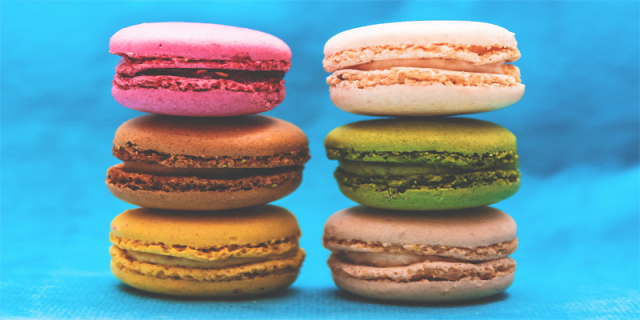 Did someone mention colors? Here is Procys' innovation
Procys provides a printing system to integrate on your production line, which allows printing on products in monochrome or bicolor, with natural or synthetic food inks. Currently, product customization is very trendy but the ability to carry it out industrially is innovative. Our systems allow changing the image, the text, or the production instantaneously without any mechanical tooling (controlled exclusively by software).
Procys offers two applications:
A 1 to 4 lanes system, which can be moved on several lines
A 5 lanes and more system, which is a fixed system, placed before or after the oven.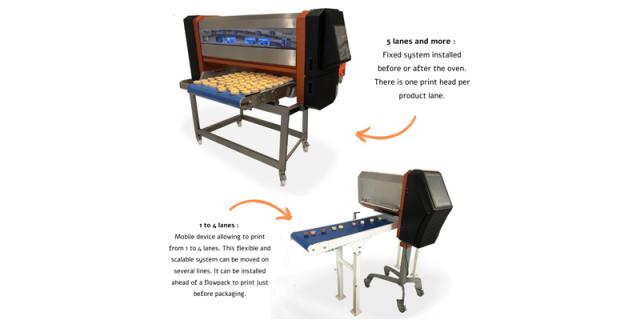 Add diff­erentiation through food printing. There are many applications possible, including customization for direct-to-consumer advertising or to deliver a message, to highlight the brand name or simply for fun, etc.
Procys makes possible the customization of your products with digital printing.
Procys provides a printer able to customize your products with an innovative industrial device. The system can print with one or two colors and works with natural food inks (for example, brown is based on caramel or coffee and magenta is based on red beetroot) or synthetic food inks.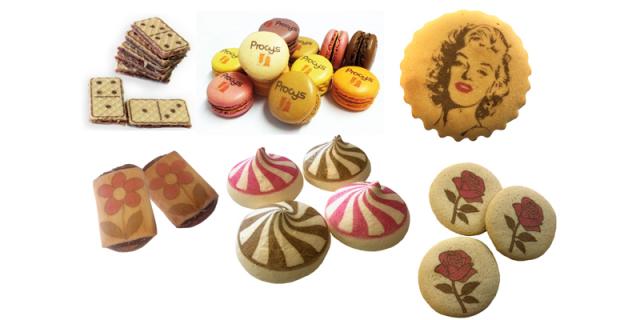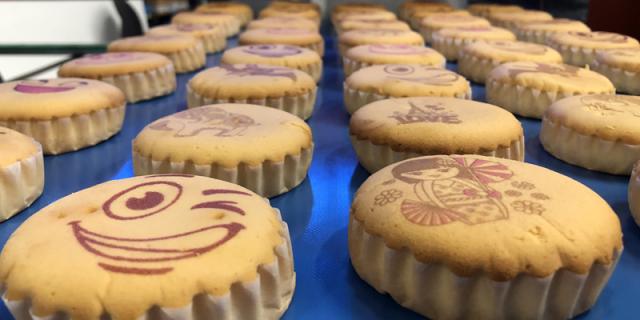 Back to Macarons and its production at Procys
Even though they are so tasty and photogenic, they are usually not very easy to make.
Procys has a solution for even that!
Procys provides an in-line sandwiching machine with modules specifically suited for macarons. For example, systems can store a range of filling items, including buttercream, ganache, caramel, jam, fruit, etc, given the broad range of flavors available.
Control systems: from the oven's exit to feeding into packaging machines with cooling conveyors, buffer systems, transfer and product mix, and loading in blisters, Procys will handle the output flow. Procys will provide advice and help for part of all your line.
What exactly can Procys help you with: Concrete steps:
Handling
Buffer systems
•Sandwiching machines (macarons and other products)
Processing
Packaging
Online printing with food ink (innovation)
Procys offers the complete environment:
Lane multiplication / reduction
Merging / diverging,
Sandwiching product production
Distribution / transfer / tilting
Etc
Handling: Conveying systems
From fundamental cooling transports to appropriation and ordering applications, Procys offers arrangements including belt conveyors and bends, slat or chain conveyors, support or chain transports for plates or shape.
Organization of products
When products become misaligned or blocked, Procys can realign and rearrange them into rows. Their frameworks can deal with up to 300 products / minute. On the off chance that products are now positioned in paths, Procys can re-arrange them into lines without contact between them by utilizing singular belts.
They are likewise dealing with specific situation of every product, on account of photocells. Likewise, they have a framework for controlling and deciding the essential revisions for changing the speed of each belt to adjust the products.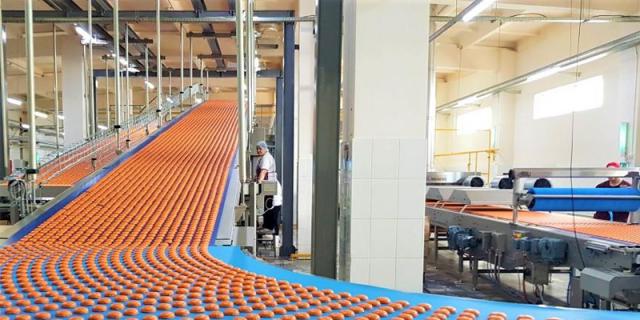 Stacking systems
To feed machines such as traditional sandwiching or packaging machines, it is necessary to stack the biscuits and cookies. Usually, the biscuits and cookies are arriving flat on a full belt and are canalized between guides via a channeling board before being stacked.
How can Procys help?
You don't know which solution is for you? This company can help you define the most appropriate and suited solution for your production line because they make the best solution for your personalized product and a specific cookie: size, shape, capacity, and application.
The penny stacker offers faster rates and is generally more appropriate when there are format changeovers. The rotary stacker allows working with independent lanes.
With this system, biscuits/cookies are placed more vertically. Procys can also provide a mobile stacking system with the possibility of accumulation.
Continuing process with merging / diverging
Lane reduction: Combining two lanes into a single line without collisions
Lane multiplication: Distributing products from a single lane to multiple lanes
Row distribution
Distribution to packing equipment of product lines
According to specifications, rows are distributed. If after the last distributor, products are not moved, then they can be automatically recycled.
Flows from 10 to 50 rows per minute are treated in Procys systems.
System turning / Indexing
Systems that are available at Procys can organize random lanes of products that assign accurate positions and load the packaging machine chain, for example. In this way, the company can arrange a constant sell. Products without interaction are treated by this form of device.
Products can be classified by 2, 3, 4, or 5 based on specifications and recipes (to obtain several products in a single package). Depending on the scale, fragility, and other variables, up to 600 products can be indexed per minute.
Leaving the oven: It is not the end of the process!
Demoulding
If products leave the oven, in cups or lying down directly on the belt, Procys's equipment can process slowly and precisely: going into the row by the row or directly pan by pan. Depending on the product and its fragility, various types of demoulding devices are available, either with aspiration or with claws.
Procys buffer systems
U-shape buffer: An accumulator manages flows between two machines
For example, it enables the operation of a production unit to be segregated from the area of packaging. The processing machine will continue to work with the same ability even though the packaging machine stops. To absorb the stored goods, the packaging machines then works a little higher.
Depending on their client requirements and line layout, Procys will provide various types of buffers. The most important thing is to ensure independent product flow between two devices, while other technologies allow optimization of the height or length of space and reorganize the products in the same process...
How does it work?
The accumulator holds products flat in the belt and can also minimize output gaps. A FIFO (First In First Out) method is used.
The following system consists of 2 specially built conveyors and a 180° bending on a mobile carriage with a brushless engine. Depending on the pitch (minimum/maximum location of the 180° bend), the storage capacity is provided by the additional transfer duration between the shortest and largest journey.
Products except the belt have no touch. The buffer is appropriate without change parts for any product sizes. A photocell detects production gaps and stops the infeed belt until the next product row arrives, to optimize the buffer capacity.

Procys processing
Dressing dough before the oven, dosing toppings on products or in molds, but also in-line with a more sandwiching capper for biscuits/cookies and macarons or fillings for pastries, Procys provides an answer to your needs.
Dosing system
Dough depositor
Capper sandwiching machine
Filling injecting machine
Dosing system
Dosing systems have made manufacturing biscuits, macarons, and pastries so much easier. Sometimes it is difficult to estimate and determine the exact amount to ensure the same shaped products.
There are many types of equipment on the market today depending on what product you need. Dosing of fillings on or in products. Different applications are available: dosing of cream, jam, caramel, or marshmallow on a tartlet, dosing of sauce, fruit compote, yogurt, etc. in pots.
Procys offers a complete range of machines tailored for your application in terms of filling and capacity and will discuss with you the best options for your production needs. This company is specialized in dosing and sandwiching for macarons, but also any other sandwiched products.
Prepare, then bake! Dough depositors
We don't even have to point out the fact that it takes a good biscuit - dough first. Biscuit dough preparation can be a real art and long process even though it is very simple, there are numerous ways and little tips and tricks on how to make your dough perfect. In large manufactories for this, there is a dough depositor and Procys provides you with the highest quality.
Dosing depositors in cavities of molds or directly on the oven belt are offered by Procys. The capacity of sponge cakes, macarons, cookies, boudoirs, pastries, madeleines, cakes, and muffins, etc.
Procys will research the production lines' configurations and characteristics and deliver a method that is completely suited to your needs.
Capper Sandwiching Machine
Procys offers you an industrial and semi-industrial version.
Industrial version:
Industrial version for continuous production in connection with an oven tunnel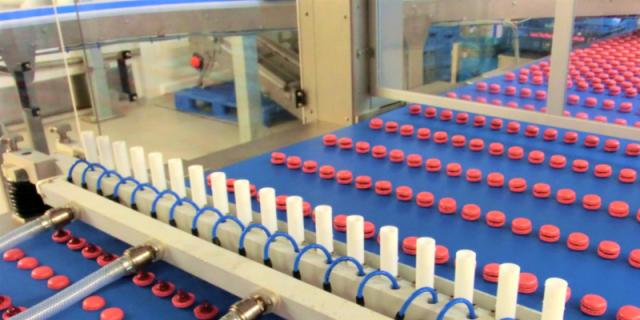 The machine is directly connected to an oven and installed after the cooling conveyor area. The following operations are completed automatically:
distribution and alignment,
rows & lanes preparation,
rows tilting,
row synchronization with dosing & capping,
dosing of filling,
capping.
Certain technological features:
Hygienic design, solid construction, stainless steel frame without any mechanical parts, allowing full cleanliness,
The movement of the dosing and capping heads is regulated with brushless motors that allow optimum versatility for movement adapted to each recipe.
Procys automation & control,
Touchscreen operated computer, storage of recettes (dosing/cap)
Changing configurations for controllers, line managers, or maintenance technicians during production with various levels of access.


Semi-industrial version
Semi-industrial version for "shell" production from rotary ovens
Procys offers also a small version suited to semi-industrial producers for products cooked on baking trays in rotary ovens, like macarons, for example.
The following operations are done automatically:
product alignment,
preparation of rows & lanes,
rows tilting,
dosing & capping.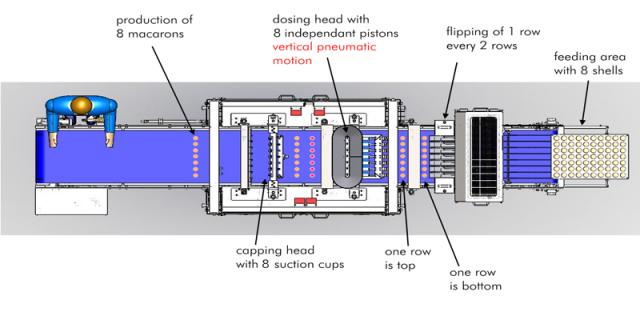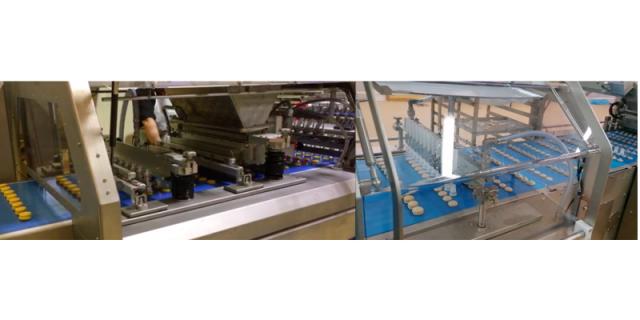 Procys adapts to your requirements and includes custom versions
• Number of rows optimized for the number of baking paper
• Bakery paper automatically distributed
• One or more dosing hoppers (for double fragrances or quick change)
• Space between dosing and capping to insert application (coconut, hazelnut, sugar, etc.)
• Automatic blistering, etc.
Filling - Injecting machine
Different types of filling machines: in-line injectors or injectors with cross-sectional conveyor feeding.
Feeding system for manual, semi-automatic, or fully automatic goods. Use one or more points of injection to inject vertically or laterally.
Load with donuts, croissants, cookies, brioches, madeleines, muffins, or sparklings in milk, jelly, chocolate, or caramel fruit puree.
Procys has a wide selection of fillers and can speak to you about what is most suitable for your needs.
Hygienic design, CIP (Cleaning In Place), quick product, or filling change-overs. Function no product / no injection.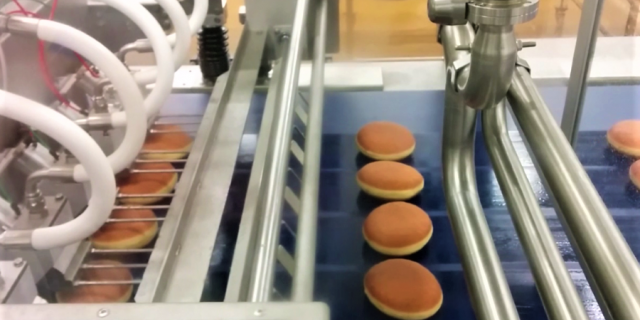 Last but not least – Packaging
Now that we have brought you all the equipment and products that Procys can help you throughout the entire biscuit manufacturing process - from the very beginning and the idea for the product to the biscuit packaging. You are also attracted to the first packaging, is that what you notice first or does it not matter to you if the product is important? Whatever the answer, Procys still thinks of everything and makes shelf life of products long and secure.
Procys prepares products for packing in individual packs or batches, with or without trays. The company can also offer a total solution including tray denesters, tray-loading, tray accumulator, and feeding into packaging machines.
Ready for innovations in your business?
Now that we've mentioned the whole process of making biscuits, macarons, or pastries - are you ready to take your business to a whole new level? If you need support in this, for you there is your solution designer - Procys.
You can contact Procys in our online contacting page or at info@procys.eu
What do you think of the idea of online printing with food ink, what would your choice for cookie design be? Write to us at contact@biscuitpeople.com, we would love to hear your suggestions and ideas.