Märtens Conveyor Belts, a company from Germany which creates, as the name suggests, conveyor belts! As conveyor belts are an integral part of almost any serious biscuit business, today's article will be a great addition to our magazine.
Märtens: How many types of conveyor belts do they manufacture?
To answer this question straight-away, Märtens produces six different categories of conveyor belts. You've read that right, six kinds of conveyor belts for every occasion. The six categories are:
Rod network belts
Metal conveyor belts
Plastic conveyor belts
Modular conveyor belts
Separating belts
Silicone moulding belts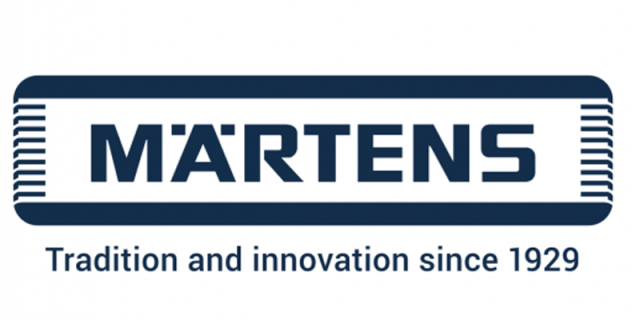 These categories range from plastic to metal conveyor belts and can be used for baking, freezing and moving either meat or confectionary products. Märtens conveyor belts can also be ordered in any of the following materials:
Polyurethane
PVC
Silicon
Spring steel
Stainless steel
K2390
The last material on the list is the company's innovative material used in the construction of the rod network belts. Since they're the first category on the list, I think it's a good idea to take a look at them first. So, what are rod network belts?
Rod network belts
Rod network belts ECO
What are the characteristics of rod network belts? Well, they're used to reliably transport small products and transfer them to downstream machines. Thanks to the rods' open mesh structure - liquids, heat, cold and air can pass throught the rods without any obstructions what-so-ever. These rods are precise and require almost zero maintenance. There are three types of rod network belts, one which is ECO (the one you're currently reading about). The other two are ELT and Corner. Other great qualities of these belts are:
Thin, flexible and light belt construction
A small transfer radius
Positive guidance
Economical solutions for basic applications (save space and time)
Permeable belt structure
Hygienic design
And last-but-not-least, the stainless steel versions have been approved for use in food processing
The ECO belts can also be made out of three different materials, which are:
1.1211 spring steel, type DH (AISI 1060) - this material is used in, e.g. chocolate enrobing machines, when there is no demand for corrosion resistance. Available wire diameters are: 0.90 / 1.00 / 1.25 / 1.40 / 1.60 / 1.80 mm.
1.4310 stainless steel (AISI 302) - unlike the spring steel wire, this material is used when corrosion resistance (under normal conditions) is desirable. For the layman, this means that these wires are best used in the fish and meat industry. Another thing to note is that these wires have been approved for use in food processing per law VO EG 1935/2004. The available wire diameters for these wires are: 1.00 / 1.25 / 1.40 / 1.60 / 1.80 / 2.00 / 2.35 / 2.80 mm.
K2390 stainless steel wire - these are the wires you want to use when high levels of corrosion resistance are required, e.g. for fruit acids. This innovative material by Märtens has also been approved for use in food processing (VO EC 1935/2004). Avaible wire diameters are: 1.00 / 1.25 / 1.40 / 1.60 / 1.80 / 2.35 / 2.80 mm.
As to where you can use the ECO belts, the following application areas are best-suited towards their use:
Bread crumbing machines
Cleaning machines
Cooling tunnels
Drying tunnels
Enrobing machines
Glazing machines
Laser cutting machines
Leaching machines
Ovens
Soldering machines
Sprinkling machines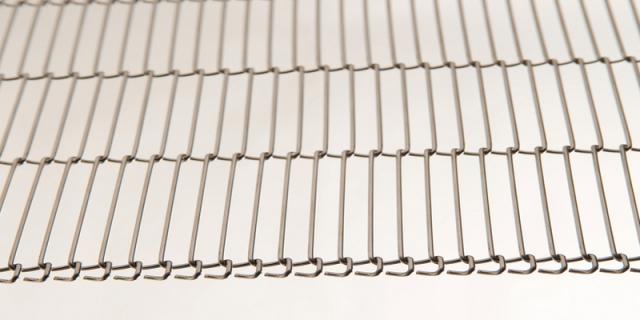 Rod network belts ELT
There isn't much of a difference between the regular rod network belt and the ELT version, however, this one is equipped with additional short meshes for an extended life time, hence the rods' name. These rods produce more interconnecting nodes, improve stability and load-carrying ability. On top of all of that, you can repair individual meshes as well.
Other characteristics of ELT rod network belts are:
They're suitable for large intervals and weights
They have double the service life
Reduced downtimes
They're suitable for speeds up to 30 m/min
Fast and hygienic endless splicing
The stainless steel versions have been approved for use in food processing (VO EC 1935/2004)
These belts can be applied in the same areas as ECO network rods and can be ordered in the same materials.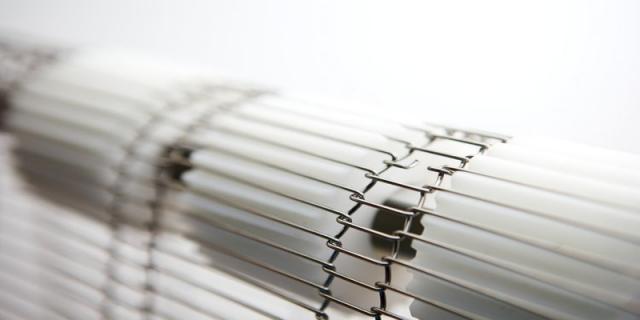 Corner rod network belts
This sub-category of rod network belts is ideal for transporting light to medium-weight products in all industrial sectors, unlike the previous two which were better suited towards some specific industries. They have an excellent curving ability due to their gradually increasing pitch.
Here are some further examples why Corner network belts are a great addition to any business:
Permeable belt structure
30° to 180° corner angle
Stainless steel versions (just like the ECO and ELT designs) were approved for use in food processing
High temperature range
Hygienic design
The Corner network belts can be ordered in the same materials as the other two sub-categories. However the application areas are different. These belts are best used to change the direction of the product flow and as spare belts for all known curve systems.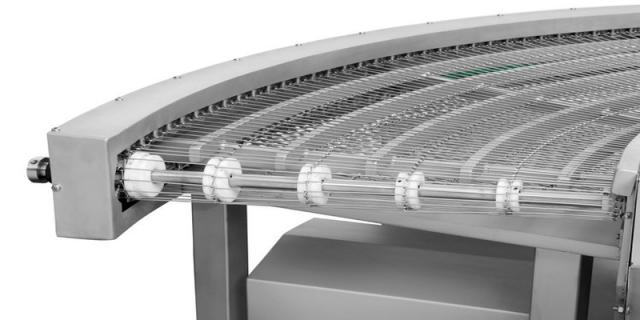 Metal conveyor belts
Now that I've covered the company's network rod belts, it's time to move on to their metal Conveyor machines! There are six different types of metal conveyor belts, which are:
Wide spiral link belts
Narrow spiral link belts
Loop-joined wire belts
Wire mesh belts
Steel belts
Flat-rolled baking oven belts
Since wide spiral link belts are first on the list, I'll start with them!
Wide spiral link belt
The wide spiral link belts are round/flat wire spirals with a flat oval form that are linked together to form a wide spiral link belt. Because of this, the right and left-handed elements of the belts are used in alternation. The company uses curved cross bars to create this connection. These belts can be ordered with welded pulleys or bent edges. Other characteristics include:
Good straight tracking
Durability and longevity
Permeable belt structure
Simple connections
The stainless steel versions were approved for use in food processing
The application areas for these belts differ from some of the previous belts, and they are:
Annealing furnaces
Cleaning machines
Conveyor machines
Drying ovens
Frosters
Frying facilities
Ovens
Refrigeration facilities
As for the types of materials out of which these belts can be made of, they are:
1.4301 stainless steel
Special steels
Steel, tin-plated
Steel, unprocessed
Steel, zinc plated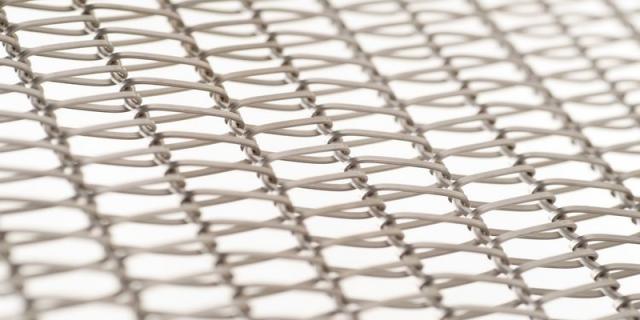 Narrow spiral link belt
These spiral link belts, unlike the wide variety, consist of right and left-hand round or flat wire spirals. They also have a flat oval form with a low incline and are connected by smooth or curved cross bars. They come in three different variants, which are: welded, S or bended edges. They also:
Have a variable design
Are ideal for high tensile stress
Have a tight-mesh structure
Are durable and long-lasting
Have good straight tracking
Application ares and materials are the same as for wide spiral link belts.
Loop-joined wire belt
These belts are connected with smooth cross bars that form wire loops. They have additional rows of fishplates which give these belts a high level of tensile strength. Another thing to note is that the belts are driven by polygon wheels. Also, they are:
Ideal for transporting heavy products
Durable and long-lasting
Have permeable belt structure
Have good straight tracking
Application areas and materials are the same as for wide and narrow spiral link belts.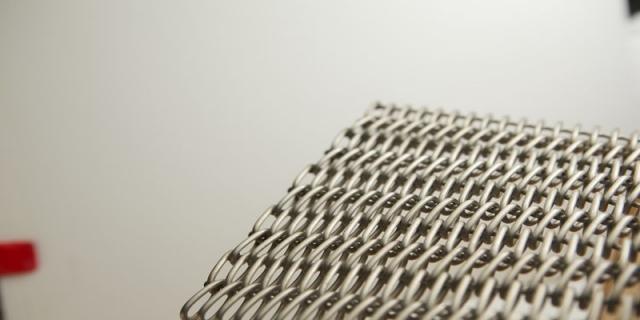 Wire mesh belt
The wire mesh belts are light belts which consist of belt segments linked with splicing rods. The individual elements of these belts consist of alternating right and left-hand round wire spirals, which come in a flat oval or round form. The edges of the wire mesh belt are available in two designs. These are: the welded design and the bent design. Other qualities include:
Ideal design for transporting light products
Affordable material quality
Permeable belt structure
Simple connections
Applications areas and materials are once again same as the previous metal conveyor belts.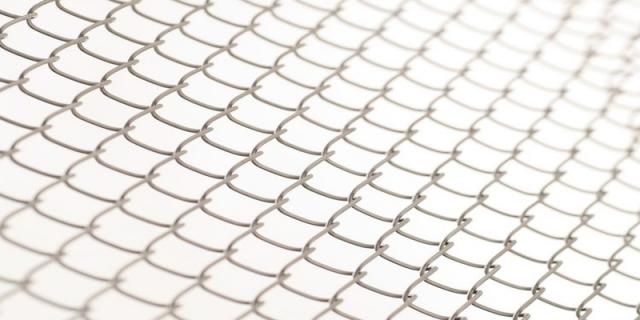 Steel belt
Now we come to the heavy-duty belts. The steel belts, which are probably the standard variant of conveyor belts in most businesses, are extremely resiliant belts that can easily withtand both major temperature changes as well as high load cycle numbers. The steel belts remain level and keep their shape no matter under which environmental conditions they are. While these are pretty big advantages in-and-of-itself, the steel belts produced by Märtens also meet the highest sanitary requirements and have smooth and easy-to-clean surfaces which prevent fibres and grease residue from accumulating. But this is not all, they also:
Have smooth, abrasion-resistant surfaces
Have precise belt tracking properties
Have perfect adhesion of v-guides and retaining strips
Are durable and long-lasting
Are easy to clean
Have a hygienic design
They are best used in the food industry. As for the application areas, they are:
Cooling
Drying ovens
Drying tunnels
Freezing
Ovens
Steaming
The materials out of which they can be made are:
CARBO 13 (carbon steel)
CARBO 32 (carbon steel)
NICRO 12.1
NICRO 22
NICRO 31
NICRO 52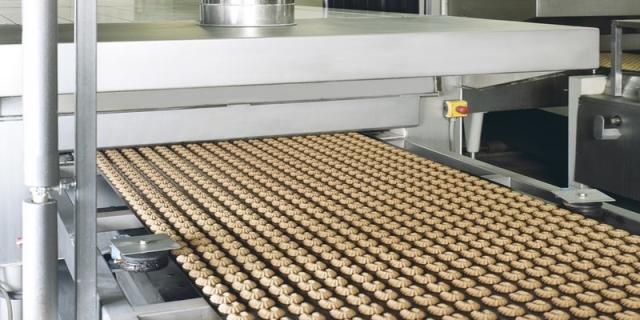 Flat-rolled baking oven belts
Last-but-not-least, we have the flat-rolled baking oven belts which are specially developed for Tunnel Ovens and made of rolled round wire spirals. Their edges can either be woven or melded. Their permeability prevents bubble from forming, they have a smooth baking surface, excellent heat distribution and low thickness for short baking times. They are best used in bread and bakery industry, primarily in ovens, and can be made from spring steel wire 1.1211 and stainless steel materials.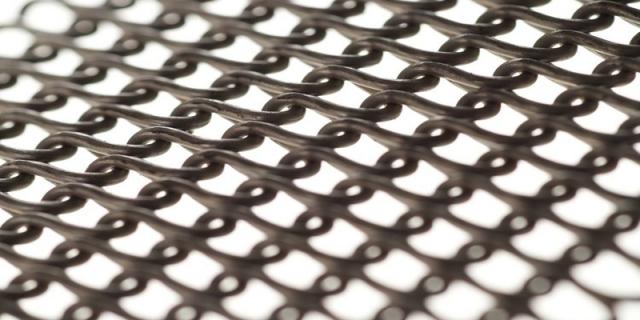 Plastic conveyor belts
This is the last major category of conveyor belts manufactured by Märtens. "Major" in the sense that this category contains a whooping 8 types of plastic belts. The last three categories - modular, separating and silicone moulding all contain only one type of belt. So, how do the plastic conveyor belts differ from the metal ones?
PU conveyor belt
The PU plastic conveyor belts are high-quality, durable and very flexible belts due to the special materials they're made out of. They can come with transparent or coloured coating or special impregnation of the polyester fabric. Further characteristics are:
Outstanding manoeuvrability
Excellent lay flat properties
Durable and long-lasting
Flexible
Approved for use in food processing
The PU conveyor belts are best used in the bread and bakery industry, as well confectionery, nuts and crisps. As for application areas, they're best used in:
Automatic scales
Cooling conveyor belts in the confectionery industry
Packaging equipment
Sorting systems
The list of materials out of which these plastic conveyor belts can be made goes as follows:
PU - A/1
PU - G/1
PU - G/2 AS 2362
PU - HA/1
PU - HA/2
PU - J/1
PU - J/2
PU - M/1
PU - M/2
PU - W/1
PU - X/1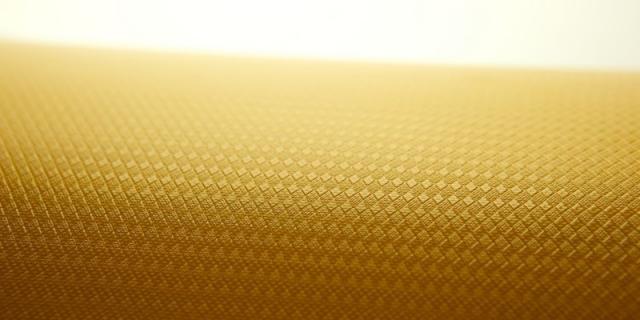 Silicone conveyor belts
The silicone conveyor belts are coated with silicone rubbers which make the Märtens silicone conveyor belts resistant to chemicals, fats, oils and high temperatures. Besides that, they also offer good release properties and outstanding adhesion. Furthermore, they have:
Good carrying effect
High transverse stability
High temperature range
Flexibility
Outstanding non-stick properties
The application areas for the silicone conveyor belts are:
Cooling conveyor belt in the confectionery industry
Inclined conveying without carriers
Transporting sticky substances
"Pick and place" applications in packaging technology
The silicone conveyor belts are made from these materials:
One or two-ply
Si/1 AS 2298
Si/2 0:0 2298
Si/2 AS 2298
Si/2 Si 2298
With PU or silicone intermediate layer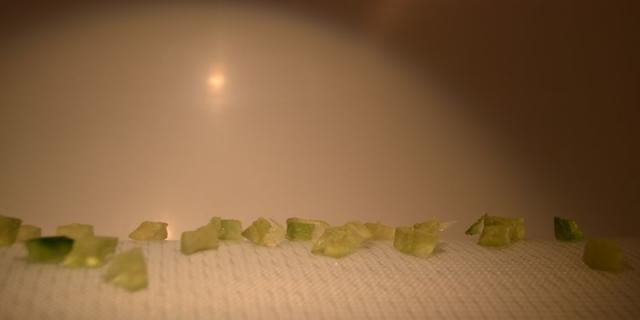 PVC conveyor belt
If you're looking for a high-quality jack-of-all-trades, then the Märtens economical PVC conveyor belts are perfect for you. They're also ideal ascending conveyors, due to the wide range of carrier profiles and corrugated sidewalls that can be placed on the belt. If these belts are fitted with V-shaped profiles, they can also have precision tracking. The PVC conveyor belts also have good resistances to oils, fats and chemicals, they're economical, durable, long-lasting and versatile.
The best application areas for these all-rounders are:
Packaging equipment
Sorting systems
Transport systems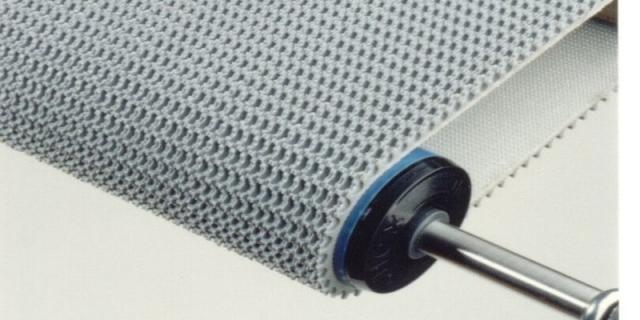 Transparent belt
These belts are manufactured out of a combination of transparent silicone, fluoroscopic fabric and nubby surfaces. This makes the transparent belts perfect for use in pick-and-place robot packaging machines. These belts can also be incorporated with customer-specific surfaces, which means you can modify these belts in any way you want. The transparent belts are also ideal for perfectly positioned conveying. They're also fluoroscopic, have surfaces that can be shaped to meet customer needs and are versatile.
They're made out of fluoroscopic-capable fabric with transparent silicone coating. The application areas in which these transparent belts can be used are:
Inclined conveying
Precisely positioned conveying in the packaging industry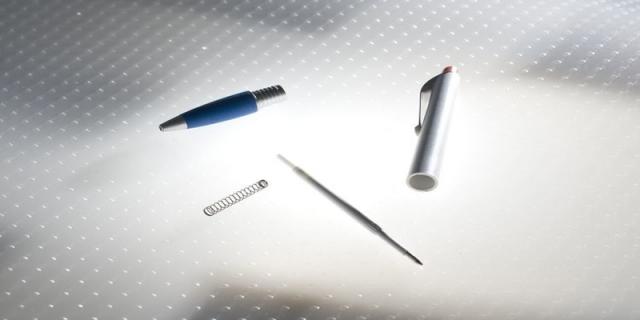 Endless woven conveyor belts
The endless woven conveyor belts by Märtens are available in different weaves, which are - pointed twill, cross twill and plain weave. They're made by weaving in an endless warp thread in different belt thicknesses without joints. This makes the woven conveyor belts perfect for small deflections and systems with vipers. Cotton belts, which are quite common in the biscuit industry, fall under this category as well. Other characteristics are of these belts are:
High temperature range
Outstanding non-stick properties
Flexible
Excellent moisture regain
No joints
With additional coatings
Durable and long-lasting
Areas in which you can use these types of conveyor belts are:
Coating machines
Cooling conveyor belts in the confectionery industry
Drying tunnels
Fleece production
Laminating machines
Moulding systems in biscuit manufacture
They can also be made out of a wide range of materials which include:
Cotton
Fibreglass
Kevlar
Nomex
Polyamide
Polyester
A combination of any of these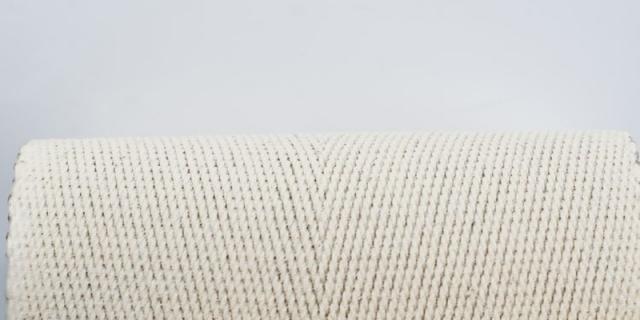 Thermoplastic elastomer belts
The thermoplastic conveyor belts dubbed "VOLTA" are extremely hygienic belts. This is because of their smooth, cut and abrasion-resistant surfaces. Liquid, bacteria and similar substance intrusions cannot occur in these belts due to the fact that no tension members are used. The thermoplastic elastomer belts are fully resistant to water, oil and grease. Due to the belt's properties, no fragment of the belt can break loose and get into food products, ensuring your customers' safety.
VOLTA is also:
Resistant to cuts and abrasion
Low cost, low maintenance
Approved for use in food processing
Easy to clean
Durable and long-lasting
Hygienically designed
VOLTA can be used in animal fed, baked goods, dairy, fish and seafood, fruit and vegetables and meat and poultry industries.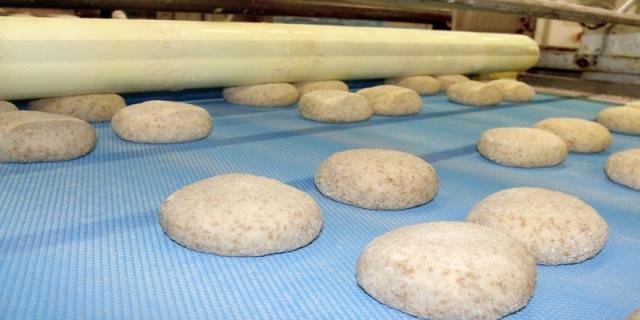 Plastic corner belts
We've come to the final two types of plastic conveyor belts. The plastic corner belt, just like the metal variant, is used for changes in the direction in production, from 35° to 180° degrees. These can be outfitted with different carriers and guide elements depending on the application. They're reliable, use a wide range of carriers, are flexible and approved for use in food processing. The plastic corner belts find use in the following areas:
Almost every production and packaging phase
Spare belts for all known curve systems
Transfer of small products
The materials they can be made out of are PVC, polyurethane and silicone.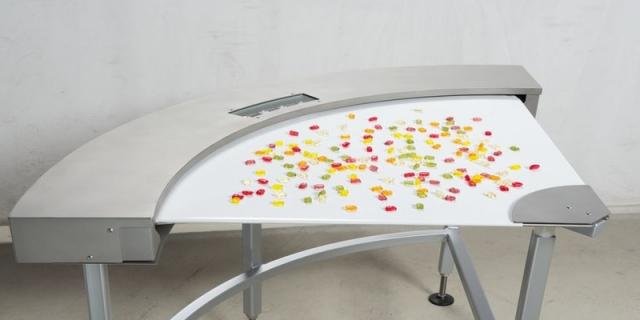 Timing belt
The timing belts, as the name suggests, are perfect for anyone looking for a perfectly positioned, synchronous conveying and smooth power transmissions. They have both mechanical and cost-efficient characteristics which are very attractive. The timing belts can be configured according to the customers' needs, which means any coating can be accommodated. Further qualities of the timing belts are:
Perfect positioning
Low stress on rollers and bearings
They're suitable for large centre distances
Smooth, silent running
Low costs, low maintenance
The timing belts are also best suited for food, hygiene products, printing, folding boxes and cartons industries.
As for application areas, they're best used in:
Conveyor machines
Linear units
Packaging equipment
And that is for all of the conveyor belts in the plastic category! Three more categories to go!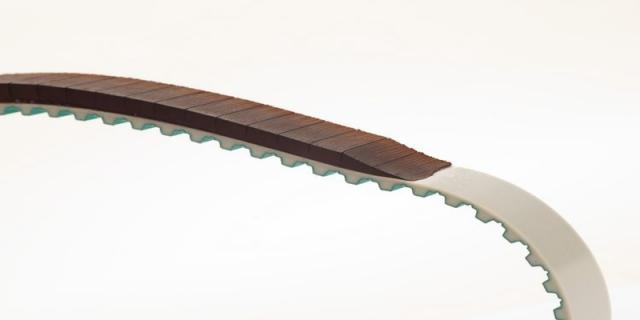 Modular conveyor belts
This is a rather small category, as are the separating belts and silicone moulding belts categories. It only contains one type of conveyor belts - the plastic modular belt! So, let's see what these belts have to offer.
Plastic modular belt
The plastic modular belts by Märtens are low weight, high strength belts made out of moulded plastic elements. These elements can be effortlessly connected in numerous ways with the help of bar joints. The modular belts are usually manufactured out of polyethylene, polypropylene or polyacetal, but they can also be ordered as special low-maintenance, stainless steel variants.
As with every other type of conveyor belt so far, these have additional features:
Versatility
Modular design
Metric dimensions
Simple connections
Durability and longevity
Easy cleaning
Hygienic design
They are best used in:
Conveyor machines
Cooling towers
Packaging equipment
Storey conveyor
Transport systems
As for the materials they can be made out, there are four different types:
Polyacetal
Polyamide
Polyethylene
Polypropylene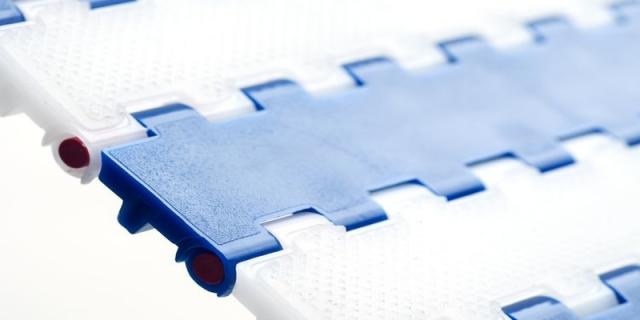 Separating belts
We're close to the end, only two more categories of conveyor belts to go through! The separating belts by Märtens are high-quality belt capable of transporting huge amounts of products - as many as the customer needs, to put it more bluntly. The belt is made-up of rows and the distance between them is changed through transverse movement of the separating belt with a special link chain. There is an additional advantage to these belts - refitting is not necessary when changing products, which can save you up time and money! Furthermore, they're:
Extremely gentle on products
Suitable for very small products
Approved for use in food processing
And they have outstanding non-stick properties! You'll mostly want to use these conveyor belts for separating or converging products in the production or packaging process. The material out of which the separating belts can be made is the transverse elastic fabric with silicone coating.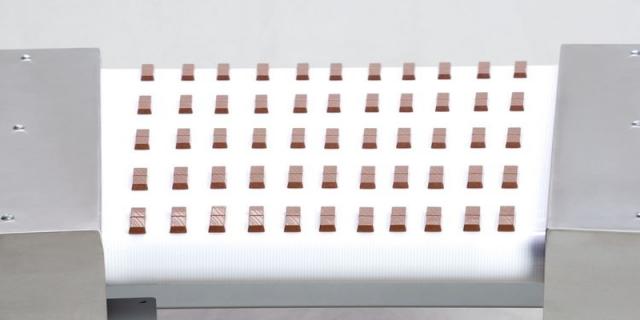 Silicone moulding belt
Another jack-of-all-trades, the silicone moulding belts by Märtens are all-rounders that can be used for forming, cooling or transporting. They're fitted with a wide range of recesses and elevated areas, along with corrugated sidewalls, lengthwise and transverse profiles and throughs in shapes like hearts etc. These belts can be adapted to Your every need. The best area in which these belts can be used, however, is in confectionery manufacture such as chocolate, jellies, fudges, caramels, you name it! Besides that, they've also found great use in chemical and pharmaceutical industries.
And that, ladies and gentlemen, would be every Märtens product that the company manufactures and sells. Quite an expansive list, is it not? I realise that some of the info I've listed above might be confusing for somebody who is just starting-up a biscuit business. My advice is to check out the areas in which these machines can be applied, as well the niche they're designed for. If you're still unsure, there are experts in Märtens who can advise you on which belts you should get for your company. Luckily, you'll be able to do just that at the end of the article.
Getting some quality conveyor belts is only the first step, however. What about proper use and belt maintenance? I've found some frequently asked questions online and decided to answer them, so that you'll be able to properly maintain and operate your new equipment. Remember, you can always consult with the experts at Märtens if you have any doubts.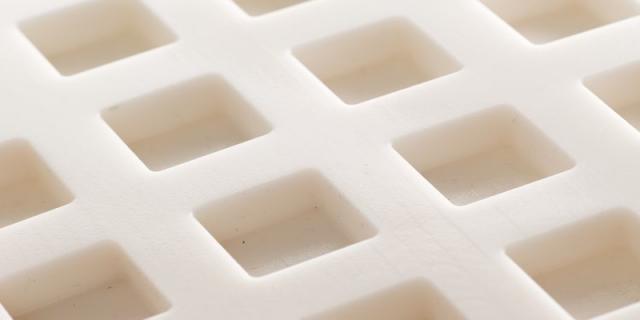 A detailed conveyor belt guide: specifications, TPH and maintenance
With great equipment comes great responsibility. And there's no greater equipment when it comes to conveyor belts than Märtens! Luckily for you, their gear is so good that not a lot of responsibility is actually needed! However, knowing some basics about conveyor belts will alway come in handy.
How many types of conveyor belts are there?
As you can see per this article, there are many different types of conveyor belts for different occasions. Märtens produces six different categories of conveyor belts which have several sub-categories as well. The six major categories, or types, are:
Rod network belts
Metal conveyor belts
Plastic conveyor belts
Modular conveyor belts
Separating belts
Silicone moulding belts
Each category fulfills a specific role in a certain industry or niche. So, depending on the type of business you're running, e.g. a confectionery business, you might want to use silicone moulding belts so that you can make sweets in specific shapes likes hearts or squares. If you need heavy-duty conveyor belts, then the stainless steel belts are for you, and so on.
What are conveyor belts used for?
Conveyor belts are used for transporting things, material and food processing. Which type of conveyor belt you'll use depends on the materials you're transporting. For instance, if you're transporting fruit acids, then you'll want to use rod network belts made out of a material with a high resistance to corrosion.
How do conveyor belts work?
It is a very simple concept, actually. Conveyor belts work by using two or more motorized pulleys which then loop over different kinds of materials, be they metal, plastic or something in-between. Since the motorized pulleys work at the same speed and in the same direction, the belt moves between the two.
Rollers are added to heavy-duty belts, those transporting heavy objects. This is done so that the objects on the conveyor are kept in place. As for their function, as stated several times before, conveyor belts are primarily used for a fast and efficient transport of products and materials, e.g. biscuits or small electronic devices.
What is another name for conveyor belts?
There are many different names and synonyms for conveyor belts. Some of these are:
Assembly line
Luggage carousel
Transporter
Production line
How do you specify a conveyor belt?
The easiest way to specify conveyor belts is by the materials they're made out of and the application areas in which they can be used (industries as well). That's why Märtens produce six different categories of conveyor belts, from rod network belts to silicone moulding ones. Each category has it's uses and even the sub-categories of conveyor belts are better suited towards some specific tasks.
How do you calculate the TPH of a conveyor belt?
The TPH of a conveyor belt (tons per hour) can be calculated using a simple formula.
CAPACITY (TPH) = .03 x Belt Speed (FPM) x Material Weight x Load Cross Section.
However, you don't have to bother with this as Märten's experts will provide you with all the necessary specifications and info you need.
How do you maintain a conveyor belt?
Although Märtens conveyor belts are high-quality machines which require little maintenance, it is still a good idea to keep your gear in tip-top shape. Here is some advice on how to keep your conveyor belts well-maintained.
Update your equipment properly - if your conveyor belts are old and outdated, chances are you're spending a lot of your revenue on repair costs and you're not making as much of a profit as you should be making. Your competitors are probably beating you in industrial output which means your company will go out of business sooner or later. With Märtens, you should have no problem worrying about such things as with their belts you'll be set for the next decade,
It's better to prevent than to heal (or in this case - repair) - what this means is that you should not wait for you conveyor belts to get dirty or worn out. Clean them on a daily basis using any cleaning products which are suited for such machinery.
Keep track of all the repairs you've made on your conveyor belts - this is a no-brainer, you should always record and changes or repairs you make to your machines. This way, in the future, if any further repairs are required, you might avoid spending unnecessary amounts of money.
Don't use you conveyor belts for the things they're not designed for - that's why there are different categories of conveyor belts, for each and every circumstance. Contact Märten's experts if you're still unsure which conveyor belts you should get after reading this article.
Keep your spare equipment close - you want to maximize your industrial output as much as possible. This means that a delay in production might be costly. You should always keep spare equipment and parts nearby just in case you need to make quick repairs.
Keep those conveyor belts running - now, of course, I don't mean they should be running 24/7. Of course not, but you should use them regularly. What happens to your muscles when you don't move for a long period of time? They experience atrophy. It's the same with conveyor belts. Regular usage can prevent this.
Keep your manuals and documentation - pretty self-explanatory, a problem might arrise once you start using your conveyer belts, so it's always handy to have a manual nearby, as they'll usually contain the solution to your problem.
Clean your conveyer belts regulary - this goes hand-in-hand with tip #1. You want to keep your belts constantly clean, so as to avoid any possible contamination, especially if you're working with food such as biscuits or other confectionery products. Remember, the best way of cleaning a belt is to avoid getting it dirty!
Keep the motorized pulleys in place - always make sure that the pulleys are in place, so as to avoid damaging your equipment. Pulleys which are not properly alligned can also slow down your output.
Check for any loose parts - this includes any loose bolts or screws. Even a single chink in the chain can lead to a disastrous failure in the entire operating system.
And that would be it for today's article! I really hope you've learned a lot about conveyor belts and the different categories of belts there are. So, what are you waiting for? Contact Märtens Conveyor Belts and order some high-end, top-of-the-line conveyor belts right away!