Australia is a country characterized by its uniqueness – with unique animals, the longest coral reef ecosystem, being the only country that is simultaneously a continent… It certainly is a place of its own, something that should be celebrated.
This list is comprised of some of the most well-known Australian-made biscuits. The rankings are based on the popularity of the biscuits or what Australian biscuits are the most famous, how interesting their back story is, and their importance in the Australian culture. So, let's begin!
9 May Flavors Packed in One Small Treat: Monte Carlo Biscuit
Named after the city of Monte Carlo (for unknown reasons), Monte Carlo biscuits have been among Australia's favorite biscuits since they were created in 1926. These "bikkies" consist of two oval-shaped coconut biscuits separated by vanilla cream and raspberry jam (yes, it's double the fun). A supposed best way to eat the creamy treats is by twisting apart the two biscuits and licking the delicious cream filling. Its crunchy shell consists of coconuts, softened butter, lemon rind, eggs, milk, and other lovely ingredients which perfectly match the sticky jam and cream center.
Just like many biscuits found in this list, Monte Carlos are produced by Arnott's, but have homemade versions, too.
What is Arnott's?
Arnott's is Australia's largest producer of biscuits and the second-largest supplier of snack food. The company originated when Scottish immigrant William Arnott opened a bakery in Morpeth, New South Wales, in 1847. It was bought out in 1997 by American company Campbell Soup, which later sold Arnott's to American private equity firm Kohlberg in 2019.
8 A Symbol of Bravery: ANZAC Biscuit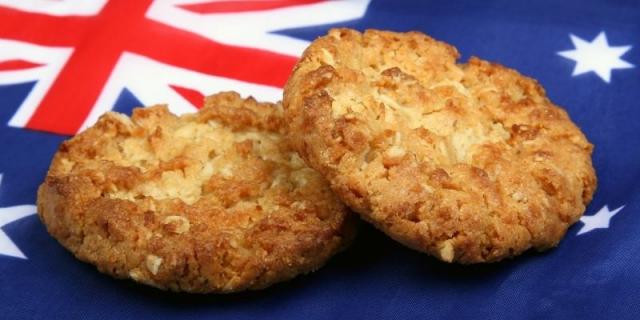 Previously, we've talked about hardtack – a biscuit popular during the two World Wars because of its long shelf life, allowing soldiers to eat them over a long period. Australians fought in both World Wars as well and had their own version of hardtack biscuit – popular in Australia as ANZAC biscuit. The name comes from the Australian and New Zealand Army Corps (ANZAC for short), which served in Gallipoli in World War I.
ANZAC biscuit is a sweet biscuit made by using rolled oats, flour, sugar, butter (or margarine), baking soda, golden syrup, desiccated coconut, etc. The key is that there are no eggs in the recipe – because of which the biscuits spoil after some time. But in an eggless recipe, a biscuit can last for a long time without spoiling. In place of eggs, in ANZAC biscuits you use golden syrup to bind the ingredients, which also gives the biscuit its specific flavor. It is made by the melting method with the mixture being shaped into balls before baking, instead of being rolled out and cut.
What Is the Story Behind ANZAC Biscuits?
During World War I, families from Australia would send care packages to the soldiers from their families in order to provide them with something to eat, use, and have with them at all times. Some of the things were just sent to raise the morale, make them remember their home. In these packages, ANZAC biscuits were often sent to give the soldiers a snack that they can eat for some time. The biscuits were made from easily available ingredients and without eggs to preserve them. The first ANZAC biscuit as we know it today was created sometime after 1915 when the word ANZAC came into being, but its recipe wasn't published until around 1920. Prior to the War, similar biscuits were made, such as munchies, rolled out biscuits, nutties, brownies, etc. that were precursors to this biscuit.
Today, ANZAC biscuits are manufactured commercially for retail sale, as well. Because of their connection to the military, the biscuits are always baked on ANZAC Day and sold at fundraising events for the Royal New Zealand Services' Association (RSA) and the Returned and Services League of Australia (RSL).
They have a nickname – 'jaw breakers' or 'dog biscuits' because of their hardness.
What Does ANZAC Day Represent?
ANZAC Day marks the anniversary of the first major military action fought by Australian and New Zealand forces during World War I celebrated on April 25. It is one of Australia's and New Zealand's most important occasions.
7 The Biscuit of the Wild West and the Down Under: Wagon Wheels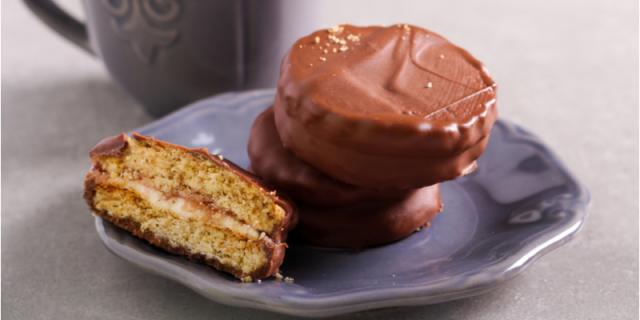 Source: MShev/ Shutterstock.com
Everyone loves Wagon Wheels in Australia. These biscuits have been an Australian favorite for quite some time and many remember its popular slogan from the 60s ˗ "It's more than a biscuit, it's a mighty big snack!" Nowadays, they are a popular afternoon snack.
It is certain that Wagon Wheels have made a big name for themselves and are still produced massively by Arnott's (but of course, they're made at home as well). This lunch box treat soon became sold massively thanks to its gooey marshmallow center and the delicious chocolate-dipped biscuit. It is essentially two plain biscuits sandwiched with marshmallows and coated in chocolate. Other ingredients are vanilla paste, butter, caster sugar, flour, etc.
Arnott's produces a version with an added layer of raspberry jam to the classic biscuit, which has become equally as loved as the classic.
Why Are They Named 'Wagon Wheels'?
The name of the biscuit – Wagon Wheels (originally 'Weston Wagon Wheels') came about in 1948 and it refers to the Wild West, which was popular in mass media at the time, and to wheels since the biscuit resembles them in shape. They were named by their creator William Peschardt, who sold the patent to Garry Weston, the son of W. Garfield Weston. Garry Weston worked for his father in Australia before taking over the business in England. In Australia, he came up with the idea to place two Marie biscuits around a marshmallow filling and covered them with chocolate.
Interestingly enough, a similar cookie is found in the US and it's called Moon Pie.
6 A Clash of Flavors (that Works!): Mint Slice Biscuits
As you have already probably guessed from the name of the biscuit, Mint Slices are crispy biscuits topped with peppermint fondant or cream and dipped in chocolate. They are round-shaped and easily recognizable when bitten into since the peppermint flavor is really strong and the color of the cream is light green due to flavor. A popular version is produced by Arnott's, which also contains mint oil in the mix.
Mint Slices can be consumed in whichever way you want but are most often eaten as a morning or afternoon snack with tea. They can be a thoughtful gift for any occasion, especially for Christmas since the combination of chocolate and peppermint is a classic Christmas flavor.
5 Simple yet Rich: Kingston Biscuit
Our fifth favorite Australian biscuit is the creamy, crunchy, and buttery (we could go on with adjectives) Kingston biscuit. It's often compared to ANZAC biscuit due to their somewhat similar recipe, but unlike ANZAC, Kingston's two biscuit parts are sandwiched with lovely milk chocolate. But both use ingredients that everyone has in their pantry so it's really simple and easy to make yet a delicious treat that is consumed by itself or often with tea. Kingston thus also contains coconut morsels and golden syrup.
This biscuit is an iconic treat in Australia because it's beloved by many and massively sold. Arnott's Kingston Cream Biscuit is one of the best-selling biscuits in all of Australia. In fact, it was ranked No. 2 on Good Food's 2019 list ranking in the Arnott's Family Assorted Biscuits.
Kingston biscuit's name comes from the city of Kingston located near Hobart in Australia.
4 Australia's Yo-yo Biscuit and New Zealand's Melting Moments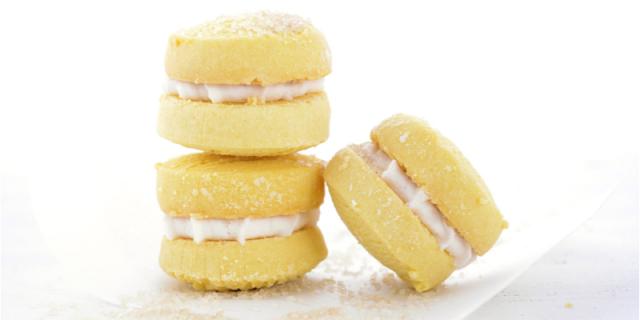 Source: Milleflore Images/ Shutterstock.com
Australian Shortbread Biscuits
Aussies love their Yo-yo biscuits, buttery and sweet biscuits sandwiched with lemon cream that has been made in Australian homes for a long time. These treats are, allegedly, of Scottish origin but have been most popular in Australia and New Zealand. Yo-yos are simple crunchy biscuits rolled in oats with refreshing cream and sometimes topped with a cherry. They can also be rolled in coconut; either topping is fine because the most important part is that they have crispiness on the outside, while on the inside they are soft because of the cream filling. The cream is buttery and flavored with lemon or orange. Light and simple to make, the biscuit is made out of a handful of ingredients: butter, flour, icing sugar, and cornstarch/custard powder. The last ingredient is a choice that actually determines whether the biscuit is an Australian Yo-yo or New Zealand's Melting moments. The latter is a New Zealand butter biscuit, similar to shortbread.
Why are They Called Melting Moments and Yo-yos?
As was said, this biscuit is popular in both Australia and New Zealand but under a different name and with one different ingredient: Australia has its Yo-yo biscuits, made with custard powder, while New Zealand has Melting moments, made with cornstarch.
Melting moments got its name because of its unique texture, a result of using custard powder and not using eggs (which would thicken the dough). The name might also be a contracted form of the popular saying "melt-in-your-mouth cookies" or "melt-in-the-mouth cookies".
Yo-yos are a popular Australian biscuit named Yo-yo because their round shape resembles the yo-yo toy.
While Yo-yos and Melting moments are very similar in taste, texture, and appearance, they are uniquely different from one another because of the different flavors used in the recipe – custard powder for Yo-yos and cornstarch for Melting moments. Both are incredibly creamy and flavorful so definitely try both and compare!
Yo-yo biscuits are nowadays widely eaten in Australia. They were popularized by the CWA (Country Women's Association), the largest women's organization in Australia that works on improving lives for women and their families living in rural areas. Yo-yos are popular and often eaten at farmers' markets, bake sales, bakeries, and cafes. As you enter some cafes in Australia, don't be surprised to see yo-yos stuffed into cute cookie jars on the table or on shelves – they are a lovely decoration plus a sweet treat with various fillings for visitors.
3 From a Beverage to a Biscuit: Milo Biscuit
If you are from Australia or have visited the country at some point, you have probably tried or seen others drink Milo, a chocolate beverage. Milo is a brand of chocolate-flavored malted milk powder made by Nestle, usually consumed by mixing it with milk or water to make a beverage. Sometimes you would drink it hot, sometimes cold, and at other times you would sprinkle it over ice cream. It is found in most supermarkets in Australia. The product was originally made by Thomas Mayne in 1934 when he combined malt extract (made from malted barley), full cream milk powder, cocoa, sugar, mineral salts, iron, and vitamins A, D, and B1. Milo is easily recognized by its green can packaging, often depicting various sports. The product is thus often advertising sports events and is generally connected to that world. Even its name is rooted in sports as 'Milo' is derived from the famous ancient athlete Milo of Croton, after his legendary strength. Apart from Australia, it is widely sold in other countries, mainly in Australasia, Asia, and Africa. Milo didn't just stop at chocolate milk beverages as the production expanded to other products such as snack bars, breakfast cereal, granolas, and biscuits. That's how we have Milo biscuits. These treats have got their name obviously from the main ingredient – Milo powder and are beloved by many, especially Milo fanatics. Milo biscuits are crunchy yet chewy biscuits (on the outside and the inside respectively) made from just 5 ingredients! Yes, just 5 simple ingredients, those being caster sugar, butter, egg, Milo, and self-rising flour. They can also be sprinkled with melted white chocolate, sprinkles, etc. The biscuits are quite easy and quick to make but have a fantastic flavor. We figured we'd put these biscuits so high on our list because a) they're amazingly delicious and b) they're made with a chocolate powder that almost everyone drinks in Australia.
2 Fruity Delice: Iced Vovo
What is an Iced Vovo?
Our second favorite Australian biscuit is a popular Arnott-produced one – the fruity Iced Vovo. It is one of Australia's most popular biscuits hence why we put it high on our list. Iced Vovo is a wheat flour biscuit topped with 2 strips of pink fondant and a strip of raspberry jam running down the middle with a coconut sprinkle. Iced Vovo as a brand was first registered in 1906 at Arnott's. Nowadays, people make the homemade version a lot, as well. Oftentimes, melted marshmallows are used instead of fondant; any way is fine just make sure it's pink!
This biscuit is not just a delicious treat for your mouth, but for your eyes as well – the pink fondant, red raspberry jam, and white coconut offer a colorful and appetizing experience with the little biscuit.
Iced Vovo has become an iconic Australian treat after it was mentioned in an election speech. On November 24, 2007, Australian Prime Minister Kevin Rudd in his victory election speech jokingly urged his team to have a strong cup of tea with an Iced Vovo before getting to work. Arnott's team really appreciated the mention since it made biscuit sales skyrocket and in order to thank the PM, they sent a shipping pallet of the biscuits to the PM's office in Canberra's New Parliament House.
1 The Sweetest Milkiest Australian Biscuit: Tim Tam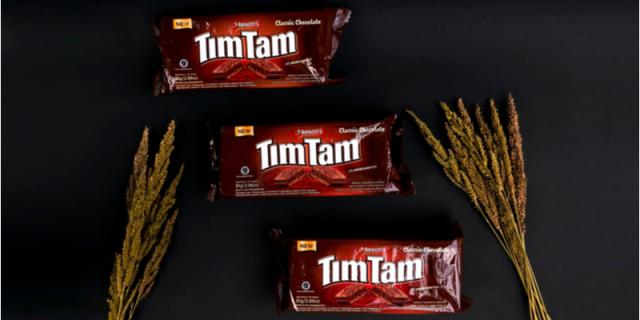 Source: Oggii/ Shutterstock.com
The number one spot for Australia's most popular biscuit we easily give to Tim Tam because everyone who has any knowledge of Australia's culture knows that Tim Tams are a prototype of the country's sweet treats. This biscuit is beloved in Australia and is actually the world's most popular biscuit per capita. It was based on the British McVitie's Penguin biscuit and created by Ian Norris and Alan Morrow. The two took a world trip looking for inspiration for new products and came across the Penguin biscuit and decided to try to make "a better one". There is a story that the biscuit was named after a racehorse that won the Kentucky Derby in 1958.
What is Tim Tam exactly? Tim Tam is an Australian biscuit consisting of two malted biscuits separated by a chocolate cream filling and coated in a thin layer of textured chocolate. It's deliciously sweet, milky, and chocolate-y. But what really makes this biscuit so popular is its consumption method.
The Famous Tim Tam Slam
Tim Tams are most often consumed by the Tim Tam Slam method. As is stated in the Tim Tam Wikipedia article, The Tim Tam Slam (also known as the Tim Tam Shotgun, Tim Tam Bomb, Tim Tam Explosion, Tim Tam Bong, and Tim Tam Suck) is the practice of drinking a hot beverage through a Tim Tam, usually milk. Opposite corners of the Tim Tam are bitten off then one end is submerged in the beverage, and the beverage is sucked through the biscuit as though the Tim Tam itself were a straw. The crisp interior of the biscuit is eventually softened and the outer chocolate coating begins to melt, at which point the biscuit is eaten. It is no wonder the biscuit is so popular since this method promises a delightful experience for the taste buds. The idea of sucking milk through a chocolate biscuit would excite anyone, we're positive.
Today, Tim Tams has many versions to satisfy every mouth – the classic chocolate, the double coat, the chewy caramel, and the dark chocolate and white chocolate varieties. They're well advertised, with one commercial on TV from the 90s being especially memorable – the wish-granting genie who bestowed upon a fortunate lamp rubber "a packet of Tim Tams that never runs out". What made the commercial even more iconic is the fact that the lady of the lamp was none other than the famous actress Cate Blanchett.
Tim Tam has every right to be called Australia's number one biscuit since it is considered such even legally – on February 16 Australians celebrate National Tim Tam Day. The biscuit got its own day, a great feat for a little sweet treat.
That was our list of Top 9 Australian biscuits. Do you agree with our list? Let us know!
Have you tried any of these biscuits and what are your thoughts on them?
We believe (and Australians would surely agree) that their biscuits – "bikkies" as they would say, need to be celebrated as well. That is why we decided to bring you a list of our top 9 Australian-owned and made biscuits, similar to our top 13 British biscuits, top 15 American biscuits, and top 11 Indian biscuits. Join us on our journey of popular biscuits around the world, this time in Australia!
Be sure to subscribe to our newsletter by registering so that you do not miss any of our articles and insights.
If you wish to promote your products or company, please contact us via e-mail: contact@biscuitpeople.com.