Domaćica (lit.: housewife) chocolate-coated tea biscuit is an integral part of Kraš' company public image, and according to research results, among its flagship brands in Croatia and Southeastern Europe.
According to a research done by the company Valicon in 2016, Domaćica is 8th strongest brand in Croatia. It is a biscuit that has won many Croatian hearts and made each Croatian home unimaginable without it.
Based on the recognition of forms and visual appearance, it has been established that the brand awareness and strength of Domaćica in Croatia are extremely high, i.e. the recognition rate is 97%.
Throughout all these decades of its history, Domaćica has not changed so it is manufactured to a traditional recipe, with natural ingredients and no trans fats, and is covered in genuine Kraš chocolate. Precisely 23% of chocolate in Domaćica makes it so irresistible in numerous countries.
Thanks to its long and extremely successful life cycle, Kraš´ Domaćica has become synonymous among its loyal consumers with delicious chocolate-coated tea biscuits to be enjoyed in a cosy family setting, inspiring the slogan obiteljska miljenica (engl.: family's favorite).
Julija König, Slavoljub Deutsch, and the chocolate factory
Although Domaćica was launched in 1957, the Kraš company was in fact founded in 1911 by Julija König and Slavoljub Deutsch in Zagreb, modern-day Croatia but part of Austria-Hungary at the time. Back then, Kraš was a factory known by the name Union and it was the first industrial manufacturer of chocolate in Southeastern Europe. After just two years of operating, the factory was awarded the title of the official supplier for the Royal Court in Vienna.
At the beginning of the 1920s, another company started producing toast, biscuits, and waffles – Bizjak. In the following years, the competition in the market had been growing until finally in the 1950's Union, Bizjak and few other smaller producers merged and began to operate under the new name Kraš. The name was taken in honour of Josip Kraš, a union leader and political activist who was killed in World War II.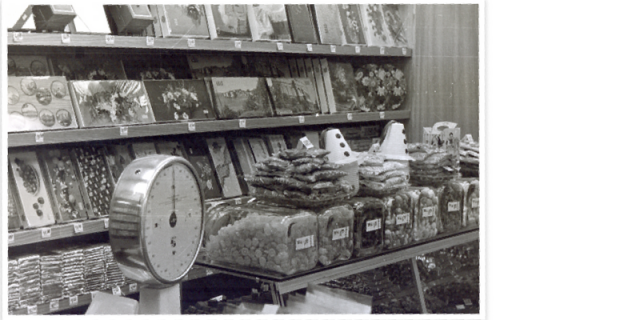 Foto: The first Kraš Bonbonnièra opened in Zagreb, 1952
The company had to move its production facility after a big flood that hit the capital and destroyed its production in 1964. After moving to a new location, the company invested in new, modern machines.
Another significant event for the Kraš company was Croatia's Independence proclamation in 1991. The following year, Kraš has been transformed into a joint-stock company and started its development to a contemporary and market-oriented company.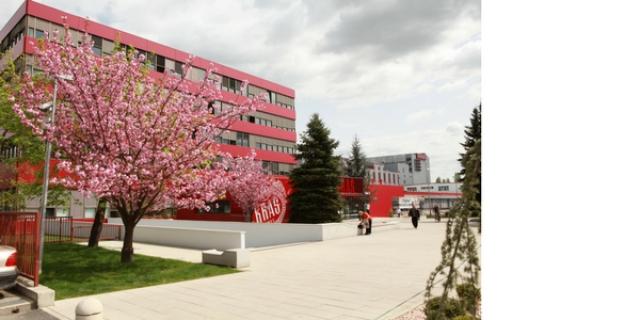 Foto: Kraš headquarter in Zagreb
In 1999 the company united its production that had been spread throughout Zagreb, and now you can find it in Zagreb's Ravnice neighborhood.
Visual appearance
As previously mentioned, the recognition rate of Domaćica is 97%. The biscuits come in five different, protected relief shapes covered with genuine chocolate, which makes Domaćica the only Croatian biscuit brand that can The box design has had several changes, we'll present a few:
1957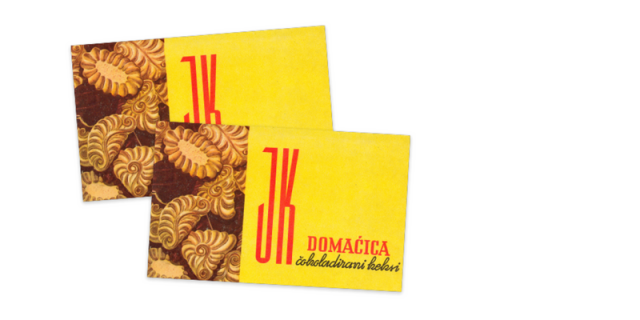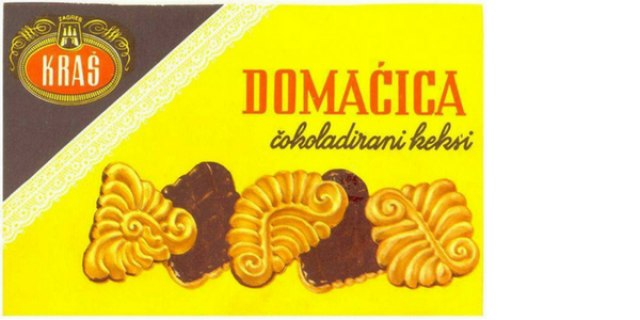 Modern design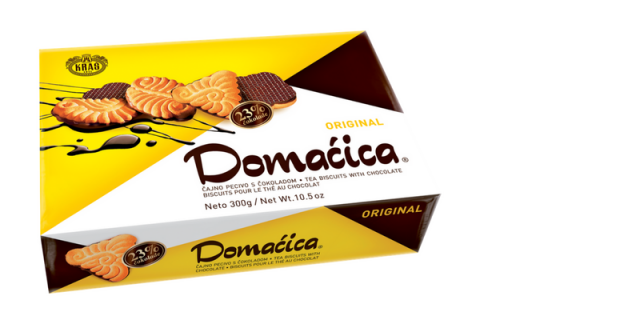 2010
Kraš launches new Domaćica flavours: white chocolate, integral, Dorina milk chocolate, coconut and dark chocolate.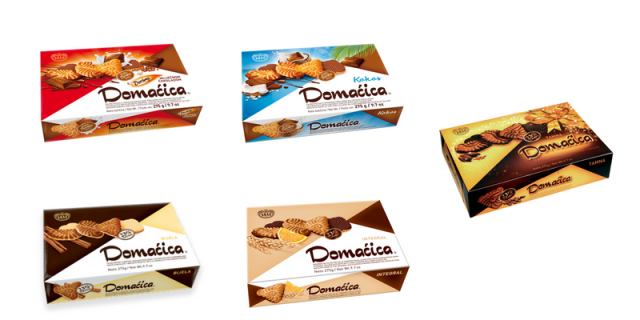 2017: Sweet sixty
For its 60th birthday, Kraš launched Domaćica in a special retro edition.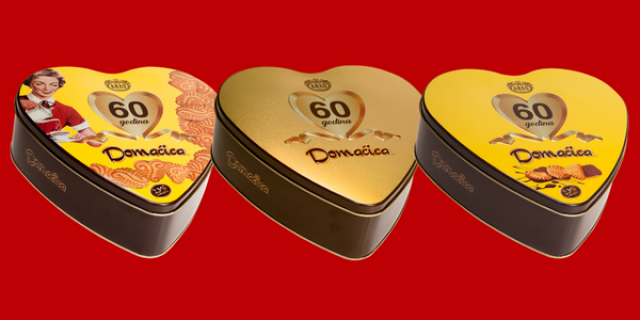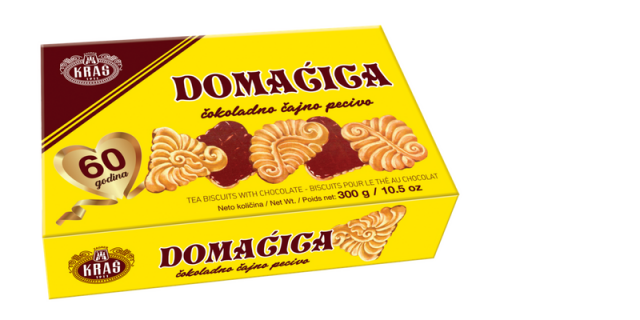 Kraš also organized special events in Split, Osijek, Rijeka, and Zagreb. The celebration had a retro 50's and 60's atmosphere, to commemorate the period when Domaćica was created. The cities were turned into a sweet chocolate world, full of fun and dancing. Citizens could play Wheel of Fortune and dance to the rhythm with the help of professional dance instructors. The best dancers were awarded sweet Kraš packages. People could also try new, limited edition of Domaćica with white chocolate and raspberry.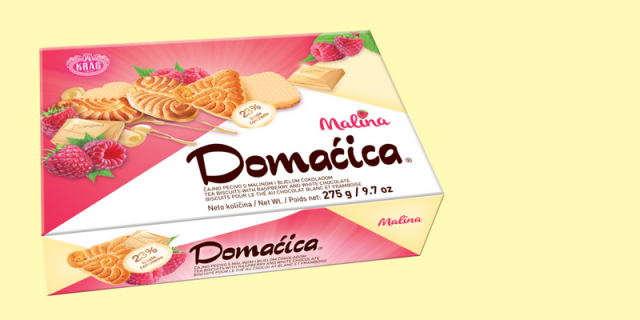 Domaćica is Rakitić's favourite, too!
Football is the most popular sport in Croatia and Croats love to cheer for their national team wearing jerseys with recognizable red and white squares. Domaćica also put its squares on during the 2014 FIFA World Cup in Brazil which, interestingly enough, was opened by the match between Brazil and Croatia (Brazil won 3:1, where Croatia's goal was actually an own goal by Brazilian team player Marcelo). The design was created by Croatian graphic design studio Ideo Dizajn Ltd.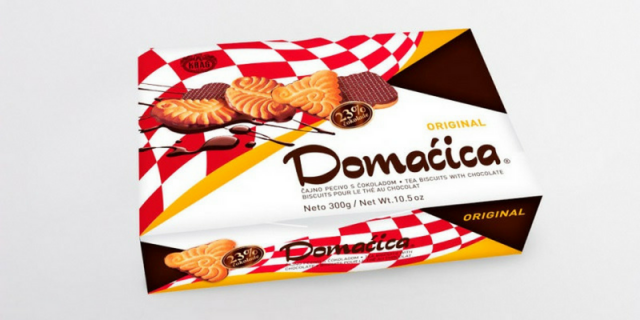 But Domaćica's connection to football doesn't stop there. In December 2015, FC Barcelona won its 88th official trophy. After winning against River 0:3, Ivan Rakitić celebrated the victory by sharing Domaćica with his teammates Neymar and Douglas Pereira.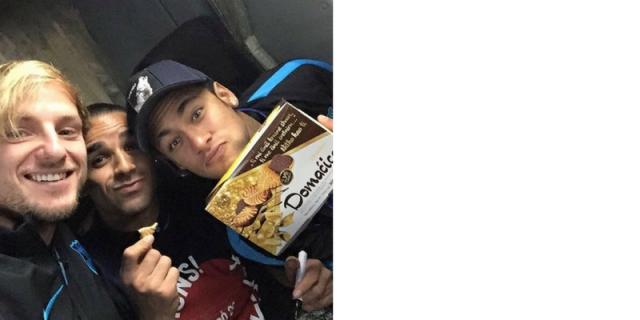 Kraš sure used the exposure and they had a special giveaway. The campaign "Donesi mi Domaćicu" (engl.: "Bring me Domaćica") was active from June 12 until August 1, 2016 and a year later, it received a Silver Effie Award in the Food category at the Days of the Communication in Rovinj, Croatia. People had to buy 3 different Domaćica products and then send the barcode. They could win a trip to Barcelona for two, 50 t-shirts signed by Ivan Rakitić, and 50 packages of Domaćica. The campaign was accompanied by video posts on social networks by Ivan Rakitić, in which he is looking for Domaćica around the house but can't seem to find it. Hashtags in the description are as follows: #lastboxofdomacica #Ileftwithoutdomacica #bringmedomaćica
What made this giveaway special was that Kraš indeed sent Domaćica to Barcelona and made sure that Ivan doesn't run out of Domaćica anytime soon. We could use some year-supply of Domaćica ourselves. Keep your fingers crossed!
Foto sources: Kraš, Facebook, Ideo Dizajn