This article aims to represent Cookie Monster from his first appearance to worldwide recognition this character received!
Which TV show reminds you of your childhood? Do you remember your childhood mornings - drinking milk, eating cookies and watching cartoons? Talking about cookies …Do you know what starts with letter C? Good enough for me, not only for me and you but for this main character also! What are we talking about? Cookie starts with C! Are you already recognizing this song? Moreover, do you know who likes it more than anything in this world? We are talking about the blue, chubby, furry character we all watched when we were kids (and sometimes nowadays too, right?).
Cookie Monster is a Muppet on the long-running children's television show Sesame Street. So, to begin with, Cookie Monster isn't a puppet. He's a Muppet, which was a new term back then when the inventor made up the idea. 'Muppet' was actually made up by Jim Henson himself after trying to combine ''puppet'' with ''marionette''.
Cookie Monster is not eating only cookies. He often consumes almost everything; from apples and pie to letters, flatware, hubcaps, danishes, donuts, lettuce, apples, bananas, as well as normally inedible objects. Despite that, cookies are always his number one choice. Chocolate chip cookies are his favorite kind; oatmeal cookies are his second favorite.
The Monster Family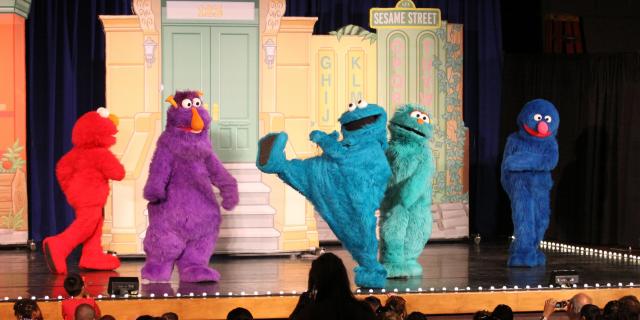 Cookie Monster is known to have a mother, father, a younger sister, a few cousins – Cousin Monster, Biscuit Monster, also Apple Monster, a cousin known from one episode. Moreover, Cookie Monster has a nephew whose name is Max Monster.
All of them share his characteristic navy-blue fur and "googly eyes." Cookie Monster's dad appeared in a ''Monsterpiece Theater'', sketch promoting energy conservation, water conservation, and environmentalism. November 2 is Cookie Monster's birthday. Talking about history, he would turn 50 years old this year! Getting old, huh? Talking about his age, Cookie Monster is acting the same through the years. From the first day, November 2, 1969, he is a funny, interesting and childish puppet but authors were only changing his appearance through seasons of Sesame Street.
He is best known for his voracious appetite and his famous eating phrases, such as Me want cookie!, Me eat cookie! (or simply COOKIE!), and Om nom nom nom (said through a mouth full of food). As you can see from these phrases, he doesn't speak English correctly. Why is that the case? The authors wanted to help children feel confident with the concept of the monster. Fear of monsters is common among young children and these characters help defuse that fear.
They help children feel more in control because children can see that in some ways they're better, more powerful and can do and say things better than these monsters can. In addition, the way Cookie Monster speaks isn't the only reason why kids like this character. There are many more interesting facts about him you will learn throughout reading this article. So, let's begin.
Cookie Monster´s real name
We can't talk about Cookie Monster if we don't even know his real name, right? In a 2004 Sesame Street episode, Cookie Monster revealed in the song that before he ate his first cookie he was called Sid. In a 2010 post on the Sesame Street Twitter feed, Cookie Monster tweeted: Me wasn't born with the name 'Cookie Monster'. It just nickname dat stuck.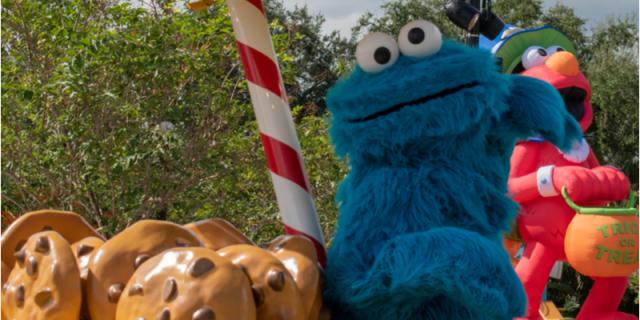 Photo By VIAVAL/Shutterstock.com
Cookie Monster´s Origin
In 1966, Jim Henson (an American puppeteer, actor, cartoonist, filmmaker, animator, and screenwriter who achieved worldwide recognition as the creator of The Muppets) drew three monsters for his book Jim Henson's Designs and Doodle.
Monsters ate cookies and appeared in a General Foods commercial that featured three crunchy snack foods: Wheels, Crowns and Flutes. Each snack was represented by a different monster.
Later, in 1967, Henson used the "Wheel-Stealer" (later Cookie Monster) puppet for an IBM training film called Coffee Break Machine. The sketch is called "The Computer Dinner", the monster devours a complex coffee making the machine as it describes its different parts. When he is finished, the machine announces the monster has activated the machine's anti-vandalism system, which contains the most powerful explosives known to people. The monster promptly explodes. This sketch was also performed a few times later, for example in October 1967 on The Ed Sullivan Show.
Two years later, Henson used a similar monster for three commercials selling Munchos, a Frito-Lay potato chip. After the three ads were produced and very popular, Henson had the opportunity to renew the contract. However, he didn't do it. Why? Well, if he was, there wouldn't be Cookie Monster from Sesame Street! That's how all of it started.
Wheel-Stealer was destined for greater things. Henson started working on Sesame Street. Back to his normal size and gaining his trademark blue fur, the monster puppet becomes Cookie Monster during the first season of Sesame Street in 1969. Frank Oz, is one of the foremost Muppet performers and Jim Henson's closest collaborator, he performed Cookie Monster.
Cookie Monster´s appearance through years
In first commercials, concretely for IBM training film Coffee Break Machine and The Ed Sullivan Show in 1967, the monster had his teeth and his fur was dark green with a few brown-black patches. Later, his fur was even light purple in commercials. Since the beginning of Sesame Street, Cookie Monster's fur is blue but it only changed it's the length, also shades – from lighter to darker. Moreover, in a few seasons of Sesame Street, Cookie Monster's fur is a bit frizzier.
Sesam Street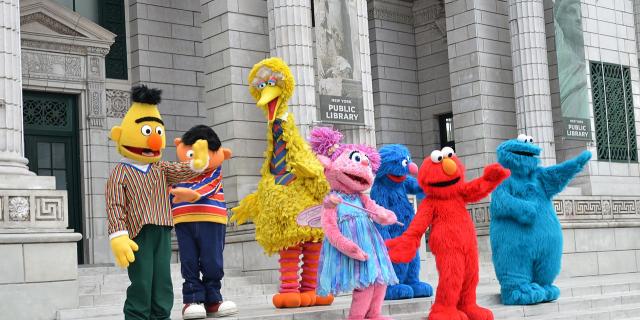 The show was conceived in 1966 during discussions between television producer Joan Ganz Cooney and Carnegie Corporation vice president Lloyd Morrisett.
This team wanted to create a children's television show that would help young children prepare for school through entertainment and funny stories. After two years of research, the newly formed Children's Television Workshop (CTW) received a combined grant of $8 million from the Carnegie Corporation, the Ford Foundation, and the U.S. federal government to create and produce a new children's television show.
Sesame Street has earned the distinction of being one of the most highly regarded educators of young people. The original series has been televised in 120 countries, and more than 20 international versions have been produced.
Sesame Street was first aired on public broadcasting television stations on November 10, 1969, and reached its 50th season in 2019.
Cookie Monster: Book, Songs, Quotes
There are so many books in which the main character is Cookie Monster. Moreover, there are songs from Sesame Street that Cookie Monster is singing. Let's see the list.

Books:
Cookie Monster's Kitchen
Cookie Monster's Christmas
A Cookie Gone Wrong - Monster's Story
Biggest Cookie in the World
Cookie Monster and the Cookie Tree
Cookie Monster's Good Time to Eat
Cookie Monster's Blue Book
Songs:
Despite his main songs – 'C is for Cookies' and 'Cookie is a Sometimes Thing', there are many other famous songs from Sesame Street related to Cookie Monster. Here are the most popular ones:
Breakfast Time
Me Love Cookie Art – The Cookie Thief
Fuzzy and Blue
Twelve Days of Christmas
If Moon Was Cookie
Cookie monster is online and he is Hilarious!
Nowadays, there are barely any people who don't use social media; young, old, man, women – it doesn't matter. The same is with Cookie Monster, too. Could we say that he's a real 'influencer'? He has 408k followers on his Twitter account and more than 8.718.481 likes on his Facebook page. Cookie Monster's posts on Twitter are so hilarious since 2014! He often posts funny quotes, selfies and places he visits – actually, in real life!
He was at the museum, exploring cities and attending baseball games. Talking about the baseball game, Cookie Monster was a real attraction at the Chicago Cubs game this June. He performed his own rendition of ''Take Me Out to the Ball Game'' during the seventh-inning stretch of the Chicago Cubs game.
''Hello, Cub fans!" he exclaimed after being introduced. ''Today, 'C' is for Cubbies.'' ''Let's get some cookies!'' Cookie Monster said afterwards, paying tribute to the late Harry Caray's seventh-inning stretch catchphrase, ''let's get some runs!''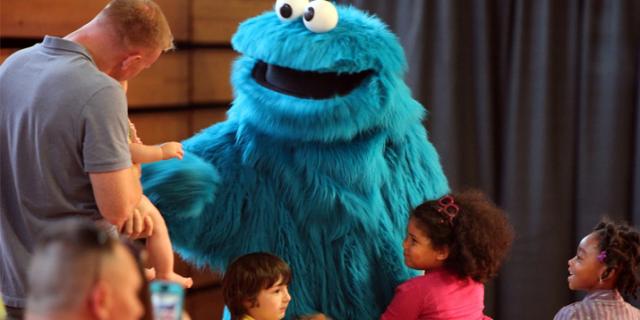 Cookie Monster/Veggie Monster?
Cookie Monster is known as the biggest cookie love ever in this world, as we already mentioned. But things aren't that simple. What about health?
We all know that it's not healthy at all to eat cookies all the time. Also, that is not a lifestyle that should be promoted worldwide, especially for kids who have to teach healthy habits.
It was widely reported, starting in the spring of 2005, Sesame Street began to focus more strongly on delivering positive health messages to children, a process that involved introducing segments on the values of good nutrition, exercise, and proper sleep habits into the program. His theme song ''C is for Cookies'' was replaced with his new anthem ''Cookies are a sometimes food'' which was modeled upon the Porgy and Bess song, ''A Woman is a Sometime Thing''.
In a 2007 appearance on Martha Stewart's TV program, Cookie Monster explained his new philosophy that "Cookies are a sometimes food." Despite his voracious appetite for cookies, Cookie Monster shows awareness of healthy eating habits and enjoys fruits, vegetables and eggplant too.
Even Cookie Monster wrote a tweet about it: Maybe you hear the rumor that me going on a diet. Not true. Me just eating healthy foods AND cookies. What wrong with dat? Undoubtedly, there is nothing wrong with eating cookies. They are a delicious treat and everyone deserves a few! There is nothing better than eating cookies after a hard day. So, if you want to treat yourself with cookies just like Monsters', keep reading!
Cookie Monster´s Cookies Recipe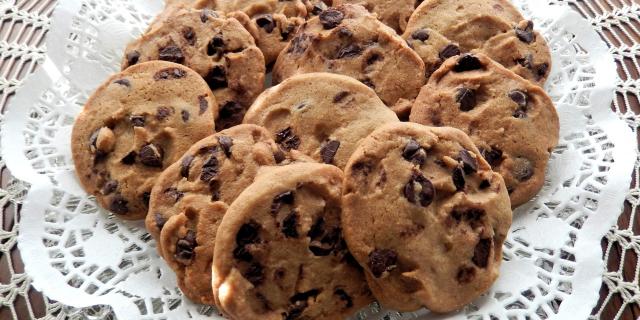 Cookie Monster's favorite cookies are chocolate chip cookies. There are so many ways to make these cookies, but which one is the most similar to his? Here is the recipe for the famous Cookie Monster Dough.
Put 3/4 cup of butter or margarine into your mixing bowl
Add 1 cup of sugar
Pour sugar over the butter
With a fork, squash butter and sugar together until they are blended
Crack two eggs and pour eggs over mixture in a bowl
Add 1 teaspoon vanilla and pour over mixture
With a fork, blend everything in the bowl together
Add 2 1/2 cups all-purpose flour and pour over mixture in the bowl
Add 1 teaspoon baking powder and sprinkle over the flour
Add 1 teaspoon of salt and sprinkle over flour and baking powder
Mix everything together either with the fork or with your hands
Put the dough in the icebox to chill (at least one hour)
Roll out cookies 1/4 inch thick, sprinkle with sugar, and bake at 400 degrees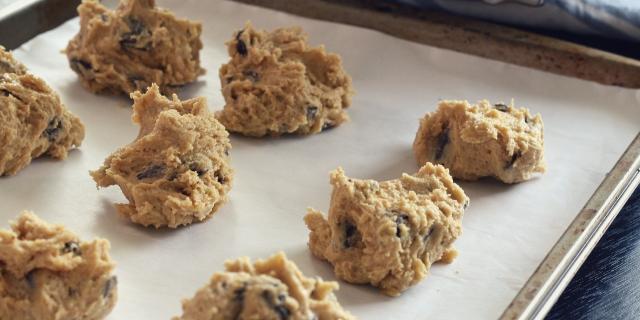 Also, if you want to know more about chocolate chip cookies and try this sweet treat with, for example, coconut - click on this link and read. Enjoy!
The Secret is revealed: Spoiler
Now that you found out about the original recipe for Cookie Monster's cookie dough, are you ready to know the truth? On Sesame Street, Cookie Monster actually never ate chocolate chip cookies! The cookies he eats are just rice cakes with brown spots painted on them.
That information was mind-blowing for fans! Twitter was 'on fire' for months, people were writing how they can't believe and they even compared it to finding out that Santa Claus doesn't exist. 'My whole life was a lie!' – wrote one user. Although, Cookie Monster really likes and eats chocolate chip cookies. He also often posts them on his Twitter profile. So, follow our recipe and treat yourself!
As Cookie Monster would say: Good day? Eat cookie. Bad day? Eat cookie.
Quotes
Cookie Monster is really amusing and it would be such a pity if you don't hear some of his quotes for the end of this article.
Count your cookies, not your problems.
Early bird gets the worm. But cookie tastes better than a worm. So me sleep in.
No cry because a cookie is finished. Smile because cookie happened.
Home is where the heart is. The heart where the cookie is. Math clear: Home is the cookie.
If sad, eat the cookie. If still sad, talk to the doctor. Sounds serious.
Be sure to subscribe to our newsletter by registering so that you do not miss any of our articles and insights.