There are many ways to enjoy Oreo cookies. One such way is to twist the cookies open before eating or dunking them into milk. Concerning statistics, around fifty percent of consumers eat their Oreo cookies this way. In the same sense, women are more likely to twist their cookies, contrary to men who mostly just pull the cookies apart.
Hello, welcome to the Biscuit People magazine, biscuit enthusiasts! We have a special treat for you today, as we will be talking about one of the most famous (if not THE most famous) cookie brands in history! That is right, we will be taking a look at Oreo, a milk-dunking cookie beloved by people across the globe. If McDonald's is the symbol of fast food and Coca Cola is the symbol of soft drinks, then Oreos are the face of the cookie industry. They are so simple yet so rich in taste that they can be used in a multitude of recipes. There are also several popular "ways" to eat them, such as by twisting the cookies, licking the cream and then dunking them into milk. There are some interesting facts connected to the way people eat their Oreo cookies, and these, along with many others, will be covered in the trivia section of this article. For starters, we will be taking a look at the Mondelez company and a little bit of its history. Then, after the trivia section, we will be following up with the list of ingredients and nutritional values of Oreo cookies - a type of rotary molded biscuit. Last but not least, we will end the article with the descriptions of the available types and flavours you can try. Enjoy!
A Look at Mondelez International
If you are interested in the history of Oreo cookies and wish to find out more about them, we already have an article about that! It is a quick and fascinating read with interesting information. You can find the article here. We will, however, focus on Mondelez International, an American multinational confectionery, food, and beverage company which owns Nabisco (Oreo). We will also focus on Sam Porcello, the inventor of the Oreo cookie crème-filling. As was already mentioned, Mondelez International is an American multinational confectionery, food, and beverage company based in Illinois. The company employs tens of thousands of people all over the world, with a staggering annual revenue of twenty-six billion dollars. Concerning the company's name, it is a nonsense word. It is a combination of the words mundus and delez. Mundus is a derivation of the Latin word for "world", while delez is a modification of the world delicious. In this sense, Mondelez could be translated as "world of delicious".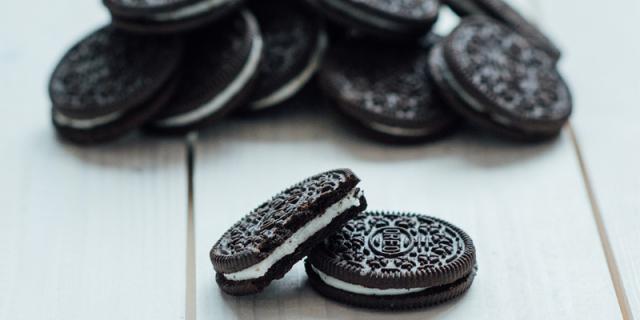 The company, which is based in Chicago, Illinois, manufactures an entire line of products, including: chocolate, biscuits, confectionery, cookies, gum and powdered beverages. Mondelez also owns other, world-famous brands such as Chips Ahoy!, Ritz, Triscuit, Club Social, Peek Freans, Toblerone, Freia, Fry's, Trident, Chiclets, Stride, Tate's Bake Shop, Belvita, TUC, LU, Barny, Milka, Dabury, Marabou, Lacta, Dentyne, Halls and others. A staggering number of subsidiaries, we know. Mondelez truly is an international giant, and as such, enjoys a place in the "Fortune 500" list, the world's leading companies in terms of wealth and annual revenue. Last year, Mondelez International ranked as the one hundred and seventeenth largest United States corporation.
Although the company is based in Chicago, Illinois, and operates in over one hundred and fifty countries across the globe, its second headquarters is located in Mississauga, Ontario, under the leadership of the Canadian division of Mondelez. The Canadian branch also owns famous Canadian subsidiaries, such as Dad's Cookies and Mr. Christie.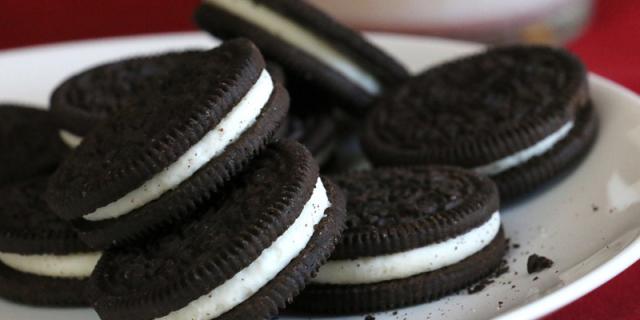 But how did Mondelez International come to be such a giant name in the food industry? The history of the company begins in the first half of the twentieth century with National Dairy Products Corporation, or National Dairy for short. It was a company founded by Thomas H. McInnerney and Edward E. Rieck on 10 December 1923. The company was founded with a single task in mind; to acquire a large number of businesses using a rollup strategy.
You have probably already guessed what kind of a business strategy it exactly is. To give you some historical context, the 1920s in US history are known as the time of the "The Great Depression". The country encountered great economical strife, and many companies went out of business. The majority of the population had to live in very poor conditions, but as the saying goes: "One man's misfortune is another man's fortune". Thus, there were many people who went "from rags to riches" by acquiring a large amount of capital.
Thomas H. McInnerney and Edward E. Rieck were such people. Their strategy proved to be a great success, as they were able to expand their acquisitions into a full range of dairy products. The company grew quickly, gaining a place on New York's Wallstreet stock exchange, with many investors growing the business into the corporate giant it is today.

A Quick Biography of Sam Porcello
Although the company that owns Nabisco and Oreo was founded by somebody else, the most important figure behind the product might very well be Samuel J. Porcello, or Sam Porcello for short, the inventor of Oreo's cookie crème-filling. Sam Porcello was an American food inventor who was born on 23 May 1935 and worked with Nabisco for thirty-four years! He alone held five different patents, all of which were related to the delicious Oreos. For his work on the cookie, he was nicknamed "Mr. Oreo" in honour of the invention of the cookie crème-filling.
Although Mr. Porcello is a decorated food scientist, his first foray into the business world was in the cosmetics industry. Unfortunately for him (and fortunately for the rest of us) he was rejected; therefore, he went to work for Nabisco, where he was promised a high salary and good working conditions. Mr. Porcello started his career in Nabisco at the company's plant in Fair Lawn, New Jersey, and was transferred to the research and development department. This department is responsible for the creation of new types of snacks, and it is here that Mr. Porcello created the recipe for the Oreo's crème-filling, which has seen minor adjustments to this day.
Except for the crème-filling, Porcello also developed Oreos enriched with white and dark chocolates. He was also considered one of the world's leading experts in cocoa. Although the company had already sold a huge amount of Oreo cookies since its inception in 1912, the company and its brand, Oreo, probably own their success to Mr. Porcello and his cookie crème formula.

Interesting Trivia About the Oreo Cookies
With such a popular cookie as Oreo, there is sure to be an abundance of interesting facts! Here are some of our favourite facts that we have compiled into a little trivia for you.
Did you know that there is an entire street named in honour of the Oreo cookie? Neither did we! It is located in New York in what used to be the West Fifteenth street, on the intersection of the Ninth and Tenth Avenues. The street now bears the name Oreo Way in honour of the first Nabisco factory that opened there, and the first Oreo cookie ever produced!
As we already know, Nabisco is a subsidiary of Mondelez International, which is a company that operates in over a hundred and fifty companies across the world. As such, it is no wonder that the famous Oreo cookie is available in over a hundred countries across the world. There is a high chance you will come across these cookies on your travels, even when visiting more exotic countries, just as you would have in your local supermarket.
The number of Oreo cookies that Nabisco produces every year is truly extraordinary. Mondelez, and in turn, Nabisco, have factories operating in eighteen countries around the world. These factories produce a total of forty-two billion cookies PER YEAR! Can you just imagine the sheer magnitude of so many Oreo cookies? To better illustrate this fact, such a number of cookies is enough to circle the world five times over!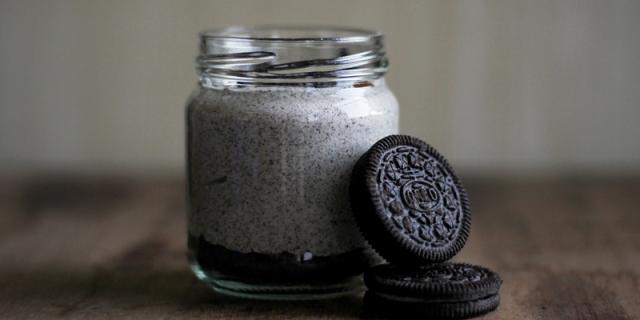 As we have briefly mentioned in the beginning of the article, there are many ways to enjoy Oreo cookies. One such way is to twist the cookies open before eating or dunking them into milk. Concerning statistics, around fifty percent of consumers eat their Oreo cookies this way. In the same sense, women are more likely to twist their cookies, contrary to men who mostly just pull the cookies apart. Back in 2004, there was a survey conducted by Kraft Food with two thousand participants. What Kraft Foods found out was quite interesting, to say the least. They discovered that the people who dunk their Oreo cookies in milk are generally energetic, extroverted and adventurous. People who twist their Oreo cookies are usually emotional, sensitive and artistic. The simple biters are confident and optimistic. Funnily enough, they also discovered that Republicans like to dunk, while Democrats like to twist!
Not only is Oreo highly successful in the biscuit industry, its social platforms are no joke either. The official Oreo Facebook page currently has over forty-two millions likes! Amazing. This places Oreo on the top ten brands chart in terms of Facebook likes.
Also, not only has Oreo produced more than four hundred and fifty billion cookies up until this point, they also hold the record for the world's largest blind taste test ever! Ten years ago, back in 2009, Nabisco held a blind taste test in Madrid, Spain. One thousand, four hundred and seventy-one people participated in the event where they tried to discern Oreo cookies from imitations. They were also given a glass of milk for dunking!
Last year, Oreo cookies brought Nabisco a profit of almost three billion dollars. As the official site says, they must be doing something right!
As for the flavours of the cookies, Oreo originally debuted with not one, but two different flavours. These were the classic run-of-the-mill chocolate-flavoured cookies and lemon meringue flavour, back in 1912. It's important to note that the lemon meringue flavour was not particularly… popular and was thus discontinued. As a final fun fact, it takes up to two hours to make a single Oreo cookie!

The Ingredients, Nutritional Value and Types of Oreo Cookies
If you are reading this article, then you are probably interested in the ingredients that go into the baking of these cookies, their nutritional value and the different types and flavours you can try out. First and foremost, Oreo cookies are very delicious, and are vegan friendly. That is right, the Oreo cookies do not use any animal products what-so-ever. Nabisco also removed animal lard from their recipe, making it a good kosher snack as well.
As for the Oreo cookies recipe, it has remained mostly unchanged since its creation. Numerous new flavours have been released over time, but the standard Oreo cookie recipe uses these eleven main ingredients: sugar, high oleic canola or palm oil, high-fructose corn syrup, corn starch, soy lecithin, chocolate, unbleached enriched flour, cocoa, leavening agents such as baking soda or monocalcium phosphate, salt, vanillin extract and palm oil.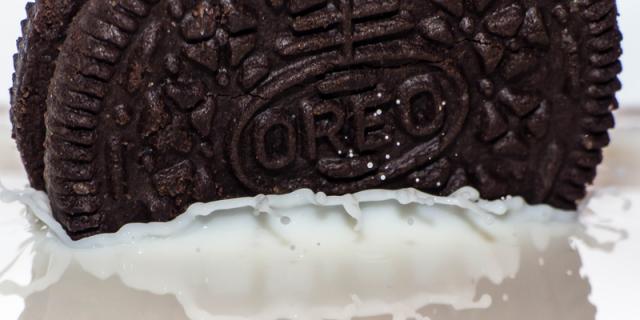 If you are worried you might put on a little weight from eating these delicious little devils, do not fret! Oreo cookies are very diet-friendly! A pack of six Oreos contains two hundred and seventy calories, which means that each cookie has about forty-five calories. Twenty-seven come from carbohydrates, sixteen and a half from fat, and one and a half come from protein. If we take into consideration that the average human being should consume up to two thousand calories per day in order to lose or retain their current weight, we can see that the cookies are quite light. You can easily fit them into your dietary plan and enjoy them with a cup of cold milk!
The classic Oreo cookie is probably the most famous and most popular type of Oreo cookies available. But, if you are feeling adventurous, you can try some of the other flavours that Nabisco produces. For example, there is the Double Stuf Oreo, with a doubled amount of cookie crème-filling. There is the Football Oreo, which is shaped as an, you guessed it, American football. There is the Golden Oreo with golden vanilla wafers on the outside, available in a large variety of flavours. For those looking for a quick desk-job snack there is the bite-sized Oreo mini, perfect for carrying around in your briefcase or backpack. Mega Oreo Stuf is basically the same as Double Oreo Stuf, but with even more filling! Oreo Thins have been around for four years, and, contrary to the larger version of the standard Oreo cookies, are its thinner cousins. Chocolate and Mint Oreos have their respective crème-fillings, and last but not least, The Most Stuf! This baby has four times the amount of crème-filling than the standard Oreo!
Oreo: The Most Famous Cookie of Our Time
Who does not know about Oreo? These delicious little cookies can be seen everywhere, from the ads on our TVs, to billboards and shelves of our supermarkets. They are found in over a hundred countries across the world and most people have tried them at least once in their lifetime. They are very simple, yet very tasty, the number of recipes they are a part of is proof to that. The annual revenue they bring in is also a testament to Mr. Porcello's recipe, which is enjoyed even today! We hope you liked the article; we are about to go out and grab himself a pack of Oreos. We hope you do to and enjoy them with a nice glass of milk!
Be sure to subscribe to our newsletter by registering so that you do not miss any of our articles and insights.