Ferrero has recently expanded into the biscuit industry and they have done so in style. The Nutella biscuits are tremendously good-looking biscuits
We have prepared a very special treat for today's article, something that has only recently started making headways in the biscuit industry… we are talking about Nutella biscuits!
Do they sounds familiar? Well, don't worry if they do not. They are a recent invention from the Nutella brand by Ferrero which is famous for making the delicious Nutella cocoa-hazelnut spreading that we all love and adore!
Ferrero has recently expanded into the biscuit industry and they have done so in style. The Nutella biscuits are tremendously good-looking biscuits, and we are sure they are as equally as tasty! We are glad that today we have a chance to write about these biscuits and bring you all the necessary information about them!
We will, of course, start with the biscuits themselves. We will see what Ferrero has to say about them, as well as their ingredients and nutritional values. We will also see if they are consumer friendly, and, of course, by the end of the article we will also take a look at Ferrero itself, as no biscuit article would be complete without talking about the biscuits' creator!
Nutella biscuits: Shape and ingredients
That is a lengthy title, but we assure you, this next section of the article is brimming with a plethora of useful information on the Nutella biscuits! Our aim was to gather and write all the necessary information here so that you can see if these biscuits are up to your taste and safe for your consumption. We hope that the info below will prove invaluable should you decide to do further research on them.
But enough about the formalities, let us get down to the biscuits themselves, shall we? We will talk about the shape of the biscuits first, because looks matter, don't they? Well, they matter enough to garner one's attention. But what is on the inside is what matters, in our opinion. However, when it comes to looks, the Nutella biscuits take the top spot.
Nutella biscuits are circular biscuits with a Nutella filling inside. They are very similar in appearance to sandwich biscuits, although they are not "sandwiches" per se. They appear like such, but they are not made-up of a pair of biscuits with a crème filling in-between. Rather, the Nutella biscuits appear as moulds that are filled-up with the Nutella crème.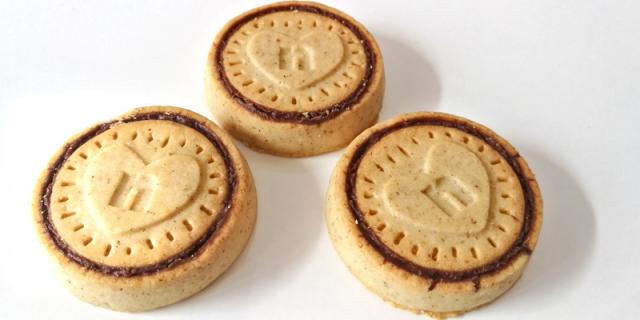 These "moulds" are then pressed with other biscuits. These are engraved with a heart, hence the title – "biscuits with a heart". The Nutella biscuits are very unique in shape, but in a good way. They appear tantalizing and delicious, and we would wager they taste the same. A quick run to the nearest market will solve that mystery.
But what are these biscuits exactly? We have dealt with their shape, but what about their definition? Well, as far as Ferrero is concerned, Nutella biscuits are delicious, crunchy biscuit made out of wheat flour and sugar canes. The Nutella-heart is their trademark, and it ensures that they are filled with their unmistakable and globally popular Nutella filling!
As for the ingredients list, the Nutella biscuits employ a large variety of ingredients. The first major ingredient on the list, one that gives them their recognizable taste, are the hazelnuts! Hazelnuts, along with cocoa crème, comprise around forty percent of the entire ingredients list.
Next, we have the staple ingredient – sugar, along with the exotic-sounding palm oil. Up next, we have the powdered milk, which comprises around 8.7% of the ingredients. Then we have low-fat cocoa and emulgators – soy and vanilla. Further on, the biscuits use wheat flour, along with herbal fat made from palm seeds.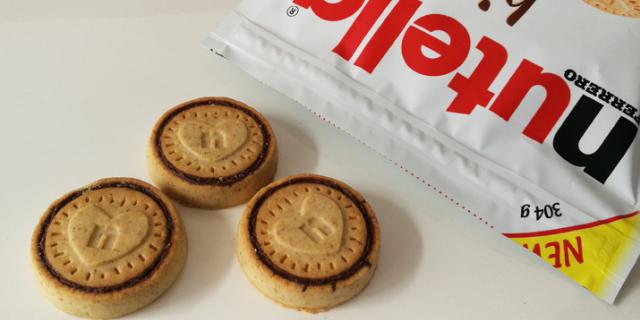 As the biscuits are advertised as being made out of wheat flour and sugar canes, it is only natural that sugar canes would actually be a part of their ingredients list. Sugar canes comprise around nine percent of all the ingredients. Lactose is also present in the biscuits, as well as barley and corn. Honey is another staple ingredient, which is very heathy for one's overall health.
The biscuits also use leavening agents for the baking process, such as the ammonium bicarbonate and natrium hydrogen-carbonate. The biscuits are then further enhanced with added low-fat cocoa, salt, wheat, barley flour, sweeteners and other extracts.
There are many allergens present in modern snacks and biscuits. Many people, unfortunately, get allergic reactions when they come into contact with such ingredients. For example, gluten is a hotly-debated ingredient in the biscuits industry. Many people are intolerant towards gluten, hence the so many "gluten-free" products.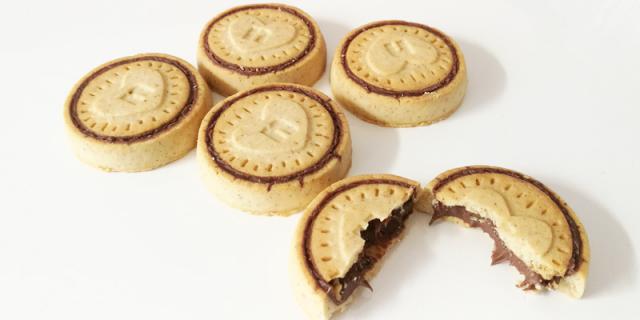 The purpose of writing about the ingredients in the Nutella biscuits was for you to be able to check if they are safe for your consumption. None of these ingredients are harmful or dangerous. It is just that some people might be intolerable to some of them. For instance, these biscuits contain lactose, so they are not suitable for people with lactose intolerance.
Our aim with all of our articles is to provide you with the maximum amount of information possible, so that you are always safe knowing that what you are eating is good for you. If the ingredients in the list are not dangerous, we highly recommend you try them out. They look and taste amazing, so chances are you will get hooked on them!
The next section of the article will deal with the biscuits' nutritional values.
Nutella biscuits: Nutritional values
Proper nutrition is everything. In a world where people lead very busy lifestyles, it is important that we have access to snacks that are both tasty and healthy. But it can be sometimes hard to achieve both. But, moderation is everything. Anything can be taken or consumed if enjoyed moderately.
However, even if you are on a diet you can still take a couple of these biscuits to satiate your need for something sweet. A couple of biscuits go marvellously with a glass of cold milk or a cup of warm coffee. As we have said, moderation is everything, and you can enjoy all of your favourite meals and biscuits if you keep track of your daily caloric intake.
A hundred grams of Nutella biscuits also contain 24,5 grams of fats of which almost half are saturated fatty acids. There are also 63,3 grams of carbohydrates in them, half of which are made-up of sugar. As for some other values, there are also 8.4 grams of protein and half a gram of salt.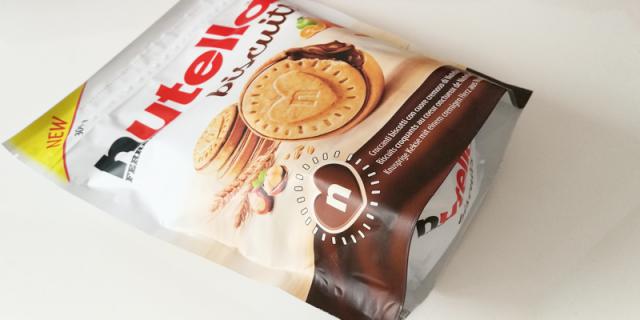 When it comes to packaging, there is (sadly) only one size available currently. According to the modern trends in the industry, package size is very important for millennials which comprise the majority of the consumer base. We have written an interesting and informative article on these trends, Millennials and their Consumer Culture.
We hope that, in the near future, Ferrero will release more, different-sized packages for every occasion. After all, it is much easier to pack a bite-sized packaging of biscuits for work than an entire bag of these!
And that would be pretty much it when it comes to the ingredients and nutritional values of these biscuits. We hope that the information above has proved useful to you and that, if the biscuits are safe for your consumption, you will give them a chance and have a taste. We are sure you will not regret it.
As for the article, we would like to end it by taking a look at the company that produces these biscuits. After that, we will have a concluding word and that will be it from us for today!
Nutella biscuits: The Ferrero group and a concluding word
The Ferrero group is a group with a strong global presence that comprises a multitude of different famous brands. They have an impressive portfolio of products that includes brands such as Nutella, which has achieved a global status as one of the most beloved cocoa-hazelnuts spreads!
The Ferrero group manufacture and distribute their products to a dizzying amount of countries, over one hundred and seventy to be more precise. They seek to constantly expand their reach and increase to quality of their products, all for the consumer's satisfaction.
And with this, we would like to close the today's article. Nutella biscuits are a new hit in the biscuits industry, and we are sure that, as they reach more and more markets around the world, their fame will exponentially increase. We hope you have found useful information in our article, especially when it comes to the ingredients and nutrition.
Stay tuned for more articles soon!