Hello! Welcome back to the Biscuit People magazine. Now that the holiday season is over, it is time for us to get back to our usual topics. We have covered a large number of biscuit types over the holidays, so today, we have decided to write an article on Mayfair, a biscuit brand from Pakistan!
Unfortunately, we have not had the pleasure of writing about many biscuit brands (or biscuit types for that matter) from Pakistan. It is therefore our great pleasure to be able to write to you about Asian Food Industries, better known as Mayfair. As we have already mentioned, they are a biscuit brand from Pakistan with an impressive portfolio of biscuits and other confectionary sweets.
First of all, we are going to take a look at the company's portfolio of biscuits. There are a total of five different Mayfair biscuits that we are going to cover today, and these are: Café, Cremo, Chocday, Special and Zeera biscuits. After that, we are going to talk about the company itself, what they stand for, their achievements and future goals. But… without further ado, let us move on to the next section.
Mayfair: Asian Food Industries biscuits
Right, we are immediately heading for the good stuff. As a Biscuit Magazine, it is only normal that biscuits would interest us first and foremost. Of course, we also like to talk about the history and achievements of the companies that bake them, but biscuits take precedence.
What is important to note about Mayfair, however, is that the company does not solely produce biscuits. Mayfair also produces other confectionary sweets, but those are not of importance to us. We just thought it a good idea to point out the fact that they produce other snacks, should you happen to grow fond of their biscuits.
Luckily for you, there is a high chance these biscuits from the exotic east are available in your local market or supermarket. Asian Food Industries export their products world-wide. They export their biscuits and sweets from Asia to the United States and all points in between.
Right, with that out of the way, we can divert our focus to the first biscuit on the list – the Café biscuits. The Cafe biscuits are Mayfair's most popular biscuits with a sweet buttery texture that goes well with tea or coffee, as their name would imply! They are simple, circular, bite-sized biscuits with a flower pattern imprinted on top. They are available in 5 different packaging sizes, ticky pack, snack pack, half roll, jumbo half-roll, and family pack but one signature flavour. After all, you can drink different varieties of tea with them!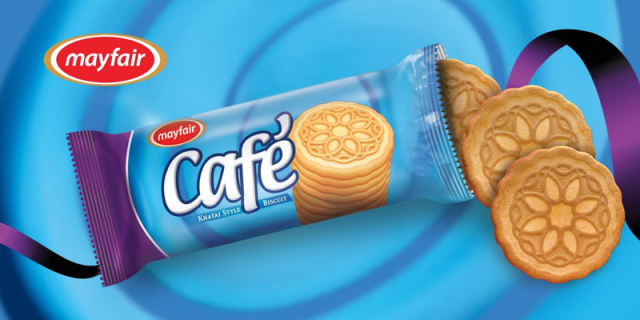 Figure 1 - Cafe Mayfair Biscuits
The next biscuit on the list would be the Cremo biscuit! These types of biscuits are very interesting. Cremos are sandwich biscuits with 4 different-flavoured options: strawberry, chocolate, lemon and banana. They come in four packaging sizes- and are very popular with children, who particularly like the cute mascots.
Figure 2 - Cremo Mayfair Biscuits
You might be wondering why we are so insistent on packaging size. Packaging might seem trivial when it comes to biscuits… after all, it is the biscuits that matter, right? Of course! But a good packaging can either make or break a brand, as we have argued in our Biscuit Packaging: Last but not Least article.
To make a long story short, biscuit packaging can influence our shopping decisions. When choosing between several different biscuits brands, we are more likely to choose the brands that appear more attractive. Attractiveness is, of course, subjective… however, there are still certain trends that heavily influence the biscuit industry and packaging.
These trends are set forth by the majority in the consumer base. The current consumer majority is made up of millennials, so they are the ones who set forth the modern trends in the biscuit industry. And package size is one of the important aspects of snacks and sweets, as millennials like different-sized packaging for different occasions.
For example, they like to have bite-sized packaging for office breaks or family packages to share with their loved ones. This is why we are so insistent on pointing out these things that might appear trivial to some. But… back to our overview of Mayfair biscuits!
The next biscuit on our list is the Chocday biscuits. These could be considered as biscuit sandwiches deluxe, and could make a great late night snack. They are made from a pair of biscuits with a filling in-between, but also covered with a chocolate coat. The come in two sizes- ticky pack and snack pack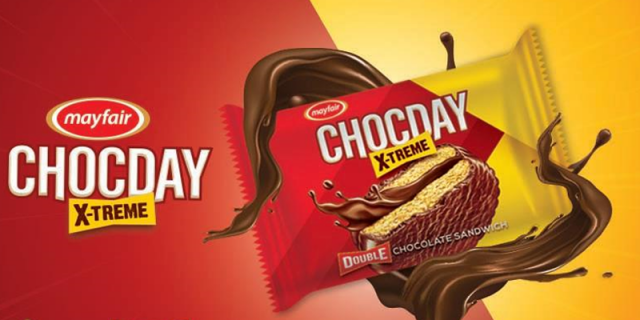 Figure 3 - Mayfair Chocday Biscuits
The fourth type of biscuit on our list is the aptly named "Special," and very popular complement to tea. In fact in Pakistan for most working people, 'Special with morning tea' can serve as a quick breakfast. These biscuits are made from fresh eggs and full cream milk, and although their name implies that they are made from an abundance of different ingredients, they are actually quite plain and simple (but tasty).
The Special biscuits are available in the classic and elaichi flavour.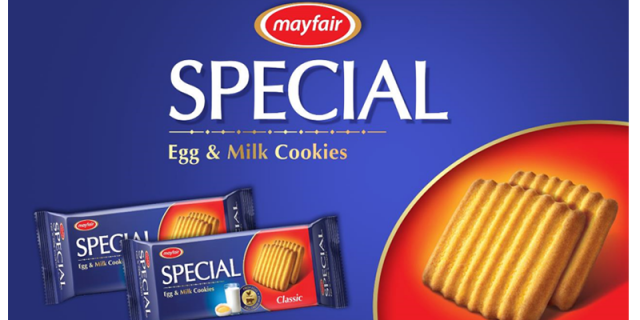 Figure 4 - Mayfair Special Biscuits
If you are wondering what elaichi is, it is actually cardamom. Cardamom is a spice made out of seeds from the Elettaria and Amomum families of plants. These plants are native to the exotic subcontinent of India and Indonesia. But enough about that… it is time to take a look at the final item on our list – the Zeera biscuits!
Zeera (or cumin) biscuits are advertised as on-the-go biscuits best for picnics. They are quite unique in their look and come in two very distinct flavours. These are the Zeera Royale and Zeera Kalonji (Cumin and Onion Seed) flavours. We believe that, since they are advertised as adventurous biscuits, Zeera biscuits are best suited for trips and outdoor activities!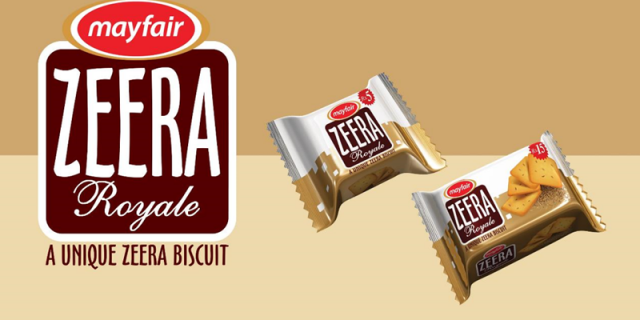 Figure 5 - Mayfair Zeera Biscuits
Last-but-not-least we have the Wow biscuits which are a hit amongst children. These are a bit over-sized biscuit shells with chocolate filling inside. They are available available in two sizes- of 5 and 10 pieces. It is used for light snacking in between meals or just for fun.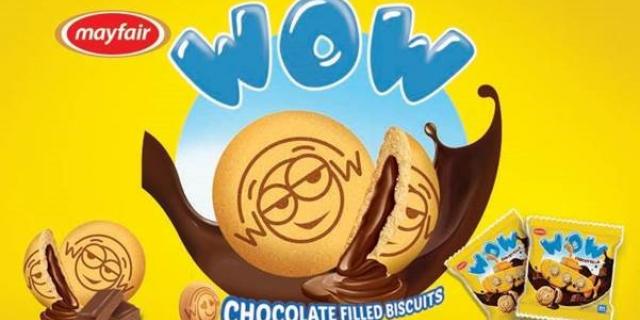 Figure 6 - Wow Biscuits
And with that, we have come to the end of our overview of the Mayfair biscuits portfolio. As you can see, they might not have the largest number of biscuits our flavours, however, sometimes… less is more. We believe that, what they lack in number, they more than make-up for with their taste. As we have said, it is worth checking out if your local store sells these brands, as they export to a large number of countries.
New innovation- and a hit with the kids- WOW, a bite sized biscuit shell with chocolate filling inside. It is available in two sizes- of 5 and 10 pieces. It is used for light snacking in between meals or just for fun
We would now like to take a look at the company's profile. Although we are a biscuit magazine first and foremost, we also like to learn more about the producers and distributors of all these amazing biscuits. So, what do Asian Food Industries have to say about themselves? Read-on to find out!
Asian Food Industries company profile
As you already know, Asian Food Industries is a company from Pakistan operating under the brand name Mayfair. The company was established back in the year 1969 and has brought joy to innumerable customers ever since.
We have previously mentioned that their biscuits and other confectionary products are enjoyed by people of all ages! It is not hard to see why when you take into consideration that Asian Food Industries was established back in the sixties. Many generations of Pakistani people have been born since then, and all have fond memories of their childhoods in which they enjoyed Mayfair products.
But the Pakistani are not necessarily the only people to have enjoyed biscuits during their childhoods. As we have previously said, Asian Food Industries export their products to a total of 20 countries across the globe. Neat!
Concerning the company's history, the Asian Food Industries was established by the late Mr. Mehboob Elahi. His objective, and the objective of his successors, is to both develop and produce top-notch confectionary sweets and biscuits.
This is an admirable goal, as catering your products to your customers is one of the key aspects to success. Taking into consideration proper food safety protocols is also important. The highest levels of food safety must be achieved. We have already mentioned the marketing trends in the biscuit industry connected to the majority in the consumer base. Now it is time to mention something about food safety.
Mayfair is the champion of the Pakistan food industry. And the term "champion" is not used whimsically. Asian Food Industries are champions when it comes to several different categories of sweets and confectionaries. For instance, they were the first company to introduce Bubble Gum, Chew and Deposited Candies to Pakistan.
Not only that, they were also amongst the first to receive the prestigious BRC certification for quality. Quite an achievement! This is further proof that the company abides by the high norms set forth by international legislations. On a side-note, if you want to find out more about food safety issues, you can do so by reading our Food Safety Briefing 2020: Food Safety Challenges article.
The title of the champion of the Pakistan confectionery industry has helped to install a major presence both in Pakistan and around the globe. They made their presence known with the "biscuits sandwiches deluxe", that is "Chocday" biscuits.
When it comes to Pakistan, Mayfair is one of the fastest growing player in biscuit category with Café, Special and Wow driving the growth. However, to stay ahead of the game Mayfair now aspires to join hands with a strong global company reputed for it pioneering categories, who may be looking to enter the burgeoning Pakistani consumer market with a reliable business partner.
This would be it for our overview of the company. Read-on for the concluding word on today's article.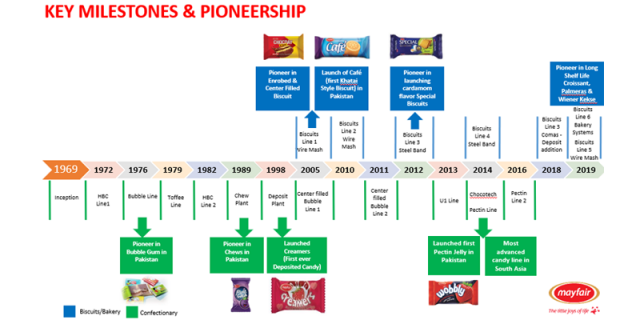 Mayfair: Asian Food Industries concluding word
And so, we come to an end on our first article on a biscuit brand from Pakistan! We hope you have enjoyed the article as much as we have enjoyed writing it, and that you have learned something in the process as well.
As can be seen from the article, Asian Food Industries is a respectable company with a small but impressive portfolio of products. They export to a large number of countries and their products are enjoyed by millions. We suggest you search your local store for Mayfair biscuits and see for yourself just how tasty they are! Until then, cheers!
Be sure to subscribe to our newsletter by registering so that you do not miss any of our articles and insights.