We have all witnessed significant lifestyle changes caused by the onset of a pandemic where people spent more time at home than ever before and when the importance of health and healthy living was emphasized. This was seen in all corners of society and the food industry was no different.
We are not here to talk about the pandemic but about the changes that developed as a result of the pandemic where new food products appeared, different ingredients used in recipes, consumer behaviours and trends that adapted to this phenomenon, and new innovations. Did you know: The food we eat is not only related to our physical but also mental health and Synergy Flavours presented The consumer trends for 2021 which are forecasted to appear into 2022 and beyond. The consumer trends for 2021 which are forecasted to appear into 2022 and beyond.
Synergy Flavours presents flavour profiles that, linked to 4 global consumer trends in the biscuit industry, will characterize Food & Drink new product development in 2021 and 2022.
This article is here for you too, whether you are working in a biscuit or food industry or you are just following a healthy diet, stay on track with innovations, changes, and challenges on the market.
Nostalgic tastes that remind you of your childhood memories, something innovative or unusual in your meals and biscuit baking process, giving power to plant-based ingredients that are more popular than ever, and last but not the least, even the most important thing to point out: Connecting mental health to your eating habits!
Stay with us and we will guide you completely with consumers' trends, ingredients, and new fancy tastes in the food industry.
COVID-19 pandemic changing consumer trends
Never before have we seen consumer trends so strongly correlated to one critical event: The Covid-19 pandemic.
The Covid-19 pandemic has pushed consumers on a global stage to focus on their small world and community while becoming aware of the importance of health and wellbeing for themselves and their families.
People staying at home, spending more time with their loved ones, in everyday life that has never been more uncertain and at a time when health has become more important to us than ever, has led people to view health and wellness and what their food intake in a completely different manner.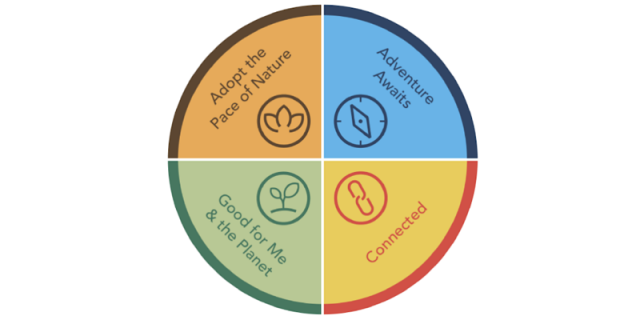 4 MAIN INSPIRING TRENDS FOR 2021-2022:
Adopt the Pace of Nature

Good for Me & the Planet

Adventure Awaits

Connected!
What do these trends stand for?
Trend 1: Adopt the Pace of Nature
A greater sense of wellbeing, with a pace in harmony with Nature. People tend to have a proactive approach to health rather than a reactive one.
From inside and out
Breathe deeply
Our bodies are our gardens
Adopt the Pace of Nature: Our body is our garden – take care of it!
The pandemic has exacerbated consumers' focus on health and wellbeing – particularly claims around immunity and gut health
• The lines are now being blurred between supplements and functional food and drink
• Protein fortification continues to grow in the food & drink market
Immunity claims have been introduced across many categories, including fresh (mostly citrus) fruit in your diet and making people focus on including citrus fruit as an ingredient in baking other recipes, even desserts.
Building a strong immunity system is more important than ever so fresh fruit and vitamins are a necessity.
Digestive health:
Important to point out: Digestive health claims started in dairy, now moving on to more categories. Proteins are important for a long time now, making their way in the food and biscuit industry more and more.
In a healthy body is a healthy mind: Breath deeply, relax and focus!
61% of US consumers state that the pandemic has caused them concern for their mental health, FMCG Gurus
• People are being much more proactive about their health – thinking more long term
• Current busy lifestyles & influenced by the pandemic forcing consumers to slow down and pay attention to their mental health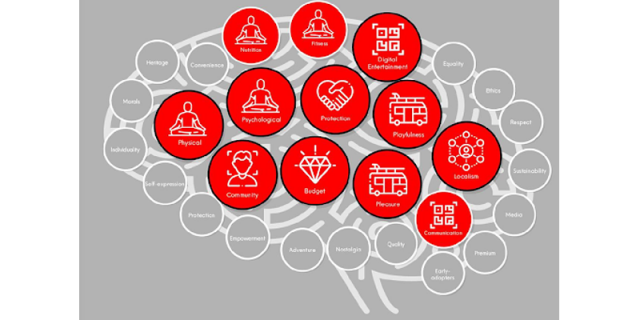 Beauty from the inside out!
• Increasing links between diet and skin's appearance are causing a wave of innovation in the functional space
• Consumers are simplifying the foods they put into their body by focusing on natural ingredients
• The fad diet is out and well-balanced health and wellbeing are in!

The 8 Best Natural Ingredients for Your Skin
Beta carotene.
Green tea extract.
Licorice.
Oats.
Soy.
Vitamin C.
Willowherb.
Witch hazel.
Trend 2: Adventure Awaits
There is a whole world out there for consumers to rediscover. Recreate favourite food and drink experiences from their home.
World on a plate
Masters of Mixology
Burgeoning Baristas
Food can be adventuristic – believe it or not!
Do you like to explore other cultures or do you usually stick to safe old habits? There is no wrong answer! All of us do it the way we used to, but research has shown that the pandemic has led us to explore and try new flavours more than ever before. Chinese, Mexican, Thai, or Turkish cuisine? What is your go-to choice or how far would you go with trying unusual tastes or the most unusual cookies in the world?
Consumers are branching out and trying a broader range of international cuisines. Sri Lankan, Korean, Japanese, Mexican, and the Mediterranean are the new emerging trends that have been popular with consumers in 2020.
Who wasn't baking in quarantine, admit it? As internet data showed, people were mostly baking oatmeal and raisin' cookies during quarantine reiterating the fact that the trend of exploration is growing all the time.
54% of consumers are saying that they are cooking more and 46% saying that they are baking more.
45% of consumers are looking for inspiration to try more recipes and new foods.
45% increased on a cooking video watched on Youtube compared to 2019 globally.
Instagram Trend Hashtags in Baking:
Top hashtags
#bakery #bakerybusiness #bakeryproducts #snacks #cake #chocolate #food #instafood #pastry #cookies
More hashtags
#foodporn #chocolatecake #dessert #baking #foodie #cooking #coffee #bread #baker #chef #bakers #homemade #cakes #bake #cafe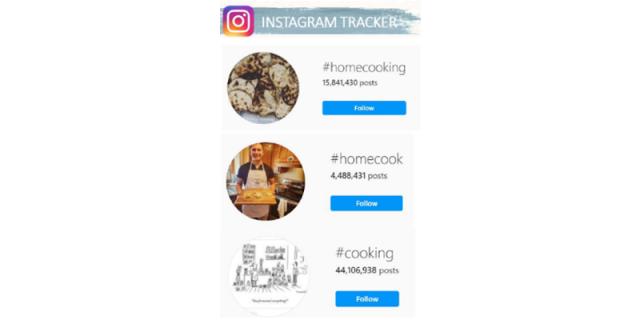 Extra tip:
• The pandemic has allowed consumers to explore ways to create their favourite foods & drinks experiences at home
• Consumers' rejuvenated a love of world cuisines, premium drinks, and barista-quality coffee will continue into the outside world
• There's a whole world out there on our plate to rediscover!
Travelling and adventuristic food
Oh how much we missed traveling! Travelling is closely connected to trying new tastes.
THE EVOLUTION OF FOOD TOURISM:
| | | |
| --- | --- | --- |
| 2001- 2012 | 2002 – 2018 | 2018 – 2020 (Before COVID-19) |
| Food tourism is not monetized as a tourism activity | Food tourism began to catch on as a mainstream interest with the help and exposure from social media and television show | Food has finally become the main motivation for a traveler when choosing a destination – more time and money spent on food and beverage experience |
Coffee and biscuits are best friends: Upgrade your coffee for the perfect treat!
As you surely know and as you could read by now in many of our articles, many biscuit types pair perfectly with coffee during your morning or afternoon snack. There are also "dunking biscuits" - when you melt the biscuit with the taste of coffee, you get a completely new, magical taste that melts in your mouth.
That is why the choice of what you drink affects the complete experience of your afternoon sweet treat. Also, during the lockdown when we could not drink our favourite coffee from the cafe but only the one we make at home, 34% of people said they experimented with taste and tried to make a different coffee or the most similar to the one they could only get at their favourite bar.
Lockdown restrictions have forced drinkers around the world to become their baristas!
Trend 3: Good for Me & the Planet
Consumers are more and more aware of the impact on the planet, of what they do and what the broader community does. It is a mutual relationship.
Power to the plants
Plentiful Planet
The taste of nature
Power to the Plants
Many meat-based products have their plant-based substitute to which people are increasingly turning and choosing as their first choice given the increase of awareness about a healthy and natural diet full of fiber and vitamins.
The plant-based meat elective market is forecasted to reach $8.3bn by 2025.
Current data shows that fish alternatives account for around 1% ($9.5m) of plant-based market, so there is huge space for development! A UN report assessed that 33% of the world's fish is unreasonably sourced.
24% of buyers surveryed by Synergy would like plant-based dairy products to taste more like thier full dairy counterparts.
Shoppers and restaurateurs have received a more nearby mentality because of the pandemic and being restricted to their homes, compelling them to live on what is close to home. A few eateries are currently embracing hyper-neighborhood techniques where fixings are just sourced from inside a 5-mile span.
The vegan cheese market is forecast to grow at a CAGR of 7.96% between 2019-2026 Over half (57%) of global cheese flavoured products with a vegan claim are crisps/snacks.
>
Source (Mintel 2021)
Plentiful planet: local heroes saving our living place!
Globally, 55% of consumers are more concerned about the environment following COVID-19, which has translated to 35% of consumers saying they pay more attention to sustainability claims.
Consumers are picking local produce more than ever before!
Consumers and restaurateurs have adopted a more local mindset as a result of the pandemic and being confined to their homes, forcing them to live on what is available on their doorstep.
Did you know: Some restaurants are now adopting hyper-local strategies where ingredients are only sourced from within a 5-mile radius.
Cereals/Biscuits and beer! What a combination, huh?
Kellogg's has expanded a collaboration with UK brewery Seven Bro7hers to convert its rejected Rice Krispies and Coco Pops breakfast cereals into beer. Sling It Out Stout uses 80kg of Kellogg's Coco Pops to replace malted barley, creating a chocolate flavour.
In 2019 Kellogg's collaborated with One Drop Brewing Co. to create a special restricted version of Kellogg's Corn Flakes Beer.
A scrumptious and new interpretation of an Aussie top choice, Corn Flakes Nitro Milkshake IPA lager is the ideal mix of fruity and rich - a full-bodied sweet brew with the right cut of hoppy sharpness.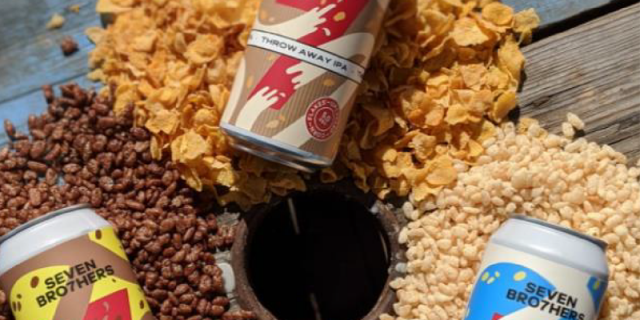 The taste of nature – a form of care
Coronavirus has accelerated an all-around developing pattern towards natural products. Around the world, purchasers see natural products as being characteristically more grounded than their non-regular partners.
With a drawn-out center around wellbeing anticipated, more natural products are going to keep on developing.
Trend 4: Connected!
Consumers' understanding of the community has been strengthened. They're craving human connection, interactions and to create and evoke memories.
Modern Nostalgia
Fancy Flavours
Valuable Essentials
Better together – everything is easier with your loved ones
Customers' comprehension of the local area has been reinforced by Covid-19. They're longing for human association and collaborations like never before. We are seeing networks meet up to commend key specialists, give to those in most of need and help battling businesses and private ventures.
Just as this has given a chance to both make furthermore, summon recollections; in this way, we feel nearer to our families, and different occasions/ages.
Food, drink, and foodservice brands can exploit this situations as interests to which customers can attach their characters and offer novel approaches to support one another.
Nostalgia comes in waves, particularly at times of uncertainty. Research shows that food consumption is one area that's most likely to remind us of our past (Research Gate, 2014).
The period of uncertainty we have all gone through in a pandemic has led us to probably think more than usual about past times of freedom. Admit it, what did you miss the most in the lockdown? Clubbing, parties, or dinners at restaurants while meeting old friends you haven't seen in a while?
Whatever your choice, there is no doubt that your palate also craves certain flavours, so many have resorted to the old recipes of their grandmothers, but also explored how to make a favourite dessert or biscuit that they eat in their coffee shop or pastry shop.
Did you know: Our palate remembers tastes well, and tastes are deeply connected to memories. A certain smell of food or especially biscuits as our grandmother made will instantly take us back to our childhood and the day we spent our days with her. Pandemic brought that back like never before!

The image above shows the increase in Google searches of ""the 1980s" and ""the 1990s" since 2014 - Source: Google searches (2021)
Viral online and social media trends in hashtags:
#throwbackthursday
#grandmomrecipes
#childhoodmemories
Nostalgic flavours examples: Birthday cake flavour, the childhood-inspired flavour is taking a big slice of the retail market in Kansas City, which is showing up in cereal, chocolate, popcorn, and coffee creamer.
White rabbit candy, a milk candy, was popular in China and Asia between 1980 - 1990. It has been relaunched in ice cream and bubble tea milk drinks.
Keeping it fancy!
Not only flavours are those that bring our memories back but also our favourite TV shows and cartoons. You can have both at the same time! Merging flavours with cartoons is also a great way to keep up with the following trend. Of course, talking about biscuits and TV shows we bet we first thought about the same thing – Cookie Monster and The Sesame Street! Chocolate chip cookies, mmm! Never-ending trend and a cookie we would always go for.
On the contrary, the need to escape reality, awake to new adventures can be greater than anxiety and inspire people to look for a sparkle, an exotic flavour, an intriguing pair. Toys, books, and narratives in general often connect different generations as they are childhood fantasy classics (Dinosaurs, Unicorns, My Little Pony, Mermaids, Harry Potter...).
Social media helps the connection between generations by facilitating the exchange. We see this is easily happening in Food & Drinks and will continue to happen because it will help us overcome the difficulties of the pandemic.
Ideas for ''nostalgic'' biscuits that bring memories back:
Pettit Beurre biscuits – classic we always stick to
Jaffa Cakes – fruity taste + biscuit + chocolate = is there a more heavenly combination of all-time favorites?
Jammie Dodgers – Even our grandmas used to make those great combinations of biscuit and jam
Wagoon Wheels - The free thinker of the biscuit world with an epic feeling of experience. Having been a lunchbox top pick for ages
Rich Tea biscuits – perfect for dunking into tea!
Were you ''panic buying'' flour and essentials?
In post-Covid 19 monetary emergency, a few consumers will be confronting consumers vulnerability, they will become zeroed in on negligible utilization and getting what is fundamental and most important items from their purchases, for example, items that offer moderateness, comfort, security, assurance, and strength.
With regards to food and beverages, buyers became more mindful of this frenzy purchasing and began using the fixings that were left in their cabinets to make dishes and sweets.
Enhancing the center flavours by showing an assortment of employment and plans/applications that one fixing/flavour can do.
*Aside from plain flavour, the classic/traditional flavour for food and beverage are chocolate, strawberry, orange, vanilla, and lemon.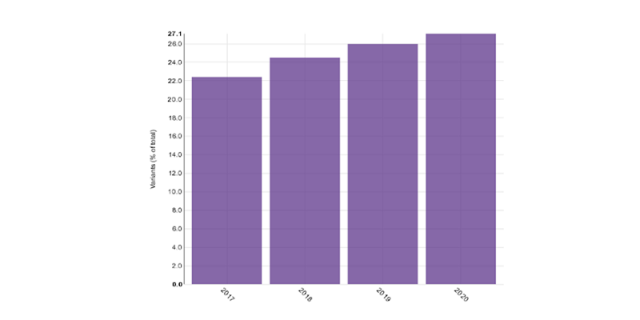 Food & Drink product launches with Economy claim globally (2017-2020) – Source: Mintel GNPD
Nostalgic, fantasy or plant-based?
Which one is your go-to choice? Are you keen on experimenting with tastes or would you rather stick to good, old nostalgic favorites?
Moreover, if you are a manufacturer, we hope that we managed to help you with exploring the market and keeping up with the innovations which you could include in your products. Which taste would you pick?
If you have any other questions about mentioned trends you can always contact directly Synergy Flavours. Enjoy your treats!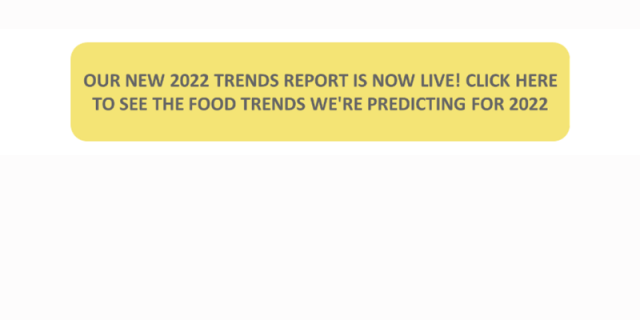 Be sure to subscribe to our newsletter by registering so that you do not miss any of our articles and insights.