Have you ever wondered how chocolate machines work? Or maybe you're looking for some high-end machinery to help your biscuit business? If that's the case, then we have a great article in store for you. Introducing Gocmen Machinery, a Turkish company specializing in wafer production, chocolate coating and processing machines.
If you're looking to start-up your own business, then you need some heavy-duty machinery to help you on your path to success. Most modern-day biscuit brands have their own automated factories where they produce enormous amounts of biscuits. Biscuits, wafers and other confectionaries are always in high demand, so investing into this market is a safe choice.
However, there is a lot of competition, with different brands vying for new consumers all the time. You're going to need to stand-out amongst so many innovative and creative biscuit brands, but you're also going to need a sound infrastructure in order to make your ideas a reality.
And when it comes to infrastructure, you should look no further than Gocmen Machinery. In today's article, I will be reviewing the company's products which include wafer production, chocolate coating and processing machines, which are all great additions to any biscuit-manufacturing business.
Chocolate is a staple ingredient in many biscuits, be it homemade or store-bought. That's why I'll also be taking a look at their chocolate processing machines. So, let's see what makes Gocmen Machinery products so special and how they fare compared to others, shall we?
Gocmen Machinery: Overview of their machines and what they do
I thought it'd be a good idea to start with an overview of what the company has to offer. As already mentioned, Gocmen Industry specialize in wafer production, chocolate coating and processing machines. The first range of products I'll be taking a look is the wafer production line.
Wafer production lines
If you're looking for some quality wafer production machines, then look no further. The first product on this list is Gocmen's wafer baking oven, which is quite similar to Biscuit Baking Tunnel Ovens. These ovens were designed for producing large quantities of wafer sheets which can then be filled with different types of fillings, such as chocolate for example. They come with Gocmen's baking tongs, which are specially designed by the company.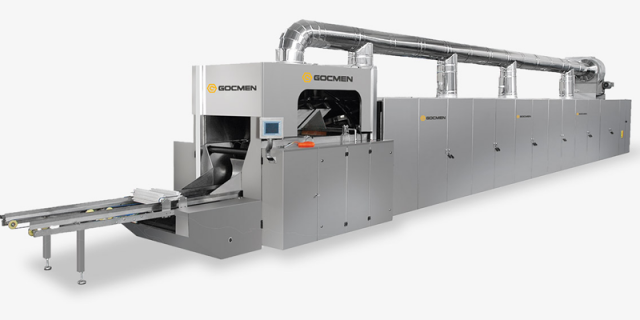 Figure 1 - Gocmen Wafer Baking Oven
The plates in the wafer baking oven can be customized any way you want. You can order different plate sizes with specific patterns. The ovens also have sturdy, solid main structures with integrated inner cabin lighting. When it comes to maintenance, the oven requires very little effort, as the oven has both the lower cleaning knives with a chain system as well as plate cleaning brushes.
Another great feature of Gocmen's wafer baking ovens is that they don't consume a lot of energy. Besides that, all lids are easily opened, which means that all areas of the oven are easily reachable for any necessary cleaning or repair. Not only do the ovens not consume a lot of energy, you can also manually turn them in case of power interruption, so you never have to miss your daily production quotas.
Although you won't have to worry about maintenance too much, in case you have to, all Gocmen wafer baking ovens, as well as their other products, are easily maintained and lubricated. The plates in the oven are of high quality, as well as being chrome coated. They can be easily adjusted so that you can bake wafers as thick or as thin as you need them to be.
The oven is also suitable for two Types of Heat Transfer: propane or methane gas. All ovens also come with the necessary safety equipment, as well as mechanisms such as automatic heat adjustment, fully automatic firing, stopping at power interruptions, exhaust gas eliminating fans etc. And these aren't even all the features! Gocmen baking machines are of truly marvellous design; with them, you'll be baking Wafers in no time.
If you wish to find out the price of these wafer baking ovens (or any other product in this article) you can contact the company directly. The link for that will be available at the end of the article.
Next up, we have the wafer sheet coolers. These machines go hand-in-hand with the aforementioned wafer baking ovens, as they were designed to cool wafer sheets coming out of the automated wafer ovens. There are two models which you can order, the G-WCT-M medium and G-WCT-S small wafer sheet coolers.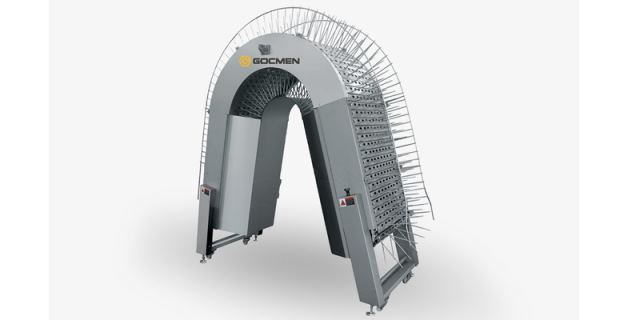 Figure 2 - Gocmen Wafer Sheet Cooler
The wafer cream spreading machines G-ACD are another great product in Gocmen's wafer baking range. These machines were designed to spread cream or other substances on the wafer biscuits sheets made in the baking ovens. There are two methods in which this can be done, either through contact or through film.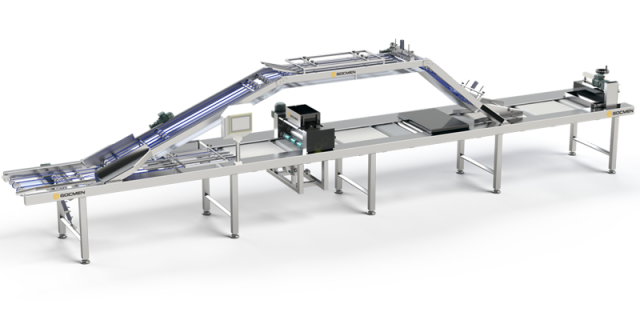 Figure 3 - Gocmen Wafer Cream Spreading Machine G-ACD
The spreading machines also have full touch screen and PLC control. You can spread the cream in any amount of desired layers as you want, as well as in single colour or double. Hazelnut droppers and weight measurement can additionally be added.
After you've baked your wafers and filled them with cream, you're also going to have to cool them off once more. That's where the Gocmen block cooling tunnel comes into play, as it's a tower-type tunnel used for cooling wafers. It has two modes of cooling, either tower vertical or spiral.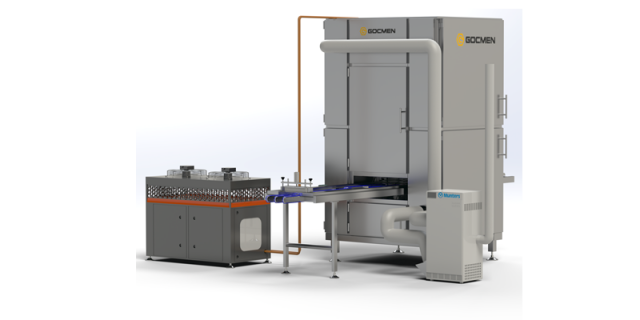 Figure 4 - Gocmen Block Cooling Tunnel
Additional features include precise heat control, internal lighting, external surveillance along with surveillance lids, as well as air channels inside the tunnel for homogenous cooling. Optionally, you can also order some dehumidifier units.
After you've made wafer sheets, filled them and cooled them off, you're also going to need to cut them up! In order for this part to go as efficiently and smoothly as possible, there are the Gocmen wafer cutting machines. Built with safety and efficiency in mind, these machines will combine wondrously with the rest of the Gocmen wafer production line.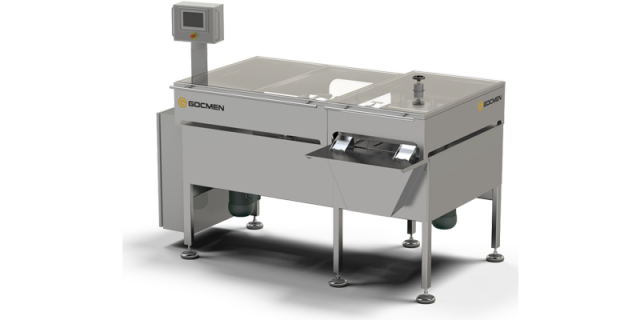 Figure 5 - Gocmen Wafer Cutting Machine
For an even more efficient production of wafers, the wafer block processing band is also here to assist. It is a machine that directs the wafer blocks coming from the cooling tunnels to the wafer cutting machine. You can have the process of wafer baking entirely automatized.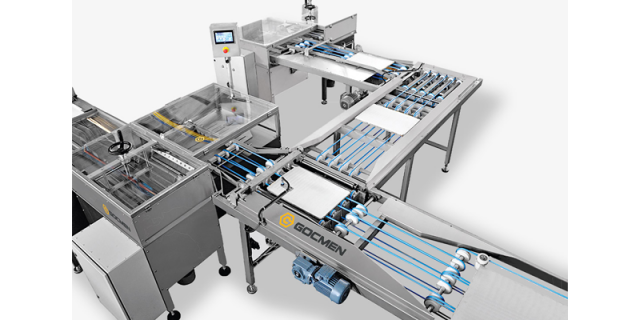 Figure 6 - Wafer Block Processing Band
If you're looking to expand your production beyond producing just simple wafers with cream filling, then I'd recommend also getting the wafer distribution device which transfers the cut-up wafers to the chocolate coating machine. These are all the products you'll need to start your own wafer-making biscuit. Next up is Gocmen's chocolate coating line of products, which is equally good.
Chocolate coating lines: What are chocolate machines and how they work
So, now that you have your wafer-baking production line all set-up, it's a good idea to think ahead and spice things up a bit. Chocolate, as mentioned previously, is a staple ingredient in so many confectionary items that it's hard to imagine a brand not having a chocolate variant of their products.
That's why Gocmen also sell chocolate coating machines. The first such machine is the chocolate coating (enrobing) machine. It is a machine built for one specific purpose, and as its name suggests, it is used for coating your wafers or biscuits either fully or partly in chocolate.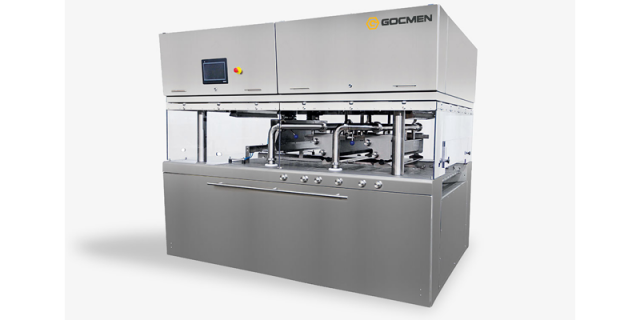 Figure 7 - Chocolate Coating Machine
Gocmen's chocolate coating machine has a great number of features which really make it stand out in the coating-machine industry. Its detachable chocolate reservoirs make it easy to coat your biscuits in two different colours, which can make for some really interesting designs. This feature is, of course, optional, so if you'd rather only coat your products in one colour, you can certainly do that.
You can adjust the machine's heat control, band speed control, thickness of the coating or its vibration, all through the machine's electrical panel. As previously mentioned, your biscuits can be either partly or fully coated, thanks to the machine's design. The machines are both easy to maintain and operate, which ensures the product's ongoing efficiency. It has tons of features which really make it a superb choice for purchase.
As with Gocmen's wafer production line, there are also numerous support machines for the previously reviewed item. One such support machine is the chocolate cooling tunnel, which cools the biscuits, wafers and other confectionary items coming out of the chocolate enrobing machine. It uses an innovative design and has strong stainless steel and aluminium core.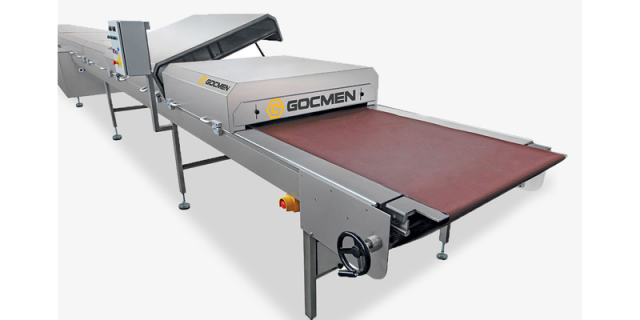 Figure 8 - Chocolate Cooling Tunnel
It also has direct and indirect air circulation, along with water or air cooling, which ensures the machine is ventilated at all times and at full operating capacity. All the areas are easily accessible for necessary maintenance, and the product has a long lifespan. All of Gocmen's products will serve you for a long time.
Of course, no biscuit is complete without a unique design to it! While all of the previously talked about machines will allow you to make outstanding wafers and biscuits, they also need to look appealing in order for them to be a success. Hence Gocmen also produce chocolate decorator machines, which allow you to, as the name suggests, decorate your products any way you want.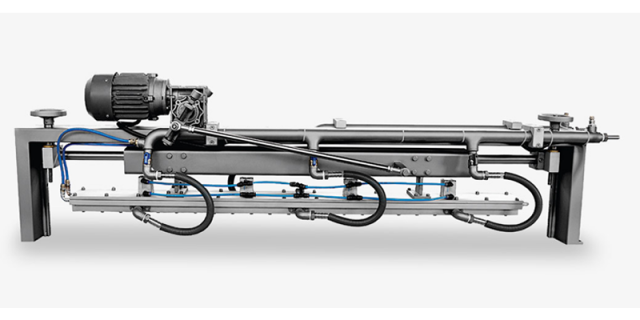 Figure 9 - Chocolate Decorator Machine
Granule sprinkler is another simple machine, which allows you to spray any type of granule products on your confectionaries, such as rice, nuts, peanuts, coconut and so on. The final item in this line of products is the turning conveyor band, used for changing direction of the conveyor line.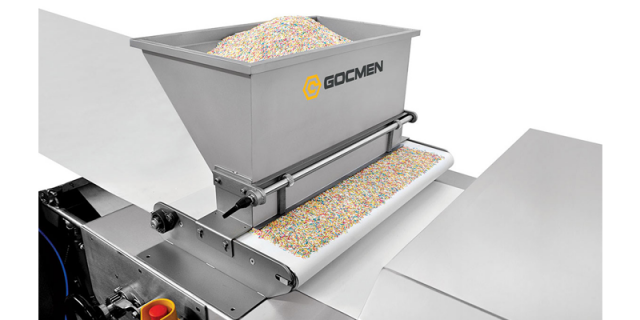 Figure 10 - Granule Sprinkler
Processing machines
Of course, if you're going to coat your products in chocolate, you're also going to need to make some chocolate yourself or purchase processed chocolate from others. In my opinion, if you're already making biscuits and wafers and coating them in chocolate, why not go a step further and make some yourself?
Gocmen's chocolate production station is just what you need. It is a simple chocolate-making machine, but a highly efficient one with a large capacity. What it makes it better than its competitors? Well, the Gocmen station has shorter processing times and thermoplate hot water double jackets. They also save space and consume very little energy, they're sturdy and can come with or without a mixer on a stock tank.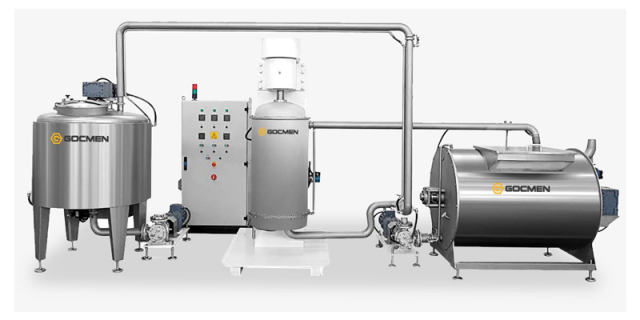 Figure 11 - Chocolate Production Station
Gocmen's wafer batter mixing systems are designed for producing the batter you'll need for your wafer baking ovens. What's even better (or batter, get it?), you won't have even have to manually transfer the batter to the baking ovens. You can simply attach them to the ovens, add the Wafer Ingredients to the mixing systems and have them automatically batter to the ovens.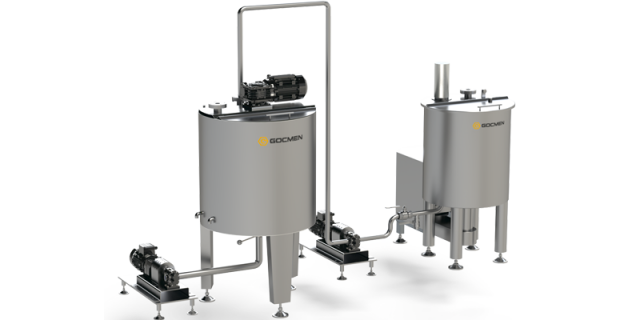 Figure 12 - Wafer Batter Mixing Station
Besides the batter, you're also going to need to mix the wafer cream to fill your wafers with. That's where the wafer cream mixers and stock tanks come in handy, as they allow you to mix homogenous mixtures for your wafer fillers. You can also order a chocolate variant one, for mixing chocolate, which also comes with its own storage tank.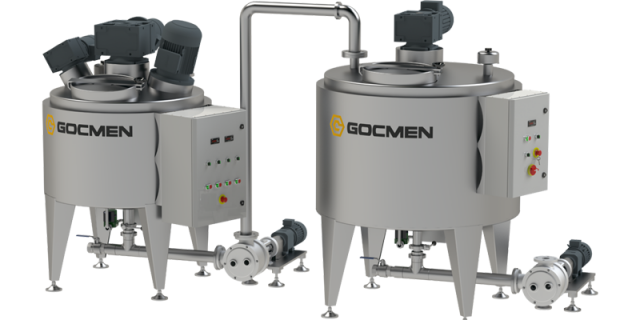 Figure 13 - Wafer Cream Mixer
The last four items in this line of products are the powdered sugar mill G-SM 300, the powdered sugar mill G-SM 1000, the fat melting machine and the discard mill G-ID 4. As their names suggest, each of these machines produce and apply powdered sugar and Fats for Biscuits, respectively. The discard machine grinds any leftover wafer bits, so that nothing is wasted. Talk about being efficient!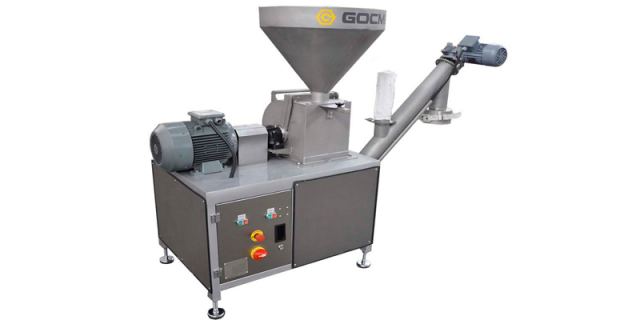 Figure 14 - Powdered sugar mill
The top 6 Gocmen Machinery wafer and chocolate machines
Now that I've gone through everything that Gocmen has to offer, I thought it'd be a good idea to conclude the article with a list of top six products that you'll need to start up a baking business right away.
Gocmen's wafer baking oven
The #1 item on the list is, hands-down, Gocmen's wafer baking oven. If you could only purchase one item from Gocmen, I'd recommend getting this, that's if you're looking to start producing wafers. Although you'll need some extra support machines to really make some great wafer confectionaries, the oven in itself will be a centre-piece of your manufacturing process.
Gocmen's wafer filling machine
The #2 item is the wafer filling machine. Have you ever seen anyone selling empty wafers? Of course not. That's why you're going to need a quality wafer filler in order to really make your products stand-out. With these two items combined, you're almost set to start producing wafers.
Gocmen's wafer cutting machine
The #3 item I'd recommend is Gocmen's wafer cutting machine. Manually cutting your wafers is a no-no. You'll get unsatisfying results, not to mention how time-consuming manually cutting wafers would be. The wafer cutting machines fixes this problem, so that's why it's on this list.
The wafer batter mixer
Item #4 is the wafer batter mixer. Seriously, if you're going to produce wafers, then don't even think about not getting this product. It will save you up so much money and time in the long run, and when combined with the previous three products, you'll have a mini production line set in place.
The chocolate mixer
The #5 product is the chocolate mixer. While wafers are great on their own, chocolate really makes them pop. Chocolate is a staple ingredient in so many other confectionaries; buying this product will allow you to expand your business in the future.
The chocolate coating (enrobing) machine
And last-but-not-least is the chocolate coating machine. Combine this with the chocolate mixer, coat your wafers with chocolate and you'll instantaneously have a hit product!
Gocmen wafers are one click away from you!
That would be all for today's article. I hope you've found it informative and that you'll consider Gocmen Machinery once you decide to purchase some biscuit and wafer baking machines. If you'd like to get in touch with the company, contact Gocmen machinery!