Everyone has probably heard about the Girl Scout cookies at least once in their lifetimes. They are featured in a number of Hollywood movies, from dramas to comedies, and they are a big part of the American culture.
But what makes these specific cookies so special? Who are the girl scouts, what is their mission, how do cookies help them achieve their goals and why are they such a cultural phenomenon? We will be discovering answers to all of these questions today, and you will get a chance to find out just who the girl scouts exactly are and which types of cookies they make and sell. We will start off by talking about the girl scouts themselves, their history, how they came to be, their ideals and what they hope to achieve. Next up, we will talk about the cookies the girl scouts bake, what makes them so special, the history behind the tradition, and last-but-not-least, we will list all the different girl scout cookie variants there are today. Let's jump into the history of the girl scouts!
Girl Scouts: Who are They? What is their Mission?
The Girl Scouts of America, or Girl Scouts for short, is an American youth organization with one simple goal in mind: to release the G.I.R.L. in every girl. But what does G.I.R.L. stand for? G.I.R.L. stands for Go-getter, Innovator, Risk-taker and Leader. These are the qualities the Girl Scout organization tries to awaken in every young American girl, and those who come from overseas as well. The reasoning behind G.I.R.L. is that these qualities are essential to be a successful part of society, especially today. What the Girl Scouts organization hopes to achieve is to raise a new generation of empowered women who will one day take lead in the numerous aspects of economy, science and politics. But how do Girl Scouts achieve this? Which training methods do they use?
Their methods are centred around adventure. As the Girl Scouts say, they are:
. . .preparing [girls] for a lifetime of leadership, from taking a night-time hike under the stars to accepting a mission on the International Space Station; from lobbying the city council with her troop to holding a seat in Congress; from running her own cookie business today to tackling cybersecurity tomorrow.
This method of teaching girls the necessary skills to thrive in the modern world is based around time-tested programming backed by research. This research has shown that girls learn best in an all-girl surrounding, in other words, a girl-friendly environment, and Girl Scouts provide just that. An environment where they can learn skills based around STEM under the leadership of strong and capable women. The five major skills or attributes the Girl Scouts wish to instil in their attendees are:
A strong sense of self
The ability to learn from setbacks and to seek challenges
Optimism and positive values
How to form healthy relationships
How to identify and solve problems in society
A Quick History of the Girl Scouts
The history of the Girl Scouts begins with a woman named Juliette "Daisy" Gordon Low when she organized the first Girl Guide troop meeting back in 1912, on March 12. This was a meeting of eighteen girls in Savannah, Georgia. Since this meeting, the Girl Scouts have grown from measly eighteen members to over fifty millions member across the United States. Juliette's dream was to create an organization that would enable women to be contributing parts of society, not just as home-takers and children-raisers. As we know, women were still not allowed to vote in those times, so the Girl Guide organization was a way of teaching young girls how to express their desires and to one day take lead in the fight for equal rights. Besides that, it was an organization intended simply for girls, where they could be themselves, grow and experience the out-doors. That is why up to this day, no man has ever been part of the Girl Scouts leadership, as this is an organization exclusively for women.
The experiences of the frontier settlers helped to shape the Girl Guides organization. Juliette's grandmother, Juliette Magill Kinzie, was one of the earliest settlers of the Chicago area. She wrote about her experiences and life on the frontier in her book Wau-Bun: The Early Day. Juliette Low used parts of this book to develop the Girl Guide program, shaping the foundation of what would become the Girl Scouts.
The Girl Guides used their name up to 1913, when they changed it to the now globally-known Girl Scouts. Along with this change, they moved their headquarters to Washington, DC, the nation's capital. Two years later, the Girl Scouts moved again, this time to New York City. The organization became recognized thirty-eight years after its inception, when it received the congressional charter on 16 March 1950. The congressional charter is a law passed by the United States congress which lists the missions and the activities of a particular organization.
The girl scouts are led by the so-called councils. In the organization's beginnings, the Girl Scouts were divided into patrols, troops, local councils and the National Council. These councils represented autonomous self-sustained groups which made their own decisions, but over time they were joined into larger councils, in order for the Girl Scouts to have a more unified program and over-all better government.
When Juliette Gordon Low passed away, her birthplace home became the headquarters of the local Savannah Girl Scouts. She has left a large legacy behind herself, with over fifty million young girls becoming girl scouts since her organization's beginnings. What is more important for us, however, is the baking tradition created by the Girl Scouts. Their cookies continue to bring out smiles and happiness all across America, and we are going to see what makes these cookies so special and the different types there are today. Let's jump right into it.
Girl Scout Cookies: A Way for Girl Scouts to Achieve Great Things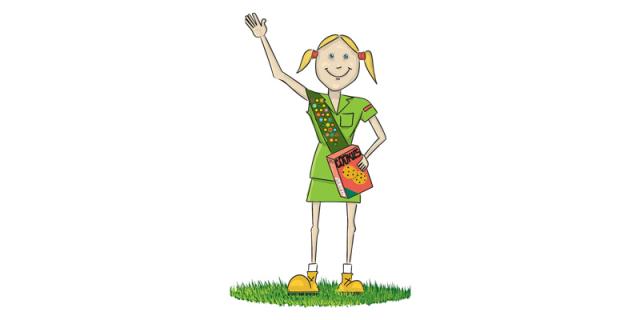 Beyond just being sweet and delicious, Girl Scout cookies are an important way of teaching young girls of what it takes to be successful. Often times, the qualities needed for a successful life or business are teamwork, optimism and planning. Of course, these are just the basics, but every successful entrepreneur has to begin from somewhere, and these basic attributes form a foundation upon which to further build important skills. Of course, not everyone can be an entrepreneur, but these skills still help to develop the young girls as important and able members of the society.
When a person purchases a box of Girl Scout cookies, the proceedings from the purchase stay local and go towards funding the numerous activities which the girl scouts are a part of. For example, you could be funding an unforgettable outdoors trip for the local Girl Scout troop, or you could be funding the purchase of the necessary equipment for the Girl Scouts STEM programs. The world always needs new scientists, researchers and engineers, and by treating yourself to a box of delicious cookies, you could be enabling these bright young minds to reach their full potential. As the Girl Scout organization says: "It's a Sweet Deal".
To give you an example of just how much the organization and the cookies are successful, the Girl Scouts manage to accrue an annual income of over eight-hundred million dollars! And that's just from the cookies sale. This of course enables them to have everything they need, from the basic necessities to high-tech equipment. The first ever cookie sale was organized back in the 1917, five years after the formation of the Girl Guides. This sale was organized by the Mistletoe Troop in Muskogee, Oklahoma. The first cookies sale was a great success, but it would take five years for it to become the standardised way of raising funds for the Girl Scouts. In 1922, The American Girl, a Girl Scout magazine, suggested the cookie sales as a way to help the organization continue its mission. The proposal was accepted, and the first commercial sale was held in 1933. The local Girl Scout troop from Philadelphia sold homemade cookies at the Philadelphia Gas and Electric Company. The trend started to gain even more popularity, with the troops from New York City also organizing their own cookie sales. Ever since then, the Girl Scout organization has used the cookie sales as a way of teaching their girls financial responsibility and entrepreneurship skills.
Of course, we can see the many benefits there are from baking and selling Girl Scout cookies. Young girls learn basic life skills from baking the cookies, then how to handle and invest money by selling them, which in the end enables them to develop skills in other areas, such as STEM. Meanwhile, entire families get to enjoy these delicious little things. But what about the cookies themselves? Which types of cookies do the scouts sell?
The Girl Scout Cookie Flavours: Which Types are There?
There are actually several different types of Girl Scout cookies available for purchase. You can find these online and purchase them. You might not be able to purchase some types of cookies, however, if you live overseas. Some of these cookies probably have a longer expiration date than others, but we would recommend caution. However, if you really wish to try out some of these treats, there are recipes for all of these cookies available online. The first on our list of Girl Scout cookies are the Girl Scout S'mores. These delicious-looking graham cookies are double dipped in yummy crème icing. On top of that, they are finished with a chocolate coating. We don't know about you, but this sounds amazing to us. But that is just the first type of cookie on the list. Note: Words mean nothing without pictures to accompany them. Check out this article to see how the cookies look! Their design is amazing and is sure to tantalize your senses even further.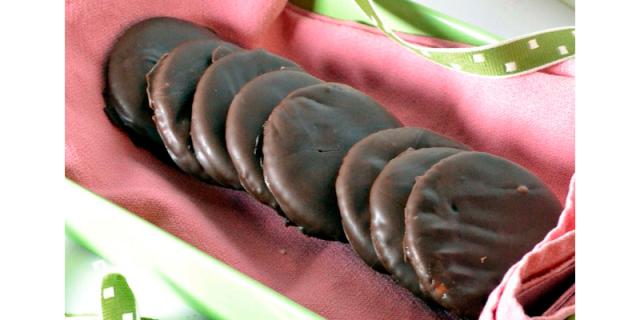 Next up, we have the sandwich version of the Girl Scout S'mores. These come with a creamy chocolate and marshmallow filling. The name Girl Scout S'mores is imprinted on the biscuit, which really adds to the look and branding of the cookies. We also have the Thin Mints, which are probably the most iconic Girl Scout cookies ever. They are round and mint-flavoured, toped-off with a chocolaty coating. Next up, there are the Caramel deLites or Samoas. These are cookies covered in caramel and toasted coconut. Quite an interesting combination, for those looking for a sugar-rush. There are also the Peanut Butter Patties (probably named after the fact that they look like patties themselves) or Tagalongs. They're simple but looks absolutely tantalizing. These cookies are covered with a layer of peanut butter with a rich chocolate coating over them.
As for the shortbread cookies, there are the Trefoils. These cookies are in the shape of the Girl Scout's trefoils, which means that the girl scout who is selling you these cookies is building her people skills. She is meeting customers and improving her speaking skills and overcoming her fears. All to help boost up her confidence. Then there are the Do-si-dos, or Peanut Butter Sandwiches. They are similar to Peanut Butter Patties, but they lack the chocolate coating, and when a Girl Scout sells you a packet of these, it means she's learning organizational skills. The Lemonades are cute-looking shortbread cookies topped with lemon-icing, perfect for eating with a nice cup of freshly made lemonade! Most shortbread cookie sales are meant to learn the girl scouts organization skills.
As for the remaining types of cookies, there are the Savannah Smiles, the Thanks-A-Lot cookies, the Toffee-tastic, and the classic, Caramel Chocolate Chip cookies. The Savannah Smiles are zesty, lemon-flavoured cookies dusted with powdered sugar, which go along nicely with the aforementioned Lemonades. The Thanks-A-Lot are a special kind of cookies, with the words "thank you" embossed on them in different languages. By selling these cookies, Girl Scouts learn business ethics, so that one day, they're not part of the grey economy. The Toffe-tastic and Caramel Chocolate Chip cookies are the most classic-looking ones, but still exquisite, and help fund both the numerous activities and further production of the Girl Scout cookies.
Girl Scout Cookies: A Cultural Phenomenon
It is not hard to see why the Girl Scout cookies are so popular. They help young girls to learn the most important life skills they need and how to one day take charge in the STEM and business sectors. Girl Scout cookies have so many advantages and zero disadvantages, so when somebody buys a pack, everybody is winning! Not to mention that they are incredible looking and tasty. We hope you learned something new about the Girl Scouts and the cookies they sell. If interested, check out some recipes online and make some yourself. Until next time, cheers!
---
Leading image: Sheila Fitzgerald/Shutterstock.com