Staying in shape while eating cookies sometimes feels like a full-time job because it is not that easy but how could we cut off that sweet treat because the complete collection of biscuit types offers so much happiness in our lifes... When we have a busy day what is our energy break? A good biscuit! With these healthy, Palm-oil Free Farm Brothers staying in shape was never so easy... Let's learn more!
Time for action – cookie action! Farm Brothers are also in action through helping people dealing with coronavirus and qurarantine.
Cookie by cookie – hectare by hectare we will make a change. Are you in?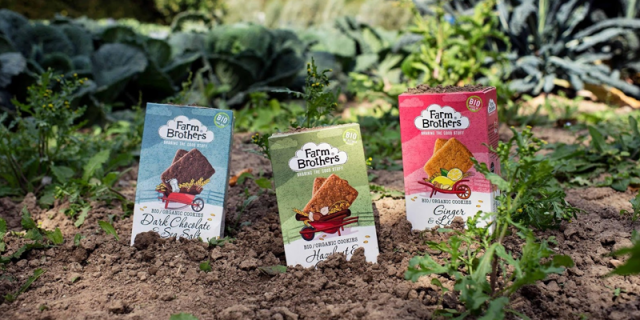 Farm Brothers: Informations about the company and saving the Earth
With each pack of Farm Brothers organic cookies you buy – you save part of degraded farmland in Flevoland, #makesoilmatter: action! Eating cookies and saving the Earth, sounds great, right?
The UN has warned that soils around the world are heading for exhaustion and depletion, with an estimated 60 harvests left before they are too barren to feed the planet. Our most significant non-renewable geo-resource is productive land and fertile soil. Each year, an estimated 24 billion tonnes of fertile soil is lost due to erosion.
That's 3.4 tonnes lost every year for every person on the planet. Soils store more than 4000 billion tonnes of carbon. The Earth is our ''black gold'', it is our nature, our roots and the beginning and the end of everything. So, we have to take care of it, it is not always someone else's problem, all of us have to stand tall and do even single little steps to make the Earth fertile, without pesticides.
Did you know that in the last hundred years we have lost 50% of the fertile earth worldwide due to chemicals and pesticides?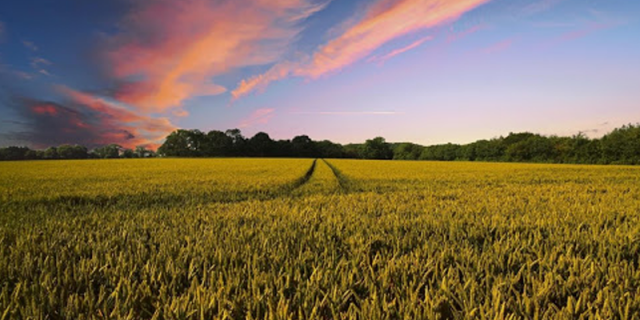 So, that brings us to the fact that the next sixty years we might lose the rest if we don't make an action and stand for our planet. As the leading people from the industry and owners of the brand we will talk about today said on their website:
We couldn't stand it any longer and quit our day jobs to take action. Cookie action. With each pack of our organic cookies you buy – you save a cookie-sized piece (12cm²) of degraded farmland in Flevoland – that we turn organic forever.
About Farm Brothers company
We bake cookies to change the Earth! Our slow-baked cookies don't just do good – they taste really good too.
Even though Farm Brothers is still a very young company, in just a few years they made a lot! We can say, they changed the Earth and their steps are still moving day by day, improving our wellbeing and our nature. So, let's hear their story and how it all started.
They even have their action with the following hashtag, it is about increasing the amount of healthy soil.
"Farm Brothers" is the epithet given by family members of Teyler and Herman, two companions from the Netherlands. They chose to relinquish their position a couple of years before living their fantasy about "giving the world solid, scrumptious, grain-based items". They need to find a genuine taste of beneficial things!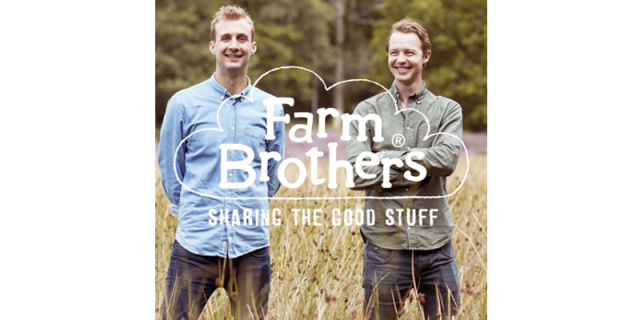 Since 2016, Farm Brothers has been a guaranteed Benefit Corporation – a development that utilizes the intensity of business sectors to tackle social and ecological issues. B Corporations contend not exclusively to be the best on the planet, however the best for the world.
As a natural treat organization, they assume liability for the nature of their items, their store network, and their effect on society. They focus on reasonable, ecologically agreeable arrangements that do great on the planet.
The company is originally from Amsterdam, Netherlands, with its headquarters exactly in Keizersgracht 285, 1016 ED Amsterdam.
With no shading, no added substances, no additives, and no fragrance, their rolls are common and ultra-delicious. Likewise, to regard the credibility of the various flavors, the bread rolls are cooked at low temperatures.
To make a positive, treat well-disposed effect they're focused on expanding the measure of solid soil on the planet, and they do this with the #makesoilmatter hashtag and they also give .5% of our turnover to their Soil Fund.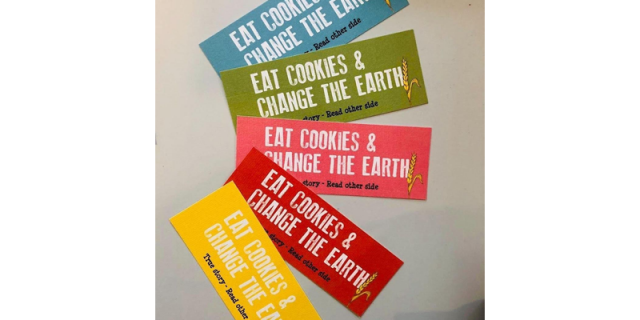 Farm Brothers #makethesoilmatter
We are sure you got interested – the action about saving the Earth and combining cookies in that story, wow, is there a better combination?
Farm Brothers give 0,5% for the soil – so how do they do it?
By donating 0,5% of their turnover to farmers transitioning from conventional to regenerative, organic farming, they, as they said, are putting their money in the ground – literally. This translates to 12cm2 of saved soil for every sold pack!
Farm Brothers donate to Stichting Groundbeheer, a steward of biodynamic farmland, and their farmers are making it all possible and doing the rest of the job.
We even mentioned the hashtag – so what does that have to do with soil actually? What is this 'action' about?
Sharing the story – it is the main key. People need to know about this praiseworthy action and how we know that social media is everywhere – admit it, we are all on the Internet every day, looking, scrolling, posting, commenting, sharing ...
You are now on the Internet also. We could talk all day about pros and cons of the Internet development through generations (our children and our grandparents – they are all scrolling) but as a matter of fact, now we point out the good sides and those are actions like #makesoilmatter where you can, thanks to the Internet, help the Earth, and of course, find out about new tasty biscuits.
If more people know about the action – more people are most likely to help – it's simple.
Directly supporting organic farmers – Farm Brothers help conventional farmers transition to organic – for now, they re directly donating 5% and plan to give more in the future
Building a community – consumers, businesses, institutions, farmers – they are all welcome to merge as a one for healthy soil. That's what we were talking about when we mentioned the Internet development – isn't it beautiful that it is able to build a community of people worldwide connected with the same goal – to help and make sure that the soil matter!
#makesoilmatter and stay updated with all of the news and actions they make.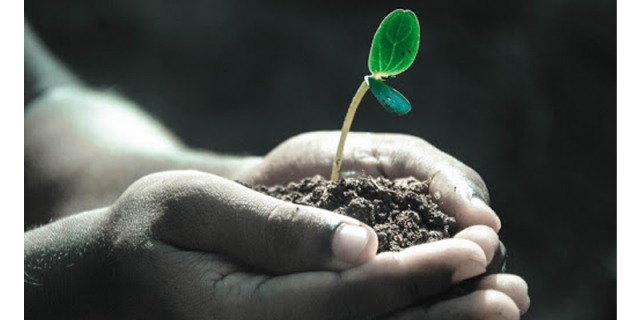 You feel inspired after reading this, are we right? So don't hesitate, join now, it is easier than you think.
Farm Brothers: B corporation
Capable and moral, Farm Brothers is an individual from the "B Corporation". This Label is expected for organizations focused on the benefit of everyone, social and natural.
The brand has in this way had the option to adjust to the desires for the present purchasers by offering straightforward plans for submitted cultivating.
Likewise, in its natural creation approach, Farm Brothers have decided to concentrate on ashore utilization and the effect of CO2 outflows and other contamination on the biological system. They share this vision with the world and in this manner attempt to bring issues to light with respect to society.
Certified B Corporations are corporations that follow the highest level of checked social and environmental efficiency, public disclosure and legal responsibility to align benefit and intent. ... B Corps is a group of members that leads a social network of people who use enterprise as a force for good.
Regarding partnerships, Farm Brothers work with B Corp, Chelsea Green Publishing and Stichting Grondbeheer.
Farm Brothers even got a 'food Oscar'
In 2017, Farm Brothers got the 'Great Taste award'.
Great Taste, organized by the Guild of Fine Food, is the acknowledged benchmark for fine food and drink. It has been described as the 'Oscars' of the food world and the 'epicurean equivalent of the Booker prize'.
Let's move on to the Farm Brothers cookies
Just by thinking about the crunchy, sweet and creamy cookies we feel hungry and our sweet tooth is awakening, so we won't wait for a second anymore, we are grabbing a cookie and moving on to the paragraph about Farms Brothers cookies.
Farm Brothers: Cookie by cookie – hectare by hectare we will make a change. Are you in?
Now that you know all of the benefits that the Farm Brothers company does to the whole planets, you have to learn about the cookies themselves. As we have already mentioned, they will be your number one helper if you need a snack full of nutrients. But not only that, you can eat them with your morning/afternoon coffee. Their texture make them good for dunking. Coffee and cookie, is there a better combo?
However, water and cookies also. Did you know that Parle G cookies pair perfectly with water?
Their slow-baked cookies don't just do good – they taste really good too. Here is a long list of why you should try them:
100% organic
Low in salt and fat
Unrefined cane sugar
Fiber-rich
No artificial ingredients
100% spelt, oats & rye
Palm oil-free
Egg-free
Farm Brothers cookies are separated in a few categories – so you could easier find exactly what you are looking for in a cookie.
Classics
Vegan
Kids
Coffee cookies
Classics
Hazelnut and cinnamon
Dark chocolate and sea salt
Ginger and lemon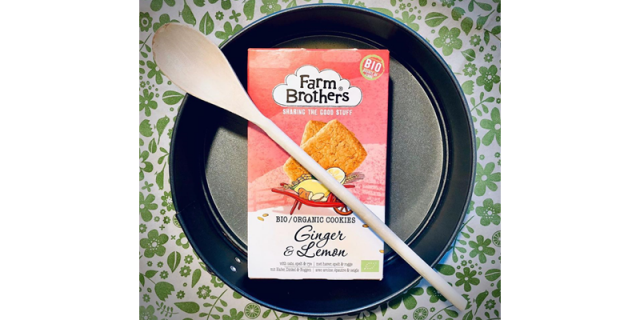 Vegan:

Almond brownie
Maple pecan

Kids

Low in fat and sugar – interesting little circles that will become an instant addiction to your kids

Coffee cookies
Farm Brothers biscuit: Dark chocolate and sea salt
You may feel a little skeptic when we mentioned this combination that refers to the sweet and salty combination – how does it taste to merge salt and chocolate? Marvelous, believe us on our word!
Why is sea salt important for our body?
Ocean salt contains modest quantities of potassium, yet it likewise encourages the body to ingest it better from different nourishments. In this manner, it is compelling in assisting with forestalling muscle torments, fits, and spasms. Discouragement – Sea salt additionally has demonstrated to be powerful in treating different sorts of depression.
Since sodium plays a vital role in fluid balance, not getting enough of it can lead to dehydration, especially during high-intensity exercise. Having proper fluid balance in the body is also important for maintaining a healthy blood pressure level.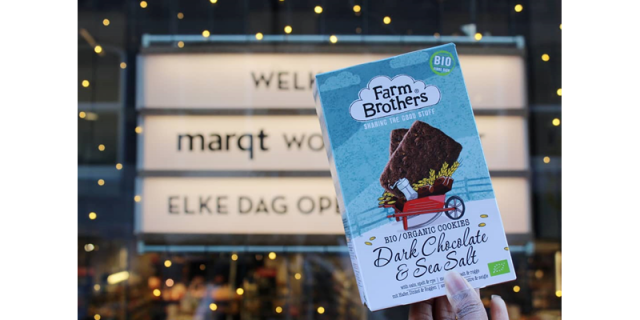 Farm Brothers Organic Dark Chocolate & Sea Salt Cookies ingredients
The delicious cookies are made from ingredients such as rye wholemeal flour, spelt flour and hazelnuts. Dark chocolate and sea salt give these cookies their wonderful taste.
Rye wholemeal flour* (20%), butter* (milk), spelt flour* (17%), dark chocolate (15%) (cane sugar, cocoa mass, cocoa butter), unrefined cane sugar*, rice syrup*, cocoa*, oatmeal* (3.7%), sea salt (1%), raising agents (ammonium carbonates, sodium carbonates), hazelnuts*
* From certified organic farming.
May contain traces of wheat, eggs, soy, and other nuts.
Allergens: rye flour, spelt flour, oatmeal, butter, milk, hazelnuts
Additional Information:
Store dry and protected from heat.
Store in an airtight container after opening.
Organic products of the brand Farm Brothers
are certified by the inspection body BE-BIO-02.
EU-/Non-EU-Agriculture
Will Farm Brothers ruin your diet? Nutrition per 100 g:
Energy: 1920 kj / 459 kcal
Fat: 21 g
Of which saturates: 14 g
Carbohydrate: 58 g
Of which sugars 23 g
Fibre: 6,5 g
Protein: 6,8 g
Salt: 0,56 g
Talking about the functional properties of sugars in biscuits, you should not worry because it is mostly the main ingredient in every biscuit but that does not mean it makes your biscuits bad for you. Why put sugar in biscuits? Sucrose, commonly known as sugar is a carbohydrate derived from the sugar cane or sugar beet plants. It is processed in refineries where crystalline refined sugar is obtained.
The same is with fats for biscuits about which you don't have to worry because Farm Brothers make their biscuits completely healthy taking care of not including bad fats and reducing its amount. In the application the fat is called shortening. By coating of the gluten of the flour, the dough will be not so elastic as a bread dough: the dough stays "short".
Large biscuit manufacturers are buying and storing hot (melted) fat in tanks and apply it as such or first let crystallise in cooling equipment before it is used.
The fat (or margarine) can be supplied in two ways:
crystallized fat in extruded blocks or bag-in-box
crystallized fat in pumpable form
Ginger and lemon biscuits:
Refreshing combination for a warm, sunny afternoon.
Ingredients:
Spelt flour* (24%), oats* (18%) (whole oatmeal, oatmeal), unrefined cane sugar*, butter* (milk), candied ginger* (8%) (ginger, cane sugar), wholemeal rye flour* (6%), rice syrup*, raising agents (ammonium carbonates, sodium carbonates), sea salt, lemon oil* (<1%), hazelnuts*
* From certified organic farming.
May contain traces of wheat, eggs, soy, and other nuts.
Allergens: spelt flour, oats, oatmeal, rye flour, butter, milk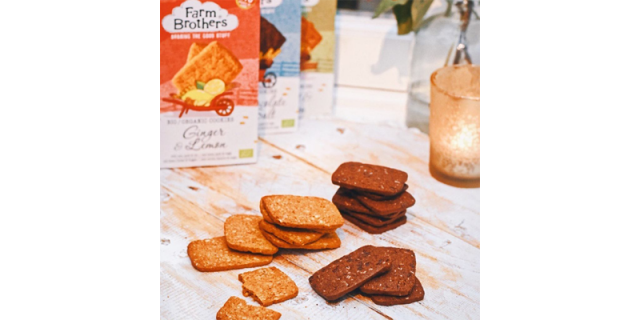 Now that you know everything about these Earthsaving cookies, it is time to learn where you can buy them.
Stores:
Plus
Picnic
Spar
Coop
BIO-planet
La Vie Claire
Marqt
DEEN supermarkten
Carrefour
Ralais Vert
Bio Company
Naturdis
Dennree
Whole Foods Market
Albert Heijn
Jumbo
*and a few webshops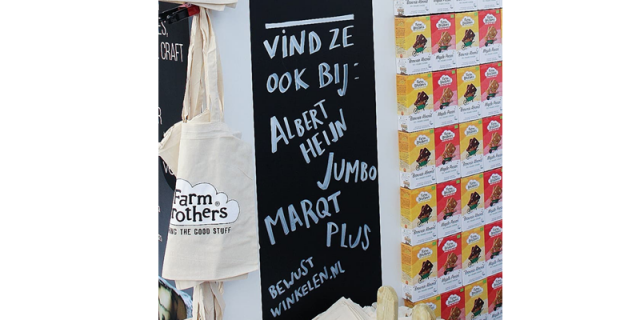 Farm Brothers helping action due to Coronavirus
We think it's important to help each other during these hard times
Farm Brothers think about everyone! From grandparents to hard-working heroes! They made the action on their social media where you can let them know who would you like to get cookies in reward to their hard work and they delivered so many hanging bags with cookies on people's doors!
That is not the only Farm Brothers' action!
They have cookies and love to give – they said and added - and our elderly stuck without visitors in their retirement home...
That is why 'our' Farm Brother Teyler drove around Amsterdam delivering a week supply of cookies to 10 different retirement homes. With a note: "we're sorry we can't visit you now, but with every cookie you eat, please know we are thinking of you. Hang in there." And it made people smile.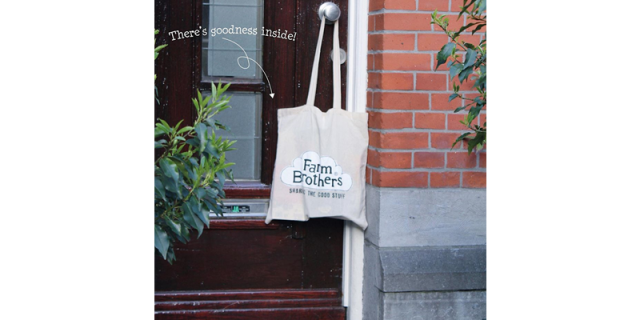 Now that you know everything about Farm Brothers – unique, specific biscuit brand we bet you are interested in trying them and, hopefully, #makingthesoilmatter. Will you join their action? If you do, feel free to share your story with us sending us a message at: at contact@biscuitpeople.com and we will share it on our social network or even include in this blog post.
Stay healthy, stay in shape, eat your nutrients and if you like these types of biscuits we recommend you to try Grancereale: Healthy biscuit for every bagpack that could also be your number one friend in a busy day to keep you energized.
Staying in shape and saving our beloved planet never seemed so easy!