Interesting title, isn't it? And no, today's article will not be about the 2012's Euro song winner Loreen's song called Euphoria. It would be a bit weird of us to write an entire article about a song, wouldn't it? I mean, we could, but then we wouldn't be a biscuit magazine, but a magazine about the music industry.
So, what is the topic of today's article? Well, if you have been keeping up with our magazine and newsletter (and you should, our magazine is packed with tons of informative articles on biscuit types, biscuit brands, and most importantly, trends and innovations in the biscuit industry), then you know that we have released several articles dealing with Innova Market Insight's annual trends report for 2020.
There is a whole slew of new, emerging trends which are gaining traction in the biscuit industry, and Innova Market Insights has picked out the top ten most-promising trends that might interest investors and both manufacturers and distributors in the biscuit industry and the food industry as a whole.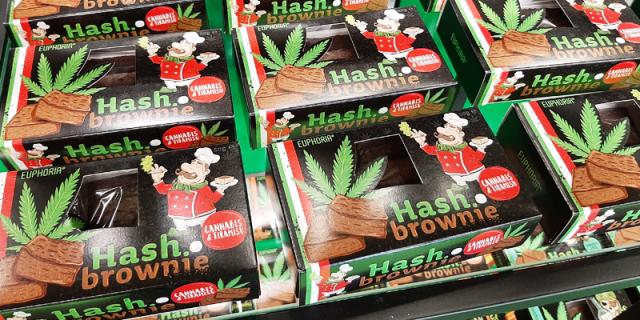 But the trends report is not solely tied to these two industries, although they are currently unparalleled in their net worth. There are also trends connected to the beauty industry, marketing etc. Some of the trends that we have chosen to research and write articles on are: CBD, Ashwagandha and Allulose: The Big Food Trends of 2020, How the Macronutrient Makeover Trend Changes the Biscuit Industry?
Now, we realise that the names of these trends sound vague. It is hard to discern what they are really about, so allow us to explain. Later on, you can read the full articles yourself, just follow the highlighted links in the paragraph above. We assure you that they are full of useful information, both for the ordinary laymen and biscuit enthusiasts, as well as for our partners, our potential partners, investors and manufacturers/distributors in the biscuit industry (especially for the latter group of business men and women).
If you have not guessed it by now, today's article will be about the cannabis-based biscuit brand Euphoria from Czech Republic! As cannabis is getting more recognition across the globe, and many countries are starting to lift the ban on the recreational use of marijuana, the time has never been better to make investments into the cannabis industry, which is worth hundreds of billions of dollars.
Euphoria, with their apt motto – "the taste of freedom" have seen the lucrative potential this market holds, and so have dedicated their entire product line to cannabis-based snacks, beverages and biscuits! Of course, since we are a biscuit magazine, we will primarily focus on their portfolio of biscuits, but it seems like a good idea to combine the little devils with their line of drinks.
Are you anxious to learn more about the Euphoria brand of biscuits? Then without further ado, let us begin with our review of these cannabis-based sweets!
Euphoria's biscuit range review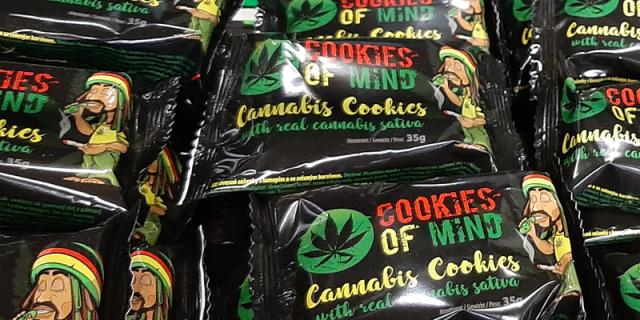 Before we begin, it is important to note that Euphoria sells other kinds of products as well. Their portfolio is quite impressive as it includes sweets, biscuits, snacks, chocolates, beverages, "spirits", CBD products (on which we have written extensively, you can learn everything you need to know about them by reading our article on the "A Star is Born" trend), accessories and bulk products. Of course, we are going to focus on their biscuits, so let us begin with the first product on the list – the Cannabis Cookies of Mind!
The Cannabis Cookies of Mind are one of their top-selling products. These biscuits come packaged in boxes of 32 units which weigh up to 42 grams. They can last up to about 18 months and are probably their "flagship" product, meaning that they are the "instant classic" of their cannabis-based range of biscuits, instead of spin-offs in various shapes and flavours.
These oatmeal cookies with cannabis leaves and seeds have a very interesting and evocative packaging. The name is written in the traditional colours of cannabis lovers: red, yellow and green, with a Rastafarian-looking man enjoying a blunt. A silhouette of the cannabis plant can be seen in the background, as well as a green, circular symbol with a black cannabis plant on it.
There is no mention of the THC compound being in these biscuits (at least not on the company's official website) but we assume it is present, otherwise, these would just be regular ol' oatmeal cookies with some CBD, although they would still be very beneficial for one's health and would probably still taste good.
However, we believe that the allure of these biscuits is not in their medicinal properties, but rather in their recreational use. You see, CBD oils differ from marijuana in that CBD oils contain negligible traces of the THC compound. This is the reason why CBD oil is legal in most countries as a medicine to treat various illnesses such as cancer or hard cases of epilepsy.
The THC compound is what causes the marijuana consumer to experience "a high". It is a psychoactive compound that can lead the consumer to experience elevated states of calmness and/or energetic behaviours, like having sudden bursts of laughter and happiness etc. depending on the user. And since their motto is "the taste of freedom", we believe that THC compound is an integral part of their recipes.
CBD oils can be extracted from plants such as cannabis or hemp with almost no traces of THC in them. That is why Euphoria most-likely uses unprocessed cannabis leaves and seeds for their recipes.
Time to sweeten things up! The next biscuits on our list are the White Widows Cannabis Choco Biscuits. They are similar to the previous biscuits in that they are regular-shaped biscuits with cannabis leaves and seeds and half-dipped in a chocolate glaze! So, for all you lovers of both cannabis and chocolate, these are the perfect combination for you! Just do not let the size of these biscuits fool you. A couple of these are enough to put a grown man into a state of high.
The White Widow Cannabis Choco Biscuits come in boxes of 20 units, each weighing around 73 grams. They can also last up to 18 months, so you get a lot of worth for your hard-earned money.
Next up are the creatively named Mary & Juana Premium Cannabis Cookies. We wonder why they chose these two specific names… Just kidding, we love it, a very creative twist on the word marijuana. These biscuits differ from their top-selling range and its chocolate counterpart in the way they are packaged.
While the Cannabis Cookies of Mind and White Widow Cannabis Choco Biscuits are packaged like your everyday, regular biscuits (although with a very interesting and unique design) the Mary & Juana Premium Cannabis Cookies come in glass jars! That does not seem like something special at first glance, however… the cookie jars come with a special compartment which contains real cannabis herbs.
The biscuits themselves come in different flavours, and the first flavour on our list is the sweet taste of cranberries! The Mary & Juana line of biscuits offer a perfect combo for anyone who likes consuming cannabis. Consumers of recreational marijuana often experience the "munchies" or hunger, and there is no better way to satiate your hunger after getting high with a jar full of cookies!
Most of the Mary & Juana line comes in jars weighing around 50 grams. They can be ordered in boxes of 12 units, layers of 240 units and pallets of 2400 units, depending on your needs or occasion. Their expected shelf-life is 12 months, so they can be stored for a very long time. Other flavours of Mary & Juana cookies include: chocolate, classic and hash!
The next line of Euphoria biscuits is the High Cannabis Cookies. These biscuits have an amazing-looking packaging with bongs and cookies all over the place and a giant cannabis-shaped see-through compartment in the middle. The cookies themselves look amazing as well, as they are shaped like circular smiley faces!
The great thing about this line of biscuits is that it contains CBD or cannabidiol oils. If you do not know what CBD oils are, we highly recommend checking-out our "A Star is Born" article to learn everything you need to know about them. Basically, CBD oils are oils with numerous health benefits that are used to treat cancers, epilepsy etc. They contain small traces of THC so users won't experience a high, although we would bet that these cookies do contain THC. Not only can these biscuits be consumed recreationally, but they are also healthy to boot!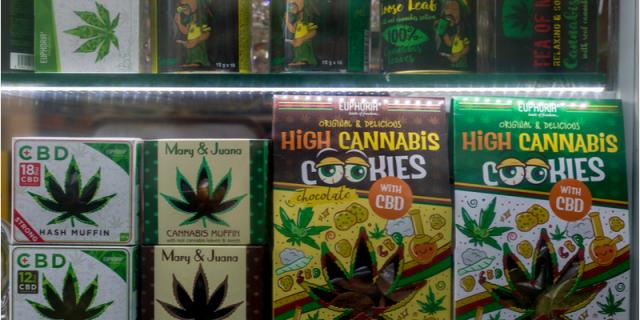 Source: Irin Fierce/ Shutterstock.com
The packages weigh around 100 grams and can be bought in boxed of 12 units, layers of 120 units, pallets of 960 units. They also have an expected shelf life of 18 months. They come in regular and chocolate flavours.
And last but not least we have the Cannabis Cookies, but also with CBD! These come in small glass jars. The cookies are circular and flat in shape with a cannabis plant on top. Just like the High Cannabis Cookies, these also contain CBD oils, making them very healthy. The jars weigh around 110 grams, come in boxes of 12 units, layers of 96 units and pallets of 1440 units. They can last up to eighteen months and come in White Widow, original, chocolate and hashish flavours!
And that would be it for our review of the Euphoria brand of biscuits from Czech Republic. These biscuits look amazing, from their packaging to the shape of their biscuits. If you are ever in Czech Republic and like consuming cannabis, be sure to give them a visit and buy some for yourself. If not, you can always order some online! These will make a perfect gift for the cannabis-enthusiast in your life. Until next time, cheers!
Related articles:
CBD, Ashwagandha and Allulose: The Big Food Trends of 2020,
Be sure to subscribe to our newsletter by registering so that you do not miss any of our articles and insights.