Hello everyone, and welcome back to the Biscuit People blog. Today I have a special article in store for you, as I'll be reviewing Errebi Technology, a sixty-year old company which produces high-quality biscuits moulds, rollers and rotary cutters.
Are you looking for quality biscuits moulds, rollers and rotary cutters but can't quite figure out where to find some? Are you looking to start-up a biscuit business? Well, that's going to be quite the task without some proper tools. Luckily for you, there are many great companies which sell exactly what you need.
On that note, today I'll be taking a look at one of the best manufacturers of the aforementioned moulds and cutters. Errebi Technology is an Italian company which has been around for over sixty years already.
So, you've found a company where you can buy everything you need, but before we begin, I have to ask: Do you know how to properly use and/or maintain all of the listed items? These are some of the things you'll need to know how to do, so I'll explain them to the best of my abilities. Without further ado, let's check out Errebi's products.
Biscuit moulds and rollers: Which types do they sell?
You're probably most interested in the company's cutters and I'll get to them shortly. However, trust me when I say it's worth checking out their other lines of products. For example, Errebi manufacture high-quality and innovative rollers, which can either be fixed or with interchangeable rings.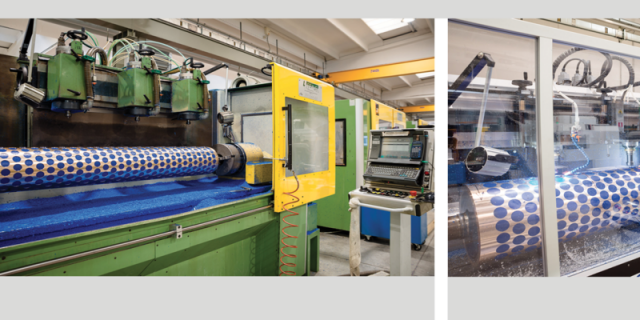 Moulding Rollers are used for shaping every kind of dough. Errebi Technology manufactures rollers with a strong steel core to prevent any kind of bending, which ensures the product has a long lifespan. Due to the fact that steel cores prevent bending, Errebi rollers also require little to no maintenance.
These rollers, if needed, can also be manufactured with a fixed system. If you order rollers with a fixed system, you'll be asked to specify the types of materials you'd like for them to place on top. Errebi Technology rollers are also manufactured with plastic and bronze rings, bronze pantographed rings and Teflon-coated bronze rings.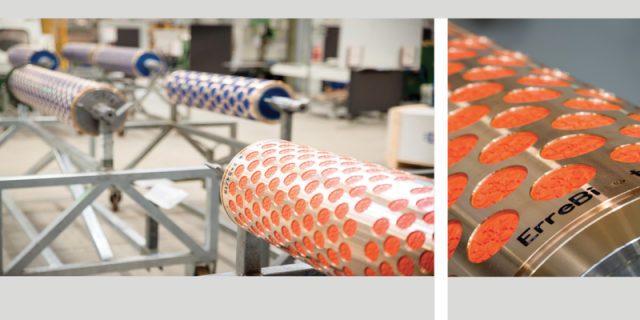 When it comes to innovative designs, Errebi Technology have patented a plastic material which guarantees enhanced resistance against mould abrasion. Mould abrasion can occur due to the ingredients found in biscuit doughs. Flour, sugar and/or sodium bicarbonate are some of the ingredients which can cause mould abrasion.
These sound good so far, don't they? Besides enhancing the rollers resistance against mould abrasion, the plastic material is also self-lubricating, without being toxic. And on top of all of that, the plastic material facilitates dough release from the mould. Rotary Moulding is an important process in any biscuit manufacturing process, so you want to make sure that you have the best equipment available.
Fixed rotary cutters or with interchangeable rings
When it comes to rotary cutters, Errebi Technology manufactures two ranges – single and double rollers with interchangeable non-toxic rings (which comply with international food regulations) used for cutting and moulding. These can further be divided according to the material they're made from.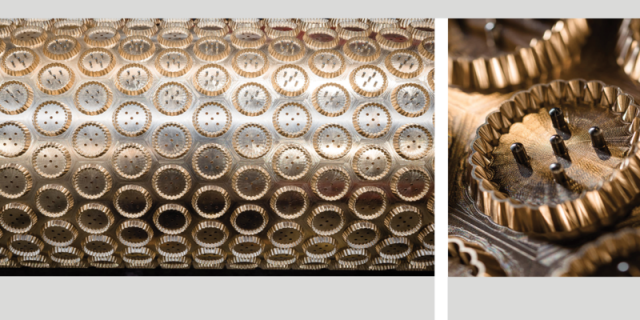 The first class of rotary cutters are those made from bronze. They are your bread-and-butter rotary cutters, which will guarantee a great performance and a high-quality final product. If you want to spice things up, you can order their second class of rotary cutters, made from bronze coated with Teflon, for an even greater performance.
Their third class of rotary cutters is made with their very own patented plastic material which I've already mentioned in the previous section. It enhances the cutters' resistance against mould abrasion, which can be caused by ingredients found in biscuit dough.
You can combine these cutters any way you want, however. You could order bronze or plastic rotary cutters which come with either bronze cutting dies and plastic moulding or with plastic interchangeable cutting dies.
But which rotary cutter is the best? What is the best bang for your buck? In my opinion, if you have the resources to spare, ordering Errebi cutters made from their own patented plastic material would be the best choice. However, even the bronze cutters will perform admirably and offer a satisfying final result.
The great thing about their rotary cutters is that they also come with rollers with a whole Range of Interchangeable Rings. The technology used by Errebi, which is incorporated into their range of products, is the result of an extremely accurate work process, based on both tradition and advanced technologies. This guarantees a perfect moulding process.
You simply can't go wrong with Errebi Fixed Rotary Moulds with Interchangeable Rings.
What are rotary cutters, what they are used for and why Errebi make the best ones!
When you think of rotary cutters, you usually think of quilters and how the use such tools to cut fabric. While rotary cutters are used for such things, they can also be used to cut biscuit dough. There are handheld rotary cutters, which consist of a handle with a circular blade attached on top. This circular blade rotates (hence the name) and is very sharp. The blade can also be re-sharpened.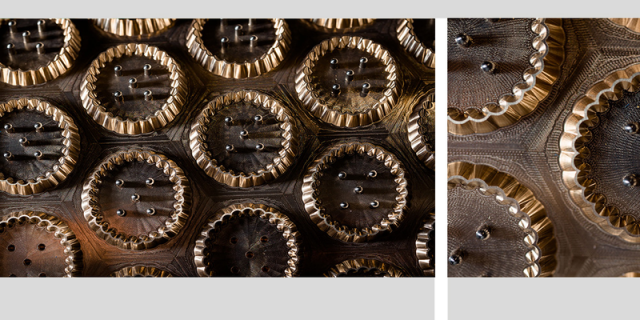 Besides the small, handheld rotary cutters which can be found in homes and kitchens all around the world, there are also these huge, factory-like Rotary Cutters, such as the ones made by Errebi Technology. They are used by large business to maximize their production output.
The first rotary cutters appeared in the year 1979. They were first manufactured for garment making, but soon found their applications in the culinary crafts as well. They were a commercial success, so ever since then they've been modified and re-iterated. Errebi Technology have managed to come up with innovations of their own, producing their very own, patented plastic material used to protect against mould abrasion.
The size of rotary cutters you need will depend on the amount of biscuits you wish to manufacture, as well as the amount of dough you're looking to cut through. The most common sizes of blades for rotary cutters are: 18mm (0.7 inches), 28mm (1.1 inches), 45mm (1.8 inches) and 60mm (2.4 inches). So, if you wish to maximize your output of biscuits, go for the largest size of rotary cutter blades. If you're just starting out, then some of the smaller sizes might prove beneficial as well.
But do you need a rotary cutter? Of course! That is… unless you're planning on cutting all of the biscuits yourself. You could do it of course, but don't expect to surpass your competitors that way. Manually cutting biscuit dough is more suited towards small, family-owned businesses and bakeries, where they usually produce biscuits and other products for a smaller consumer base.
However, rotary cutters can prove to be quite useful even for such business, especially if they're looking to expand their production. So yes, in my honest opinion, you should definitely get a rotary cutter as soon as possible as it's important for Dough Piece Forming. Luckily for you, Errebi manufactures amazing rotary cutters, so you can't go wrong with them!
Keeping your equipment in tip-top shape: How often should You replace rotary blades
You might be experiencing some difficulties with your rotary blades. This is either due to the blades on the rotary cutter becoming blunt or due to mould abrasion. Luckily, the blades can be re-sharpened. However, they cannot be re-sharpened forever. After some time, due to continued use, the rotary cutters will become unusable, so you'll have to order some new ones. The Errebi Technology rotary cutters have a long lifespan, so there's no need to worry about these things just yet.
As for mould abrasion, if you order the Errebi rotary cutters made from their patented plastic material, you won't even have to worry about that either, as the plastic material increases the cutters' resistance against mould abrasion.
It is also important to note that using rotary cutters without dies becomes unnecessarily arduous and problematic. That is why, when you order your rotary cutters from Errebi Technology, you also get bronze or plastic cutting dies. I recommend using them, to avoid unnecessary complications.
I've already mentioned that blades on rotary cutters can be re-sharpened. But how often should rotary cutter blades be changed? That depends. Errebi technology rotary cutters have a long lifespan due to their quality steel cores and innovative designs. So you probably will not need to change your rotary cutters for quite some time.
The best thing to do would be to contact Errebi Technology and consult with their technicians. They can accurately tell you when and how often to change the rotary cutters. But since their products are of high quality, you shouldn't bother yourself too much with such things. Not yet at least.
Die plates - extrusion moulds
The manufacturing of die plates, i.e. extrusion moulds, is a process which requires utmost precision and a meticulous design process. Extrusion moulds are used for the production of biscuits with high levels of sugars and fats, like the Ice Cream Biscuits, for example. Thanks to its expertise, Errebi Technology is able to produce extrusion moulds of outstanding quality.
After all, Errebi Technology has been in the market for six decades now, and that amount of experience allows them to produce die plates and extrusion moulds for all kinds of biscuits. They moulds they manufacture are made from anticorodal anodized aluminium plates and series of cavities from which doughs are extracted in their desired shapes.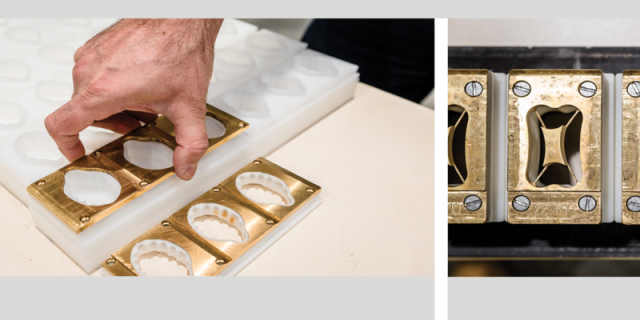 The great thing about Errebi is that you don't have to adapt to their products. Instead, the company adapts to you and your ideas and wishes. If you're creative and you already have a design for both your future brand and biscuits, Errebi technology can make die plates and extrusion moulds according to that design.
This means that every order, i.e. every project done by Errebi Technology is unique. Once you've ordered your extrusion moulds, the company will tailor them according to your wishes. Before the final product is manufactured, they'll present you with the technical drawings, so that you can change any details if necessary.
Alternative cutting moulds for biscuits
Last-but-not-least, we have the alternative cutting moulds for biscuits. Errebi produce innovative cutting moulds which reduce noise levels during manufacture, a feature which is quite important for biscuits produced with moulds which come into contact with processed dough.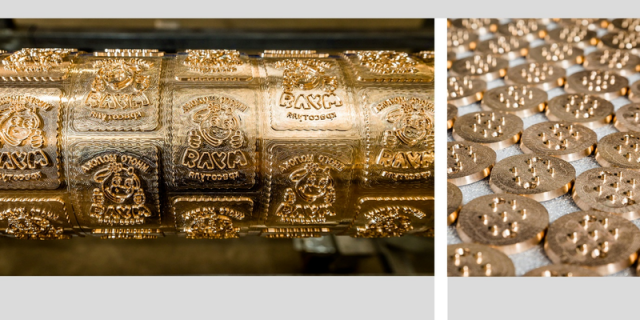 Besides reducing noise levels, their moulds also improve the manufacturing efficiency by exploiting the moulding stage and reducing the cutting stage. All of this guarantees a higher manufacturing capacity, as well as lower amounts of waste being produced.
Errebi Technology: Producers of quality biscuit machines
The company was established way back in the year 1959 and ever since then, they've been producing quality biscuit moulds. The company is grounded in passion and family traditions, while also relying on modern technologies. This has allowed it to establish itself as a strong contender in the Italian market. Errebi Technology has an experienced staff, which constantly works on developing new and innovative designs.
Another one of the key features of Errebi Technology is the company's concern for their customers' safety. This has earned the company numerous certificates and accolades over the years. The company has an outstanding reputation due to this, and you can rest easy knowing that you're conducting business with a trustworthy partner.
Errebi Technology are professionals which constantly seek to innovate their line of products. Some of the largest biscuit industries in the world started their journey at Errebi Technology. Their collaboration with the University of Modena and Reggio Emilia is also what makes them an attractive source of high-quality biscuit machines for your business.
That would be it for today's article. I hope you like what you've read so far, and that you'll consider choosing Errebi Technology as your provider. I can assure you that their moulds, rollers and cutters will serve you well for a long time to come. It always pays out to invest into innovative technology.
If you'd like to order your own biscuit machines or find-out the pricing of their products, Contact Errebi Technology today!