Butter cookies or sewing kit? Everyone remembers this type of disappointment when you were just about to treat yourself with the tasty biscuit and then you realize that inside are not a biscuit but sewing kit... Butter cookies have a great designed box where they are contained and this box is useful later. Cookie boxes can be used as a perfect gift for your loved ones. Have you already got the idea of giving one to your favorite person? We are sure they'll love it! Which type from the complete collection of biscuit types will you choose?
Butter cookies merge perfectly with morning or even afternoon coffee – they are a real classic everyone sometimes goes for. Not too sweet, not too creamy, but still manage to satisfy your sweet tooth. Since we mentioned butter cookies, we bet you automatically think of ''Danish Butter Cookies'' that is worldwide famous. But, have you ever heard about the Portuguese brand Danesita?
Danesita is the second-largest ''Danish Butter Cookies'' producer in the world and the leading ''Deluxe Toasts'' producer in the world.
Danesita Butter Cookies are made with the traditional Danish recipe that is at the top of the mind of our consumers since always. The attractive tins and boxes design make this product perfect to offer to someone special or only to collect. Available in different recipes, you just have to choose yours!
Who's responsible for the world's tastiest biscuits? Since 1978, Danesita has been manufacturing the finest butter cookies & creamy biscuits. Find out more!
History and trivia about Danesita biscuit brand
A company with strong experience in DanCake Portugal works in the preparation business since 1978, creating and selling bread rolls, treats, toasts, cakes, and other baked good items.
They have 2 creation offices in Portugal with 16 creation lines, an introduced limit of 60 thousand tons, and we fare to 70 nations (78% of our creation).
DanCake established "Family Cakes Category" in Portugal, keeping up the authority until today.
How it all started: Who invented Danesita butter cookies?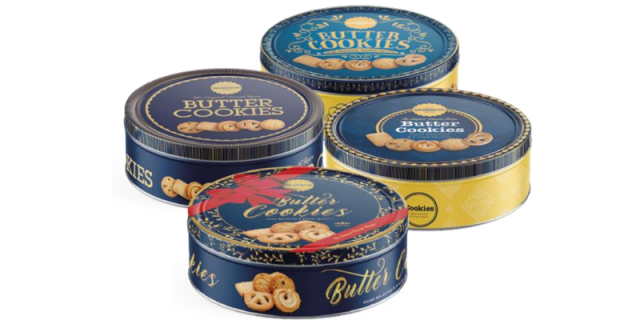 In 1978 Danesita company decided to fulfill a dream: to bring to the house of the consumers the best pastry a mouth can taste. Everyday.
Our company has a Danish heritage since its foundation. It is part of our DNA.
Danesita started its own 'secret' and impeccable blend activity creating Swiss Rolls in 1978 by securing this innovation and expertise from Denmark. This was further enrooted by the constant interest in Danish advances to deliver numerous different items that are a piece of the organization's portfolio, for example, Butter Cookies, Toasts, and Family Cakes.
Danesita united numerous prestige pastry kitchen customs and has remained consistent with them from that point forward. Portuguese organizations have extended expertise by complementing a range of items with Italian starting point items, for example, Puff Pastry, Boudoirs, and Crackers also.
Be that as it may, there is more! Danesita has constructed a creation limit, putting resources into the quality accreditations and seriousness to have the option to all the more likely serve customers and purchasers. Today, after more than 40 years, with a special technique, the organization realizes that it was the start of an incredible relationship.
This affection joins conventional strategies to new advancements, choosing the most ideal fixings, and regarding the customs, Danesita brings to buyers a particular, genuine, and flavorfully elegant item to appreciate. Danesita biscuit brand has its unique strategies for the biscuit baking process that brings success for years!
This formula has kept the company in adoration with what they are producing, and they accept that it'll make you experience passionate feelings for tasty biscuits as well! So, keep reading and find out more interesting facts about the brand and products themselves.
Danita's history through the years:
1978: Started DanCake foundation and implementation of the first swiss roll production line in Portugal
1979: Beginning of exports with Swiss Rolls and Home Made Cakes
1982: Inauguration of the 2nd production plant in Coimbra with 2 production lines: cupcakes and popcorns
1984: First production of Butter Cookies in Coimbra plant
1986: Expansion of Exports to Europe with Butter Cookies
1993: Inauguration of the new production plant in Povoa de Santa Iria and first production of Deluxe Toasts
1994: Inauguration of the new production plant in Coimbra
2003: DanCake is recognized as one of the largest butter cookies producers in the world, reaching 60% of total sales for export to over 50 countries
2005: Company got the Certification of Coimbra and Povoa de Santa Iria plants with BRC (3 versions, 2003) and IFS (4 versions, 2004)
2008: DanCake celebrates 30 years and presents its new image
2009: First production of crackers in Povoa de Santa Iria Line
2014: Brand and portfolio relaunch, with a new image and new products
2018: DanCake celebrates 40 years!
2019: Certification for Organic Products
What makes Danesita unique?
Broad portfolio, adjusted and tailored to address different consumer needs.
Innovation, with continuous quest to meet consumer needs and new trends for Danesita's unique brands
Capability to develop customized solutions for different distribution channels
Close partnership with customers, based on long-lasting relationships and trust
Well-chosen production capacity and great technology, such as Danish and Italian, with fully automated production lines.
The indisputable quality of products, certified by international entities, such as IFS or BRC, as we mentioned in their history timeline
A one-stop shop is a definition we give to what we can offer to our clients: provide any retailer with a wide range of products with a very high level of quality standards that can be catered to the consumer needs anywhere in the world.
Danesita company established well-chosen technology for its specialties:
Butter Cookies, Swiss rolls, Family Cakes, and Deluxe Toasts - Danish technology
Lady Fingers, Puff pastry, and Crackers - Italian technology
Companies' ultimate goal is to be true to what they promised - to the buyer, to our client, to our consumer.
Danesita butter cookies types:
Thin&Crispy butter cookies
Classics – Classic of classics! The Blue tin available in 340g or 454g
Classic collection
Shortbread cookies
Danesita butter cookies moments
Love collection – For eternal romantics, Danesita ''The Best Love Stories of all Time'' Butter Cookies encapsulate the undying love and intense passion of some of the most celebrated love tales ever: Romeo & Juliet, Anna Karenina, Jane Eyre. The illustration style reinforces this approach, making the tins collectable packaging as decoration. These tins are sold as a mix, not individually.
Christmas collection
Danesita products: Lady Fingers, Strudel, Vita Organic
Big Cookies – similar to chocolate chip cookies
Apple strudel and brownies – love has no barriers, so Danesita turned some of their most traditional desserts into delightful pieces of love n a cookie-form.
Crackers – salty snack that reminds of Danesita bruschetta
Mini Creamy Kiss – Crazy Monsters – perfect bites for kids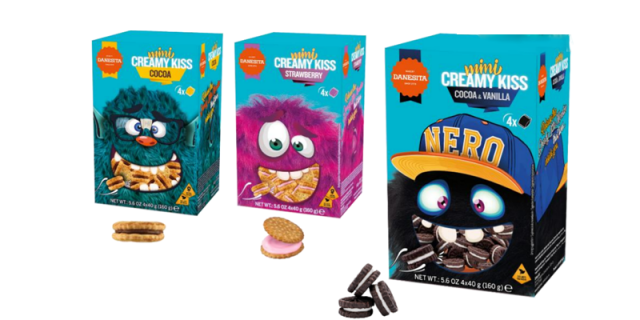 Danesita Digestive Biscuits
Danesita's specialty: Lady Fingers
Inspired by the traditional Italian recipe, Danesita's ladyfingers are the secret to complement your moments of inspiration. Delicious on their own and also as an ingredient, they balance their texture and density uniquely and perfectly. They are the perfect love blend!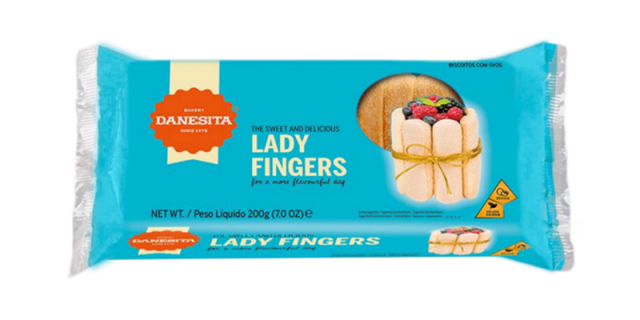 Lady Fingers
Danesita Puff Pastry
Some people say that love can have a lot of forms, for Danesita it represents a thousand leaves. A thousand leaves (mille feuilles) of light and crunchy pastry, filled with love, for a really pleasant moment. This is why one of the most classic products made in the Italian style is very popular worldwide.
Other special products:
Half Moon, Luxury Cakes, Swiss Rolls
Danesita Toast
In Swedish or Deluxe type you always have a crispy and crunchy toast for everyday. For the boldest people Danesita produces Deluxe toasts in Bruchettas type. Eat them simple, or let your imagination go wild and personalize your favorite toasts!
Danesita brand
Since 2016, Danesita has had a butter cookie contract for Walmart, which has allowed the brand to span markets in the US, Canada, China, Japan, the UK and Brazil.
Danesita Dan Cake
Dan Cake, Portugal, one of the pioneers in pastry kitchen and dessert shop industry, is good to go to enter Indian market through a JV with Pune based Phadnis Group.
A consent with this impact has been marked between Dan Cake, Portugal and Phadnis Industries Limited, to shape 'Danesita Phadnis Food Industries Limited', a 66:34 joint endeavor.
Who invented butter cookies in general?
The recipe was perfected by the Moravians, Protestant settlers from Germany who made Nazareth their home during the mid-1700s. The Nazareth area of Pennsylvania has provided much of the stimulus for the founding, settlement, and growth of the commonwealth.
First butter cookies
The first, Kjeldsen, had opened in 1933 when a young, married couple named Anna and Marinus Kjeldsen opened a bakery in a small village in Denmark's Jutland called Nørre Snede.
About butter cookies
Butter Cookies (or spread bread rolls), known as Brysselkex, Sablés, and Danish scones, are unleavened treats comprising of margarine, flour, and sugar. They are frequently arranged as a "fresh treat" because of their surface, caused to a limited extent as a result of the amount of margarine and sugar.
It is commonly important to cool the batter to empower legitimate control and dealing with it. Spread treats at their most essential have no enhancing, yet they are frequently seasoned with vanilla, chocolate, and coconut, as well as bested with sugar gems.
They likewise arrive in an assortment of shapes, for example, circles, squares, ovals, rings, and pretzel-like structures, and with an assortment of appearances, including marbled, checkered or plain.
Using funneling sacks, turned shapes can be made. In certain pieces of the world, for example, Europe and North America, margarine treats are frequently served around Christmas time. Spread treats are likewise a well-known blessing in China, particularly during Chinese New Year.
Denmark has been a notable exporter of butter cookies for many years, in particular to the US and Asia. They are made in many varieties and exported industrially produced butter cookies are typically packed and sold in tins, with Royal Dansk being a notable example.
Calories and nutritional facts about Danesita butter cookies
| | |
| --- | --- |
| Calories | 160 |
| | % Daily Values* |
| Total Fat 8.00g | 10% |
| Saturated Fat 4.500g | 23% |
| Trans Fat 0.000g | |
| Cholesterol 5mg | 2% |
| Sodium 35mg | 2% |
| Total Carbohydrate 20.00g | 2% |
| Dietary Fiber - | |
| Sugars 7.00g | |
| Protein 2.00g | |
*The % Daily Value (DV) tells you how much a nutrient in a single serving of food contributes to a daily diet. 2000 calories a day is used for general nutrition advice.
Nutrition Danesita review:
How many calories are there in Danesita butter cookies?
160 kcal
8 g fat
20 g carbs
2 g proteins
There are 160 calories in 4 cookies serving of Danesita Butter Cookies.
45% fat
50% carbs
5% proteins
Ingredients list:
Wheat flour, sugar, butter: 24%, maize starch, grated coconut, chocolate chips (sugar, cocoa mass, cocoa butter, emulsifier, soya lecithin), dextrose, glucose-fructose syrup, salt, flavors (lactose), raising agents (sodium and ammonium hydrogen carbonate).
Fats in biscuits (or margarine) is one of the main ingredients besides flour and sugar. In the application, the fat is called shortening. By coating the gluten of the flour, the dough will be not so elastic as a bread dough: the dough stays "short".
Danesita butter cookies are not vegan.
Large biscuit manufacturers are buying and storing hot (melted) fat in tanks and apply it as such or first let crystallize in cooling equipment before it is used.
Danesita cookie jar: Trivia about 'sewing kit'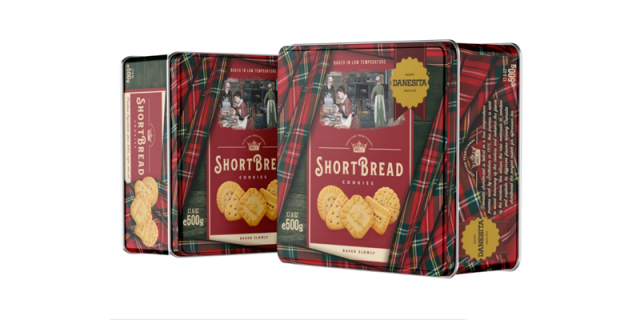 Square tin with Scottish style Shortbread. Baked in low temperature and very slowly Delicious cookies with 5 different shapes in a 500g tin box with an old-style design. Shortbread Cookie Tins
Shelf life 18
Unites per carton 12
Cartons per pallet 60
If you like butter cookies, especially Danesita, you know how important and famous biscuit tins for these products are.
They are, we can surely say, unique. Packaging plays an important role in products. For example, when you see a great packaging, it interests you and you are more likely keen on buying this product.
Let's bring our childhood memories for a minute ...
We all remember that kind of disappointment when we were kids, we see a biscuit tin and hope there are fresh biscuits in it but there is only a sewing kit...
Which biscuits were we hoping for? Butter biscuits (Danesita butter biscuits mostly). Which were your favorite childhood biscuits? Bringing back childhood memories: Pettit Beurre biscuits also, for example!
A long time ago, people came up with the idea that solved 'dry biscuits' problem – biscuit tins were invented! There is no doubt that all of us have one at home. If there are, sadly, no biscuits in it, there is a sewing kit!
Even though we know there are no biscuits in it, only needles and threads, our eyes for a second light up, and hope there are biscuits. Oh, what a sad moment! Whose blame is it? Biscuit tins are 'guilty' itself! Although, they are very beautiful, often designed like real art and they help our biscuits to stay fresh.
Why are people using biscuit tins for the sewing kit?
Almost every mother has one biscuit tin where she puts her sewing kit, but that doesn't change the fact that it makes us disappointed every time.
But why is that the case? What is it about these particular cookies that make them so attractive for sewing kits? Turns out there is an answer for this - all based on the history of packaging.
Explanation: Danesita butter cookies tin trivia
Cookie tins, however, were not as common. They were expensive and people were rarely buying them, so when they do – they are so precious. Besides being high-quality, the biscuits tins were also often very pretty, so people kept them as collectibles.
During times of war, people were encouraged to reuse as much as possible, and not throw too much away.
Sewing supplies were often fiddly and round - the perfect items to store in a large round tin. Giving people biscuits in a tin was a double gift, and so is it now. Have you already got the idea of giving one to your favorite person? We are sure they'll love it! Which type from the complete collection of biscuit types will you choose?
Different people, different tastes – but one is sure, cookies are always a good idea!
To conclude, buy Danesita biscuits that come with a beautiful biscuit tin, wrap it and give to your loved ones. You can't go wrong with butter biscuits, they are a classic that everyone will love to snack on during their afternoon coffee break. Let us know if you like butter cookies and which type of all Danesita products is your favorite!
Looking for your answers, we wish you a good day, and may all of your tins be biscuits, not sewing kit!