One of the most appealing things about the holidays is the food. There are other aspects we enjoy, but most of us eagerly wait for the special treats we bake or eat at Christmas time. Like cookies, so we want to present you some Christmas cookies and the countries of their origin.
Christmas time is getting closer. It is no surprise that it is called the most beautiful time of the year. How could it not be? Lights, Christmas carols, family reunions, holidays (and at least a short break from work).
We could list and list all these beauties of the Christmas time… Has it caught you already 'Christmas spirit', have you already started decorating your house? When it comes to decorating your home and preparing for Christmas – one thing is unavoidable – Christmas cookies.
There are so many varieties nowadays that we simply cannot decide which to choose and make. Also, each country is specific to a particular type of biscuits that are made there for Christmas, and we will introduce them to you in this article.
One of the most appealing things about the holidays is the food. There are other aspects we enjoy, but most of us eagerly wait for the special treats we bake or eat at Christmas time. Like cookies, so we want to present to you some Christmas cookies and the countries of their origin.
Austrian Linzer
Linzer gets its name from the town of Linz in Austria. They could be called a cookie sandwich; the top cookie, dusted with confectioner's sugar, has a cutout so the filling is visible which is traditionally circular, but can be all sorts of shapes. The filling is usually a jam of preference.
When you make fresh Linzer cookies, they are really crunchy, but they will soften when you fill them with jam and store in an airtight container. Usually, they soften within 2 days.


Linzer Torte
Do not confuse Linzer cookies with Linzer torte. These are two different desserts and treat, but related to the same city: Linze, Austria. The Linzer Torte is a traditional Austrian pastry. It is actually a form of shortcake topped with fruit preserves and often nuts. It is mostly layered like a pie or tart. This cake is a very short pastry. The main ingredients are flour, unsalted butter, egg yolks, lemon zest, cinnamon, lemon juice and usually hazelnuts or walnuts. The first Linzer torte was made in 1653 which makes it one of the oldest cakes in the world.
Almost every bakery in Linz sells Linzer tortes, as whole rounds, slices, or squares. The Linzer Torte is a holiday treat and it is not only popular in Austria, but also in Germany, Hungary, Italy, and Switzerland.
Also, even Some North American bakeries offer Linzer torte as small tarts or as cookies
Chrusciki or Fried Bow Ties from Poland
The etymology of the word 'chruscik': there is a legend that this word is related to a historical Polish word 'chrust': it is the word used for twigs or brushwood, which actually a twisted version of the pastry does resemble.
Moreover, chursciki appear to be yet some other variation on the pre-Lenten fried pastries of so many different central European cuisines. There is also a northern Italian version known as crustci – so, there is also a story that one of these countries has possibly exceeded the pastry to the other. Wherever they have been made, they got stuck in holiday traditions!
These cookies are a traditional treat at Easter and Christmas time. Fried bow ties are made from an egg-based dough that is rolled thin and deep-fried, then sprinkled with confectioner's sugar. These are not very sweet cookies, but they get most of their sweetness from the powdered sugar on the outside.
They are often consumed in other European countries as well. Moreover, in the United States, they are called Angel Wings.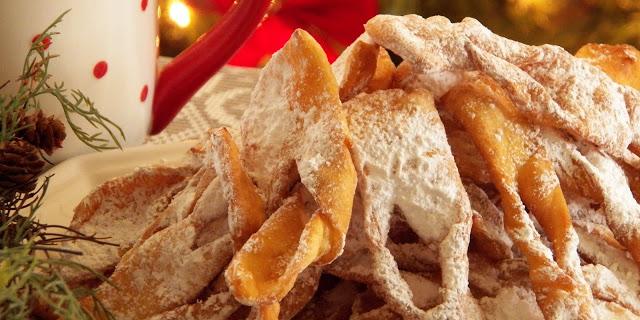 Source: comycook.com
Pfeffernüsse or German Spice Cookies
Pfeffernüsse is one of the oldest German cookies. Pfeffernusse translates to "pepper nuts" and contrary to the name, there are no nuts in these cookies, but they are spicy. Nuts refers to the fact they are small – the size of whole nuts. Ingredients in these cookies include pepper, cinnamon and anise which in combination results in the warm spiciness perfect for Christmas time.
These cookies are not popular only in Germany, but also in The Netherlands, Denmark as well as among ethnic Mennonites in North America.
They are called pepernoten in Dutch (plural), päpanät in Plautdietsch, pfeffernuesse or peppernuts in English, and pebernødder in Danish. Pfeffernusse are made in two ways: with a hard icing coating or a powdered sugar coating. Pfeffernusse cookie has been part of European yuletide celebrations since the 1850s.
Don't confuse them! Pfeffernüsse are often mistaken for kruidnoten or spicy nuts in English. This is mostly because they are both famous treat during the holidays. Although, the kruidnoten are harder and have a darker color.
Also, producers often shape them differently. Their ingredients are more similar to the ones used in making speculaas. Russian tea cakes are also confused with pfeffernüsse


Dutch Speculaas Spice Cookies
Speculoos is a type of spiced shortcrust biscuit, traditionally baked just before St Nicholas' feast in the Netherlands, Belgium, and Northern France and around Christmas in Germany. These cookies are favorites to many people all year round.
There are a few legends for the beginnings of the name speculaas. It might get from Latin speculum, which means mirror and alludes to the way that the pictures are cut as a reflected bass-alleviation into a wooden stamp, which is then used to brighten speculaas.
Another, more uncertain, word starting point alludes to the Latin word examiner which, among different implications, could allude to a religious administrator or St Nicholas' sobriquet, "he who sees everything".
Still another conceivable source is Specerij, the Dutch word for zest. The Belgian city of Hasselt is known for a neighborhood assortment of speculoos. On 13 January 1870, Antonie Deplée, a dough puncher from Hasselt, gained a permit for Hasselt speculoos: "a sort of almond 'bread' known under the name spéculation". He sold this form locally and abroad. Ingredients that make speculaas a special Christmas treat are cinnamon, cloves, nutmeg, ginger, cardamom, anise, and even a bit of white pepper. They're also specific because they're made in a special mold depicting Dutch motifs and are first served on St. Nicholas' Day.
In Europe, Lotus Speculoos is the most recognized brand.


Polvorón from Spain and Mexico
Polvorones are soft shortbread cookies. Etymology and name: The polvorón means powder. Polvorenes were introduced to Mexico by Spanish settlers. The first cookie appeared in the late 1800s
Polvorones are additionally called dish de Polvo (powder bread or residue bread), a name that is most likely because of the way that they are fragile to such an extent that they could be diminished to powder with a single tap between two fingers.
This is a type of heavy, soft and very crumbly shortbread made of flour, sugar, milk and nuts. Another name they're manufactured under is mantecados and it is popular holiday delicacy in all Spain and its former colonies in Latin America and the Philippines. The outside has a light crust from being baked in the oven, but the inside is soft and smooth. Polvorones biscuits can be found in Spain, but also in South Texas and Philippines. In South Texas they are called ''Mexican Wedding Cookies'' and in Mexico, these shortbread cookies are not served at weddings but for Christmas.
Moreover, they are originally holiday treats in Spain where they were during the previous years mostly produced between September and January. Nowadays, you can find them during all year.
The Puerto Rican version of polvorones is called mantecadito or polvorones puertorirqueños. This version includes sprinkles or guava paste. In Puerto Rico, they are also eaten during the Christmas season.
Fun fact: Polvorones is a popular ice cream flavor in Cuba.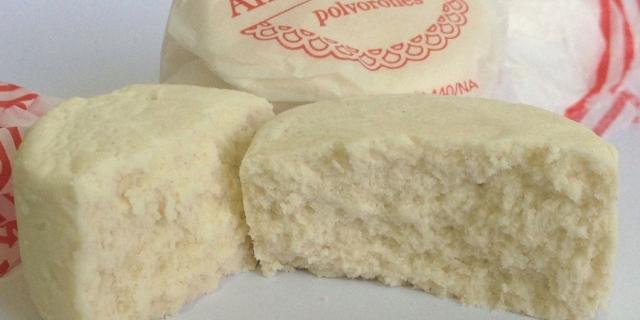 Almost every country has its gingerbread cookies
In the thirteenth century, gingerbread was brought to Sweden by German immigrants. In fifteenth-century Germany, a gingerbread society controlled creation.
Early references from the Vadstena Abbey show how the Swedish nuns were heating gingerbread to ease heartburn in 1444. It was the custom to heat white cookies and paint them as window enrichments.
Old Greeks delighted in a predecessor of gingerbread, cakes made with nectar, and put it in the mouths of the dead for the outing to existence in the wake of death. Moreover, gingerbread was brought to Europe in 992 by the Armenian monk Gregory of Nicopolis (Gregory Makar).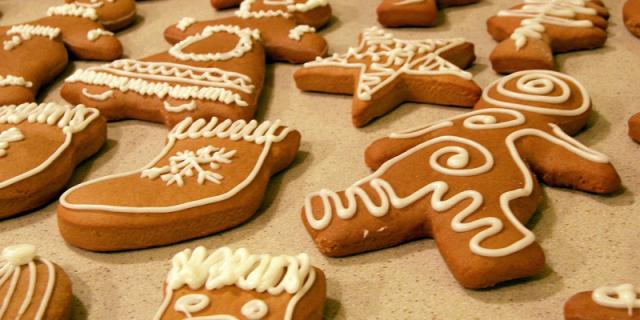 Hungarian Mezeskalacs
At the point when the Turks attacked Hungary in the sixteenth century, they carried their cooking customs with them and that's when the gingerbread cookies slowly but surely became popular in Hungary.
Hungarian gingerbread cookies are very popular mostly because of its design which is breathtaking and look like real art.
One big highlight is last year (2018) when cookie-decorating videos became the viral hit. In them, a couple of hands hectically lays a great many lines of white icing with the numerical precision of a 3D printer.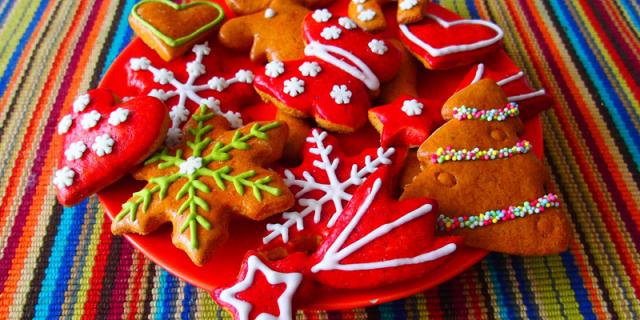 Pepparkakor or Swedish Gingerbread Cookies
Peppar means pepper and kakor can mean cookie or cake. Modern versions of this recipe, however, don't actually include any pepper.
They really look alike gingersnaps or gingerbread cookies that are popular in the United States. In addition, pepparkakor isn't usually iced or frosted for serving like gingerbread cookies are.
The gingerbread cookies are customarily cut in the shape of little men, women, or hearts, and are often decorated with frosting. Traditionally, they're hung up as Christmas decorations. As most of holiday treats, gingerbread is made from ginger, cloves, cinnamon, cardamom, nutmeg, anise and is sweetened with molasses or honey.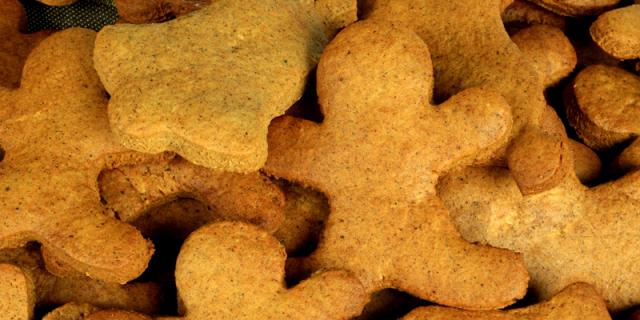 Finnish gingerbread cookies
Finnish gingerbread cookies are very similar to Swedish version. They are mostly made at the time of Finnish Independence Day on 6th of December, and, of course, Christmas.
They mostly don't have a frosting or a special design, they are only shaped differently comparing to the Swedish version. You can find Finnish gingerbread cookies in many shapes like stars, moon, angel, heart, circle…
They are filled with warm holiday spices. Finnish gingerbread cookies are usually dipped in coffee or tea – which tastes amazing!

Polish Gingerbread Cookies (Pierniczki)
Polish Gingerbread Cookies (Pierniczki) have been famous since the Middle Ages. The cookies were originally baked din intricately carved wooden molds, but today are more often cut into rounds or the shapes of St.Nicholas, hearts, stars, circles…
Pierniczki cookies are mostly designed with the chocolate frosting which is very easy if you want to try it at home: melt chocolate and butter and sprinkle this glaze on your cookies. If you are brave, you can try to draw interesting shapes on your cookies: such as flakes, a little snowman, etc.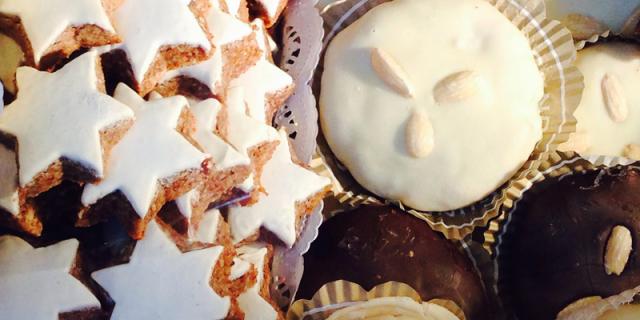 Cuccidati
Cuccidati cookies are also often baked during other celebrations such as weddings, birthdays etc. Some culinary experts say that the modern Italian fig cookies actually come from way back to the time of the Roman Empire and that the recipe is an offshoot from the Roman pastry called panificatus.
Etymology: This cookie had many names through history. One of the stories says that one of this pastry's many names, particularly buccellati, comes from the Latin buccellatum, which means "bites." Italian Christmas cookies are filled with figs, cinnamon, honey, rum and walnuts among other ingredients and originate from the island of Sicily. They are commonly dipped in powdered sugar icing and capped with red and green sprinkles. They also come in a variety of shapes: wreaths, logs, and even animal shapes.
You can even sprinkle them with nonpareils (multi colored sprinkles). Some people even sprinkle them with sliced nuts. In some places, people call them cuccidati or cucidati. In the United States, they are also called x-cookies.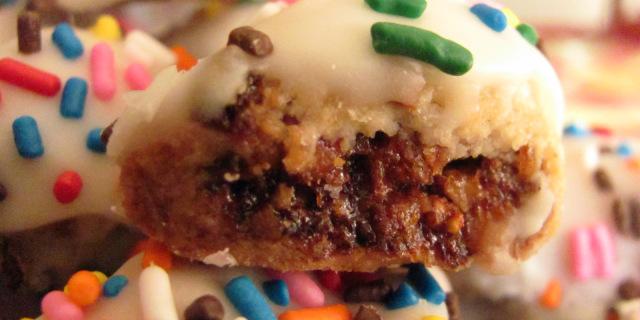 Source: louanneskitchen.wordpress.com
Sablés
The French word sablé signifies "sand",which is the French expression that replaces the English "breadcrumbs". As indicated by the letters of the Marquise de Sévigné, the treat was made firstly for Sablé-sur-Sarthe in 1670
French Christmas cookies are a sort of combination of a sugar cookie and a shortbread cookie. Sable means "sand" in French, and the texture is kind of sandy – hence the name! Thin, crisp, and delicately buttery with just a whisper of cinnamon, and could be decorated with icing or sugar. Among the most well-known Sablé recipes are those of La Mère Poulard, and the cookies of Saint-Michel and Pont-Aven.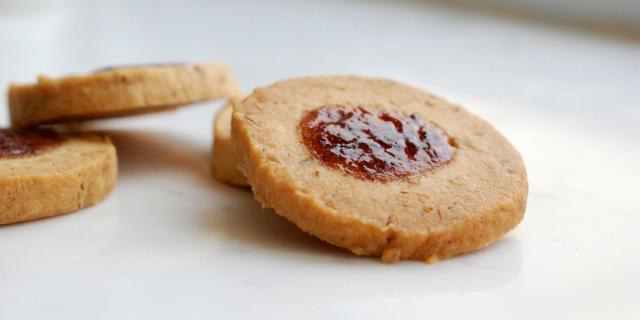 Source: theroamingkitchen.net